Abstract
Background
Laparoscopic liver resection (LLR) of posterosuperior segments (PSS) is still technically demanding procedure for highly selective patients. There is no long-term survival comparative estimation after LLR and open liver resection (OLR) for colorectal liver metastases (CRLM) located in PSS. We aimed to compare long-term overall (OS) and disease-free survival (DFS) after parenchyma-sparing LLR with expanding indications and open liver resection (OLR) of liver PSS in patients with CRLM.
Methods
Two Russian centers took part in the study. Patients with missing data, hemihepatectomy and extrahepatic tumors were excluded. One of contraindications for LLR was suspicion for tumor invasion in large hepatic vessels. Logistic regression was used for 1:1 propensity score matching (PSM).
Results
PSS were resected in 77 patients, which accounted for 42% of the total number of liver resections for CRLM. LLR were performed in 51 (66%) patients. Before and after matching, no differences were found between groups in the following factors: median size of the largest metastatic tumor; proximity to the large liver vessels; the rate of anatomical parenchyma sparing resection of PSS; a positive response to chemotherapy before and after surgery. Regardless of matching, the size of the largest metastases was above 50 mm in more than one-third of patients who received LLR. Before matching, intraoperative blood loss, ICU stay and hospital stay were significantly greater in the group of OLR. No 90-day mortality was observed within both groups. There were no differences in long-term oncological outcomes: 5-year OS after PSM was 78% and 63% after LLR and OLR, respectively; 4-year DFS after PSM was 27% in both groups.
Conclusion
Laparoscopic parenchyma-sparing resection of PSS for CRLM are justified in majority of patients who have an indication for OLR if performed in high volume specialized centers expertized in laparoscopic liver surgery.
This is a preview of subscription content, log in to check access.
Access options
Buy single article
Instant unlimited access to the full article PDF.
US$ 39.95
Price includes VAT for USA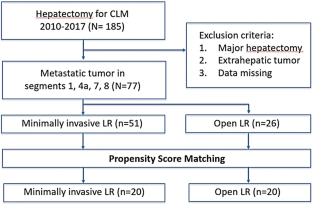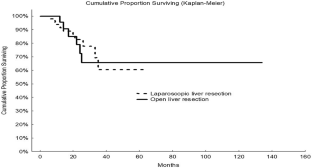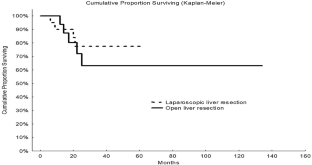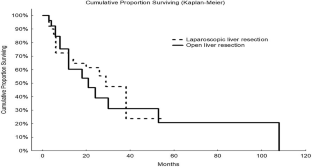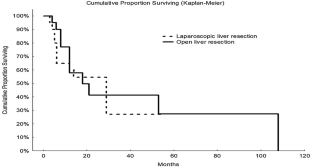 References
1.

Abu Hilal M, Aldrighetti L, Dagher I, Edwin B, Troisi RI, Alikhanov R, Aroori S, Belli G, Besselink M, Briceno J, Gayet B, D'Hondt M, Lesurtel M, Menon K, Lodge P, Rotellar F, Santoyo J, Scatton O, Soubrane O, Sutcliffe R, Van Dam R, White S, Halls MC, Cipriani F, Van der Poel M, Ciria R, Barkhatov L, Gomez-Luque Y, Ocana-Garcia S, Cook A, Buell J, Clavien PA, Dervenis C, Fusai G, Geller D, Lang H, Primrose J, Taylor M, Van Gulik T, Wakabayashi G, Asbun H, Cherqui D (2018) The Southampton consensus guidelines for laparoscopic liver surgery. From indication to implementation. Ann Surg 268(1):11–18. https://doi.org/10.1097/SLA.0000000000002524

2.

Cho JY, Han HS, Yoon YS, Shin SH (2008) Feasibility of laparoscopic liver resection for tumors located in the posterosuperior segments of the liver, with a special reference to overcoming current limitations on tumor location. Surgery 144:32–38. https://doi.org/10.1016/j.surg.2008.03.020

3.

Machairas N, Prodromidou A, Kostakis ID, Spartalis E, Sotiropoulos GC (2018) Safety and efficacy of laparoscopic liver resection for lesions located on posterosuperiorsegments: a meta-analysis of short-term outcomes. Surg Laparosc Endosc Percutan Tech 28(4):203–208. https://doi.org/10.1097/SLE.0000000000000562

4.

Wakabayashi G (2016) What has changed after the Morioka consensus conference 2014 on laparoscopic liver resection? Hepatobiliary Surg Nutr 5(4):281–289. https://doi.org/10.21037/hbsn.2016.03.03

5.

Kazaryan AM, Røsok BI, Marangos IP, Rosseland AR, Edwin B (2011) Comparative evaluation of laparoscopic liver resection for posterosuperior and anterolateral segments. Surg Endosc 25:3881–3889. https://doi.org/10.1007/s00464-011-1815-x

6.

Buell JF, Cherqui D, Geller DA, O'Rourke N, Iannitti D, Dagher I, Koffron AJ, Thomas M, Gayet B, Han HS, Wakabayashi G, Belli G, Kaneko H, Ker CG, Scatton O, Laurent A, Abdalla EK, Chaudhury P, Dutson E, Gamblin C, D'Angelica M, Nagorney D, Testa G, Labow D, Manas D, Poon RT, Nelson H, Martin R, Clary B, Pinson WC, Martinie J, Vauthey JN, Goldstein R, Roayaie S, Barlet D, Espat J, Abecassis M, Rees M, Fong Y, McMasters KM, Broelsch C, Busuttil R, Belghiti J, Strasberg S, Chari RS, World Consensus Conference on Laparoscopic Surgery (2008) The international position on laparoscopic liver surgery: the Louisville statement. Ann Surg 250(5):825–830

7.

Wakabayashi G, Cherqui D, Geller DA, Buell JF, Kaneko H, Han HS, Asbun H, O'Rourke N, Tanabe M, Koffron AJ, Tsung A, Soubrane O, Machado MA, Gayet B, Troisi RI, Pessaux P, Van Dam RM, Scatton O, Abu Hilal M, Belli G, Kwon CH, Edwin B, Choi GH, Aldrighetti LA, Cai X, Cleary S, Chen KH, Schön MR, Sugioka A, Tang CN, Herman P, Pekolj J, Chen XP, Dagher I, Jarnagin W, Yamamoto M, Strong R, Jagannath P, Lo CM, Clavien PA, Kokudo N, Barkun J (2015) Strasberg SM (2015) Recommendations for laparoscopic liver resection A report from the second international consensus conference held in Morioka. Ann Surg 261(4):619–629. https://doi.org/10.1097/SLA.0000000000001184

8.

Coles SR, Besselink MG, Serin KR, Alsaati H, Di Gioia P, Samim M, Pearce NW, Abu Hilal M (2015) Total laparoscopic management of lesions involving liver segment 7. Surg Endosc 29:3190–3195. https://doi.org/10.1007/s00464-014-4052-2

9.

Abu Hilal M, van der Poel MJ, Samim M, Besselink MG, Flowers D, Stedman B et al (2015) Laparoscopic liver resection for lesions adjusted to major vasculature: feasibility, safety and oncological efficiency. J Gastrointest Surg 19:692–698. https://doi.org/10.1007/s11605-014-2739-2

10.

Okuno M, Goumard C, Mizuno T, Omichi K, Tzeng CD, Chun YS, Aloia TA, Fleming JB, Lee JE, Vauthey JN, Conrad C (2018) Operative and short-term oncologic outcomes of laparoscopic versus open liver resection for colorectal liver metastases located in the posterosuperior liver: a propensity score matching analysis. Surg Endosc 32(4):1776–1786. https://doi.org/10.1007/s00464-017-5861-x

11.

Lee W, Han HS, Yoon YS, Cho JY, Choi Y, Shin HK (2014) Role of intercostal trocars on laparoscopic liver resection for tumors in segments 7 and 8. J Hepatobiliary Pancreat Sci 21(8):E65–E68. https://doi.org/10.1002/jhbp

12.

Scuderi V, Barkhatov L, Montalti R, Ratti F, Cipriani F, Pardo F, Tranchart H, Dagher I, Rotellar F, Abu Hilal M, Edwin B, Vivarelli M, Aldrighetti L, Troisi RI (2017) Outcome after laparoscopic and open resections of posterosuperior segments of the liver. Br J Surg 104(6):751–759. https://doi.org/10.1002/bjs.10489

13.

Aghayan DL, Fretland ÅA, Kazaryan AM, Sahakyan MA, Dagenborg VJ, Bjørnbeth BA, Flatmark K, Kristiansen R, Edwin B (2019) Laparoscopic versus open liver resection in the posterosuperior segments: a sub-group analysis from the OSLO-COMET randomized controlled trial. HPB (Oxford). https://doi.org/10.1016/j.hpb.2019.03.358
Ethics declarations
Conflict of interest
Drs. Efanov M, Granov D, Alikhanov R, Rutkin I, Cvirkun V, Kazakov I, Vankovich A, Beketov M, Koroleva A and Kovalenko D have no conflicts of interest or financial ties to disclose.
Additional information
Publisher's Note
Springer Nature remains neutral with regard to jurisdictional claims in published maps and institutional affiliations.
About this article
Cite this article
Efanov, M., Granov, D., Alikhanov, R. et al. Expanding indications for laparoscopic parenchyma-sparing resection of posterosuperior liver segments in patients with colorectal metastases: comparison with open hepatectomy for immediate and long-term outcomes. Surg Endosc (2020) doi:10.1007/s00464-019-07363-z
Received:

Accepted:

Published:
Keywords
Laparoscopic liver resection

Posterosuperior liver segments

Colorectal liver metastases