Abstract
Background
Laparoscopic gastrojejunostomies are time consuming and require a specific training. Alternatively, sutureless anastomosis can be achieved using endoscopically delivered magnetic rings. Our aim was to assess the feasibility and reproducibility of an endo-laparoscopic gastrojejunostomy technique, using a pair of magnets coated with a near-infrared fluorescent biocompatible polymeric material.
Methods
Five pigs (3 acute and 2 survival models) and one human anatomical specimen were included. In the survival models, the distal ring was inserted into the duodenum endoscopically, and it was fixed to a thread clipped to the gastric mucosa. Twenty-four hours later, a two-port laparoscopy was performed using a near-infrared (NIR) laparoscope. The magnet position in the jejunum was detected with the transluminal fluorescence of the dye. Magnetic interaction with the metallic tip of the laparoscopic grasper allowed to capture the ring and bring the bowel loop to the future anastomotic site on the gastric wall. The proximal magnet was inserted into the stomach endoscopically and released when magnetic interaction started, allowing for a precise connection with the distal ring. The animals were followed up for 12 days and underwent control endoscopies and radiograms. In the acute animals, the anastomotic procedure was repeated 24 times. Finally, the procedure was performed in the human anatomical specimen.
Results
There were no technical problems, and magnetic connection could be precisely directed at both the anterior and posterior gastric walls. No complications occurred during the survival period and the anastomoses were patent on day 5. Transluminal fluorescence enabled a rapid detection of the magnet.
Conclusions
Hybrid-reduced port magnetic gastrojejunostomy using a pair of fluorescently coated magnetic rings was feasible, reproducible, and easy to perform in both porcine and cadaver models.
This is a preview of subscription content, log in to check access.
Access options
Buy single article
Instant unlimited access to the full article PDF.
US$ 39.95
Price includes VAT for USA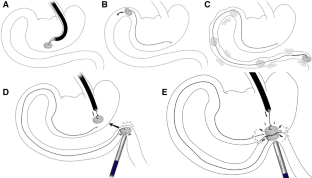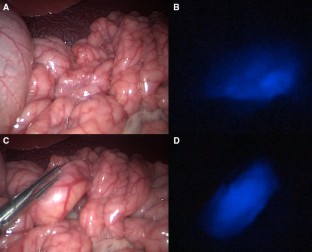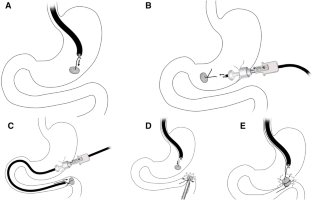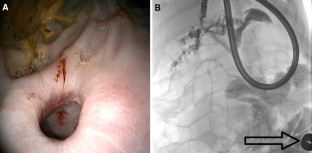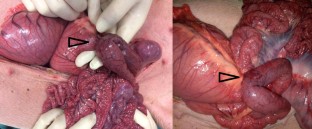 References
1.

Voyles CR, Sanders DL, Hogan R (1994) Common bile duct evaluation in the era of laparoscopic cholecystectomy. 1050 cases later. Ann Surg 219:744–750 (discussion 750–742)

2.

Ballantyne GH, Burke JB, Rogers G, Lampert EG, Boccia J (1985) Accelerated wound healing with stapled enteric suture lines. An experimental study comparing traditional sewing techniques and a stapling device. Ann Surg 201:360–364

3.

Graffner H, Andersson L, Lowenhielm P, Walther B (1984) The healing process of anastomoses of the colon. A comparative study using single, double-layer or stapled anastomosis. Dis Colon Rectum 27:767–771

4.

Lustosa SA, Matos D, Atallah AN, Castro AA (2001) Stapled versus handsewn methods for colorectal anastomosis surgery. Cochrane Database Syst Rev. https://doi.org/10.1002/14651858.CD003144

5.

Hardy KJ (1990) Non-suture anastomosis: the historical development. Aust N Z J Surg 60:625–633

6.

Aggarwal R, Darzi A (2005) Compression anastomoses revisited. J Am Coll Surg 201:965–971

7.

Kaidar-Person O, Rosenthal RJ, Wexner SD, Szomstein S, Person B (2008) Compression anastomosis: history and clinical considerations. Am J Surg 195:818–826

8.

Kopelman D, Hatoum OA, Kimmel B, Monassevitch L, Nir Y, Lelcuk S, Rabau M, Szold A (2007) Compression gastrointestinal anastomosis. Expert Rev Med Devices 4:821–828

9.

Senn N (1893) Enterorrhaphy; its history, technique, and present status. JAMA 21:215–235

10.

Masoomi H, Luo R, Mills S, Carmichael JC, Senagore AJ, Stamos MJ (2013) Compression anastomosis ring device in colorectal anastomosis: a review of 1,180 patients. Am J Surg 205:447–451

11.

van Hooft JE, Vleggaar FP, Le Moine O, Bizzotto A, Voermans RP, Costamagna G, Deviere J, Siersema PD, Fockens P (2010) Endoscopic magnetic gastroenteric anastomosis for palliation of malignant gastric outlet obstruction: a prospective multicenter study. Gastrointest Endosc 72:530–535

12.

Diaz R, Davalos G, Welsh LK, Portenier D, Guerron AD (2019) Use of magnets in gastrointestinal surgery. Surg Endosc 33(6):1721–1730

13.

Wall J, Diana M, Leroy J, Deruijter V, Gonzales KD, Lindner V, Harrison M, Marescaux J (2013) MAGNAMOSIS IV: magnetic compression anastomosis for minimally invasive colorectal surgery. Endoscopy 45:643–648

14.

Jamshidi R, Stephenson JT, Clay JG, Pichakron KO, Harrison MR (2009) Magnamosis: magnetic compression anastomosis with comparison to suture and staple techniques. J Pediatr Surg 44:222–228

15.

Pichakron KO, Jelin EB, Hirose S, Curran PF, Jamshidi R, Stephenson JT, Fechter R, Strange M, Harrison MR (2011) Magnamosis II: magnetic compression anastomosis for minimally invasive gastrojejunostomy and jejunojejunostomy. J Am Coll Surg 212:42–49

16.

Gonzales KD, Douglas G, Pichakron KO, Kwiat DA, Gallardo SG, Encinas JL, Hirose S, Harrison MR (2012) Magnamosis III: delivery of a magnetic compression anastomosis device using minimally invasive endoscopic techniques. J Pediatr Surg 47:1291–1295

17.

Myers C, Yellen B, Evans J, DeMaria E, Pryor A (2010) Using external magnet guidance and endoscopically placed magnets to create suture-free gastro-enteral anastomoses. Surg Endosc 24:1104–1109

18.

Leroy J, Perretta S, Diana M, Wall J, Lindner V, Harrison M, Marescaux J (2012) An original endoluminal magnetic anastomotic device allowing pure NOTES transgastric and transrectal sigmoidectomy in a porcine model: proof of concept. Surg Innov 19:109–116

19.

Diana M, Wall J, Perretta S, Dallemagne B, Gonzales KD, Harrison MR, Agnus V, Soler L, Nicolau S, Marescaux J (2011) Totally endoscopic magnetic enteral bypass by external guided rendez-vous technique. Surg Innov 18:317–320

20.

Ryou M, Cantillon-Murphy P, Azagury D, Shaikh SN, Ha G, Greenwalt I, Ryan MB, Lang JH, Thompson CC (2011) Smart Self-Assembling MagnetS for ENdoscopy (SAMSEN) for transoral endoscopic creation of immediate gastrojejunostomy (with video). Gastrointest Endosc 73:353–359

21.

Kilkenny C, Browne W, Cuthill IC, Emerson M, Altman DG, Group NCRRGW (2010) Animal research: reporting in vivo experiments: the ARRIVE guidelines. J Gene Med 12:561–563

22.

Kong SH, Haouchine N, Soares R, Klymchenko A, Andreiuk B, Marques B, Shabat G, Piechaud T, Diana M, Cotin S, Marescaux J (2017) Robust augmented reality registration method for localization of solid organs' tumors using CT-derived virtual biomechanical model and fluorescent fiducials. Surg Endosc 31:2863–2871

23.

Lambe T, Riordain MG, Cahill RA, Cantillon-Murphy P (2014) Magnetic compression in gastrointestinal and bilioenteric anastomosis: how much force? Surg Innov 21:65–73

24.

Graves CE, Co C, Hsi RS, Kwiat D, Imamura-Ching J, Harrison MR, Stoller ML (2017) Magnetic compression anastomosis (magnamosis): first-in-human trial. J Am Coll Surg 225(676–681):e671

25.

Diana M, Mutter D, Lindner V, Vix M, Chung H, Demartines N, Marescaux J (2014) A modular magnetic anastomotic device for minimally invasive digestive anastomosis: proof of concept and preliminary data in the pig model. Surg Endosc 28:1613–1623

26.

Ryou M, Agoston AT, Thompson CC (2016) Endoscopic intestinal bypass creation by using self-assembling magnets in a porcine model. Gastrointest Endosc 83:821–825

27.

Machytka E, Buzga M, Zonca P, Lautz DB, Ryou M, Simonson DC, Thompson CC (2017) Partial jejunal diversion using an incisionless magnetic anastomosis system: 1-year interim results in patients with obesity and diabetes. Gastrointest Endosc 86:904–912

28.

Mans L, Arvanitakis M, Neuhaus H, Deviere J (2018) Motorized spiral enteroscopy for occult bleeding. Dig Dis 36:325–327

29.

Zorron R, Veltzke-Schlieker W, Adler A, Denecke C, Dziodzio T, Pratschke J, Benzing C (2018) Endoscopic sleeve gastroplasty using Apollo Overstitch as a bridging procedure for superobese and high risk patients. Endoscopy 50:81–83

30.

Wang FG, Yan WM, Yan M, Song MM (2018) Outcomes of mini vs Roux-en-Y gastric bypass: a meta-analysis and systematic review. Int J Surg 56:7–14
Acknowledgements
Authors are grateful to Camille Goustiaux, Guy Temporal, and Christopher Burel, professionals in Medical English proofreading for their valuable help with the manuscript revision.
Funding
This study was partly funded by a grant from the ARC Foundation for Cancer Research (9, rue Guy Môquet; 94803 Villejuif Cedex—France; www.fondation-arc.org), in the framework of the ELIOS (Endoscopic Luminescent Imaging for precision Oncologic Surgery) project, and partly by a grant from the Society to Accelerate Tech Transfer (SATT) Conectus Alsace (650 Boulevard Gonthier d'Andernach, 67400 Illkirch-Graffenstaden, France), in the framework of the NICE (Near-Infrared Coating of Equipment) project.
Ethics declarations
Disclosures
Michele Diana is the PI of the ELIOS project and co-PI of the NICE project. Andrey Klymchenko is co-PI of the NICE project. Both are inventors of the NICE technology (European patent application No. 18305075.6). Jacques Marescaux is the President of both IRCAD and IHU Institutes, which are partly funded by KARL STORZ, Medtronic, and Siemens Healthcare. Ryohei Watanabe, Manuel Barberio, Shingo Kanaji, Alfonso Lapergola, Anila Hoskere Ashoka, Bohdan Andreiuk, Ludovica Guerriero, Margherita Pizzicannella, Barbara Seeliger, Yoshihisa Saida, Hironori Kaneko, Marc Worreth, and Alend Saadi have no conflicts of interest or financial ties to disclose.
Additional information
Publisher's Note
Springer Nature remains neutral with regard to jurisdictional claims in published maps and institutional affiliations.
Electronic supplementary material
Below is the link to the electronic supplementary material.
Supplementary material 1 (MP4 206532 kb)
Supplementary material 2 (MP4 45071 kb)
About this article
Cite this article
Watanabe, R., Barberio, M., Kanaji, S. et al. Hybrid fluorescent magnetic gastrojejunostomy: an experimental feasibility study in the porcine model and human cadaver. Surg Endosc (2019) doi:10.1007/s00464-019-06963-z
Received:

Accepted:

Published:
Keywords
Sutureless anastomose

Magnetic compression anastomose

Near-infrared coating

Hybrid surgical procedure