Abstract
Objectives/hypothesis
Intraoperative neuromonitoring (IONM) is a useful adjunct for recurrent laryngeal nerve (RLN) mapping and identification in transoral endoscopic thyroidectomy vestibular approach (TOETVA). This experimental study aimed to investigate the feasibility, safety, thresholds required of an endoscopic forceps that combine the function of surgical dissection and nerve stimulation.
Study design
Prospective experimental research.
Methods
TOETVA was performed in 12 piglets, i.e., 24 RLNs and 24 vagal nerves (VN). RLNs electromyography (EMG) was recorded via endotracheal surface electrodes. Baseline EMG of VN and RLN were recorded and compared by (a) percutaneously placed monopolar stimulator probe (Group I), (b) adapted Maryland endoscopic dissector applied on nerves at its tip-end (Group II) and (c) endoscopic dissector tip-lateral applied (Group III). EMG profiles, amplitude, latency, waveform, thresholds and supra-maximal stimulation (5 mA) were analyzed.
Results
Application of the endoscopic device was feasible in all TOETVA and did not result in any morbidity. 24 RLNs and VNs were detected, stimulated and monitored. With increase of stimulation current, the amplitude of EMG increased, showing a dose–response curve. Mean VN stimulation thresholds were: Group I 0.28 mA, Group II 0.56 mA, Group III 0.58 mA (P1 = 0.00, P2 = 0.00, P3 = 0.11). Minimal current to evoked a maximal VN response was: Group I 0.65 mA, Group II 1.07 mA and Group III 1.14 mA (P1 = 0.00, P2 = 0.00, P3 = 0.48). Minimal current to evoke a RLN maximal response was Group I 0.6 mA, Group II 0.95 mA and Group III 1.05 mA (P1 = 0.00, P2 = 0.00, P3 = 0.31). Latency values were similar to each group. Repetitive (> 10 min) supra-maximal (> 5 mA) electrical stimulation was safe.
Conclusions
The application of endoscopic stimulating dissector is simple, effective and safe way to monitor both VN and RLN function during a TOETVA animal model. It provides surgeons with real-time feedback of EMG response and can be applied as a tool for RLN monitoring. Endoscopic instrument required higher current to evoke EMG response compared to hand probe stimulation. Tip-end required less current to evoke EMG response compared to tip-lateral mode of stimulation.
This is a preview of subscription content, log in to check access.
Access options
Buy single article
Instant unlimited access to the full article PDF.
US$ 39.95
Price includes VAT for USA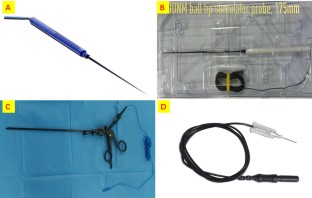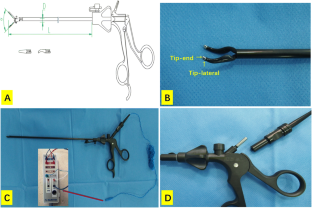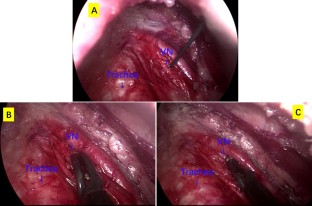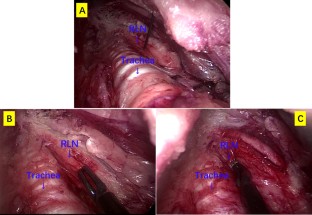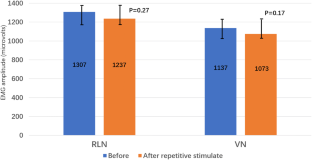 References
1.

Dionigi G, Wu CW, Tufano RP, Rizzo AG, Anuwong A, Sun H, Carcoforo P, Antonino C, Portinari M, Kim HY (2018) Monitored transoral endoscopic thyroidectomy via long monopolar stimulation probe. J Vis Surg. 26(4):24. https://doi.org/10.21037/jovs.2017.12.25(eCollection 2018)

2.

Inabnet WB 3rd, Suh H, Fernandez-Ranvier G (2017) Transoral endoscopic thyroidectomy vestibular approach with intraoperative nerve monitoring. Surg Endosc 31(7):3030. https://doi.org/10.1007/s00464-016-5322-y(Epub 2016 Nov 10)

3.

Wang Y, Yu X, Wang P, Miao C, Xie Q, Yan H, Zhao Q, Zhang M, Xiang C (2016) Implementation of intraoperative neuromonitoring for transoral endoscopic thyroid surgery: a preliminary report. J Laparoendosc Adv Surg Tech A. 26(12):965–971 (Epub 2016 Sep 1)

4.

Witzel K, Benhidjeb T (2009) Monitoring of the recurrent laryngeal nerve in totally endoscopic thyroid surgery. Eur Surg Res 43(2):72–76. https://doi.org/10.1159/000220596(Epub 2009 May 27)

5.

Chiang FY, Lu IC, Chang PY, Sun H, Wang P, Lu XB, Chen HC, Chen HY, Kim HY, Dionigi G, Wu CW (2015) Stimulating dissecting instruments during neuromonitoring of RLN in thyroid surgery. Laryngoscope. 125(12):2832–2837. https://doi.org/10.1002/lary.25251(Epub 2015 Mar 26)

6.

Zhang D, Li S, Dionigi G, Wang T, Zhang J, Xue G, Sun H (2018) Feasibility of continuous intraoperative neural monitoring during transoral endoscopic thyroidectomy vestibular approach in a porcine model. J Laparoendosc Adv Surg Tech A. https://doi.org/10.1089/lap.2018.0054(Epub ahead of print)

7.

Anuwong A, Sasanakietkul T, Jitpratoom P, Ketwong K, Kim HY, Dionigi G, Richmon JD (2018) Transoral endoscopic thyroidectomy vestibular approach (TOETVA): indications, techniques and results. Surg Endosc 32(1):456–465. https://doi.org/10.1007/s00464-017-5705-8Epub 2017 Jul 17

8.

Chiang FY, Wang LF, Huang YF, Lee KW, Kuo WR (2005) Recurrent laryngeal nerve palsy after thyroidectomy with routine identification of the recurrent laryngeal nerve. Surgery 137:342–347

9.

Randolph GW, Dralle H, Abdullah H et al (2011) Electrophysiologic recurrent laryngeal nerve monitoring during thyroid and parathyroid surgery. Laryngoscope 121(suppl 1):S1–S16

10.

Wu CW, Dionigi G, Sun H et al (2014) Intraoperative neuromonitoring for the early detection and prevention of RLN traction injury in thyroid surgery a porcine model. Surgery 155:329–339
Acknowledgements
The present study was financially supported by Jilin provincial special fund for health care (no. SCZSY201714 and SCZSY201504) and the Outstanding Young Talent Foundation Project of Science and Technology Department in Jilin Province (Grant no. 20170520018JH), China.
Ethics declarations
Disclosure
The authors Daqi Zhang, Shijie Li, Gianlorenzo Dionigi, Jiao Zhang, Tie Wang, Yishen Zhao, Gaofeng Xue and Hui Sun have no conflict of interest to disclose, and no other funding or financial relationship with the surgical industry.
Ethical approval
This article does not contain any studies with human participants performed by any of the Authors.
Informed consent
Informed consent not applicable in the present study.
Additional information
Publisher's Note
Springer Nature remains neutral with regard to jurisdictional claims in published maps and institutional affiliations.
Electronic supplementary material
Below is the link to the electronic supplementary material.
About this article
Cite this article
Zhang, D., Li, S., Dionigi, G. et al. Stimulating and dissecting instrument for transoral endoscopic thyroidectomy: proof of concept investigation. Surg Endosc 34, 996–1005 (2020). https://doi.org/10.1007/s00464-019-06936-2
Received:

Accepted:

Published:

Issue Date:
Keywords
Transoral thyroidectomy

Endoscopic thyroidectomy

Dissecting instruments

Neural monitoring

Recurrent laryngeal nerve

Vagus nerve

TOETVA

IONM