Abstract
Background
Laparoscopic primary anastomosis (PA) without diversion for diverticulitis has historically been confined to the elective setting. Hartmann's procedure is associated with high morbidity rates that might be reduced with less invasive and one-step approaches. The aim of this study was to analyze the results of laparoscopic PA without diversion in Hinchey III perforated diverticulitis.
Methods
We performed a retrospective analysis of a prospectively collected database of all patients who underwent laparoscopic sigmoidectomy for diverticular disease during the period 2000–2018. The sample was divided in two groups: elective laparoscopic sigmoid resection for recurrent diverticulitis (G1) and emergent laparoscopic sigmoidectomy for Hinchey III diverticulitis (G2). Demographics, operative variables, and postoperative outcomes were compared between groups.
Results
A total of 415 patients underwent laparoscopic sigmoid resection for diverticular disease. PA without diversion was performed in 351 patients; 278 (79.2%) belonged to G1 (recurrent diverticulitis) and 73 (20.8%) to G2 (perforated diverticulitis). Median age, gender, and BMI score were similar in both groups. Patients with ASA III score were more frequent in G2 (p: 0.02). Conversion rate (G1: 4% vs. G2: 18%, p < 0.001), operative time (G1: 157 min vs. G2: 183 min, p < 0.001), and median length of hospital stay (G1: 3 days vs. G2: 5 days, p < 0.001) were significantly higher in G2. Overall postoperative morbidity (G1: 22.3% vs. G2: 28.7%, p = 0.27) and anastomotic leak rate (G1: 5.7% vs. G2: 5.4%, p = 0.92) were similar between groups. There was no mortality in G1 and one patient (1.3%) died in G2 (p = 0.21).
Conclusion
Laparoscopic sigmoid resection without diversion is feasible and safe in patients with perforated diverticulitis. In centers with vast experience in laparoscopic colorectal surgery, patients undergoing this procedure have similar morbidity and mortality to those undergoing elective sigmoidectomy.
This is a preview of subscription content, log in to check access.
Access options
Buy single article
Instant access to the full article PDF.
US$ 39.95
Price includes VAT for USA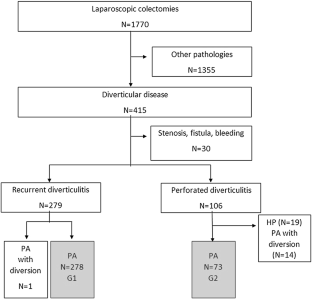 References
1.

Heise CP (2008) Epidemiology and pathogenesis of diverticular disease. J Gastrointest Surg 12:1309–1311

2.

Durmishi Y, Gervaz P, Brandt D, Bucher P, Platon A, Morel P, Poletti PA (2006) Results from percutaneous drainage of Hinchey stage II diverticulitis guided by computer tomography scan. Surg Endosc 20:1129–1133

3.

Siewert B, Tye G, Kruskal J, Sosna J, Opelka F, Raptopoulos V, Goldberg SN (2006) Impact of CT-guided drainage in the treatment of diverticular abscess: size matters. Am J Roentgenol 186:680–686

4.

Brandt D, Gervaz P, Durmishi Y, Platon A, Morel P, Poletti PA (2006) Percutaneous CT scan-guided drainage versus antibiotherapy alone for Hinchey II diverticulitis: a case-control study. Dis Colon Rectum 49:1533–1538

5.

Morris CR, Harvey IM, Stebbings WS, Hart AR (2008) Incidence of perforated diverticulitis and risk factor for death in UK population. Br J Surg 95:876–881

6.

Constantinides VA, Tekkis PP, Senapati A (2006) A prospective multicenter evaluation of adverse outcomes following treatment for complicated diverticular disease. BJS 93:1503–1513

7.

Abbas S (2007) Resection and primary anastomosis in acute complicated diverticulitis, a systematic review of the literature. Int J Colorectal Dis 22:351–357

8.

Maggard MA, Zingmond D, O´Connell JB, Ko CY (2004) What proportion of patients with an ostomy (for diverticulitis) get reversed? Am Surg 70:928–931

9.

Banerjee S, Leather AJ, Rennie JA, Samano N, Gonzalez JG, Papagrigoriadis S (2005) Feasibility and morbidity of reversal of Hartmann´s. Colorectal Dis 7:454–459

10.

Swank HA, Vermeulen J, Lange JF, Mulder IM, van de Hoeven JA, Stassen LP, Crolla RM, Sosef MN, Nienhuijs SW, Bosker RJ, Boom MJ, Kruyt PM, Swank DJ, Steup WH, de Graaf EJ, Weidema WF, Pierik RE, Prins HA, Stockmann HB, Tollenaar RA, Wagensveld BA, Coene PP, Slooter GD, Consten EC, van Duijn EB, Gerhards MF, Hoofwijk AG, Karsten TM, Neijenhuis PA, Blanken-Peeters CF, Cense HA, Mannaerts GH, Bruin SC, Eijsbouts QA, Wiezer MJ, Hazebroek EJ, Geloven AA, Maring JK, D´Hoore AJ, Kartheuser A, Remue C, Grevenstein HM, Konsten JL, van der Peet DL, Govaert MJ, Engel AF, Reitsma JB, Bemelman WA, Dutch Diverticular Disease (3D) Collaborative Study Group (2010) The ladies trial: laparoscopic peritoneal lavage or resection for purulent peritonitis and Hartmann's procedure or resection with primary anastomosis for purulent or faecal peritonitis in perforated diverticulitis (NTR2037). BMC Surg 10:29

11.

Kuhry E, Schwenk WF, Gaupset R, Romild U, Bonjer HJ (2008) Long-term results of laparoscopic colorectal cancer resection. Cochrane Database Sys Rev. https://doi.org/10.1002/14651858.cd003432.pub2

12.

Cirocchi R, Fearnhead N, Vettoretto N, Cassini D, Popivanov G, Henry BM, Tomaszewski K, D´Andrea V, Davies J, Di Saverio S (2018) The role of emergency laparoscopic colectomy for complicated sigmoid diverticulitis: a systematic review and meta-analysys. Surgeon. https://doi.org/10.1016/j.surge.2018.08.010

13.

Vennix S, Boersema GS, Buskens CJ, Menon AG, Tanis PJ, Lange JF, Bemelman WA (2016) Emergency laparoscopic sigmoidectomy for perforated diverticulitis: a systematic review. Dig Surg 33:1–7

14.

Feingold D, Steele SR, Lee S, Kaiser A, Boushey R, Buie WD, Rafferty JF (2014) Practice parameters for the treatment of sigmoid diverticulitis. Dis Colon Rectum 57:284–289

15.

Sartelli M, Catena F, Ansaloni L, Coccolini F, Griffiths EA, Abuzidan FM, Di Saverio S, Ulrych J, Kluger Y, Ben-Ishay O, Moore FA, Ivatury RR, Coimbra R, Peitzman AB, Leppaniemi A, Fraga GP, Maier RV, Chiara O, Kashuk J, Sakakushev B, Weber DG, Latifi R, Biffl W, Bala M, Karamarkovic A, Inaba K, Ordonez CA, Hecker A, Augustin G, Demetrashvili Z, Melo RB, Marwah S, Zachariah SK, Shelat VG, McFarlane M, Rems M, Gomez CA, Faro MP, Junior GA, Negoi I, Cui Y, Sato N, Vereczkei A, Bellanova G, Birindelli A, Di Carlo I, Kok KY, Gachabayov M, Gkiokas G, Bouliaris K, Colak E, Isik A, Rios-Cruz D, Soto R, Moore EE (2016) WSES guidelines for the management of acute left sided colonic diverticulitis in the emergency setting. World J Emerg Surg 11:37

16.

Neudecker J, Sauerland S, Neugebaur E, Bergamaschi R, Bonier HJ, Cuschieri A, Fuchs KH, Jacobi Ch, Jansen FW, Koivusalo AM, Lacy A, McMahon MJ, Millat B, Schwenk W (2002) The European Association for endoscopic surgery clinical practice guideline on the pneumoperitoneum for laparoscopic surgery. Surg Endosc 16:1121–1143

17.

O'Connor DB, Winter DC (2012) The role of laparoscopy in the management of acute small bowel obstruction: a review of over 2000 cases. Surg Endosc 26:2835–2842

18.

Pearl JP, Marks JM, Hardacre JM, Ponsky JL, Delaney CP, Rosen MJ (2008) Laparoscopic treatment of complex small bowel obstruction: is it safe? Surg Innov 15:110–113

19.

Mbadiwe T, Obirieze AC, Cornwell EE 3rd, Turner P, Fullum TM (2013) Surgical management of complicated diverticulitis: a comparison of the laparoscopic and open approaches. J Am Coll Surg 216:782–790

20.

Majewski W (2000) Diagnostic laparoscopy for the acute abdomen and trauma. Surg Endosc 14:930–937

21.

Paterson-Brown J (1993) Emergency laparoscopy in the critically ill. Br J Surg 80:279–283

22.

Geiss WP, Kim HC (1995) Use of laparoscopy in the diagnosis and treatment of patients with surgical abdomen sepsis. Surg Endosc 9:178–182

23.

Forde KA, Treat MR (2000) The role of peritoneoscopy (laparoscopy) in the evaluation of the acute abdomen in critically ill patients. Surg Endosc 6:219–221

24.

Klarenbeek BR, Bergamaschi R, Veenhof AA, van der Peet DL, van der Boek WT, de Lange ES, Bemelman WA, Heres P, Lacy AM, Cuesta MA (2011) Laparoscopic versus open sigmoid resection for diverticular disease: follow up assessment of the randomized control sigma-trial. Surg Endosc 4:1121–1126

25.

Letarte F, Hallet J, Drolet S, Charles Gregoire R, Bouchard A, Gagne JP, Thibault C, Bouchard P (2013) Laparoscopic emergency surgery for diverticular disease that failed medical treatment: a valuable option? Results of a retrospective comparative cohort study. Dis Colon Rectum 56:1395–1402

26.

Wu KL, Lee KC, Liu CC, Chen HH, Lu CC (2016) Laparoscopic versus open surgery for diverticulitis: a systematic review and meta-analysis. Dig Surg 34:203–215

27.

Andersen JC, Bundgaard L, Elbrond H, Laurberg S, Walker LR, Stovring J. Danish Surgical Society (2012) Danish national guidelines for treatment of diverticular disease. Dan Med J 59:C4453

28.

Agresta F, Ansaloni L, Baiocchi GL, Bergamini C, Campanile FC, Carlucci M, Cocorullo G, Corradi A, Franzato B, Lupo M, Mandala V, Mirabella A, Pernazza G, Piccoli M, Staudacher C, Vettoretto N, Zago M, Lettieri E, Levati A, Pietrini D, Scaglione M, De Masi S, De Placido G, Francucci M, Rasi M, Fingerhut A, Uranus S, Garattini S (2012) Laparoscopic approach to acute abdomen from the Consensus Development Conference of the Società Italiana di Chirurgia Endoscopica e nuove tecnologie (SICE), Associazione Chirurghi Ospedalieri Italiani (ACOI), Società Italiana di Chirurgia (SIC), Società Italiana di Chirurgia d'Urgenza e del Trauma (SICUT), Società Italiana di Chirurgia nell'Ospedalità Privata (SICOP), and the European Association for Endoscopic Surgery (EAES). Surg Endosc 26:2134–2164

29.

Cuomo R, Barbara G, Pace F, Annese V, Bassotti G, Binda GA, Casetti T, Colecchia A, Festi D, Fiocca R, Laghi A, Maconi G, Nascimbeni R, Scarpignato C, Villanacci V, Annibale B (2014) Italian consensus conference for colonic diverticulosis and diverticular disease. United Eur Gastroenterol J 2:413–442

30.

Chand M, Siddiqui MR, Gupta A, Rasheed S, Tekkis P, Parvaiz A, Mirnezami AH, Qureshi T (2014) Systematic review of emergent laparoscopic colorectal surgery for benign and malignant disease. World J Gastroenterol 20:16956–16963

31.

Constantinides VA, Tekkis PP, Athanasiou T, Aziz O, Purkayastha S, Remzi FH, Fazio VW, Aydin N, Darzi A, Senapati A (2006) Primary resection with anastomosis vs. Hartmann's procedure in nonelective surgery for acute colonic diverticulitis: a systematic review. Dis Colon Rectum 49:966–981

32.

Cirocchi R, Trastulli S, Desiderio J, Listori C, Boselli C, Parisi A, Noya G, Liu L (2013) Treatment of Hinchey stage III–IV diverticulitis: a systematic review and meta-analysis. Int J Colorectal Dis 28:447–457

33.

Binda GA, Karas JR, Serventi A, Sokmen S, Amato A, Hydo L, Bergamaschi R, Study Group on Diverticulitis (2012) Primary anastomosis vs nonrestorative resection for perforated diverticulitis with peritonitis: a prematurely terminated randomized controlled trial. Colorectal Dis 14:1403–1410

34.

Oberkofler CE, Rickenbacher A, Raptis DA, Lehmann K, Villiger P, Buchli C, Grieder F, Gelpke H, Decurtins M, Tempia-Caliera AA, Demartines N, Hahnloser D, Clavien PA, Breitenstein S (2012) A multicenter randomized clinical trial of primary anastomosis or Hartmann's procedure for perforated left colonic diverticulitis with purulent or fecal peritonitis. Ann Surg 256:819–826

35.

Toro A, Mannino M, Reale G, Cappello G, Di Carlo I (2012) Primary anastomosis vs Hartmann procedure in acute complicated diverticulitis: evolution over the last twenty years. Chirurgia (Bucur) 107:598–604

36.

Beyer-Berjot L, Maggiori L, Loiseau D, De Korwin JD, Bongiovanni JP, Lesprit P, Salles N, Rousset P, Lescot T, Henriot A, Lefrancois M, Cotte E, Parc Y (2019) Emergency surgery in acute diverticulitis: a systematic review. Dis Colon Rectum. https://doi.org/10.1097/dcr.0000000000001327

37.

O´Leary DP, Lynch N, Clancy C, Winter DC, Myers E (2015) International, expert-based, consensus statement regarding the management of acute diverticulitis. JAMA Surg 150:899–904

38.

Garber A, Hyman N, Osler T (2014) Complications of Hartmann takedown in a decade of preferred primary anastomosis. Am J Surg 207:60–64

39.

Elgazwi KEZ, Baca I, Grzybowski L, Jaacks A (2010) Laparoscopic sigmoidectomy for diverticulitis: a prospective study. JSLS 14:469–475

40.

Vennix S, Musters GD, Mulder IM, Swank HA, Consten EC, Belgers EH, van Geloven AA, Gerhards MF, Govaert MJ, van Grevenstein WM, Hoofwijk AG, Kruyt PM, Nienhuijs SW, Boermeester MA, Vermeulen J, van Dieren S, Lange JF, Bemelman WA, LADIES trial collaborators (2015) Laparoscopic peritoneal lavage or sigmoidectomy for perforated diverticulitis with purulent peritonitis: a multicentre, parallel-group, randomised, open-label trial. Lancet 386:1269–1277

41.

Schultz JK, Yaqub S, Wallon C, Blecic L, Forsmo HM, Folkesson J, Buchwald P, Korner H, Dahl FA, Oresland T, SCANDIV Study Group (2015) Laparoscopic lavage vs primary resection for acute perforated diverticulitis: the SCANDIV randomized clinical trial. JAMA 314:1364–1375

42.

Schultz JK, Wallon C, Blecic L, Forsmo HM, Folkesson J, Buchwald P, Korner H, Dahl FA, Oresland T, Yagub S, SCANDIV Study Group (2017) One-year results of the SCANDIV randomized clinical trial of laparoscopic lavage versus primary resection for acute perforated diverticulitis. Br J Surg 104:1382–1392

43.

Shaikh FM, Stewart PM, Walsh SR, Davies RJ (2017) Laparoscopic peritoneal lavage or surgical resection for acute perforated sigmoid diverticulitis: a systematic review and meta-analysis. Int J Surg 38:130–137
Ethics declarations
Disclosures
Nicolás H. Dreifuss, Francisco Schlottmann, Jose M. Piatti, Maximiliano E. Bun, and Nicolás A. Rotholtz have no conflicts of interest or financial ties to disclose.
Additional information
Publisher's Note
Springer Nature remains neutral with regard to jurisdictional claims in published maps and institutional affiliations.
About this article
Cite this article
Dreifuss, N.H., Schlottmann, F., Piatti, J.M. et al. Safety and feasibility of laparoscopic sigmoid resection without diversion in perforated diverticulitis. Surg Endosc 34, 1336–1342 (2020). https://doi.org/10.1007/s00464-019-06910-y
Received:

Accepted:

Published:

Issue Date:
Keywords
Perforated diverticulitis

Hinchey III

Primary anastomosis

Laparoscopic surgery

Emergency surgery

Morbidity