Abstract
Background
We sought to describe the feasibility and safety of a dual-marker technique—based on a combination of near-infrared (NIR) marking and microcoil localization—before image-guided video-assisted thoracoscopic surgery (iVATS) of small and/or deep pulmonary lesions in a hybrid operating room (HOR).
Methods
We retrospectively reviewed the clinical records of consecutive patients who underwent iVATS resection in a HOR using the proposed dual-marker localization technique. Patients were initially imaged with cone-beam CT, and the needle trajectory was subsequently planned with the Syngo iGuide Needle Guidance software. Using a coaxial needle technique, a microcoil was initially deployed either in the immediate proximity or within the lesion of interest followed by injection of diluted indocyanine green (ICG; quantity: 0.3–0.5 mL; dye concentration: 0.125 mg/mL) at the pleural surface. A NIR thoracoscopic camera and a C-arm portable fluoroscopic system were used to guide the subsequent resection.
Results
A total of 11 patients were examined. The median lesion size was 6 mm, with a median distance from the pleural surface of 4 mm. Three nodules were solid, whereas the remaining eight were GGOs. All lesions were identifiable on intraoperative cone-beam CT images. The median time required for localization was 19 min. No conversion to thoracotomy or a multi-port approach was required, and there were no clinically significant adverse events after ICG injection or microcoil placement.
Conclusions
Our study indicates that iVATS with a dual-marking approach (NIR marking and microcoil localization) is safe and useful to localize difficult-to-identify pulmonary nodules.
This is a preview of subscription content, log in to check access.
Access options
Buy single article
Instant unlimited access to the full article PDF.
US$ 39.95
Price includes VAT for USA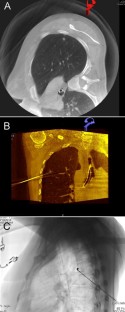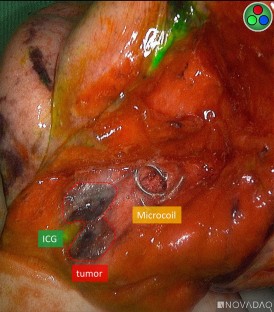 References
1.

Team NLSTR (2011) Reduced lung-cancer mortality with low-dose computed tomographic screening. N Engl J Med 2011:395–409

2.

Finley RJ, Mayo JR, Grant K, Clifton JC, English J, Leo J, Lam S (2015) Preoperative computed tomography–guided microcoil localization of small peripheral pulmonary nodules: a prospective randomized controlled trial. J Thorac Cardiovasc Surg 149:26–32

3.

Lin M-W, Tseng Y-H, Lee Y-F, Hsieh M-S, Ko W-C, Chen J-Y, Hsu H-H, Chang Y-C, Chen J-S (2016) Computed tomography-guided patent blue vital dye localization of pulmonary nodules in uniportal thoracoscopy. J Thorac Cardiovasc Surg 152:535–544

4.

Chen Y-R, Yeow K-M, Lee J-Y, Su IH, Chu S-Y, Lee C-H, Cheung Y-C, Liu H-P (2007) CT-guided Hook wire localization of subpleural lung lesions for video-assisted thoracoscopic surgery (VATS). J Formos Med Assoc 106:911–918

5.

Klinkenberg TJ, Dinjens L, Wolf RFE, van der Wekken AJ, van de Wauwer C, de Bock GH, Timens W, Mariani MA, Groen HJM (2017) CT-guided percutaneous hookwire localization increases the efficacy and safety of VATS for pulmonary nodules. J Surg Oncol 115:898–904

6.

Ichinose J, Kohno T, Fujimori S, Harano T, Suzuki S (2013) Efficacy and complications of computed tomography-guided hook wire localization. Ann Thorac Surg 96:1203–1208

7.

Mayo JR, Clifton JC, Powell TI, English JC, Evans KG, Yee J, McWilliams AM, Lam SC, Finley RJ (2009) Lung nodules: CT-guided placement of microcoils to direct video-assisted thoracoscopic surgical resection. Radiology 250:576–585

8.

Hwang S, Kim TG, Song YG (2018) Comparison of hook wire versus coil localization for video-assisted thoracoscopic surgery. Thorac Cancer 9:384–389

9.

Hsieh M-J, Fang H-Y, Lin C-C, Wen C-T, Chen H-W, Chao Y-K (2017) Single-stage localization and removal of small lung nodules through image-guided video-assisted thoracoscopic surgery. Eur J Cardiothorac Surg 53:353–358

10.

Gruber-Rouh T, Naguib NNN, Beeres M, Kleine P, Vogl TJ, Jacobi V, Alsubhi M, Nour-Eldin NA (2017) CT-guided hook-wire localisation prior to video-assisted thoracoscopic surgery of pulmonary lesions. Clin Radiol 72:898

11.

Park CH, Han K, Hur J, Lee SM, Lee JW, Hwang SH, Seo JS, Lee KH, Kwon W, Kim TH, Choi BW (2017) Comparative effectiveness and safety of preoperative lung localization for pulmonary nodules: a systematic review and meta-analysis. Chest 151:316–328

12.

Anayama T, Hirohashi K, Miyazaki R, Okada H, Kawamoto N, Yamamoto M, Sato T, Orihashi K (2018) Near-infrared dye marking for thoracoscopic resection of small-sized pulmonary nodules: comparison of percutaneous and bronchoscopic injection techniques. J Cardiothorac Surg 13:5

13.

Nagai K, Kuriyama K, Inoue A, Yoshida Y, Takami K (2018) Computed tomography-guided preoperative localization of small lung nodules with indocyanine green. Acta Radiol 59:830–835

14.

Chen PH, Hsu HH, Yang SM, Tsai TM, Tsou KC, Liao HC, Lin MW, Chen JS (2018) preoperative dye localization for thoracoscopic lung surgery: hybrid versus computed tomography room. Ann Thorac Surg 106(6):1661–1667

15.

Chao YK, Pan KT, Wen CT, Fang HY, Hsieh MJ (2018) A comparison of efficacy and safety of preoperative versus intraoperative computed tomography-guided thoracoscopic lung resection. J Thorac Cardiovasc Surg 156(1974–1983):e1971

16.

Wen C-T, Liu Y-Y, Fang H-Y, Hsieh M-J, Chao Y (2018) Image-guided video-assisted thoracoscopic small lung tumor resection using near-infrared marking. Surg Endosc 32:1–8
Ethics declarations
Disclosures
Yin-Kai Chao, Osbert Qi Yao Leow, Chih-Tsung Wen, and Hsin-Yueh Fang have no conflicts of interest or financial ties to disclose.
Additional information
Publisher's Note
Springer Nature remains neutral with regard to jurisdictional claims in published maps and institutional affiliations.
Electronic supplementary material
Below is the link to the electronic supplementary material.
Workflow of the dual-marking technique for localization of pulmonary nodules performed during image-guided video-assisted thoracoscopic surgery. The iVATS procedure was entirely performed in a HOR equipped with cone-beam CT (ARTIS zeego; Siemens Healthcare GmbH, Erlangen, Germany) and a Magnus surgical table (Maquet Medical Systems, Wayne, NJ, USA). The patient underwent an initial scan for surgical planning during end inspiration breath-hold using a standard 6-sec DynaCT Body protocol. Under the syngo Needle Guidance provided by the syngo X-Workplace (Siemens Healthcare GmbH), we laid out the access path in the isotropic data set. The needle path was outlined by marking the needle entry and target points and subsequently projected with a laser beam onto the patient's skin. A laser-targeting cross was projected onto the patient's surface to visualize the needle entry point and angulation. The needle entry site and angulation were visualized by projecting a laser-targeting cross onto the patient's surface. Needle orientation and positioning were adjusted after pointing the planned, virtual needle path onto a live fluoroscopic image. A post-procedural cone-beam CT scan was obtained to confirm an appropriate needle location. Using a coaxial technique, one microcoil was placed at the deep lesion margin followed by the injection of diluted indocyanine green (ICG; quantity: 0.3−0.5 mL; dye concentration: 0.125 mg/mL) at pleural surface. Upon initiation of VATS, real-time intraoperative NIR fluorescence images were obtained using a minimally invasive ICG fluorescence system (PINPOINT®; Novadaq, Mississauga, ON, Canada) which includes a 10-mm, 30-degree NIR thoracoscopic camera for the identification of the NIR tattoo.
About this article
Cite this article
Chao, Y., Leow, O.Q.Y., Wen, C. et al. Image-guided thoracoscopic lung resection using a dual-marker localization technique in a hybrid operating room. Surg Endosc 33, 3858–3863 (2019). https://doi.org/10.1007/s00464-019-06883-y
Received:

Accepted:

Published:

Issue Date:
Keywords
Near-infrared marking

Small pulmonary nodules

Indocyanine green

Image-guided video-assisted thoracoscopic surgery

Hybrid operating room

ARTIS zeego

Microcoil localization