Abstract
Background
Although monopolar electrocautery is preferred by many laparoscopic surgeons and is more cost-effective than bipolar or ultrasonic scissors, few studies have compared these outcomes between different monopolar electrocautery devices used in laparoscopic surgery. Therefore, this study compared the surgical outcomes between monopolar endo-hook versus endo-shears during laparoscopic right hemicolectomy for right colon cancer.
Methods
Using a prospective database of patients treated at our institute, we analyzed the surgical outcomes of 358 consecutive patients with right colon cancer who underwent curative laparoscopic surgery with a monopolar endo-hook (n = 164) or endo-shears (n = 194) between March 2009 and March 2017.
Results
There were no differences in age, sex, body mass index, American Society of Anesthesiologists' grade, previous operative history, or clinical stage between the endo-hook and endo-shears groups. The estimated blood loss was similar between the endo-hook and endo-shears groups (90.9 ± 60.3 vs. 92.0 ± 89.3 mL; P = 0.893). The number of harvested lymph nodes was greater in the endo-hook group (53.5 ± 20.3 vs. 48.1 ± 18.5; P = 0.008). Hospital stay was shorter in the endo-hook group (6.8 ± 2.2 vs. 7.8 ± 4.8 days; P = 0.013). Although chylous ascites was more frequent in the endo-hook group (21.3% vs. 7.7%, P < 0.001), the postoperative morbidity rate was lower in this group (9.8% vs. 18.0%; P = 0.025). All instances of chylous ascites healed spontaneously without intervention.
Conclusions
This study showed that the use of a monopolar endo-hook during laparoscopic right hemicolectomy might permit more meticulous lymph-node dissection and reduce morbidity compared with the use of monopolar endo-shears. Therefore, we suggest that the outcomes of laparoscopic surgery might be associated with the type of electrocautery device used.
This is a preview of subscription content, log in to check access.
Access options
Buy single article
Instant access to the full article PDF.
US$ 39.95
Price includes VAT for USA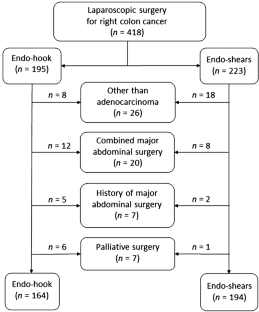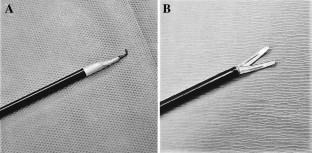 References
1.

Colon Cancer Laparoscopic or Open Resection Study G, Buunen M, Veldkamp R, Hop WC, Kuhry E, Jeekel J, Haglind E, Pahlman L, Cuesta MA, Msika S, Morino M, Lacy A, Bonjer HJ (2009) Survival after laparoscopic surgery versus open surgery for colon cancer: long-term outcome of a randomised clinical trial. Lancet Oncol 10(1):44–52

2.

Clinical Outcomes of Surgical Therapy Study G, Nelson H, Sargent DJ, Wieand HS, Fleshman J, Anvari M, Stryker SJ, Beart RW Jr, Hellinger M, Flanagan R Jr, Peters W, Ota D (2004) A comparison of laparoscopically assisted and open colectomy for colon cancer. N Engl J Med 350(20):2050–2059

3.

Kang SB, Park JW, Jeong SY, Nam BH, Choi HS, Kim DW, Lim SB, Lee TG, Kim DY, Kim JS, Chang HJ, Lee HS, Kim SY, Jung KH, Hong YS, Kim JH, Sohn DK, Kim DH, Oh JH (2010) Open versus laparoscopic surgery for mid or low rectal cancer after neoadjuvant chemoradiotherapy (COREAN trial): short-term outcomes of an open-label randomised controlled trial. Lancet Oncol 11(7):637–645

4.

Gehrman J, Bjorholt I, Angenete E, Andersson J, Bonjer J, Haglind E (2017) Health economic analysis of costs of laparoscopic and open surgery for rectal cancer within a randomized trial (COLOR II). Surg Endosc 31(3):1225–1234

5.

Nolan GJ, Howell S, Hewett P (2015) Impact of three-dimensional imaging in acquisition of laparoscopic skills in novice operators. J Laparoendosc Adv Surg Tech A 25(4):301–304

6.

Targarona EM, Balague C, Marin J, Neto RB, Martinez C, Garriga J, Trias M (2005) Energy sources for laparoscopic colectomy: a prospective randomized comparison of conventional electrosurgery, bipolar computer-controlled electrosurgery and ultrasonic dissection Operative outcome and costs analysis. Surg Innov 12(4):339–344

7.

Jaiswal A, Huang KG (2017) Energy devices in gynecological laparoscopy—archaic to modern era. Gynecol Minim Invasive Ther 6(4):147–151

8.

Fagotti A, Vizzielli G, Fanfani F, Gallotta V, Rossitto C, Costantini B, Gueli-Alletti S, Avenia N, Iodice R, Scambia G (2014) Randomized study comparing use of THUNDERBEAT technology vs standard electrosurgery during laparoscopic radical hysterectomy and pelvic lymphadenectomy for gynecologic cancer. J Minim Invasive Gynecol 21(3):447–453

9.

Milsom J, Trencheva K, Monette S, Pavoor R, Shukla P, Ma J, Sonoda T (2012) Evaluation of the safety, efficacy, and versatility of a new surgical energy device (THUNDERBEAT) in comparison with Harmonic ACE, LigaSure V, and EnSeal devices in a porcine model. J Laparoendosc Adv Surg Tech A 22(4):378–386

10.

Harrell AG, Kercher KW, Heniford BT (2004) Energy sources in laparoscopy. Semin Laparosc Surg 11(3):201–209

11.

Eto K, Omura N, Haruki K, Uno Y, Ohkuma M, Nakajima S, Anan T, Kosuge M, Fujita T, Yanaga K (2015) A comparison of laparoscopic energy devices on charges in thermal power after application to porcine mesentery. Surg Laparosc Endosc Percutan Tech. https://doi.org/10.1097/sle.0000000000000059

12.

Lee KH, Lee SM, Oh HK, Lee SY, Ihn MH, Kim DW, Kang SB (2016) Comparison of anastomotic configuration after laparoscopic right hemicolectomy under enhanced recovery program: side-to-side versus end-to-side anastomosis. Surg Endosc 30(5):1952–1957

13.

Watanabe T, Itabashi M, Shimada Y, Tanaka S, Ito Y, Ajioka Y, Hamaguchi T, Hyodo I, Igarashi M, Ishida H, Ishiguro M, Kanemitsu Y, Kokudo N, Muro K, Ochiai A, Oguchi M, Ohkura Y, Saito Y, Sakai Y, Ueno H, Yoshino T, Fujimori T, Koinuma N, Morita T, Nishimura G, Sakata Y, Takahashi K, Takiuchi H, Tsuruta O, Yamaguchi T, Yoshida M, Yamaguchi N, Kotake K, Sugihara K, Japanese Society for Cancer of the C, Rectum (2012) Japanese Society for Cancer of the Colon and Rectum (JSCCR) guidelines 2010 for the treatment of colorectal cancer. Int J Clin Oncol 17(1):1–29

14.

Kaas R, Rustman LD, Zoetmulder FA (2001) Chylous ascites after oncological abdominal surgery: incidence and treatment. Eur J Surg Oncol 27(2):187–189

15.

Clavien PA, Barkun J, de Oliveira ML, Vauthey JN, Dindo D, Schulick RD, de Santibanes E, Pekolj J, Slankamenac K, Bassi C, Graf R, Vonlanthen R, Padbury R, Cameron JL, Makuuchi M (2009) The Clavien–Dindo classification of surgical complications: five-year experience. Ann Surg 250(2):187–196

16.

Le Voyer TE, Sigurdson ER, Hanlon AL, Mayer RJ, Macdonald JS, Catalano PJ, Haller DG (2003) Colon cancer survival is associated with increasing number of lymph nodes analyzed: a secondary survey of intergroup trial INT-0089. J Clin Oncol 21(15):2912–2919

17.

Tsai HL, Huang CW, Yeh YS, Ma CJ, Chen CW, Lu CY, Huang MY, Yang IP, Wang JY (2016) Factors affecting number of lymph nodes harvested and the impact of examining a minimum of 12 lymph nodes in stage I-III colorectal cancer patients: a retrospective single institution cohort study of 1167 consecutive patients. BMC Surg. https://doi.org/10.1186/s12893-016-0132-7

18.

Chen SL, Bilchik AJ (2006) More extensive nodal dissection improves survival for stages I to III of colon cancer: a population-based study. Ann Surg 244(4):602–610

19.

Johnson PM, Porter GA, Ricciardi R, Baxter NN (2006) Increasing negative lymph node count is independently associated with improved long-term survival in stage IIIB and IIIC colon cancer. J Clin Oncol 24(22):3570–3575

20.

Leibovitch I, Mor Y, Golomb J, Ramon J (2002) The diagnosis and management of postoperative chylous ascites. J Urol 167(2 Pt 1):449–457

21.

Campisi C, Bellini C, Eretta C, Zilli A, da Rin E, Davini D, Bonioli E, Boccardo F (2006) Diagnosis and management of primary chylous ascites. J Vasc Surg 43(6):1244–1248

22.

Jayabose S, Kogan S, Berezin S, Slim M, San Filippo JA, Godine L, Beneck D, Tugal O, Sunkara S (1989) Combined occurrence of chyloperitoneum and chylothorax after surgery and chemotherapy for Wilms' tumor. Cancer 64(9):1790–1795

23.

Baek SJ, Kim SH, Kwak JM, Kim J (2013) Incidence and risk factors of chylous ascites after colorectal cancer surgery. Am J Surg 206(4):555–559

24.

Nishigori H, Ito M, Nishizawa Y, Koyama A, Koda T, Nakajima K, Minagawa N, Nishizawa Y, Kobayashi A, Sugito M, Saito N (2012) Postoperative chylous ascites after colorectal cancer surgery. Surg Today 42(8):724–728

25.

Assumpcao L, Cameron JL, Wolfgang CL, Edil B, Choti MA, Herman JM, Geschwind JF, Hong K, Georgiades C, Schulick RD, Pawlik TM (2008) Incidence and management of chyle leaks following pancreatic resection: a high volume single-center institutional experience. J Gastrointest Surg 12(11):1915–1923

26.

Aalami OO, Allen DB, Organ CH Jr (2000) Chylous ascites: a collective review. Surgery 128(5):761–778

27.

Lu XR, Lin HM, Chi P (2010) Treatment of chyle leak following radical resection for colorectal cancer. Zhonghua Wei Chang Wai Ke Za Zhi 13(11):808–810

28.

Sun YW, Chi P, Lin HM, Lu XR, Huang Y, Xu ZB, Huang SH (2012) Risk factors of postoperative chyle leak following complete mesocolic excision for colon cancer. Zhonghua Wei Chang Wai Ke Za Zhi 15(4):328–331

29.

Weyhe D, Uslar VN, Tabriz N, Burkowski I, Heinzel R, Muller A, Belling A, Kockerling F (2017) Experience and dissection device are more relevant than patient-related factors for operation time in laparoscopic sigmoid resection-a retrospective 8-year observational study. Int J Colorectal Dis 32(12):1703–1710
Acknowledgements
The authors thank Jun-Gi Kim, the first President of the Korean Laparoscopic Colorectal Surgery Study Group, for his assistance and advice in the use of endo-hooks.
Ethics declarations
Disclosure
Drs. Jeehye Lee, Jung Rae Cho, Min Hyun Kim, Heung-Kwon Oh, Duck-Woo Kim, and Sung-Bum Kang have no conflicts of interest or financial ties to disclose.
Additional information
Publisher's Note
Springer Nature remains neutral with regard to jurisdictional claims in published maps and institutional affiliations.
About this article
Cite this article
Lee, J., Cho, J.R., Kim, M.H. et al. Surgical outcomes according to the type of monopolar electrocautery device used in laparoscopic surgery for right colon cancer: a comparison of endo-hook versus endo-shears. Surg Endosc 34, 1070–1076 (2020). https://doi.org/10.1007/s00464-019-06854-3
Received:

Accepted:

Published:

Issue Date:
Keywords
Surgery

Monopolar electrocautery

Endo-hook

Endo-shears

Colon cancer