Abstract
Objective
Current literature demonstrates a lack of comparative in vivo studies regarding laparoscopic lens fogging (LLF). This randomized trial aimed to compare 3 popular methods of minimizing or reducing LLF in laparoscopic surgery by heating the lens using warm saline, applying anti-fog solution to the lens, and rubbing the lens with chlorhexidine solution.
Methods
Ninety-six participants underwent randomization to be allocated in control (n = 24), warm saline (n = 24), anti-fog solution (n = 24), and chlorhexidine groups (n = 24). The primary outcome measure was the severity of LLF during the first 3 min after laparoscope insertion into the abdominal cavity. The severity of LLF was rated on a 10-point visual clarity scale ranging from 0 (clearest) to 10 (foggiest). The secondary outcome measures were (1) the severity of LLF during the remaining operative time other than the first 3 min, (2) the number of lens cleansings, and (3) the total time required to clean the lens.
Results
Lens fogging during the first 3 min and remaining operative time other than the first 3 min was significantly decreased in the warm saline group compared to that in the other 3 groups (all, P < 0.001). In post hoc analysis, the anti-fog solution group was significantly foggier than the warm saline group, but clearer than the chlorhexidine and control groups. The number of lens cleansings and total time required to clean the lens were significantly lower in the warm saline and anti-fog solution groups than in the chlorhexidine and control groups (all, P < 0.05).
Conclusion
The use of warm saline leads to significantly fewer fogging events than the use of anti-fog solution or chlorhexidine solution, resulting in an improved continuity of surgery.
This is a preview of subscription content, log in to check access.
Access options
Buy single article
Instant unlimited access to the full article PDF.
US$ 39.95
Price includes VAT for USA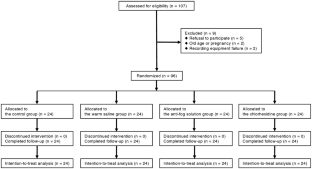 References
1.

Manning TG, Perera M, Christidis D, Kinnear N, McGrath S, O'Beirne R, Zotov P, Bolton D, Lawrentschuk N (2017) Visual occlusion during minimally invasive surgery: a contemporary review of methods to reduce laparoscopic and robotic lens fogging and other sources of optical loss. J Endourol 31:327–333

2.

Kitano S, Tomikawa M, Iso Y, Iwata S, Gondo K, Moriyama M, Sugimachi K (1992) A safe and simple method to maintain a clear field of vision during laparoscopic cholecystectomy. Surg Endosc 6:197–198

3.

Schurr Kunert, Arezzo Buess (1999) The role and future of endoscopic imaging systems. Endoscopy 31:557–562

4.

Lawrentschuk N, Fleshner NE, Bolton DM (2010) Laparoscopic lens fogging: a review of etiology and methods to maintain a clear visual field. J Endourol 24:905–913

5.

Bessell J, Flemming E, Kunert W, Buess G (1996) Maintenance of clear vision during laparoscopic surgery. Minim Invasive Ther Allied Technol 5:450–455

6.

Mohammadhosseini B (2009) Povidone-iodine surgical scrub solution prevents fogging of the scope's lens during laparoscopic surgery. Surg Endosc 24:1498–1499

7.

Jategaonkar PA, Jategaonkar SP, Yadav SP (2016) A simple and safe method for creating closed pneumoperitoneum in slim patients with firm abdominal skin. Ann R Coll Surg 98:228

8.

Drysch A, Schmitt K, Uribe B, Yoon R, Okhunov Z, Landman J (2016) Comparative analysis of techniques to prevent laparoscopic fogging. Minim Invasive Ther Allied Technol 25:319–322

9.

Palvia V, Gonzalez AH, Vigh R, Anasti J (2018) A randomized controlled trial comparing laparoscopic lens defogging techniques through simulation model. Gynecol Minim Invasive Ther 7:156–160

10.

Piromchai P, Kasemsiri P, Thanaviratananich S (2011) Alternative agents to prevent fogging in head and neck endoscopy. Clin Med Insights Ear Nose Throat 4:1–4

11.

Clavien PA, Barkun J, de Oliveira ML, Vauthey JN, Dindo D, Schulick RD, de Santibañes E, Pekolj J, Slankamenac K, Bassi C, Graf R, Vonlanthen R, Padbury R, Cameron JL, Makuuchi M (2009) The Clavien-Dindo classification of surgical complications. Ann Surg 250:187–196

12.

Dindo D, Demartines N, Clavien PA (2004) Classification of surgical complications: a new proposal with evaluation in a cohort of 6336 patients and results of a survey. Ann Surg 240:205–213

13.

Manning TG, Papa N, Perera M, McGrath S, Christidis D, Khan M, O'Beirne R, Campbell N, Bolton D, Lawrentschuk N (2017) Laparoscopic lens fogging: solving a common surgical problem in standard and robotic laparoscopes via a scientific model. Surg Endosc 32:1600–1606

14.

Gomella L, Lotfi M, Bagley D (1992) A self-cleaning laparoscope for minimally invasive surgery. Minim Invasive Ther Allied Technol 1:401–403
Ethics declarations
Disclosure
Drs. Taejong Song and Dong Hee Lee have no conflicts of interest or financial ties to disclose.
Additional information
Publisher's Note
Springer Nature remains neutral with regard to jurisdictional claims in published maps and institutional affiliations.
About this article
Cite this article
Song, T., Lee, D.H. A randomized Comparison of laparoscopic LEns defogging using Anti-fog solution, waRm saline, and chlorhexidine solution (CLEAR). Surg Endosc 34, 940–945 (2020) doi:10.1007/s00464-019-06852-5
Received:

Accepted:

Published:

Issue Date:
Keywords
Laparoscopy

Laparoscopic lens defogging

Fogging