Abstract
Background
Laparoscopic bilateral inguinal hernia repair may be completed with one large self-fixating mesh crossing the midline. No studies have investigated in detail whether preperitoneal mesh placement induces temporary or more lasting urinary symptoms.
Methods
Urinary and hernia-related symptoms were evaluated preoperatively and postoperatively at 1, 3 and 12 months using the ICIQ-MLUTS questionnaire and EuraHS-QoL score in patients undergoing bilateral inguinal hernia repair.
Results
One hundred patients were included. Voiding symptoms and bother scores were unchanged at 1 or 3 months, but there was significant improvement at 12 months compared with preoperative findings (symptoms P < 0.001; bother score P < 0.01). Incontinence symptoms improved at 1 month (P < 0.05) but not at 3 or 12 months, with a bother score significantly improved at 1 month (P < 0.01) and 12 months (P < 0.01). Diurnal and nocturnal frequency did not change significantly postoperatively, but 12 months nocturnal bother score was decreased (P < 0.05). EuraHS-QoL scores showed statistical significant improvement in all three domains for all measurements at the different follow-up moments compared to previous measurements. Postoperative symptoms were improved at 12 months, compared with preoperative pain scores (− 6.1), restriction of activity (− 10.1) and cosmetic scores (− 4.7) These findings were statistically significant (P < 0.001). At 12 months, there were no patients with severe discomfort (score ≥ 5) for any of the three domains. No recurrences were diagnosed with 95% clinical follow-up at 12 months.
Conclusion
Laparoscopic bilateral groin hernia repair with one large preperitoneal self-fixating mesh did not cause new urinary symptoms and demonstrated significant improvement in voiding symptoms at 12 months. Incontinence and nocturnal bother score were significantly improved.
Clinical trial registry identifier
Clinical.Trials.gov: NCT02525666.
This is a preview of subscription content, log in to check access.
Access options
Buy single article
Instant unlimited access to the full article PDF.
US$ 39.95
Price includes VAT for USA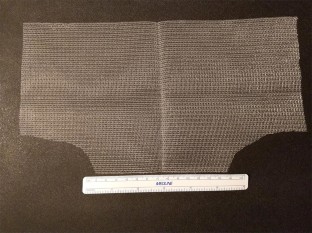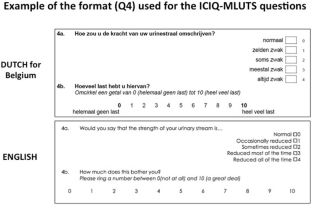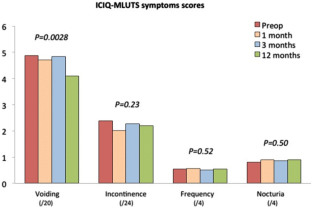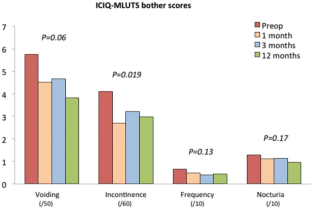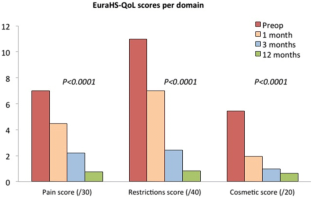 References
1.

Simons MP, Aufenacker T, Bay-Nielsen M, Bouillot JL, Campanelli G, Conze J, de Lange D, Fortelny R, Heikkinen T, Kingsnorth A, Kukleta J, Morales-Conde S, Nordin P, Schumpelick V, Smedberg S, Smietanski M, Weber G, Miserez M (2009) European Hernia Society guidelines on the treatment of inguinal hernia in adult patients. Hernia 13:343–403

2.

Miserez M, Peeters E, Aufenacker T, Bouillot JL, Campanelli G, Conze J, Fortelny R, Heikkinen T, Jorgensen LN, Kukleta J, Morales-Conde S, Nordin P, Schumpelick V, Smedberg S, Smietanski M, Weber G, Simons MP (2014) Update with level 1 studies of the European Hernia Society guidelines on the treatment of inguinal hernia in adult patients. Hernia 18:151–163

3.

Herniasurge Group (2018) International guidelines for groin hernia management. Hernia 22:1–165

4.

Bittner R, Montgomery MA, Arregui E, Bansal V, Bingener J, Bisgaard T, Buhck H, Dudai M, Ferzli GS, Fitzgibbons RJ, Fortelny RH, Grimes KL, Klinge U, Köckerling F, Kumar S, Kukleta J, Lomanto D, Misra MC, Morales-Conde S, Reinpold W, Rosenberg J, Singh K, Timoney M, Weyhe D, Chowbey P (2015) Update of guidelines on laparoscopic (TAPP) and endoscopic (TEP) treatment of inguinal hernia (International Endohernia Society). Surg Endosc 29:289–321

5.

Köckerling F, Bittner R, Jacob DA, Seidelmann L, Keller T, Adolf D, Kraft B, Kuthe A (2015) TEP versus TAPP: comparison of the perioperative outcome in 17,587 patients with a primary unilateral inguinal hernia. Surg Endosc 29:3750–3760

6.

Kaul A, Hutfless S, Le H, Hamed S, Tymitz K, Nguyen H, Marohn MR (2012) Staple versus fibrin glue fixation in laparoscopic total extraperitoneal repair of inguinal hernia: a systematic review and meta-analysis. Surg Endosc 26:1269–1278

7.

Antoniou SA, Köhler G, Antoniou GA, Muysoms FE, Pointner R, Granderath FA (2016) Meta-analysis of randomized trials comparing nonpenetrating vs mechanical mesh fixation in laparoscopic inguinal hernia repair. Am J Surg 211:239–249

8.

Poelman M, van den Heuvel B, Deelder J, Abis GS, Beudeker N, Bittner RR, Campanelli G, van Dam D, Dwars BJ, Eker HH, Fingerhut A, Khatkov I, Koeckerling F, Kukleta JF, Miserez M, Montgomery A, Munoz Brands RM, Morales Conde S, Muysoms FE, Soltes M, Tromp W, Yavuz Y, Bonjer HJ (2013) EAES Consensus Development Conference on endoscopic repair of groin hernias. Surg Endosc 27:3505–3519

9.

Stoppa R, Petit J, Abourachid H, Henry X, Duclaye C, Monchaux G, Hillebrant JP (1973) Original procedure of groin hernia repair: interposition without fixation of Dacron tulle prosthesis by subperitoneal median approach. Ann Chir 99:199–223 [Article in French]

10.

Wantz GE (1988) Giant prosthetic reinforcement of the visceral sac. The Stoppa groin hernia repair. Surg Clin North Am 78:1075–1087

11.

Geis W, Malago M (1994) Laparoscopic bilateral inguinal herniorrhaphies: use of a single giant preperitoneal mesh patch. Am Surg 60:558–563

12.

Deans G, Wilson M, Royston C, Brough W (1995) Laparoscopic 'bikini mesh' repair of bilateral inguinal hernia. Br J Surg 82:1383–1385

13.

Knook M, Weidema W, Stassen L, Boelhouwer R, Van Steensel C (1999) Endoscopic totally extraperitoneal repair of bilateral inguinal hernias. Br J Surg 86:1312–1316

14.

Halm J, Heisterkamp J, Boelhouwer R, den Hoed P, Weidema W (2005) Totally extraperitoneal repair for bilateral inguinal hernia: does mesh configuration matter? Surg Endosc 19:1373–1376

15.

Köhler G, Fischer I, Kaltenböck R, Mitteregger M, Seitinger G, Szyszkowiz A (2018) Critical evaluation of an innovative mesh for bilateral transabdominal preperitoneal (TAPP) repair of inguinal hernias. Hernia. https://doi.org/10.1007/s10029-018-1786-0

16.

Muysoms FE, Vanlander A, Ceulemans R, Kyle-Leinhase I, Michiels M, Jacobs I, Pletinckx P, Berrevoet F (2016) A prospective, multicenter, observational study on quality of life after laparoscopic inguinal hernia repair with ProGrip laparoscopic, self-fixating mesh according to the European Registry for Abdominal Wall Hernias Quality of Life Instrument. Surgery 160:1344–1357

17.

Daes J, Felix E (2017) Critical view of the myopectineal orifice. Ann Surg. https://doi.org/10.1097/sla.0000000000002104

18.

Muysoms F, Campanelli G, Champault GG, DeBeaux AC, Dietz UA, Jeekel J, Klinge U, Köckerling F, Mandala V, Montgomery A, Morales Conde S, Puppe F, Simmermacher RK, Śmietański M, Miserez M (2012) EuraHS: the development of an international online platform for registration and outcome measurement of ventral abdominal wall hernia repair. Hernia 16:239–250

19.

Miserez M, Alexandre JH, Campanelli G, Corcione F, Cuccurullo D, Pascual MH, Hoeferlin A, Kingsnorth AN, Mandala V, Palot JP, Schumpelick V, Simmermacher RK, Stoppa R, Flament JB (2007) The European Hernia society groin hernia classification: simple and easy to remember. Hernia 11:113–116

20.

Abrams P, Avery K, Gardener R, Donovan J, Advisory Board ICIQ (2006) The international consultation on incontinence modular questionnaire: www.iciq.net. J Urol 175:1063–1066

21.

Coyne K, Kelleher C (2010) Patient reported outcomes: the ICIQ and the state of the art. Neurourol Urodyn 29:645–651

22.

Donovan J, Bosch R, Gotoh M, Jackson S, Naughton M, Radley S (2004) Symptom and quality of life assessment. In: Proceedings of the 3rd International Consultation on Incontinence, Monaco 2004. https://www.ics.org/. Accessed June 1, 2018

23.

Reed R, Poston T, Kerby J, Richman J, Colli J, Hawn M (2014) Effect of elective inguinal hernia repair on urinary symptom burden in men. Am J Surg 208:180–186

24.

Reis R, Rodrigues Neto A, Reis L, Machado R, Kaplan S (2011) Correlation between the presence of inguinal hernia and the intensity of lower urinary tract symptoms. Acta Cir Bras 26:125–128
Ethics declarations
Disclosure
Dr. Muysoms reports having received research grants from Medtronic, Dynamesh and received speakers honorarium from Medtronic, Bard-Davol, Dynamesh, Intuitive Surgical and received consultancy fees from Medtronic, Intuitive Surgical, CMR Surgical. Drs. Dewulf, Kyle-Leinhase, Baumgartner, Ameye, Defoort and Pletinckx have no conflicts of interest or financial ties to disclose.
Additional information
Publisher's Note
Springer Nature remains neutral with regard to jurisdictional claims in published maps and institutional affiliations.
This manuscript was written in accordance with the STROBE statement: Strengthening the reporting of observational studies in epidemiology. von Elm E et al. BMJ. 2007; 335:806-8.
Electronic supplementary material
Below is the link to the electronic supplementary material.
About this article
Cite this article
Muysoms, F., Dewulf, M., Kyle-Leinhase, I. et al. Laparoscopic bilateral groin hernia repair with one large self-fixating mesh: prospective observational study with patient-reported outcome of urological symptoms and EuraHS-QoL scores. Surg Endosc 34, 920–929 (2020). https://doi.org/10.1007/s00464-019-06850-7
Received:

Accepted:

Published:

Issue Date:
Keywords
Inguinal hernia

Groin hernia

Laparoscopic surgery

Urinary symptoms

Quality of Life

Self-fixating mesh

ICIQ-MLUTS

EuraHS-QoL score