Abstract
Background
Acute upper gastrointestinal bleeding is a life-threatening medical condition with a relevant risk of re-bleeding even after initial endoscopic hemostasis. The implantable HemoPill monitor contains a novel telemetric sensor to optically detect blood in the stomach allowing the surveillance of high-risk patients for re-bleedings.
Methods
In this pre-clinical porcine study, bleeding has been simulated by injecting porcine blood into the stomach of a pig through an implanted catheter using a syringe pump. The effect of the sensor position in the stomach, the gastric food content, and the bleeding intensity was investigated.
Results
Sensitivity and specificity of the sensor reached more than 87.5% when the sensor was positioned close to the source of bleeding. Solid food had a higher negative impact on sensitivity than liquid food but a positive impact on specificity. A heavy bleeding was more likely to be detected by the sensor but was also associated with a lower likelihood for true-negative results than weaker bleedings.
Conclusions
The study clearly demonstrated the capability of the HemoPill sensor prototype to detect clinically relevant bleedings with high sensitivity and specificity (> 80%) when the sensor was positioned close to the bleeding site. The sensors proved to be robust against artefact effects from stomach content. These are favorable findings that underline the potential benefit for the use of the HemoPill sensor in monitoring patients with a risk of re-bleeding in the upper gastrointestinal tract.
This is a preview of subscription content, log in to check access.
Access options
Buy single article
Instant unlimited access to the full article PDF.
US$ 39.95
Price includes VAT for USA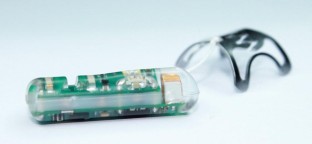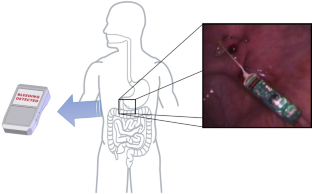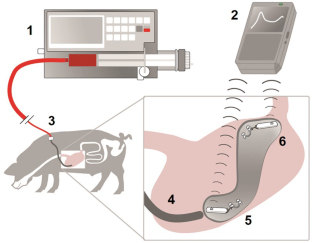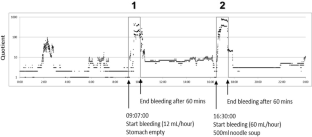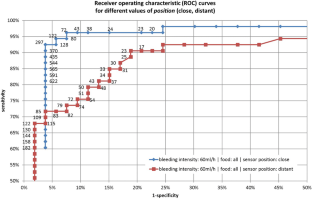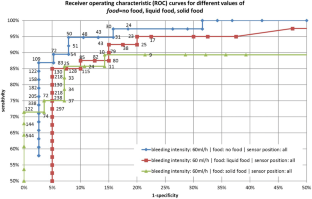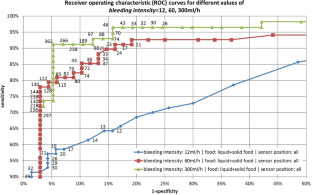 References
1.

Kim BSM, Li BT, Engel A et al (2014) Diagnosis of gastrointestinal bleeding: a practical guide for clinicians. World J Gastrointest Pathophysiol 5(4):467–478. https://doi.org/10.4291/wjgp.v5.i4.467

2.

Gralnek IM, Dumonceau J-M, Kuipers EJ et al (2015) Diagnosis and management of nonvariceal upper gastrointestinal hemorrhage: European Society of Gastrointestinal Endoscopy (ESGE) guideline. Endoscopy 47(10):a1–a46. https://doi.org/10.1055/s-0034-1393172

3.

Abougergi MS, Travis AC, Saltzman JR (2015) The in-hospital mortality rate for upper GI hemorrhage has decreased over 2 decades in the United States: a nationwide analysis. Gastrointest Endosc 81(4):882.e1–888.e1. https://doi.org/10.1016/j.gie.2014.09.027

4.

Meltzer AC, Pinchbeck C, Burnett S et al (2013) Emergency physicians accurately interpret video capsule endoscopy findings in suspected upper gastrointestinal hemorrhage: a video survey. Acad Emerg Med 20(7):711–715. https://doi.org/10.1111/acem.12165

5.

Costa Lacet CM, Neto JB, Ribeiro LT et al (2016) Schistosomal portal hypertension: randomized trial comparing endoscopic therapy alone or preceded by esophagogastric devascularization and splenectomy. Ann Hepatol 15(5):738–744. https://doi.org/10.5604/16652681.1212528

6.

Adler Douglas G (2004) ASGE guideline: the role of endoscopy in acute non-variceal upper-GI hemorrhage. Am Soc Gastrointest Endosc 60(4):497–504

7.

Hwang JH, Fisher DA, Ben-Menachem T et al (2012) The role of endoscopy in the management of acute non-variceal upper GI bleeding. Gastrointest Endosc 75(6):1132–1138. https://doi.org/10.1016/j.gie.2012.02.033

8.

Al Dhahab H, McNabb-Baltar J, Al-Taweel T et al (2013) State-of-the-art management of acute bleeding peptic ulcer disease. Saudi J Gastroenterol 19(5):195–204. https://doi.org/10.4103/1319-3767.118116

9.

Ryou M, Nemiroski A, Azagury D et al (2011) An implantable wireless biosensor for the immediate detection of upper GI bleeding: a new fluorescein-based tool for diagnosis and surveillance (with video). Gastrointest Endosc 74(1):189.e1–194.e1. https://doi.org/10.1016/j.gie.2011.03.1182

10.

Prosst RL, Schurr MO, Schostek S et al (2016) Porcine survival model to simulate acute upper gastrointestinal bleedings. Lab Anim 50(3):217–220. https://doi.org/10.1177/0023677215600946

11.

Schostek S, Zimmermann M, Keller J et al (2016) Telemetric real-time sensor for the detection of acute upper gastrointestinal bleeding. HemoPill acute. Biosens Bioelectron 78:524–529. https://doi.org/10.1016/j.bios.2015.11.073

12.

Schostek S, Zimmermann M, Keller J et al (2016) Volunteer Case series of a new telemetric sensor for blood detection in the upper gastrointestinal tract: the HemoPill. Dig Dis Sci 61(10):2956–2962. https://doi.org/10.1007/s10620-016-4226-y

13.

Schostek S (2012) The HemoCop telemetric sensor system: technology and results of in vivo assessment. Stud Health Technol Inform 177:97–100

14.

Shimohira M, Hashizume T, Ohta K, Honda J, Shibamoto Y (2015) Triaxial transarterial embolization for lower gastrointestinal bleeding: a retrospective case series. Minim Invasive Ther Allied Technol 24:37–44

15.

Don-Tofield O, Lantsberg L, Krugliak P, Bayme M (2001) Recurrent obscure gastrointestinal bleeding caused by a jejunal stromal tumour. Minim Invasive Ther Allied Technol 10:115–117

16.

Paspatis GA, Dumonceau JM, Barthet M et al (2014) Diagnosis and management of iatrogenic endoscopic perforations: European Society of Gastrointestinal Endoscopy (ESGE) position statement. Endoscopy 46:693–711

17.

Caputo A, Schmidt A, Caca K, Bauerfeind P, Schostek S, Ho CN, Gottwald T, Schurr MO (2018) Efficacy and safety of the remOVE system for OTSC® and FTRD® clip removal: data from a PMCF analysis. Minim Invasive Ther Allied Technol 27(3):138–142

18.

Park SJ, Park H, Lee YC et al (2018) Effect of scheduled second-look endoscopy on peptic ulcer bleeding: a prospective randomized multicenter trial. Gastrointest Endosc 87(2):457–465
Ethics declarations
Disclosures
Sebastian Schostek, Thomas Gottwald and Marc O. Schurr hold management positions with Ovesco Endoscopy AG. Melanie Zimmermann, Jan Keller, Mario Fode, Michael Melbert are employees of Ovesco Endoscopy AG. Ovesco Endoscopy AG received grants from the European Commission (project title "Versatile Endoscopic Capsule for gastrointestinal TumOr Recognition and therapy Contract"; grant number: 033970) and the German Federal Ministry BMWI (project title "Miniaturisierte Funkschnittstelle zur zuverlässigen drahtlosen Datenübertragung aus dem menschlichen Körper"; grant number EP120781). Ruediger L. Prosst has no conflict of interest.
Additional information
Publisher's Note
Springer Nature remains neutral with regard to jurisdictional claims in published maps and institutional affiliations.
About this article
Cite this article
Schostek, S., Zimmermann, M., Keller, J. et al. Pre-clinical study on a telemetric gastric sensor for recognition of acute upper gastrointestinal bleeding: the "HemoPill monitor". Surg Endosc 34, 888–898 (2020). https://doi.org/10.1007/s00464-019-06845-4
Received:

Accepted:

Published:

Issue Date:
Keywords
Acute upper gastrointestinal bleeding

Bleeding detection

Gastric implant

Blood sensor

Pre-clinical study