Abstract
Background/aims
Adoption of endoscopic submucosal dissection (ESD) in the USA is challenging due to limited training opportunities. We describe the development of an ESD fellowship program in the USA and evaluate outcomes of ESD performed during this experience.
Methods
A 1-year ESD fellowship was implemented under close supervision from a recognized ESD expert. The curriculum was tailored to the trainee based on their background and prior endoscopic training. Under the expert's discretion, the trainee started by assisting cases and was gradually allowed to begin performing portions of ESD, with increasing difficulty as determined by technical progress, until complete procedures could be performed. Technical characteristics, outcomes, and adverse events were recorded.
Results
A total of 72 consecutive ESD cases were performed during the training period, in which the trainee assisted/observed 19 cases, partially performed 18 cases, and mainly performed 26 cases. Mean lesion diameter was 44.5 mm, with 79.2% colorectal cases. The trainee more frequently performed procedures with lower degree of fibrosis (p = 0.016). En bloc, complete, and curative resection was achieved in 84.7, 81.2, and 76.8% of cases, with no significant differences in resection outcomes or adverse events from trainee involvement.
Conclusions
ESD can be safely and effectively taught within a 1-year advanced endoscopy fellowship. This was possible in the USA, even with limited gastric lesions, due to a progression focusing on easier portions of complex ESD procedures and advancing as technical progress allowed. Importantly, there was no increase in adverse event rate with trainee involvement in complex ESD cases.
This is a preview of subscription content, log in to check access.
Access options
Buy single article
Instant unlimited access to the full article PDF.
US$ 39.95
Price includes VAT for USA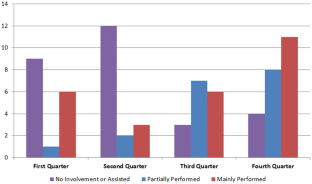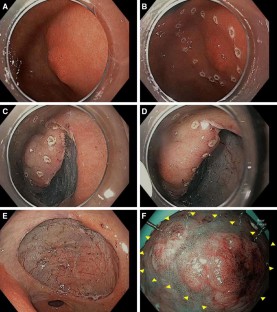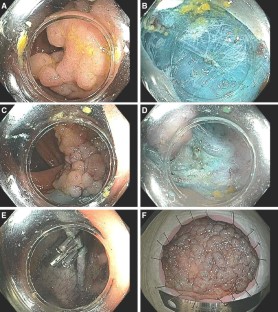 References
1.

Tanaka S, Kashida H, Saito Y, Yahagi N, Yamano H, Saito S, Hisabe T, Yao T, Watanabe M, Yoshida M, Kudo SE, Tsuruta O, Sugihara K, Watanabe T, Saitoh Y, Igarashi M, Toyonaga T, Ajioka Y, Ichinose M, Matsui T, Sugita A, Sugano K, Fujimoto K, Tajiri H (2015) JGES guidelines for colorectal endoscopic submucosal dissection/endoscopic mucosal resection. Dig Endosc 27:417–434

2.

Pimentel-Nunes P, Dinis-Ribeiro M, Ponchon T, Repici A, Vieth M, De Ceglie A, Amato A, Berr F, Bhandari P, Bialek A, Conio M, Haringsma J, Langner C, Meisner S, Messmann H, Morino M, Neuhaus H, Piessevaux H, Rugge M, Saunders BP, Robaszkiewicz M, Seewald S, Kashin S, Dumonceau JM, Hassan C, Deprez PH (2015) Endoscopic submucosal dissection: european society of gastrointestinal endoscopy (ESGE) guideline. Endoscopy 47:829–854

3.

Draganov PV, Wang AY, Othman MO, Fukami N (2019) AGA Institute Clinical Practice Update: endoscopic submucosal dissection in the United States. Clin Gastroenterol Hepatol 17:16–25

4.

Peery AF, Cools KS, Strassle PD, McGill SK, Crockett SD, Barker A, Koruda M, Grimm IS (2018) Increasing rates of surgery for patients with nonmalignant colorectal polyps in the United States. Gastroenterology 154:1352–1360

5.

Rex DK, Hassan CC, Dewitt JM (2017) Colorectal endoscopic submucosal dissection in the United States: why do we hear so much about it and do so little of it? Gastrointest Endosc 85:554–558

6.

Draganov PV, Chang M, Coman RM, Wagh MS, An Q, Gotoda T (2014) Role of observation of live cases done by Japanese experts in the acquisition of ESD skills by a western endoscopist. World J Gastroenterol 20:4675–4680

7.

Ge PS, Thompson CC, Jirapinyo P, Aihara H (2019) Suture pulley countertraction method reduces procedure time and technical demand of endoscopic submucosal dissection among novice endoscopists learning endoscopic submucosal dissection: a prospective randomized ex vivo study. Gastrointest Endosc 89(1):177–184

8.

The Paris endoscopic classification of superficial neoplastic lesions: esophagus, stomach, and colon: November 30 to December 1, 2002. Gastrointest Endosc, (2003) 58:S3-43

9.

Endoscopic Classification Review Group (2005) Update on the paris classification of superficial neoplastic lesions in the digestive tract. Endoscopy 37:570–578

10.

Kudo S, Lambert R, Allen JI, Fujii H, Fujii T, Kashida H, Matsuda T, Mori M, Saito H, Shimoda T, Tanaka S, Watanabe H, Sung JJ, Feld AD, Inadomi JM, O'Brien MJ, Lieberman DA, Ransohoff DF, Soetikno RM, Triadafilopoulos G, Zauber A, Teixeira CR, Rey JF, Jaramillo E, Rubio CA, Van Gossum A, Jung M, Vieth M, Jass JR, Hurlstone PD (2008) Nonpolypoid neoplastic lesions of the colorectal mucosa. Gastrointest Endosc 68:S3–S47

11.

Lambert R, Kudo SE, Vieth M, Allen JI, Fujii H, Fujii T, Kashida H, Matsuda T, Mori M, Saito H, Shimoda T, Tanaka S, Watanabe H, Sung JJ, Feld AD, Inadomi JM, O'Brien MJ, Lieberman DA, Ransohoff DF, Soetikno RM, Zauber A, Teixeira CR, Rey JF, Jaramillo E, Rubio CA, Van Gossum A, Jung M, Jass JR, Triadafilopoulos G (2009) Pragmatic classification of superficial neoplastic colorectal lesions. Gastrointest Endosc 70:1182–1199

12.

Toyonaga T, Man IM, Morita Y, Azuma T (2014) Endoscopic submucosal dissection (ESD) versus simplified/hybrid ESD. Gastrointest Endosc Clin 24:191–199

13.

Hayashi N, Tanaka S, Nishiyama S, Terasaki M, Nakadoi K, Oka S, Yoshihara M, Chayama K (2014) Predictors of incomplete resection and perforation associated with endoscopic submucosal dissection for colorectal tumors. Gastrointest Endosc 79:427–435

14.

Fujishiro M, Yahagi N, Nakamura M, Kakushima N, Kodashima S, Ono S, Kobayashi K, Hashimoto T, Yamamichi N, Tateishi A, Shimizu Y, Oka M, Ogura K, Kawabe T, Ichinose M, Omata M (2006) Endoscopic submucosal dissection for rectal epithelial neoplasia. Endoscopy 38:493–497

15.

Wani S, Keswani R, Hall M, Han S, Ali MA, Brauer B, Carlin L, Chak A, Collins D, Cote GA (2017) A prospective multicenter study evaluating learning curves and competence in endoscopic ultrasound and endoscopic retrograde cholangiopancreatography among advanced endoscopy trainees: the rapid assessment of trainee endoscopy skills study. Clin Gastroenterol Hepatol 15(1758–1767):e11

16.

Hayashi Y, Miura Y, Yamamoto H (2015) Pocket-creation method for the safe, reliable, and efficient endoscopic submucosal dissection of colorectal lateral spreading tumors. Dig Endosc 27:534–535

17.

Chung IK, Lee JH, Lee SH, Kim SJ, Cho JY, Cho WY, Hwangbo Y, Keum BR, Park JJ, Chun HJ, Kim HJ, Kim JJ, Ji SR, Seol SY (2009) Therapeutic outcomes in 1000 cases of endoscopic submucosal dissection for early gastric neoplasms: Korean ESD Study Group multicenter study. Gastrointest Endosc 69:1228–1235

18.

Saito Y, Uraoka T, Yamaguchi Y, Hotta K, Sakamoto N, Ikematsu H, Fukuzawa M, Kobayashi N, Nasu J, Michida T, Yoshida S, Ikehara H, Otake Y, Nakajima T, Matsuda T, Saito D (2010) A prospective, multicenter study of 1111 colorectal endoscopic submucosal dissections (with video). Gastrointest Endosc 72:1217–1225

19.

Akintoye E, Kumar N, Aihara H, Nas H, Thompson CC (2016) Colorectal endoscopic submucosal dissection: a systematic review and meta-analysis. Endosc Int Open 4:E1030–E1044

20.

Yang D, Coman RM, Kahaleh M, Waxman I, Wang AY, Sethi A, Shah AR, Draganov PV (2017) Endoscopic submucosal dissection for Barrett's early neoplasia: a multicenter study in the United States. Gastrointest Endosc 86:600–607

21.

Coman RM, Gotoda T, Draganov PV (2013) Training in endoscopic submucosal dissection. World J Gastrointest Endosc 5:369–378

22.

Kim HG, Thosani N, Banerjee S, Chen A, Friedland S (2015) Effect of prior biopsy sampling, tattoo placement, and snare sampling on endoscopic resection of large nonpedunculated colorectal lesions. Gastrointest Endosc 81:204–213

23.

Iacopini F, Bella A, Costamagna G, Gotoda T, Saito Y, Elisei W, Grossi C, Rigato P, Scozzarro A (2012) Stepwise training in rectal and colonic endoscopic submucosal dissection with differentiated learning curves. Gastrointest Endosc 76:1188–1196

24.

Hotta K, Oyama T, Shinohara T, Miyata Y, Takahashi A, Kitamura Y, Tomori A (2010) Learning curve for endoscopic submucosal dissection of large colorectal tumors. Dig Endosc 22:302–306

25.

Probst A, Golger D, Anthuber M, Märkl B, Messmann H (2012) Endoscopic submucosal dissection in large sessile lesions of the rectosigmoid: learning curve in a European center. Endoscopy 44:660–667

26.

Uraoka T, Parra-Blanco A, Yahagi N (2013) Colorectal endoscopic submucosal dissection: is it suitable in western countries? J Gastroenterol Hepatol 28:406–414
Ethics declarations
Disclosures
Christopher C. Thompson—Boston Scientific (Consultant, Research Support), Olympus (Consultant). Hiroyuki Aihara—Boston Scientific (Consultant), Fujifilm Medical Systems (Consultant), Olympus (Consultant). Phillip S. Ge have no conflicts of interest or financial ties to disclose.
Additional information
Publisher's Note
Springer Nature remains neutral with regard to jurisdictional claims in published maps and institutional affiliations.
About this article
Cite this article
Ge, P.S., Thompson, C.C. & Aihara, H. Development and clinical outcomes of an endoscopic submucosal dissection fellowship program: early united states experience. Surg Endosc 34, 829–838 (2020). https://doi.org/10.1007/s00464-019-06836-5
Received:

Accepted:

Published:

Issue Date:
Keywords
Endoscopic submucosal dissection

Endoscopic resection

Colorectal polyps

Polypectomy

Endoscopic training

Fellowship training