Abstract
Background
This study compares the impact of open (OIHR) versus laparoscopic (LIHR) inguinal hernia repair on healthcare spending and postoperative outcomes.
Methods
The TRUVEN database was queried using ICD9 procedure codes for open, laparoscopic, and robotic-assisted IHR, from 2012 to 2013. Patients > 18 years of age and continuously enrolled for 12 months postoperatively were included. Demographics, patient comorbidities, postoperative complications, pain medication use, length of hospital stay, missed work hours, postoperative visits, and overall expenditure were collected, and assessed at time of surgery and at 30-, 60-, 90-, 180-, and 365-days postoperatively. Statistical analysis was conducted using SAS, with α = 0.05.
Results
66,116 patients were included (LIHR: N = 23,010; OIHR: N = 43,106). Robotic-assisted procedures were excluded due to small sample size (N = 61). The largest demographic was males between 55 and 64 years. LIHR had fewer surgical wound complications than OIHR (LIHR: 0.3%; OIHR: 0.5%, p = 0.007), less utilization of pain medication (LIHR: 23.3%; OIHR: 28.5%; p < 0.001), and fewer outpatient visits. In the 90-day postoperative period, LIHR had significantly fewer missed work hours (LIHR: 12.1 ± 23.2 h; OIHR: 12.9 ± 26.7 h, p = 0.023). LIHR had higher postoperative urinary complications (LIHR: 0.2%; OIHR: 0.1%; p < 0.001), consistent with the current literature. LIHR expenditures ($15,030 ± $25,906) were higher than OIHR ($13,303 ± 32,014), p < 0.001.
Conclusions
The results highlight the benefits of laparoscopic repair with regard to surgical wound complications, postoperative pain, outpatient visits, and missed work hours. These improved outcomes with respect to overall healthcare spending and employee absenteeism support the paradigm shift toward laparoscopic inguinal hernia repairs, in spite of higher overall expenditures.
This is a preview of subscription content, log in to check access.
Access options
Buy single article
Instant unlimited access to the full article PDF.
US$ 39.95
Price includes VAT for USA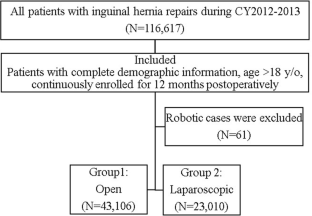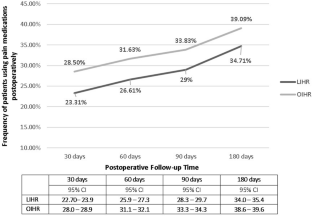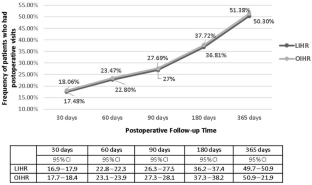 References
1.

HerniaSurge Group, Simons M, Smietanski M, Bonjer H, Bittner R, Miserez M, Aufenacker TJ, Chowbey P, Tran H, Sani R (2017) International guidelines for groin hernia management. Hernia 22:1–165

2.

Neumayer L, Giobbie-Hurder A, Jonasson O, Fitzgibbons R Jr, Dunlop D, Gibbs J, Reda D, Henderson W (2004) Open mesh versus laparoscopic mesh repair of inguinal hernia. N Engl J Med 350:1819–1827

3.

Ger R, Mishrick A, Hurwitz J, Romero C, Oddsen R (1993) Management of groin hernias by laparoscopy. World J Surg 17:46–50

4.

McCormack K, Scott N, Go PM, Ross SJ, Grant A (2003) Laparoscopic techniques versus open techniques for inguinal hernia repair. The Cochrane Library

5.

Wellwood J, Sculpher MJ, Stoker D, Nicholls GJ, Geddes C, Whitehead A, Singh R, Spiegelhalter D (1998) Randomised controlled trial of laparoscopic versus open mesh repair for inguinal hernia: outcome and cost. BMJ 317:103–110

6.

Abbas AE, Ellatif MEA, Noaman N, Negm A, El-Morsy G, Amin M, Moatamed A (2012) Patient-perspective quality of life after laparoscopic and open hernia repair: a controlled randomized trial. Surg Endosc 26:2465–2470

7.

Liem MS, Halsema JA, van der Graaf Y, Schrijvers AJ, van Vroonhoven TJ (1997) Cost-effectiveness of extraperitoneal laparoscopic inguinal hernia repair: a randomized comparison with conventional herniorrhaphy. Coala trial group Ann Surg 226:668–675, discussion 675–6

8.

Butters M, Redecke J, Köninger J (2007) Long-term results of a randomized clinical trial of Shouldice, Lichtenstein and transabdominal preperitoneal hernia repairs. Br J Surg 94:562–565

9.

Elhendawy AO, Abd-Raboh OH, Ismail TA, Nagy AA (2018) Randomized comparative study between laparoscopic transabdominal pre-peritoneal versus totally extraperitoneal approach in inguinal hernia repair. Age (in years) 1:0–110

10.

Tadaki C, Lomelin D, Simorov A, Jones R, Humphreys M, DaSilva M, Choudhury S, Shostrom V, Boilesen E, Kothari V, Oleynikov D, Goede M (2016) Perioperative outcomes and costs of laparoscopic versus open inguinal hernia repair. Hernia 20:1–6

11.

Poobalan AS, Bruce J, Smith WCS, King PM, Krukowski ZH, Chambers WA (2003) A review of chronic pain after inguinal herniorrhaphy. Clin J Pain 19:48–54

12.

Employer Cost for Employee Compensation, National Compensation Survey. United States Bureau of Labor Statistics. March 2004–June 2017. www.bls.gov/eci/
Ethics declarations
Disclosures
Dr. Oleynikov declares conflict of interest directly related to the submitted work, having received a research grant support from Medtronic; not directly related to the submitted work, he is the stock holder of Virtual Incision Corporation. Dr. Rana, Dr. Armijo, Mr. Khan, Dr. Bills, Ms. Morien, and Dr. Zhang have no conflicts of interest or financial ties to disclose.
Additional information
Publisher's Note
Springer Nature remains neutral with regard to jurisdictional claims in published maps and institutional affiliations.
About this article
Cite this article
Rana, G., Armijo, P.R., Khan, S. et al. Outcomes and impact of laparoscopic inguinal hernia repair versus open inguinal hernia repair on healthcare spending and employee absenteeism. Surg Endosc 34, 821–828 (2020). https://doi.org/10.1007/s00464-019-06835-6
Received:

Accepted:

Published:

Issue Date:
Keywords
Laparoscopic inguinal hernia repair

Open inguinal hernia repair

Postoperative outcomes

Cost analysis

Healthcare costs