Abstract
Background
While laparoscopic hysterectomy has benefits compared to abdominal hysterectomy, the operative times are longer. Longer operative times have been associated with negative outcomes. This study's purpose was to elucidate if there is an operative time at which 30-day outcomes for laparoscopic hysterectomy become inferior to a more expeditiously completed abdominal hysterectomy.
Methods
This was a retrospective cohort study (Canadian Task Force classification II-2) using the American College of Surgeons National Surgical Quality Improvement Program database to identify women undergoing hysterectomy for benign indications from 2010 to 2016 by current procedural terminology code. Hysterectomy cases were stratified by approach and 60-min intervals. 30-day post-operative outcomes were analyzed by operative time and approach.
Results
109,821 hysterectomies were included in our analysis, of which 66,560 (61%) were laparoscopic, and 43,261 (39%) were abdominal. In a multivariable logistic regression analysis comparing outcomes by surgical approach and operative time, there was no time combination in which patients who had a abdominal hysterectomy had significantly lower odds of the composite complications variable. This was true even in laparoscopic hysterectomies greater than 240 min compared to abdominal hysterectomies completed between 20 and 60 min. When compared to laparoscopic hysterectomies greater than 240 min, abdominal hysterectomies between 20 and 60 min had lower odds of sepsis and abdominal hysterectomies less than 180 min had lower odds of urinary tract infection.
Conclusion
Given that benefits persist even in prolonged cases, a laparoscopic approach should be offered to most patients undergoing benign hysterectomy. Surgical efficiency should be prioritized for any surgical approach.
This is a preview of subscription content, log in to check access.
Access options
Buy single article
Instant unlimited access to the full article PDF.
US$ 39.95
Price includes VAT for USA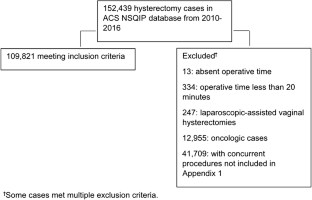 References
1.

Wright JD, Herzog TJ, Tsui J, Ananth CV, Lewin SN, Lu YS, Neugut AI, Hershman DL (2013) Nationwide trends in the performance of inpatient hysterectomy in the United States. Obstet Gynecol 122:233–241

2.

Sanei-Moghaddam A, Ma T, Goughnour SL, Edwards RP, Lounder PJ, Ismail N, Comerci JT, Mansuria SM, Linkov F (2016) Changes in hysterectomy trends after the implementation of a clinical pathway. Obstet Gynecol 127:139–147

3.

Wu M-P, Lee C-L (2012) The trends of minimally invasive surgery for benign gynecologic lesions, 1997–2007 in Taiwan. Gynecol Minim Invasive Ther 1:3–8

4.

Gale J, Cameron C, Chen I, Guo Y, Singh SS (2016) Increasing minimally invasive hysterectomy: a Canadian Academic Health Centre Experience. J Obstet Gynaecol Can 38:141–146

5.

Loring M, Morris SN, Isaacson KB (2015) Minimally invasive specialists and rates of laparoscopic hysterectomy. J Soc Laparoendosc Surg. https://doi.org/10.4293/JSLS.2014.00221

6.

Aarts JW, Nieboer TE, Johnson N, Tavender E, Garry R, Mol BW, Kluivers KB (2015) Surgical approach to hysterectomy for benign gynaecological disease. Cochrane Database Syst Rev. https://doi.org/10.1002/14651858.CD003677.pub5

7.

Walsh CA, Walsh SR, Tang TY, Slack M (2009) Total abdominal hysterectomy versus total laparoscopic hysterectomy for benign disease: a meta-analysis. Eur J Obstet Gynecol Reprod Biol 144:3–7

8.

Wiser A, Holcroft CA, Tulandi T, Abenhaim HA (2013) Abdominal versus laparoscopic hysterectomies for benign diseases: evaluation of morbidity and mortality among 465,798 cases. Gynecol Surg 10:117–122

9.

Barnett JC, Havrilesky LJ, Bondurant AE, Fleming ND, Lee PS, Secord AA, Berchuck A, Valea FA (2011) Adverse events associated with laparoscopy versus laparotomy in the treatment of endometrial cancer. Am J Obstet Gynecol 205(143):e141–e146

10.

Ditto A, Martinelli F, Bogani G, Gasparri ML, Di Donato V, Zanaboni F, Lorusso D, Raspagliesi F (2015) Implementation of laparoscopic approach for type B radical hysterectomy: a comparison with open surgical operations. Eur J Surg Oncol 41:34–39

11.

Barber EL, Neubauer NL, Gossett DR (2015) Risk of venous thromboembolism in abdominal versus minimally invasive hysterectomy for benign conditions. Am J Obstet Gynecol 212(609):e601–e607

12.

Catanzarite T, Saha S, Pilecki MA, Kim JY, Milad MP (2015) Longer operative time during benign laparoscopic and robotic hysterectomy is associated with increased 30-day perioperative complications. J Minim Invasive Gynecol 22:1049–1058

13.

Procter LD, Davenport DL, Bernard AC, Zwischenberger JB (2010) General surgical operative duration is associated with increased risk-adjusted infectious complication rates and length of hospital stay. J Am Coll Surg 210(60–65):e61–e62

14.

Pessaux P, Msika S, Atalla D, Hay JM, Flamant Y (2003) Risk factors for postoperative infectious complications in noncolorectal abdominal surgery: a multivariate analysis based on a prospective multicenter study of 4718 patients. Arch Surg 138:314–324

15.

Jackson TD, Wannares JJ, Lancaster RT, Rattner DW, Hutter MM (2011) Does speed matter? The impact of operative time on outcome in laparoscopic surgery. Surg Endosc 25:2288–2295

16.

(2015) User Guide for the 2014 ACS NSQIP Participant Use Data File (PUF). American College of Surgeons National Surgical Quality Improvement Program

17.

(2017) ACS National Surgical Quality Improvement Program® (ACS NSQIP®). American College of Surgeons

18.

von Elm E, Altman DG, Egger M, Pocock SJ, Gotzsche PC, Vandenbroucke JP (2014) The strengthening the reporting of observational studies in epidemiology (STROBE) statement: guidelines for reporting observational studies. Int J Surg 12:1495–1499

19.

Henderson WG, Daley J (2009) Design and statistical methodology of the National Surgical Quality Improvement Program: why is it what it is? Am J Surg 198:S19–S27

20.

Cohen ME, Ko CY, Bilimoria KY, Zhou L, Huffman K, Wang X, Liu Y, Kraemer K, Meng X, Merkow R, Chow W, Matel B, Richards K, Hart AJ, Dimick JB, Hall BL (2013) Optimizing ACS NSQIP modeling for evaluation of surgical quality and risk: patient risk adjustment, procedure mix adjustment, shrinkage adjustment, and surgical focus. J Am Coll Surg 217(2):336–346

21.

Ko CY, Hall BL, Hart AJ, Cohen ME, Hoyt DB (2015) The American College Of Surgeons National Surgical Quality Improvement Program: achieving better and safer surgery. Jt Comm J Qual Patient Saf 41:199–204

22.

Hanwright PJ, Mioton LM, Thomassee MS, Bilimoria KY, Van Arsdale J, Brill E, Kim JY (2013) Risk profiles and outcomes of total laparoscopic hysterectomy compared with laparoscopically assisted vaginal hysterectomy. Obstet Gynecol 121:781–787

23.

Semerjian A, Zettervall SL, Amdur R, Jarrett TW, Vaziri K (2015) 30-day morbidity and mortality outcomes of prolonged minimally invasive kidney procedures compared with shorter open procedures: national surgical quality improvement program analysis. J Endourol 29:830–837

24.

O'Hanlan KA, McCutcheon SP, McCutcheon JG (2011) Laparoscopic hysterectomy: impact of uterine size. J Minim Invasive Gynecol 18:85–91

25.

Wattiez A, Soriano D, Fiaccavento A, Canis M, Botchorishvili R, Pouly J, Mage G, Bruhat MA (2002) Total laparoscopic hysterectomy for very enlarged uteri. J Am Assoc Gynecol Laparosc 9:125–130

26.

Uccella S (2018) Laparoscopic versus open hysterectomy for benign disease in uteri weighing > 1 kg: a retrospective analysis on 258 patients. J Minim Invasive Gynecol 25:62–69

27.

Roh HF, Nam SH, Kim JM (2018) Robot-assisted laparoscopic surgery versus conventional laparoscopic surgery in randomized controlled trials: a systematic review and meta-analysis. PLoS ONE 13:e0191628
Acknowledgements
We would like to acknowledge The George Washington University School of Medicine and Health Sciences Department of Obstetrics and Gynecology for supporting our research. Financial support from The George Washington University School of Medicine and Health Sciences, Department of Obstetrics & Gynecology was obtained for statistical analysis.
Ethics declarations
Disclosures
Dr. Samantha Margulies, Dr. Maria Victoria Vargas, Dr. Kathryn Denny, Andrew Sparks, Dr. Cherie Marfori, and Dr. Richard Amdur have no conflicts of interest or financial ties to disclose. Dr. Gaby Moawad is a speaker for Intuitive Surgical. The American College of Surgeons National Surgical Quality Improvement Program and the hospitals participating in the ACS NSQIP are the source of the data used herein; they have not verified and are not responsible for the statistical validity of the data analysis or the conclusions derived by the authors.
Additional information
Publisher's Note
Springer Nature remains neutral with regard to jurisdictional claims in published maps and institutional affiliations.
The original article was updated to correct the author listing: the last five author names were reversed.
Appendix
Appendix
See Table 5.
About this article
Cite this article
Margulies, S.L., Vargas, M.V., Denny, K. et al. Comparing benign laparoscopic and abdominal hysterectomy outcomes by time. Surg Endosc 34, 758–769 (2020). https://doi.org/10.1007/s00464-019-06825-8
Received:

Accepted:

Published:

Issue Date:
Keywords
Hysterectomy

Laparoscopy

Morbidity

Operative time

Surgical approach

Minimally invasive surgery