Abstract
Background
Upper gastrointestinal bleeding (UGIB) is one of the major manifestations of gastrointestinal stromal tumor (GIST) of the stomach. Several studies have reported that GIST bleeding is associated with poor prognosis. However, only case reports have reported hemostasis modalities for treating hemorrhagic gastric GIST. To identify clinical outcome of gastric GIST bleeding, we analyzed risk factors and prognosis of hemorrhagic GIST evaluating hemostasis methods.
Methods
Total 697 patients histopathologically diagnosed with primary gastric GIST between January 1998 and May 2015 were enrolled to the study, retrospectively.
Results
Of 697 total patients, 46 (6.6%) patients had UGIB. Endoscopic intervention, transarterial embolization, or surgical intervention was performed for initial hemostasis in 15, 2, and 1, respectively. Over a median of 68 months of follow-up, 16 patients in bleeding group and 88 patients in non-bleeding group died; the 5-year survival rate was 79.4% in bleeding group and 91.8% in non-bleeding group (p = 0.004). Multivariate analysis showed that significant risk factors for gastric GIST bleeding included the maximal tumor diameter > 5 cm and Ki-67 positivity. Age ≥ 60 [hazard ratio (HR) = 8.124, p = 0.048], necrosis (HR = 5.093, p = 0.027), and bleeding (HR 5.743, p = 0.034) were significant factors for overall survival of gastric GIST patients.
Conclusions
Bleeding risk of gastric GIST was higher when tumor had diameter > 5 cm or Ki-67 positivity. In addition, tumor bleeding, necrosis, and age ≥ 60 years were associated with poor overall survival. Endoscopic intervention can be considered as an effective method for initial hemostasis of hemorrhagic gastric GIST.
This is a preview of subscription content, log in to check access.
Access options
Buy single article
Instant unlimited access to the full article PDF.
US$ 39.95
Price includes VAT for USA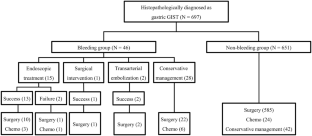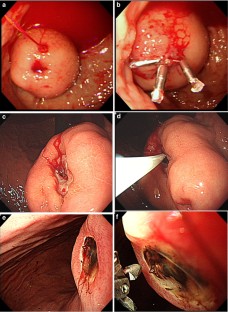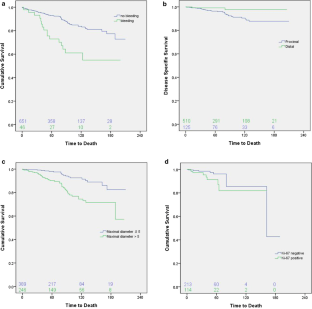 References
1.

Nilsson B, Bumming P, Meis-Kindblom JM, Oden A, Dortok A, Gustavsson B et al (2005) Gastrointestinal stromal tumors: the incidence, prevalence, clinical course, and prognostication in the preimatinib mesylate era–a population-based study in western Sweden. Cancer 103(4):821–829

2.

Tran T, Davila JA, El-Serag HB (2005) The epidemiology of malignant gastrointestinal stromal tumors: an analysis of 1,458 cases from 1992 to 2000. Am J Gastroenterol 100(1):162–168

3.

Zhao X, Yue C (2012) Gastrointestinal stromal tumor. J Gastrointest Oncol 3(3):189–208

4.

Iorio N, Sawaya RA, Friedenberg FK (2014) Review article: the biology, diagnosis and management of gastrointestinal stromal tumours. Aliment Pharmacol Ther 39(12):1376–1386

5.

Miettinen M, Sobin LH, Lasota J (2005) Gastrointestinal stromal tumors of the stomach: a clinicopathologic, immunohistochemical, and molecular genetic study of 1765 cases with long-term follow-up. Am J Surg Pathol 29(1):52–68

6.

Caterino S, Lorenzon L, Petrucciani N, Iannicelli E, Pilozzi E, Romiti A et al (2011) Gastrointestinal stromal tumors: correlation between symptoms at presentation, tumor location and prognostic factors in 47 consecutive patients. World J Surg Oncol 9:13

7.

Sorour MA, Kassem MI, Ghazal Ael H, El-Riwini MT, Abu Nasr A (2014) Gastrointestinal stromal tumors (GIST) related emergencies. Int J Surg 12(4):269–280

8.

Ucar AD, Oymaci E, Carti EB, Yakan S, Vardar E, Erkan N et al (2015) Characteristics of emergency gastrointestinal stromal tumor (GIST). Hepatogastroenterology 62(139):635–640

9.

Huang YW, Siao FY, Yen HH (2014) Life-threatening bleeding from gastrointestinal stromal tumor: successful embolization with subsequent laparoscopic surgery. Am J Emerg Med 32(9):1150 (e3–e4)

10.

Seya T, Tanaka N, Yokoi K, Shinji S, Oaki Y, Tajiri T (2008) Life-threatening bleeding from gastrointestinal stromal tumor of the stomach. J Nippon Med Sch 75(5):306–311

11.

Mercadante S, Fusco F, Valle A, Fulfaro F, Casuccio A, Silvestro S et al (2004) Factors involved in gastrointestinal bleeding in advanced cancer patients followed at home. Support Care Cancer 12(2):95–98

12.

Kim YI, Choi IJ, Cho SJ, Lee JY, Kim CG, Kim MJ et al (2013) Outcome of endoscopic therapy for cancer bleeding in patients with unresectable gastric cancer. J Gastroenterol Hepatol 28(9):1489–1495

13.

Sheibani S, Kim JJ, Chen B, Park S, Saberi B, Keyashian K et al (2013) Natural history of acute upper GI bleeding due to tumours: short-term success and long-term recurrence with or without endoscopic therapy. Aliment Pharmacol Ther 38(2):144–150

14.

Aboutaleb E, Kothari M, Damrah O, Canelo R (2009) c-KIT positive Gastrointestinal Stromal Tumor presenting with acute bleeding in a patient with neurofibromatosis type 1: a case report. Int Semin Surg Oncol 6:17

15.

Bianchi M, De Pascalis B, Koch M (2010) Jejunal GIST: an unusual cause of gastrointestinal bleeding. Dig Liver Dis 42(10):744

16.

Park KS, Huh KC, Hwang I, Kwon JH, Kwon JG, Kim GH et al (2013) Multi-center study regarding the risk factors for bleeding in gastrointestinal stromal tumor. Hepatogastroenterology 60(122):235–239

17.

Liu Q, Li Y, Dong M, Kong F, Dong Q (2017) Gastrointestinal bleeding is an independent risk factor for poor prognosis in GIST patients. Biomed Res Int 2017:7152406

18.

Miettinen M, Lasota J (2006) Gastrointestinal stromal tumors: pathology and prognosis at different sites. Semin Diagn Pathol 23(2):70–83

19.

Villanueva C, Colomo A, Bosch A, Concepcion M, Hernandez-Gea V, Aracil C et al (2013) Transfusion strategies for acute upper gastrointestinal bleeding. N Engl J Med 368(1):11–21

20.

Jung SH, Oh JH, Lee HY, Jeong JW, Go SE, You CR et al (2014) Is the AIMS65 score useful in predicting outcomes in peptic ulcer bleeding? World J Gastroenterol 20(7):1846–1851

21.

Adler DG, Leighton JA, Davila RE, Hirota WK, Jacobson BC, Qureshi WA et al (2004) ASGE guideline: the role of endoscopy in acute non-variceal upper-GI hemorrhage. Gastrointest Endosc 60(4):497–504

22.

Zhao WY, Xu J, Wang M, Zhang ZZ, Tu L, Wang CJ et al (2014) Prognostic value of Ki67 index in gastrointestinal stromal tumors. Int J Clin Exp Pathol. 7(5):2298–2304

23.

Artigiani Neto R, Logullo AF, Stavale JN, Lourenco LG (2012) Ki-67 expression score correlates to survival rate in gastrointestinal stromal tumors (GIST). Acta Cir Bras 27(5):315–321

24.

Belev B, Brcic I, Prejac J, Golubic ZA, Vrbanec D, Bozikov J et al (2013) Role of Ki-67 as a prognostic factor in gastrointestinal stromal tumors. World J Gastroenterol 19(4):523–527

25.

Demir L, Ekinci N, Erten C, Kucukzeybek Y, Alacacioglu A, Somali I et al (2013) Does immunohistochemistry provide additional prognostic data in gastrointestinal stromal tumors? Asian Pac J Cancer Prev 14(8):4751–4758

26.

Zhou Y, Hu W, Chen P, Abe M, Shi L, Tan SY et al (2017) Ki67 is a biological marker of malignant risk of gastrointestinal stromal tumors: a systematic review and meta-analysis. Medicine (Baltimore). 96(34):e7911

27.

Yu X, Hu F, Li C, Yao Q, Zhang H, Xue Y (2018) Clinicopathologic characteristics and prognosis of proximal and distal gastric cancer. Onco Targets Ther 11:1037–1044

28.

Pinto-De-Sousa J, David L, Seixas M, Pimenta A (2001) Clinicopathologic profiles and prognosis of gastric carcinomas from the cardia, fundus/body and antrum. Dig Surg 18(2):102–110

29.

Singhal T, Doddi S, Leake T, Parsi S, Hussain A, Chandra A et al (2010) Upper gastrointestinal bleeding due to gastric stromal tumour: a case report. Cases J. 3:58

30.

Shi X, Yu S, Wang F, Zhao Q, Xu H, Li B (2018) A gastrointestinal stromal tumor with acute bleeding: management and nursing. Medicine (Baltimore). 97(9):e9874

31.

Khashab MA, Cramer HM, Liangpunsakul S (2007) Role of hemoclips in the management of acute bleeding from a gastric stromal tumor: a case report and review of the literature. J Med Case Rep 1:136

32.

Miettinen M, Wang ZF, Lasota J (2009) DOG1 antibody in the differential diagnosis of gastrointestinal stromal tumors: a study of 1840 cases. Am J Surg Pathol 33(9):1401–1408

33.

Valsangkar N, Sehdev A, Misra S, Zimmers TA, O'Neil BH, Koniaris LG (2015) Current management of gastrointestinal stromal tumors: surgery, current biomarkers, mutations, and therapy. Surgery 158(5):1149–1164
Disclosures
Authors Gyu Young Pih, Sung Jin Jeon, Ji Yong Ahn, Hee Kyong Na, Jeong Hoon Lee, Kee Wook Jung, Do Hoon Kim, Kee Don Choi, Ho June Song, Gin Hyug Lee, Hwoon-Yong Jung, and Seon-Ok Kim have no conflict of interest or financial ties to disclose.
Additional information
Publisher's Note
Springer Nature remains neutral with regard to jurisdictional claims in published maps and institutional affiliations.
About this article
Cite this article
Pih, G.Y., Jeon, S.J., Ahn, J.Y. et al. Clinical outcomes of upper gastrointestinal bleeding in patients with gastric gastrointestinal stromal tumor. Surg Endosc 34, 696–706 (2020) doi:10.1007/s00464-019-06816-9
Received:

Accepted:

Published:

Issue Date:
Keywords
Gastrointestinal stromal tumor

Endoscopy

Bleeding