Abstract
Background
Incisionless fluorescent cholangiography (IFC) has recently been proven feasible, safe, and efficacious as an intraoperative procedure to help identify extrahepatic bile ducts during laparoscopic cholecystectomies (LC). We conducted a pilot survey of 51 surgeons attending an international conference who perform endoscopic cholecystectomies to identify their typical LC practices, and perceptions of IFC.
Methods
An international panel of ten IFC experts, all with > 500 prior IFC procedures and related research publications, convened during the 4th International Congress of Fluorescence-Guided Surgery in Boca Raton, Florida in February 2017. The panel was charged with developing questions about LC practices and experience with IFC, and perceptions regarding its advantages, barriers to use, and indications. These questions then were asked to other congress attendees during one of the didactic sessions using an online polling application. Attendees, who ranged from zero to considerable experience performing IFC, accessed the survey via their portable devices.
Results
Of the 51 survey participants, 51% were from North America; 77% identified themselves as general/minimally invasive surgeons, and roughly 60% performed under 50 cholecystectomies/year. Only 12% performed routine intraoperative cholangiography (IOC), while 72.3% routinely performed critical safety reviews. Thirty-five percent estimated that their institution's laparoscopic-to-open surgery conversion rate was > 1% during LC. Roughly 95% of respondents felt that surgeons should have access to a noninvasive method for evaluating extrahepatic biliary structures; 84% felt that the most advantageous characteristic of IFC is the lack of any biliary-tree incision; and 93.3% felt that IFC would have considerable educational value in surgical training programs; and 78% felt that any surgeon who performs LC could benefit.
Conclusions
Surgeons who participated in our survey overwhelmingly recommended the routine use of IFC during laparoscopic cholecystectomy as a complimentary imaging technique. Prospective randomized clinical trials remain necessary to determine whether IFC reduces the incidence of bile duct injuries and other LC complications.
This is a preview of subscription content, log in to check access.
Access options
Buy single article
Instant unlimited access to the full article PDF.
US$ 39.95
Price includes VAT for USA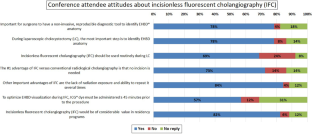 References
1.

Schirmer BD, Winters KL, Edlich RF (2005) Cholelithiasis and cholecystitis. J Long Term Eff Med Implants 15(3):329–338

2.

Dip F et al (2015) Routine use of fluorescent incisionless cholangiography as a new imaging modality during laparoscopic cholecystectomy. Surg Endosc 29(6):1621–1626

3.

Archer SB et al (2001) Bile duct injury during laparoscopic cholecystectomy: results of a national survey. Ann Surg 234(4):549–559

4.

Hibi T et al (2017) The "right" way is not always popular: comparison of surgeons' perceptions during laparoscopic cholecystectomy for acute cholecystitis among experts from Japan, Korea and Taiwan. J Hepatobiliary Pancreat Sci 24(1):24–32

5.

Berci G et al (2013) Laparoscopic cholecystectomy: first, do no harm; second, take care of bile duct stones. Surg Endosc 27(4):1051–1054

6.

Strasberg SM, Hertl M, Soper NJ (1995) An analysis of the problem of biliary injury during laparoscopic cholecystectomy. J Am Coll Surg 180(1):101–125

7.

Chun K (2014) Recent classifications of the common bile duct injury. Korean J Hepatobiliary Pancreat Surg 18(3):69–72

8.

Booij KAC et al (2017) Long-term impact of bile duct injury on morbidity, mortality, quality of life, and work related limitations. Ann Surg 268(1):143–150

9.

Way LW et al (2003) Causes and prevention of laparoscopic bile duct injuries: analysis of 252 cases from a human factors and cognitive psychology perspective. Ann Surg 237(4):460–469

10.

Strasberg SM (2002) Avoidance of biliary injury during laparoscopic cholecystectomy. J Hepatobiliary Pancreat Surg 9(5):543–547

11.

Strasberg SM, Brunt LM (2010) Rationale and use of the critical view of safety in laparoscopic cholecystectomy. J Am Coll Surg 211(1):132–138

12.

Yamashita Y, Kimura T, Matsumoto S (2010) A safe laparoscopic cholecystectomy depends upon the establishment of a critical view of safety. Surg Today 40(6):507–513

13.

de Sousa S et al (2017) Management of suspected common bile duct stones on cholangiogram during same-stay cholecystectomy for acute gallstone-related disease. BMC Surg 17(1):39

14.

Phillips EH (1993) Routine versus selective intraoperative cholangiography. Am J Surg 165(4):505–507

15.

Hope WW et al (2017) SAGES clinical spotlight review: intraoperative cholangiography. Surg Endosc 31(5):2007–2016

16.

Piacentini F et al (2003) Intraoperative cholangiography during laparoscopic cholecystectomy: selective or routine? G Chir 24(4):123–128

17.

Ford JA et al (2012) Systematic review of intraoperative cholangiography in cholecystectomy. Br J Surg 99(2):160–167

18.

Dip FD et al (2014) Cost analysis and effectiveness comparing the routine use of intraoperative fluorescent cholangiography with fluoroscopic cholangiogram in patients undergoing laparoscopic cholecystectomy. Surg Endosc 28(6):1838–1843

19.

Dip F et al (2019) Randomized Trial of Near-Infrared Incisionless Fluorescent Cholangiography. Ann Surg. https://doi.org/10.1097/SLA.0000000000003178

20.

Dip F et al (2016) Accuracy of near infrared-guided surgery in morbidly obese subjects undergoing laparoscopic cholecystectomy. Obes Surg 26(3):525–530

21.

Alander JT et al (2012) A review of indocyanine green fluorescent imaging in surgery. Int J Biomed Imaging 2012:940585

22.

Mizrahi I, Wexner SD (2017) Clinical role of fluorescence imaging in colorectal surgery—a review. Expert Rev Med Devices 14(1):75–82

23.

Ekwunife CN, Nwobe O (2014) First 100 laparoscopic surgeries in a predominantly rural Nigerian population: a template for future growth. World J Surg 38(11):2813–2817

24.

Shrestha AL, Shrestha P, Brown D (2015) Can laparoscopic cholecystectomy be a feasible standard in a rural set up too?–an experience of 348 cases from a peripheral set up of western Nepal. Kathmandu Univ Med J (KUMJ) 13(50):130–133

25.

Wells KM et al (2015) Expansion of laparoscopic cholecystectomy in a resource limited setting, Mongolia: a 9-year cross-sectional retrospective review. Lancet 385(Suppl 2):S38

26.

Larsen SS, Schulze S, Bisgaard T (2014) Non-radiographic intraoperative fluorescent cholangiography is feasible. Dan Med J 61(8):A4891

27.

Pesce A et al (2015) Utility of fluorescent cholangiography during laparoscopic cholecystectomy: a systematic review. World J Gastroenterol 21(25):7877–7883

28.

Sherwinter DA (2012) Identification of anomolous biliary anatomy using near-infrared cholangiography. J Gastrointest Surg 16(9):1814–1815

29.

Roy M et al (2017) Fluorescent incisionless cholangiography as a teaching tool for identification of Calot's triangle. Surg Endosc 31(6):2483–2490

30.

Corten B et al (2018) Is there a difference in laparoscopic cholecystectomy performed in a teaching hospital or a general hospital in the Netherlands? Acta Chir Belg. https://doi.org/10.1080/00015458.2018.1502928

31.

Giulea C et al (2016) Selective intraoperative cholangiography in laparoscopic cholecystectomy. Chirurgia (Bucur) 111(1):26–32

32.

Wiebe ER, Kaczorowski J, MacKay J (2012) Why are response rates in clinician surveys declining? Can Fam Phys 58(4):e225–e228
Acknowledgements
We would like to gratefully acknowledge the funding for the conference by Karl Storz.
Funding
Karl Storz provided funds for this international panel of experts to meet during the 4th International Congress of Fluorescence Guided Surgery in Boca Raton, Florida in February 2017.
Ethics declarations
Disclosures
Dr. Rosenthal is on the Advisory Board: Diagnostic Green; Educational Grants: Medtronics, Karl Storz Endoscopy, Ethicon Endosurgery. Dr. Dip received an Educational Grant from Karl Storz Endoscopy, Advisory Board for Diagnostic Green Inc. Dr. Lee, who helped to orchestrate this survey, discloses that Karl Storz Endoscopy America, Inc provided funding for the session during which this survey was conducted at the 4th International Congress. Dr. White is an independent research consultant, hired and paid by RR and FD to assist with this project. He has no links to any company other than his own, Science Right Research Consulting. Doctors Sarotto, Mayank, LoMenzo, Walsh, Carus, Schneider, Boni, Ishizawa, and Kokudo have no conflicts of interest or financial ties to disclose.
Additional information
Publisher's Note
Springer Nature remains neutral with regard to jurisdictional claims in published maps and institutional affiliations.
Appendix 1
Appendix 1
See Table 4.
About this article
Cite this article
Dip, F., Sarotto, L., Roy, M. et al. Incisionless fluorescent cholangiography (IFC): a pilot survey of surgeons on procedural familiarity, practices, and perceptions. Surg Endosc 34, 675–685 (2020). https://doi.org/10.1007/s00464-019-06814-x
Received:

Accepted:

Published:

Issue Date:
Keywords
Incisionless fluorescent cholangiography

Laparoscopic cholecystectomy

Intraoperative radiologic cholangiography

Bile duct injury

Near-infrared fluorescence

Fluorescence-guided surgery