Abstract
Background
Irreversible electroporation (IRE) is an emerging tissue ablation technique, which is safe for sites where thermal-basis techniques are not suitable. The aim of this study is to evaluate the safety and efficacy of magnetic anchoring electrode (MAE)-assisted IRE for normal gastric tissue ablation in a rabbit model.
Methods
IRE (500 V, 100 μs, 99 pulses, 1 Hz) of the gastric wall was performed in 24 adult New Zealand rabbits with a novel catheter-mounted MAE with fluoroscopy and a surgical approach. Procedure time, procedure-related bleeding, perforation, and other complications were recorded. Animals were sacrificed at 30 min, 1 day, 3 days, 7 days, 14 days, and 28 days post-IRE. The stomach was removed en bloc, and the diameter of each lesion was measured. Histopathological analyses by Hematoxylin–Eosin (H&E), masson trichrome, alpha-smooth muscle action (α-SMA), and terminal-deoxynucleotidyl transferase mediated nick end labeling (TUNEL) were performed.
Results
Gastric tissue ablation with MAE-assisted IRE was successfully performed without any interruption. No perforation or bleeding was observed during IRE or throughout the follow-up period. A demarcated hemorrhage was found in the ablated area upon gross examination. H&E staining showed complete cell death with inflammatory infiltration, edema, and hemorrhaging. TUNEL presented diffuse positive cells in the ablated area. The tissue scaffold was well preserved without damage as indicated by Masson trichrome staining. Ulceration was observed starting from 3 days post-IRE. The mucosal layer was gradually recovered and regenerated within 14–28 days. No other complication was observed post-IRE.
Conclusions
MAE-assisted IRE is safe and effective for normal gastric tissue ablation and the gastric wall recovered in 14–28 days post-IRE.
This is a preview of subscription content, log in to check access.
Access options
Buy single article
Instant unlimited access to the full article PDF.
US$ 39.95
Price includes VAT for USA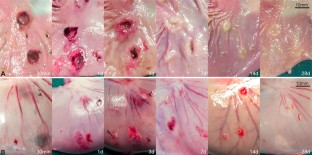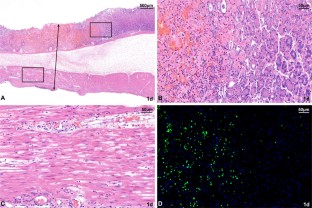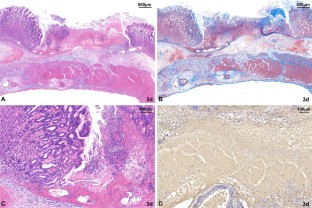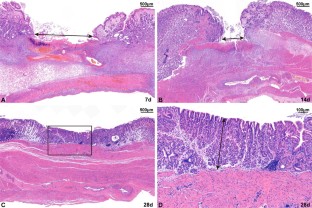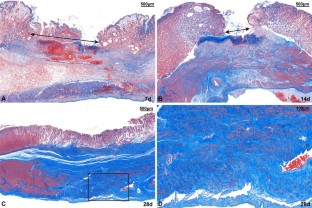 Acknowledgements
This work was supported by a grant of National Key R&D Project of China (No. 2018YFC0115300), National Natural Science Foundation of China (No. 81727802), and the Fundamental Research Funds for the Central Universities (No. SXJH012019076). In addition, we would like to thank Dr. Aihua Shi from National Local Joint Engineering Research Center for Precision Surgery and Regenerative Medicine, First Affiliated Hospital of Xi'an Jiaotong University for the fabrication of magnetic anchoring electrode.
Ethics declarations
Disclosures
Fenggang Ren, Qingshan Li, Liangshuo Hu, Xiaopeng Yan, Zhongyang Gao, Jing Zhang, Weiman Gao, Zhe Zhang, Pengkang Chang, Xue Chen, Dake Chu, Rongqian Wu, and Yi Lv have no conflicts of interest or financial ties to disclose.
Additional information
Publisher's Note
Springer Nature remains neutral with regard to jurisdictional claims in published maps and institutional affiliations.
About this article
Cite this article
Ren, F., Li, Q., Hu, L. et al. Safety and efficacy of magnetic anchoring electrode-assisted irreversible electroporation for gastric tissue ablation. Surg Endosc 34, 580–589 (2020). https://doi.org/10.1007/s00464-019-06800-3
Received:

Accepted:

Published:

Issue Date:
Keywords
Irreversible electroporation

Gastric tissue ablation

Magnetic anchoring

Pulsed electric fields