Abstract
Introduction
Hemostatic powder (TC-325) is a new tool for treatment of gastrointestinal bleeding that allows the treatment of large surfaces with active bleeding. The aim was to describe the initial success of TC-325 for the control of GI bleeding.
Materials and methods
We did a multicenter cohort study with patients admitted to the endoscopy service for GI bleeding. A format was generated to standardize the information obtained in each center. It was determined whether this treatment had been used as a single therapy or as a combination therapy. Descriptive statistics with medians and ranges, or averages with SD according to distribution.
Results
Eighty-one patients with 104 endoscopic procedures were included. The median number of endoscopic procedures was 1 (1–3). In the first procedure, the initial success rate was 98.8% (n = 80), failure rate was 1.2% (n = 1), and rebleeding rate was 20% (n = 16). The majority of rebleeding cases occurred within the first 3 days (12/16, 75%). There was no association between rebleeding and etiology (malignant or benign; P = 0.6). In first procedure, 44 (54%) cases had monotherapy with TC-325 and 37 (46%) cases had a combined endoscopic therapy. There were no differences in initial success or rebleeding rates when TC-325 was used as monotherapy versus combined therapy (P = 0.7). The mortality rate was 4% (3/81).
Conclusion
TC-325 is effective for achieving initial control of bleeding in patients with different GI etiologies. The rate of bleeding recurrence is considerable in both patients with benign and malignant etiology.
This is a preview of subscription content, log in to check access.
Access options
Buy single article
Instant unlimited access to the full article PDF.
US$ 39.95
Price includes VAT for USA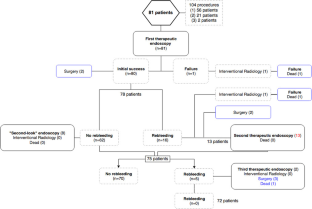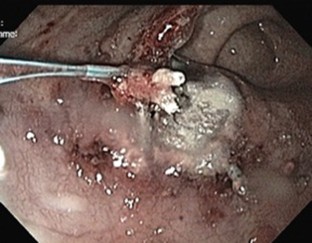 References
1.

Laine L (2016) Upper gastrointestinal bleeding due to a peptic ulcer. N Engl J Med 375:1198

2.

Gralnek IM, Dumonceau JM, Kuipers EJ et al (2015) Diagnosis and management of nonvariceal upper gastrointestinal hemorrhage: European Society of Gastrointestinal Endoscopy (ESGE) Guideline. Endoscopy 47:a1–46

3.

Aslanian HR, Laine L (2013) Hemostatic powder spray for GI bleeding. Gastrointest Endosc 77:508–510

4.

ASGE Technology Committee, Song WK, Banerjee LM S et al (2012) Emerging technologies for endoscopic hemostasis. Gastrointest Endosc 75: 933–937

5.

Barkun AN, Moosavi S, Martel M (2013) Topical hemostatic agents: a systematic review with particular emphasis on endoscopic application in GI bleeding. Gastrointest Endosc 77:692–700

6.

Haddara S, Jacques J, Lecleire S et al (2016) A novel hemostatic powder for upper gastrointestinal bleeding: a multicenter study (the "GRAPHE" registry). Endoscopy 48:1084–1095

7.

Ibrahim M, El-Mikkawy A, Abdel Hamid M et al (2018) Early application of haemostatic powder added to standard management for oesophagogastric variceal bleeding: a randomised trial. Gut https://doi.org/10.1136/gutjnl-2017-314653

8.

Pittayanon R, Prueksapanich P, Rerknimitr R (2016) The efficacy of Hemospray in patients with upper gastrointestinal bleeding from tumor. Endosc Int Open 4:E933–E936

9.

Barkun AN, Adam V, Lu Y, Chen YI, Martel M (2018) Using Hemospray improves the cost-effectiveness ratio in the management of upper gastrointestinal nonvariceal bleeding. J Clin Gastroenterol 52:36–44
Ethics declarations
Disclosures
Drs. Ariadna Iraís Ramírez-Polo, Jorge Casal-Sánchez, Angélica Hernández-Guerrero, Luz María Castro-Reyes, Melissa Yáñez-Cruz, Louis Francois De Giau-Triulzi, Javier Vinageras-Barroso, Félix Ignacio Téllez-Ávila have no conflict of interest or financial ties to disclose.
Additional information
Publisher's Note
Springer Nature remains neutral with regard to jurisdictional claims in published maps and institutional affiliations.
Electronic supplementary material
Below is the link to the electronic supplementary material.
Supplementary material 1 Video 1. Example of the technique used to apply TC-325. In this case, a patient with Dieulafoy's lesion and severe thrombocytopenia, TC-325 was included as a combination therapy after hemoclip application. (MP4 92679 KB)
Supplementary material 2 Video 2. Example of the technique used to apply TC-325. In this case, a patient with variceal bleeding after treatment with band ligation of esophageal varices, TC-325 was used as an adjuvant therapy to achieve control of bleeding. (MP4 120110 KB)
About this article
Cite this article
Ramírez-Polo, A.I., Casal-Sánchez, J., Hernández-Guerrero, A. et al. Treatment of gastrointestinal bleeding with hemostatic powder (TC-325): a multicenter study. Surg Endosc 33, 2349–2356 (2019) doi:10.1007/s00464-019-06719-9
Received:

Accepted:

Published:

Issue Date:
Keywords
Hemostatic powder

TC-325

Active bleeding

Gastrointestinal bleeding

Mexico