Abstract
Background
The inferior mesenteric artery approach with a selective lateral splenic flexure mobilization is the most widely used initial step in laparoscopic rectal and left colon surgery. Surgery started through the inferior mesenteric vein (IMV) with systematic medial mobilization (MM) has some theoretical advantages that have never been analyzed in a clinical trial. The aim of this study was to compare the two techniques with regards to surgical technique variables (conversion, surgical time, bleeding, morbidity, and mortality) and pathological outcomes.
Methods
A single-blinded, randomized, controlled trial of patients operated electively by laparoscopic with curative intention for rectal or sigmoid cancer was performed at a single, specialized colorectal surgery department from April 2016 to October 2017.
Results
49 patients were included in each group. There were no statistical differences in patient demographics between the two approaches. Pathological outcomes did not differ between the two groups. Intra-operative characteristics showed a higher conversion rate in patients in which the inferior mesenteric artery was dissected first (p = 0.031). The artery approach also increased intra-operative bleeding (p = 0.049), but there were no differences regarding operative time. On multivariate analysis, the artery approach was associated with a higher risk of conversion (OR 8.68; p = 0.050). Post-operatory complications did not differ between artery and vein dissection.
Conclusions
In our study, the initial approach by the IMV with a systematic MM of the splenic flexure has allowed us to reduce the conversion rate without increasing complications or the surgical time. No differences were observed in the pathological results. Both approaches seem to be safe and effective and well-trained laparoscopic surgeons should have the two techniques available to them for use as needed.
This is a preview of subscription content, log in to check access.
Access options
Buy single article
Instant unlimited access to the full article PDF.
US$ 39.95
Price includes VAT for USA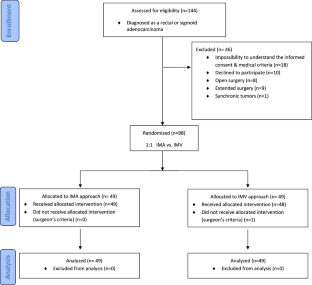 References
1.

Arnold M, Sierra MS, Laversanne M, Soerjomataram I, Jemal A, Bray F (2017) Global patterns and trends in colorectal cancer incidence and mortality. Gut 66:683–691

2.

Siegel RL, Miller KD, Jemal A (2016) Cancer statistics, 2016. CA Cancer J Clin 66:7–30

3.

Jackson TD, Kaplan GG, Arena G, Page JH, Rogers SO Jr (2007) Laparoscopic versus open resection for colorectal cancer: a meta-analysis of oncologic outcomes. J Am Coll Surg 204(3):439–446

4.

Bonnor RM, Ludwig KA (2005) Laparoscopic colectomy for colon cancer: comparable to conventional oncologic surgery? Clin Colon Rectal Surg 18(3):174–181

5.

Benseler V, Hornung M, Iesalnieks I, von Breitenbuch P, Glockzin G, Schlitt HJ, Agha A (2012) Different approaches for complete mobilization of the splenic flexure during laparoscopic rectal cancer resection. Int J Colorectal Dis 27(11):1521–1529

6.

Pigazzi A, Hellan M, Ewing DR, Paz BI, Ballantyne GH (2007) Laparoscopic medial-to-lateral colon dissection: how and why. J Gastrointest Surg 11:778–782

7.

Jamali FR, Soweid AM, Dimassi H, Bailey C, Leroy J, Marescaux J (2008) Evaluating the degree of difficulty of laparoscopic colorectal surgery. Arch Surg 143:762–767

8.

Noel JK, Fahrbach K, Estok R, Cella C, Frame D, Linz H, Cima RR, Dozois EJ, Senagore AJ (2007) Minimally invasive colorectal resection outcomes: short-term comparison with open procedures. J Am Coll Surg 204(2):291–307

9.

West NP, Morris EJA, Rotimi O, Cairns A, Finan PJ, Quirke P (2008) Pathology grading of colon cancer surgical resection and its association with survival: a retrospective observational study. LancetOncol 9:857–865

10.

Enker WE, Laffer UT, Block GE (1979) Enhanced survival of patients with colon and rectal cancer is based upon wide anatomic resection. Ann Surg 190:350–360

11.

Kuroyanagi H, Oya M, Konishi T, Fukuda M, Fujimoto Y, Ueno M, Miyata S, Yamaguchi T (2010) Factors affecting difficulty of laparoscopic surgery for left-sided colon cancer. Surg Endosc 24:2749–2754

12.

Kumamoto T, Shinohara H, Tomizawa K, Hanaoka Y, Toda S, Takemura N, Moriyama J, Matoba S, Kuroyanagi H (2018) Inferior pancreatic approach for laparoscopic splenic flexure mobilization. Tech Coloproctol 22(1):71–72

13.

Thum-umnuaysuk S, Boonyapibal A, Geng YY, Pattana-Arun J (2013) Lengthening of the colon for low rectal anastomosis in a cadaveric study: how much can we gain? Tech Coloproctol 17(4):377–381

14.

Yasuda K, Kawai K, Ishihara S, Murono K, Otani K, Nishikawa T, Tanaka T, Kiyomatsu T, Hata K, Nozawa H, Yamaguchi H, Aoki S, Mishima H, Maruyama T, Sako A, Watanabe T (2016) Level of arterial ligation in sigmoid colon and rectal cancer surgery. World J Surg Oncol 14:99

15.

Hida J, Okuno K (2013 Jan) High ligation of the inferior mesenteric artery in rectal cancer surgery. Surg Today 43(1):8–19

16.

Clancy C, O'Leary DP, Burke JP, Redmond HP, Coffey JC, Kerin MJ, Myers E (2015) A meta-analysis to determine the oncological implications of conversion in laparoscopic colorectal cancer surgery. Colorectal Dis 17(6):482–490

17.

Ma B, Gao P, Song Y, Zhang C, Zhang C, Wang L, Liu H, Wang Z (2016) Transanal total mesorectal excision (TaTME) for rectal cancer: a systematic review and meta-analysis of oncological and perioperative outcomes compared with laparoscopic total mesorectal excision. BMC Cancer 16:380

18.

Perdawood SK, Thinggaard BS, Bjoern MX (2018) Effect of transanal total mesorectal excision for rectal cancer: comparison of short-term outcomes with laparoscopic and open surgeries. Surg Endosc 32(5):2312–2321

19.

Brennan DJ, Moynagh M, Brannigan AE, Gleeson F, Rowland M, O'Connell PR (2007) Routine mobilization of the splenic flexure is not necessary during anterior resection for rectal cancer. Dis Colon Rectum 50(3):302–307

20.

Chand M, Miskovic D, Parvaiz AC (2012) Is splenic flexure mobilization necessary in laparoscopic anterior resection? Dis Colon Rectum 55(11):1195–1197

21.

Gouvans N, Gogos-Pappas G, Tsimogiannis K et al (2014) Impact of splenic flexure mobilization on short-term outcomes after laparoscopic left colectomy for colorectal cancer. Surg Laparosc Endosc Percutan Tech 24:470–474

22.

Garcia-Granero A, Sánchez-Guillén L, Carreño O, Sancho Muriel J, Alvarez Sarrado E, Fletcher Sanfeliu D, Flor Lorente B, Frasson M, Martinez Soriano F, Garcia-Granero E (2017) Importance of the Moskowitz artery in the laparoscopic medial approach to splenic flexure mobilization: a cadaveric study. Tech Coloproctol 21(7):567–572

23.

Wolthuis AM, Bislenghi G, van Overstraeten ADB, D'Hoore A (2015) Transanal total mesorectal excision: towards standardization of technique. World J Gastroenterol 21(44):12686–12695
Ethics declarations
Disclosures
Pere Planellas Giné, Helena Salvador Rosés, Ramon Farrés Coll, Núria Gómez Romeu, David Julià Bergkvist, Júlia Gil Garcia, Marcel Pujadas de Palol, Franco Marinello, Lídia Cornejo Fernández and Antoni Codina Cazador have no conflicts of interest or financial ties to disclose.
Electronic supplementary material
Below is the link to the electronic supplementary material.
Supplementary material 1 (MP4 379527 KB)
About this article
Cite this article
Planellas, P., Salvador, H., Farrés, R. et al. A randomized clinical trial comparing the initial vascular approach to the inferior mesenteric vein versus the inferior mesenteric artery in laparoscopic surgery of rectal cancer and sigmoid colon cancer. Surg Endosc 33, 1310–1318 (2019). https://doi.org/10.1007/s00464-018-6551-z
Received:

Accepted:

Published:

Issue Date:
Keywords
Colorectal cancer

Vascular approach

Inferior mesenteric vein

Splenic colon flexure

Rectal cancer