Abstract
Background
Currently, we lack tools that can reliably guide laparoscopic surgeons to a target anatomical destination for dissection. We aimed to develop and evaluate a fluorescent destination marker (FDM), composed of a resected omental appendix injected with indocyanine green (ICG), for real-time navigation in laparoscopic surgery for colorectal cancer in this pilot study.
Methods
This study included ten patients diagnosed with colorectal cancer. To prepare FDMs, we laparoscopically harvested omental appendices attached to the colon we planned to resect. The harvested appendices were injected with diluted ICG, and a gauze tag was attached. The FDMs were placed at target intra-abdominal sites with a ligation clip.
Results
Patient diagnoses included 1 cecal, 2 ascending colon, 3 transverse colon, 2 sigmoid colon, and 2 rectal cancers. No conversion to open surgery was required and no intraoperative complications occurred. We created 12 sets of FDMs, which were placed at a total of 13 sites in abdominal cavities. FDM fluorescence was successfully detected in all cases. Furthermore, FDMs could be detected earlier than the gauze tags at 12 points, and they were detected at the same time at 1 point.
Conclusions
All FDMs facilitated laparoscopic surgery by allowing the surgeon to find the tissue to be dissected, particularly in procedures that required the dissection of lymph nodes around middle colic vessels and mobilization of the splenic flexure. FDMs showed potential for guiding the laparoscopic surgeon to a target anatomical destination. This marker represents a contribution to the evolution of real-time navigation surgery.
This is a preview of subscription content, log in to check access.
We're sorry, something doesn't seem to be working properly.
Please try refreshing the page. If that doesn't work, please contact support so we can address the problem.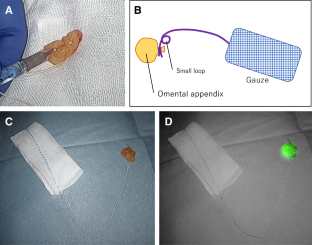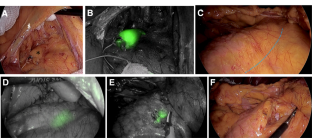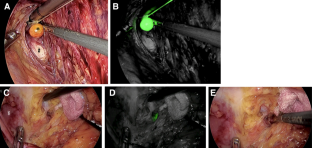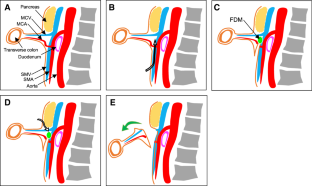 References
1.

Matsuda T, Iwasaki T, Hirata K, Tsugawa D, Sugita Y, Sumi Y, Kakeji Y (2015) A three-step method for laparoscopic mobilization of the splenic flexure. Ann Surg Oncol 22(Suppl 3):S335

2.

Matsumura N, Tokumura H, Saijo F, Katayose Y (2017) Strategy of laparoscopic surgery for colon cancer of the splenic flexure: a novel approach. Surg Endosc 32:2559–2559

3.

Xie D, Yu C, Gao C, Osaiweran H, Hu J, Gong J (2017) An optimal approach for laparoscopic D3 lymphadenectomy plus complete mesocolic excision (D3 + CME) for right-sided colon cancer. Ann Surg Oncol 24:1312–1313

4.

Du S, Zhang B, Liu Y, Han P, Song C, Hu F, Xia T, Wu X, Cui B (2018) A novel and safe approach: middle cranial approach for laparoscopic right hemicolon cancer surgery with complete mesocolic excision. Surg Endosc 32:2567–2574

5.

Bertelsen CA, Neuenschwander AU, Jansen JE, Wilhelmsen M, Kirkegaard-Klitbo A, Tenma JR, Bols B, Ingeholm P, Rasmussen LA, Jepsen LV, Iversen ER, Kristensen B, Gogenur I, Danish Colorectal Cancer G (2015) Disease-free survival after complete mesocolic excision compared with conventional colon cancer surgery: a retrospective, population-based study. Lancet Oncol 16:161–168

6.

Hohenberger W, Weber K, Matzel K, Papadopoulos T, Merkel S (2009) Standardized surgery for colonic cancer: complete mesocolic excision and central ligation–technical notes and outcome. Colorectal Dis 11:354–364 (discussion 364–355)

7.

West NP, Hohenberger W, Weber K, Perrakis A, Finan PJ, Quirke P (2010) Complete mesocolic excision with central vascular ligation produces an oncologically superior specimen compared with standard surgery for carcinoma of the colon. J Clin Oncol 28:272–278

8.

West NP, Kobayashi H, Takahashi K, Perrakis A, Weber K, Hohenberger W, Sugihara K, Quirke P (2012) Understanding optimal colonic cancer surgery: comparison of Japanese D3 resection and European complete mesocolic excision with central vascular ligation. J Clin Oncol 30:1763–1769

9.

Hamabe A, Ito M (2017) A three-dimensional pelvic model made with a three-dimensional printer: applications for laparoscopic surgery to treat rectal cancer. Tech Coloproctol 21:383–387

10.

Mezger U, Jendrewski C, Bartels M (2013) Navigation in surgery. Langenbecks Arch Surg 398:501–514

11.

Atallah S, Martin-Perez B, Larach S (2015) Image-guided real-time navigation for transanal total mesorectal excision: a pilot study. Tech Coloproctol 19:679–684

12.

Atallah S, Nassif G, Larach S (2015) Stereotactic navigation for TAMIS-TME: opening the gateway to frameless, image-guided abdominal and pelvic surgery. Surg Endosc 29:207–211

13.

Wijsmuller AR, Romagnolo LGC, Agnus V, Giraudeau C, Melani AGF, Dallemagne B, Marescaux J (2017) Advances in stereotactic navigation for pelvic surgery. Surg Endosc 32:2713–2720

14.

Keller DS, Ishizawa T, Cohen R, Chand M (2017) Indocyanine green fluorescence imaging in colorectal surgery: overview, applications, and future directions. Lancet Gastroenterol Hepatol 2:757–766

15.

Jafari MD, Wexner SD, Martz JE, McLemore EC, Margolin DA, Sherwinter DA, Lee SW, Senagore AJ, Phelan MJ, Stamos MJ (2015) Perfusion assessment in laparoscopic left-sided/anterior resection (PILLAR II): a multi-institutional study. J Am Coll Surg 220:82–92

16.

Watanabe J, Ota M, Suwa Y, Suzuki S, Suwa H, Momiyama M, Ishibe A, Watanabe K, Masui H, Nagahori K, Ichikawa Y, Endo I (2015) Evaluation of the intestinal blood flow near the rectosigmoid junction using the indocyanine green fluorescence method in a colorectal cancer surgery. Int J Colorectal Dis 30:329–335

17.

Boni L, Fingerhut A, Marzorati A, Rausei S, Dionigi G, Cassinotti E (2017) Indocyanine green fluorescence angiography during laparoscopic low anterior resection: results of a case-matched study. Surg Endosc 31:1836–1840

18.

Siddighi S, Yune JJ, Hardesty J (2014) Indocyanine green for intraoperative localization of ureter. Am J Obstet Gynecol 211:436 e431–e432

19.

Nagata J, Fukunaga Y, Akiyoshi T, Konishi T, Fujimoto Y, Nagayama S, Yamamoto N, Ueno M (2016) Colonic marking with near-infrared, light-emitting, diode-activated indocyanine green for laparoscopic colorectal surgery. Dis Colon Rectum 59:e14–e18

20.

Watanabe M, Murakami M, Ozawa Y, Yoshizawa S, Matsui N, Aoki T (2017) Intraoperative identification of colonic tumor sites using a near-infrared fluorescence endoscopic imaging system and indocyanine green. Dig Surg 34:495–501

21.

Watanabe J, Ota M, Suwa Y, Ishibe A, Masui H, Nagahori K (2017) Evaluation of lymph flow patterns in splenic flexural colon cancers using laparoscopic real-time indocyanine green fluorescence imaging. Int J Colorectal Dis 32:201–207

22.

Yeung TM, Wang LM, Colling R, Kraus R, Cahill R, Hompes R, Mortensen NJ (2018) Intraoperative identification and analysis of lymph nodes at laparoscopic colorectal cancer surgery using fluorescence imaging combined with rapid OSNA pathological assessment. Surg Endosc 32:1073–1076

23.

Filippello A, Porcheron J, Klein JP, Cottier M, Barabino G (2017) Affinity of indocyanine green in the detection of colorectal peritoneal carcinomatosis. Surg Innov 24:103–108

24.

Barabino G, Klein JP, Porcheron J, Grichine A, Coll JL, Cottier M (2016) Intraoperative near-infrared fluorescence imaging using indocyanine green in colorectal carcinomatosis surgery: proof of concept. Eur J Surg Oncol 42:1931–1937

25.

Liberale G, Vankerckhove S, Caldon MG, Ahmed B, Moreau M, Nakadi IE, Larsimont D, Donckier V, Bourgeois P (2016) Fluorescence imaging after indocyanine green injection for detection of peritoneal metastases in patients undergoing cytoreductive surgery for peritoneal carcinomatosis from colorectal cancer. Ann Surg 264:1110–1115

26.

Dapri G, Cahill R, Bourgeois P, Liberale G, Galdon Gomez M, Cadiere GB (2017) Peritumoural injection of indocyanine green fluorescence during transanal total mesorectal excision to identify the plane of dissection—a video vignette. Colorectal Dis 19:599–600

27.

Wada T, Kawada K, Takahashi R, Yoshitomi M, Hida K, Hasegawa S, Sakai Y (2017) ICG fluorescence imaging for quantitative evaluation of colonic perfusion in laparoscopic colorectal surgery. Surg Endosc 31:4184–4193

28.

Hamabe A, Park S, Morita S, Tanida T, Tomimaru Y, Imamura H, Dono K (2018) Analysis of the vascular interrelationships among the first jejunal vein, the superior mesenteric artery, and the middle colic artery. Ann Surg Oncol 25:1661–1667

29.

Ding J, Liao GQ, Xia Y, Zhang ZM, Pan Y, Liu S, Zhang Y, Yan ZS (2013) Medial versus lateral approach in laparoscopic colorectal resection: a systematic review and meta-analysis. World J Surg 37:863–872

30.

Poon JT, Law WL, Fan JK, Lo OS (2009) Impact of the standardized medial-to-lateral approach on outcome of laparoscopic colorectal resection. World J Surg 33:2177–2182

31.

Rotholtz NA, Bun ME, Tessio M, Lencinas SM, Laporte M, Aued ML, Peczan CE, Mezzadri NA (2009) Laparoscopic colectomy: medial versus lateral approach. Surg Laparosc Endosc Percutan Tech 19:43–47
Ethics declarations
Disclosures
Atsushi Hamabe, Takayuki Ogino, Tsukasa Tanida, Shingo Noura, Shunji Morita, and Keizo Dono have no conflicts of interest or financial ties to disclosure.
Electronic supplementary material
Below is the link to the electronic supplementary material.
Supplementary material Video 1 (MP4 438047 KB)
Supplementary material Video 2 (MP4 169978 KB)
About this article
Cite this article
Hamabe, A., Ogino, T., Tanida, T. et al. Indocyanine green fluorescence-guided laparoscopic surgery, with omental appendices as fluorescent markers for colorectal cancer resection: a pilot study. Surg Endosc 33, 669–678 (2019). https://doi.org/10.1007/s00464-018-6504-6
Received:

Accepted:

Published:

Issue Date:
Keywords
Laparoscopic surgery

Navigation

Colorectal cancer

Indocyanine green