Abstract
Background
Laparoscopic surgery for colorectal cancer, not only early cancer but also advanced cancer, has become standardized by some randomized controlled studies. However, cases involving advanced transverse colon cancer were excluded from these studies due to the technical difficulty of the surgery. Hence, laparoscopic surgery for advanced transverse colon cancer is still a theme that we need to overcome. To solve these issues, it is necessary to establish a standardized approach and surgical technique.
Surgical techniques
The advantage of our method, which approaches from both sides of the transverse mesocolon, is that it is easier to achieve hemostasis when active bleeding occurs because this approach provides space for ligating and sealing. This allows the surgeon to perform lymphadenectomy around the superior mesenteric artery and vein.
Conclusions
We introduced the usefulness of the "Pincer approach of the transverse mesocolon" to standardize laparoscopic surgery for advanced transverse colon cancer.
This is a preview of subscription content, log in to check access.
Access options
Buy single article
Instant unlimited access to the full article PDF.
US$ 39.95
Price includes VAT for USA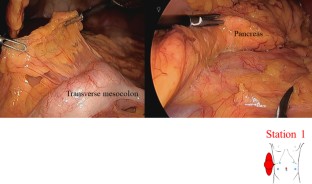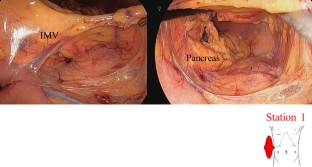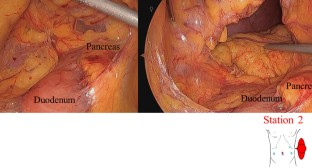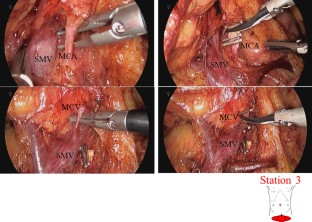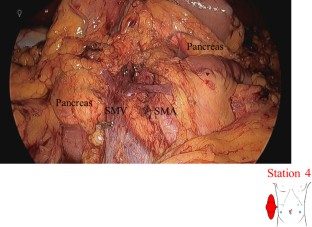 References
1.

Lacy AM, Delgado S, Castells A, Prins HA, Arroyo V, Ibarzabal A, Pique JM (2008) The long-term results of a randomized clinical trial of laparoscopy-assisted versus open surgery for colon cancer. Ann Surg 248(1):1–7

2.

Fleshman J, Sargent DJ, Green E, Anvari M, Stryker SJ, Beart RW Jr, Hellinger M, Flanagan R Jr, Peters W, Nelson H, Clinical Outcomes of Surgical Therapy Study Group (2007) Laparoscopic colectomy for cancer is not inferior to open surgery based on 5-year data from the COST Study Group trial. Ann Surg 246(4):655–662 (discussion 662-664).

3.

Colon Cancer Laparoscopic or Open Resection Study Group, Buunen M, Veldkamp R, Hop WC, Kuhry E, Jeekel J, Haglind E, Påhlman L, Cuesta MA, Msika S, Morino M, Lacy A, Bonjer HJ (2009) Survival after laparoscopic surgery versus open surgery for colon cancer: long-term outcome of a randomised clinical trial. Lancet Oncol 10(1):44–52

4.

Jayne DG, Guillou PJ, Thorpe H, Quirke P, Copeland J, Smith AM, Heath RM, Brown JM, UK MRC CLASICC Trial Group (2007) Randomized trial of laparoscopic-assisted resection of colorectal carcinoma: 3-year results of the UK MRC CLASICC Trial Group. J Clin Oncol 25(21):3061–3068

5.

Jayne DG, Thorpe HC, Copeland J, Quirke P, Brown JM, Guillou PJ (2010) Five-year follow-up of the Medical Research Council CLASICC trial of laparoscopically assisted versus open surgery for colorectal cancer. Br J Surg 97(11):1638–1645

6.

Deijen CL, Vasmel JE, de Lange-de Klerk ESM, Cuesta MA, Coene PLO, Lange JF, Meijerink WJHJ, Jakimowicz JJ, Jeekel J, Kazemier G, Janssen IMC, Påhlman L, Haglind E, Bonjer HJ, COLOR (COlon cancer Laparoscopic or Open Resection) Study Group (2017) Ten-year outcomes of a randomised trial of laparoscopic versus open surgery for colon cancer. Surg Endosc 31(6):2607–2615

7.

Kitano S, Inomata M, Mizusawa J, Katayama H, Watanabe M, Yamamoto S, Ito M, Saito S, Fujii S, Konishi F, Saida Y, Hasegawa H, Akagi T, Sugihara K, Yamaguchi T, Masaki T, Fukunaga Y, Murata K, Okajima M, Moriya Y, Shimada Y (2017) Survival outcomes following laparoscopic versus open D3 dissection for stage II or III colon cancer (JCOG0404): a phase 3, randomised controlled trial. Lancet Gastroenterol Hepatol 2(4):261–268

8.

Chand M, Siddiqui MR, Rasheed S, Brown G, Tekkis P, Parvaiz A, Qureshi T (2014) A systematic review and meta-analysis evaluating the role of laparoscopic surgical resection of transverse colon tumours. Surg Endosc 28(12):3263–3272

9.

Fernandez-Cebrian JM, GilYonte P, Jimenez-Toscano M, Vega L, Ochando F (2013) Laparoscopic colectomy for transverse colon carcinoma: a surgical challenge but oncologically feasible. Colorectal Dis 15:e79–e83

10.

Matsuda T, Iwasaki T, Mitsutsuji M, Hirata K, Maekawa Y, Tsugawa D, Sugita Y, Sumi Y, Shimada E, Kakeji Y (2015) Cranially approached radical lymph node dissection around the middle colic vessels in laparoscopic colon cancer surgery. Langenbecks Arch Surg 400(1):113–117
Ethics declarations
Disclosures
Drs. Hiroyuki Egi, Ikki Nakashima, Minoru Hattori, Shoichiro Mukai, Masatoshi Kochi, Kazuhiro Taguchi, Haruki Sada, Yusuke Sumi, Hideki Ohdan have no conflicts of interest or financial ties to disclose.
Ethical standard
Patients were given written informed consent prior to surgery. This study was conducted in accordance with the Helsinki Declaration Guidelines with the approval of the Ethics Committee of Hiroshima University Hospital.
Electronic supplementary material
Below is the link to the electronic supplementary material.
Supplementary material 1 (MP4 263982 KB)
About this article
Cite this article
Egi, H., Nakashima, I., Hattori, M. et al. Surgical techniques for advanced transverse colon cancer using the pincer approach of the transverse mesocolon. Surg Endosc 33, 639–643 (2019). https://doi.org/10.1007/s00464-018-6491-7
Received:

Accepted:

Published:

Issue Date:
Keywords
Laparoscopic surgery

Colon cancer

Transverse colon cancer

Pincer approach