Abstract
Background and study aims
Gastrointestinal (GI) fistulas arise as adverse events of GI surgery and endoscopic treatment as well as secondary to underlying diseases, such as ulceration and pancreatitis. Until a decade ago, they were mainly treated surgically or conservatively. Bioabsorbable polyglycolic acid (PGA) sheets and fibrin glue, which are commonly used in surgical procedures, have also recently been used in endoscopic procedures for the closure of GI defects. However, there have only been few case reports about successful experiences with this approach. There have not been any case-series studies investigating the strengths and weaknesses of such PGA sheet-based treatment. In this study, we evaluated the clinical effectiveness of using PGA sheets to close GI fistulas.
Patients and methods
Cases in which patients underwent endoscopic filling with PGA sheets and fibrin glue for GI fistulas at Kobe University Hospital between January 2013 and April 2018 were retrospectively reviewed.
Results
A total of 10 cases were enrolled. They included fistulas due to leakage after GI surgery, aortoesophageal/bronchoesophageal fistulas caused by chemoradiotherapy, or severe acute pancreatitis. The fistulas were successfully closed in 7 cases (70%). The unsuccessful cases involved a fistula due to leakage after surgical esophagectomy and bronchoesophageal fistulas due to chemoradiotherapy or severe acute pancreatitis. Unsuccessful treatment was related to fistula epithelization.
Conclusion
Endoscopic plombage with PGA sheets and fibrin glue could be a promising therapeutic option for GI fistulas.
This is a preview of subscription content, log in to check access.
Access options
Buy single article
Instant unlimited access to the full article PDF.
US$ 39.95
Price includes VAT for USA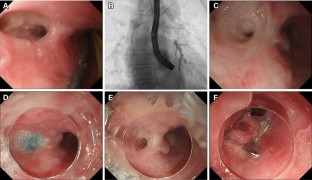 References
1.

Turkyilmaz A, Eroglu A, Aydin Y, Tekinbas C, Muharrem Erol M, Karaoglanoglu N (2009) The management of esophagogastric anastomotic leak after esophagectomy for esophageal carcinoma. Dis Esophagus 22:119–126

2.

van Heijl M, van Wijngaarden AK, Lagarde SM, Busch OR, van Lanschot JJ, van Berge Henegouwen MI (2010) Intrathoracic manifestations of cervical anastomotic leaks after transhiatal and transthoracic oesophagectomy. Br J Surg 97:726–731

3.

Cazzo E, Apodaca-Rueda M, Gestic MA, Chaim FHM, Saito HPA, Utrini MP, Callejas-Neto F, Chaim EA (2017) Management of pancreaticopleural fistulas secondary to chronic pancreatitis. Arquivos brasileiros de cirurgia digestiva: ABCD = Brazilian. Arch Dig Surg 30:225–228

4.

Ono S, Fujishiro M, Niimi K, Goto O, Kodashima S, Yamamichi N, Omata M (2009) Long-term outcomes of endoscopic submucosal dissection for superficial esophageal squamous cell neoplasms. Gastrointest Endosc 70:860–866

5.

Saito Y, Uraoka T, Yamaguchi Y, Hotta K, Sakamoto N, Ikematsu H, Fukuzawa M, Kobayashi N, Nasu J, Michida T, Yoshida S, Ikehara H, Otake Y, Nakajima T, Matsuda T, Saito D (2010) A prospective, multicenter study of 1111 colorectal endoscopic submucosal dissections (with video). Gastrointest Endosc 72:1217–1225

6.

Inoue T, Uedo N, Yamashina T, Yamamoto S, Hanaoka N, Takeuchi Y, Higashino K, Ishihara R, Iishi H, Tatsuta M, Takahashi H, Eguchi H, Ohigashi H (2014) Delayed perforation: a hazardous complication of endoscopic resection for non-ampullary duodenal neoplasm. Dig Endosc 26:220–227

7.

Shen KR, Allen MS, Cassivi SD, Nichols FC 3rd, Wigle DA, Harmsen WS, Deschamps C (2010) Surgical management of acquired nonmalignant tracheoesophageal and bronchoesophageal fistulae. Ann Thorac Surg 90:914–918; (discussion 919)

8.

von Renteln D, Denzer UW, Schachschal G, Anders M, Groth S, Rosch T (2010) Endoscopic closure of GI fistulae by using an over-the-scope clip (with videos). Gastrointest Endosc 72:1289–1296

9.

Fischer A, Hoppner J, Utzolino S, Richter-Schrag HJ (2014) Over-the-scope clip (OTSC) closure of a gastrobronchial fistula after esophagectomy. Endoscopy 46(Suppl 1 UCTN):E638–E639

10.

Mercky P, Gonzalez JM, Aimore Bonin E, Emungania O, Brunet J, Grimaud JC, Barthet M (2015) Usefulness of over-the-scope clipping system for closing digestive fistulas. Dig Endosc 27:18–24

11.

Mennigen R, Colombo-Benkmann M, Senninger N, Laukoetter M (2013) Endoscopic closure of postoperative gastrointestinal leakages and fistulas with the Over-the-Scope Clip (OTSC). J Gastrointest Surg 17:1058–1065

12.

Hagel AF, Naegel A, Lindner AS, Kessler H, Matzel K, Dauth W, Neurath MF, Raithel M (2012) Over-the-scope clip application yields a high rate of closure in gastrointestinal perforations and may reduce emergency surgery. J Gastrointest Surg 16:2132–2138

13.

Haito-Chavez Y, Law JK, Kratt T, Arezzo A, Verra M, Morino M, Sharaiha RZ, Poley JW, Kahaleh M, Thompson CC, Ryan MB, Choksi N, Elmunzer BJ, Gosain S, Goldberg EM, Modayil RJ, Stavropoulos SN, Schembre DB, DiMaio CJ, Chandrasekhara V, Hasan MK, Varadarajulu S, Hawes R, Gomez V, Woodward TA, Rubel-Cohen S, Fluxa F, Vleggaar FP, Akshintala VS, Raju GS, Khashab MA (2014) International multicenter experience with an over-the-scope clipping device for endoscopic management of GI defects (with video). Gastrointest Endosc 80:610–622

14.

Langer FB, Wenzl E, Prager G, Salat A, Miholic J, Mang T, Zacherl J (2005) Management of postoperative esophageal leaks with the Polyflex self-expanding covered plastic stent. Ann Thorac Surg 79:398–403; (discussion 404)

15.

Schubert D, Scheidbach H, Kuhn R, Wex C, Weiss G, Eder F, Lippert H, Pross M (2005) Endoscopic treatment of thoracic esophageal anastomotic leaks by using silicone-covered, self-expanding polyester stents. Gastrointest Endosc 61:891–896

16.

Choi HJ, Lee BI, Kim JJ, Kim JH, Song JY, Ji JS, Kim BW, Choi H, Choi KY (2013) The temporary placement of covered self-expandable metal stents to seal various gastrointestinal leaks after surgery. Gut Liver 7:112–115

17.

El Hajj II, Imperiale TF, Rex DK, Ballard D, Kesler KA, Birdas TJ, Fatima H, Kessler WR, DeWitt JM (2014) Treatment of esophageal leaks, fistulae, and perforations with temporary stents: evaluation of efficacy, adverse events, and factors associated with successful outcomes. Gastrointest Endosc 79:589–598

18.

van Boeckel PG, Dua KS, Weusten BL, Schmits RJ, Surapaneni N, Timmer R, Vleggaar FP, Siersema PD (2012) Fully covered self-expandable metal stents (SEMS), partially covered SEMS and self-expandable plastic stents for the treatment of benign esophageal ruptures and anastomotic leaks. BMC Gastroenterol 12:19

19.

Kawai H, Harada K, Ohta H, Tokushima T, Oka S (2012) Prevention of alveolar air leakage after video-assisted thoracic surgery: comparison of the efficacy of methods involving the use of fibrin glue. Thorac Cardiovasc Surg 60:351–355

20.

Hayashibe A, Sakamoto K, Shinbo M, Makimoto S, Nakamoto T (2006) New method for prevention of bile leakage after hepatic resection. J Surg Oncol 94:57–60

21.

Uemura K, Murakami Y, Hayashidani Y, Sudo T, Hashimoto Y, Ohge H, Sueda T (2009) Combination of polyglicolic acid felt and fibrin glue for prevention of pancreatic fistula following pancreaticoduodenectomy. Hepato-gastroenterology 56:1538–1541

22.

Sugawara T, Itoh Y, Hirano Y, Higashiyama N, Shimada Y, Kinouchi H, Mizoi K (2005) Novel dural closure technique using polyglactin acid sheet prevents cerebrospinal fluid leakage after spinal surgery. Neurosurgery 57:290–294; (discussion 290–294)

23.

Yano T, Haro A, Shikada Y, Okamoto T, Maruyama R, Maehara Y (2012) A unique method for repairing intraoperative pulmonary air leakage with both polyglycolic acid sheets and fibrin glue. World J Surg 36:463–467

24.

Shinozaki T, Hayashi R, Ebihara M, Miyazaki M, Tomioka T (2013) Mucosal defect repair with a polyglycolic acid sheet. Jpn J Clin Oncol 43:33–36

25.

Oda I, Nonaka S, Abe S et al (2015) Is there a need to shield ulcers after endoscopic submucosal dissection in the gastrointestinal tract. Endosc Int Open 3:E152–E153

26.

Takimoto K, Toyonaga T, Matsuyama K (2012) Endoscopic tissue shielding to prevent delayed perforation associated with endoscopic submucosal dissection for duodenal neoplasms. Endoscopy 44(Suppl 2 UCTN):E414–E415

27.

Tsuji Y, Ohata K, Gunji T, Shozushima M, Hamanaka J, Ohno A, Ito T, Yamamichi N, Fujishiro M, Matsuhashi N, Koike K (2014) Endoscopic tissue shielding method with polyglycolic acid sheets and fibrin glue to cover wounds after colorectal endoscopic submucosal dissection (with video). Gastrointest Endosc 79:151–155

28.

Takimoto K, Imai Y, Matsuyama K (2014) Endoscopic tissue shielding method with polyglycolic acid sheets and fibrin glue to prevent delayed perforation after duodenal endoscopic submucosal dissection. Dig Endosc 26(Suppl 2):46–49

29.

Doyama H, Tominaga K, Yoshida N, Takemura K, Yamada S (2014) Endoscopic tissue shielding with polyglycolic acid sheets, fibrin glue and clips to prevent delayed perforation after duodenal endoscopic resection. Dig Endosc 26(Suppl 2):41–45

30.

Ohara Y, Takimoto K, Toyonaga T, Yamaguchi T, Sakaguchi H, Kawara F, Tanaka S, Ishida T, Morita Y, Umegaki E (2017) Enormous postoperative perforation after endoscopic submucosal dissection for duodenal cancer successfully treated with filling and shielding by polyglycolic acid sheets with fibrin glue and computed tomography-guided abscess puncture. Clin J Gastroenterol 10:524–529

31.

Takimoto K, Hagiwara A (2016) Filling and shielding for postoperative gastric perforations of endoscopic submucosal dissection using polyglycolic acid sheets and fibrin glue. Endosc Int Open 4:E661–E664

32.

Sakaguchi Y, Tsuji Y, Yamamichi N, Fujishiro M, Koike K (2016) Successful closure of a large perforation during colorectal endoscopic submucosal dissection by application of polyglycolic acid sheets and fibrin glue. Gastrointest Endosc 84:374–375

33.

Takahashi R, Yoshio T, Horiuchi Y, Omae M, Ishiyama A, Hirasawa T, Yamamoto Y, Tsuchida T, Fujisaki J (2017) Endoscopic tissue shielding for esophageal perforation caused by endoscopic resection. Clin J Gastroenterol 10:214–219

34.

Tsujii Y, Kato M, Shinzaki S, Takigawa A, Hayashi Y, Nishida T, Iijima H, Tsujii M, Takehara T (2015) Polyglycolic acid sheets for repair of refractory esophageal fistula. Endoscopy 47(Suppl 1 UCTN):E39–E40

35.

Matsuura N, Hanaoka N, Ishihara R, Sugimura K, Motoori M, Miyata H, Yano M (2016) Polyglycolic acid sheets for closure of refractory esophago-pulmonary fistula after esophagectomy. Endoscopy 48(Suppl 1 UCTN):E78–E79

36.

Takegawa Y, Takao T, Ono H (2015) Fundantal examination into the use of fibrin glue and polyglycolic acid sheets as a method for covering post-ESD ulcers (in Japanese). Gastroenterol Endosc 57:1150–1157
Ethics declarations
Disclosures
Dr. Nakano, Dr. Takao, Dr. Morita, Dr. Sakaguchi, Dr. Tanaka, Dr. Ishida, Dr. Toyonaga, Dr. Umegaki, and Dr. Kodama have no conflicts of interest to disclose.
Electronic supplementary material
Below is the link to the electronic supplementary material.
Supplementary material 1 (MP4 21881 KB)
About this article
Cite this article
Nakano, Y., Takao, T., Morita, Y. et al. Endoscopic plombage with polyglycolic acid sheets and fibrin glue for gastrointestinal fistulas. Surg Endosc 33, 1795–1801 (2019). https://doi.org/10.1007/s00464-018-6454-z
Received:

Accepted:

Published:

Issue Date:
Keywords
Fistula

Polyglycolic acid sheet

Fibrin glue