Abstract
Background and aims
Radiofrequency ablation (RFA) is a well-recognized local ablative technique applied in the treatment of different solid tumors. Intraoperative RFA has been used for non-metastatic unresectable pancreatic ductal adenocarcinoma (PDAC), showing increased overall survival in retrospective studies. A novel RFA probe has recently been developed, allowing RFA under endoscopic ultrasound (EUS) guidance. Aim of the present study was to assess the feasibility and safety of EUS-guided RFA for unresectable PDACs.
Methods
Patients with unresectable non-metastatic PDAC were included in the study following neoadjuvant chemotherapy. EUS-guided RFA was performed using a novel monopolar 18-gauge electrode with a sharp conical 1 cm tip for energy delivery. Pre- and post-procedural clinical and radiological data were prospectively collected.
Results
Ten consecutive patients with unresectable PDAC were enrolled. The procedure was successful in all cases and no major adverse events were observed. A delineated hypodense ablated area within the tumor was observed at the 30-day CT scan in all cases.
Conclusions
EUS-guided RFA is a feasible and safe minimally invasive procedure for patients with unresectable PDAC. Further studies are warranted to demonstrate the impact of EUS-guided RFA on disease progression and overall survival.
This is a preview of subscription content, log in to check access.
Access options
Buy single article
Instant unlimited access to the full article PDF.
US$ 39.95
Price includes VAT for USA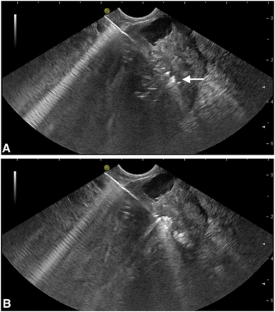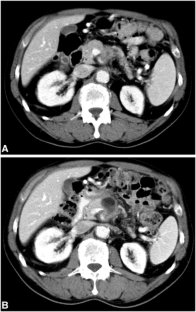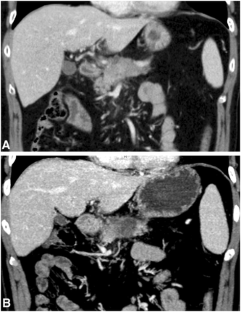 Abbreviations
RFA:

Radiofrequency ablation

PDAC:

Pancreatic ductal adenocarcinoma

EUS:

Endoscopic ultrasound

CT:

Celiac trunk

SMA:

Superior mesenteric artery

HA:

Hepatic artery

SMV:

Superior mesenteric vein

PV:

Portal vein

CT:

Computed tomography

MRI:

Magnetic resonance imaging
References
1.

American Cancer Society: Cancer facts&figures 2015. http://www.cancer.org/acs/groups/content/@editorial/documents/document/acspc-044552.pdf

2.

Rahib L, Smith BD, Aizenberg R et al (2014) Projecting cancer incidence and deaths to 2030: the unexpected burden of thyroid, liver, and pancreas cancers in the United States. Cancer Res 74:2913–2921

3.

Siegel RL, Miller KD, Jemal A (2015) Cancer statistics, 2015. CA Cancer J Clin 65:5–29

4.

Gillen S, Schuster T, Meyer Zum Buschenfelde C et al (2010) Preoperative/neoadjuvant therapy in pancreatic cancer: a systematic review and meta-analysis of response and resection percentages. PLoS Med 7:e1000267

5.

Tatli S, Tapan U, Morrison PR et al (2012) Radiofrequency ablation: technique and clinical applications. Diagn Interv Radiol 18:508–516

6.

Girelli R, Frigerio I, Salvia R et al (2010) Feasibility and safety of radiofrequency ablation for locally advanced pancreatic cancer. Br J Surg 97:220–225

7.

Girelli R, Frigerio I, Giardino A et al (2013) Results of 100 pancreatic radiofrequency ablations in the context of a multimodal strategy for stage III ductal adenocarcinoma. Langenbecks Arch Surg 398:63–69

8.

National Comprehensive Cancer Network. NCCN Clinical practice guidelines in oncology. Pancreatic adenocarcinoma. Version 2. 2016. http://www.nccn.org/professionals/physician_gls/pdf/pancreatic.pdf

9.

Katz MH, Marsh R, Herman JM et al (2013) Borderline resectable pancreatic cancer: need for standardization and methods for optimal clinical trial design. Ann Surg Oncol 20:2787–2795

10.

Balaban EP, Mangu PB, Khorana AA et al (2016) Locally advanced, unresectable pancreatic cancer: American Society of Clinical Oncology Clinical Practice Guideline. J Clin Oncol 34:2654–2668

11.

Giardino A, Girelli R, Frigerio I et al (2013) Triple approach strategy for patients with locally advanced pancreatic carcinoma. HPB (Oxford) 15:623–627

12.

Frigerio I, Girelli R, Giardino A et al (2013) Short term chemotherapy followed by radiofrequency ablation in stage III pancreatic cancer: results from a single center. J Hepatobiliary Pancreat Sci 20:574–577

13.

Martin RC 2nd, Durham AN, Besselink MG et al (2016) Irreversible electroporation in locally advanced pancreatic cancer: a call for standardization of energy delivery. J Surg Oncol 114:865–871

14.

Haen SP, Pereira PL, Salih HR et al (2011) More than just tumor destruction: immunomodulation by thermal ablation of cancer. Clin Dev Immunol 2011:160250

15.

Rai R, Richardson C, Flecknell P et al (2005) Study of apoptosis and heat shock protein (HSP) expression in hepatocytes following radiofrequency ablation (RFA). J Surg Res 129:147–151

16.

Rovere-Querini P, Manfredi AA (2004) Tumor destruction and in situ delivery of antigen presenting cells promote anti-neoplastic immune responses: implications for the immunotherapy of pancreatic cancer. JOP 5:308–314

17.

Goldberg SN, Mallery S, Gazelle GS et al (1999) EUS-guided radiofrequency ablation in the pancreas: results in a porcine model. Gastrointest Endosc 50:392–401

18.

Varadarajulu S, Jhala NC, Drelichman ER (2009) EUS-guided radiofrequency ablation with a prototype electrode array system in an animal model (with video). Gastrointest Endosc 70:372–376

19.

Carrara S, Arcidiacono PG, Albarello L et al (2008) Endoscopic ultrasound-guided application of a new hybrid cryotherm probe in porcine pancreas: a preliminary study. Endoscopy 40:321–326

20.

Arcidiacono PG, Carrara S, Reni M et al (2012) Feasibility and safety of EUS-guided cryothermal ablation in patients with locally advanced pancreatic cancer. Gastrointest Endosc 76:1142–1151

21.

Pai M, Habib N, Senturk H et al (2015) Endoscopic ultrasound guided radiofrequency ablation, for pancreatic cystic neoplasms and neuroendocrine tumors. World J Gastrointest Surg 7:52–59

22.

Lakhtakia S, Ramchandani M, Galasso D et al (2016) EUS-guided radiofrequency ablation for management of pancreatic insulinoma by using a novel needle electrode (with videos). Gastrointest Endosc 83:234–239

23.

Song TJ, Seo DW, Lakhtakia S et al (2016) Initial experience of EUS-guided radiofrequency ablation of unresectable pancreatic cancer. Gastrointest Endosc 83:440–443
Acknowledgements
We kindly thank Dr. Marzio Frazzoni for the unevaluable contribution in paper revision.
Ethics declarations
Disclosures
Dr. Filippo Scopelliti, Dr. Antonio Pea, Dr. Rita Conigliaro, Dr. Giovanni Butturini, Dr. Isabella Frigerio MD, Dr. Paolo Regi, Dr. Alessandro Giardino, Dr. Helga Bertani, Dr. Marina Paini, Prof. Paolo Pederzoli, and Dr. Roberto Girelli have no conflicts of interest or financial ties to disclose.
Electronic supplementary material
Below is the link to the electronic supplementary material.
Supplementary material 1 (MOV 74194 KB)
About this article
Cite this article
Scopelliti, F., Pea, A., Conigliaro, R. et al. Technique, safety, and feasibility of EUS-guided radiofrequency ablation in unresectable pancreatic cancer. Surg Endosc 32, 4022–4028 (2018). https://doi.org/10.1007/s00464-018-6217-x
Received:

Accepted:

Published:

Issue Date:
Keywords
Pancreatic ductal adenocarcinoma

Unresectable pancreatic cancer

Radiofrequency ablation

Endoscopic ultrasound