Abstract
Background
Based on our experience of suprapancreatic nodal dissection in laparoscopic gastrectomy, we developed an outermost layer-oriented medial approach for infrapyloric nodal dissection. The objective of this single-institution retrospective study was to determine the feasibility, safety, and reproducibility of this novel and unique dissection procedure.
Methods
This approach can be performed in the same manner as suprapancreatic nodal dissection but by replacing the left gastric artery with the right gastroepiploic artery (RGEA), the common hepatic artery with the anterior superior pancreaticoduodenal artery (ASPDA), and the splenic artery with the gastroduodenal artery. It comprises five steps: (1) mobilization of the transverse mesocolon along the prepancreatic membrane, (2) medial dissection along the dissectable layer between the pancreatic head and the dorsal side of the right gastroepiploic vein (RGEV), (3) division of the RGEV and determination of the lateral and cranial borders, (4) dissection along the outermost layer of the RGEA and ASPDA and transection of the infrapyloric artery and RGEA, and (5) transection of the duodenal bulb.
Results
This novel method was applied in 112 patients who underwent laparoscopic distal gastrectomy from 2014 to 2015. The anatomical landmarks that we determined to appropriately identify the outermost layer were highly reproducible, and our novel procedure based on these landmarks was successfully completed in all cases, without any intraoperative complications. Furthermore, in all cases, no. 6 lymph nodes were fully and adequately dissected within the infrapyloric area anatomically defined in the Japanese Classification of Gastric Carcinoma ver. 14. Pancreatic fistula occurred only in 1.8% cases.
Conclusions
This novel outermost layer-oriented medial approach is a robust procedure that may help laparoscopic surgeons in performing safe and reproducible infrapyloric nodal dissection.
This is a preview of subscription content, log in to check access.
Access options
Buy single article
Instant unlimited access to the full article PDF.
US$ 39.95
Price includes VAT for USA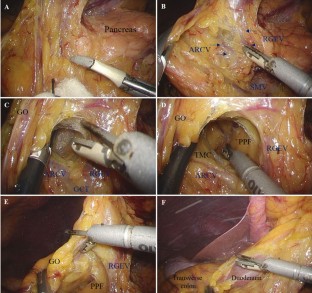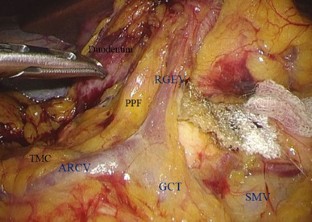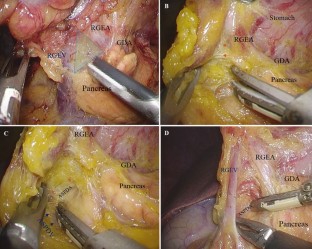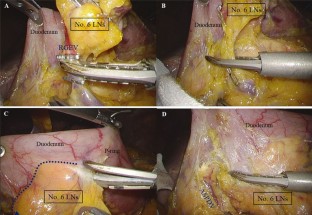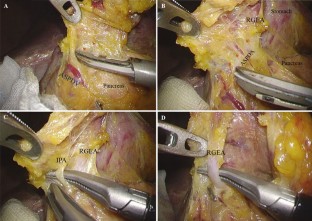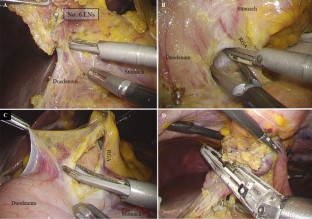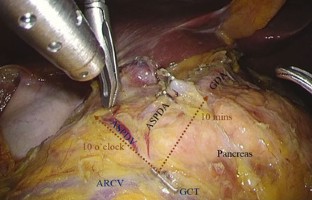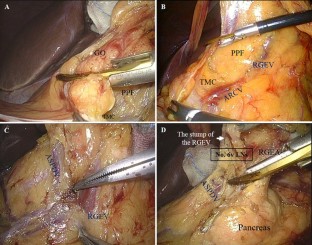 Abbreviations
LDG:

Laparoscopic distal gastrectomy

LN:

Lymph node

GDA:

Gastroduodenal artery

RGEA:

Right gastroepiploic artery

ASPDA:

Anterior superior pancreaticoduodenal artery

RGEV:

Right gastroepiploic vein

IPA:

Infrapyloric artery

GCT:

Gastrocolic trunk

ARCV:

Accessory right colic vein

ASPDV:

Anterior superior pancreaticoduodenal vein

RGA:

Right gastric artery

CD:

Clavien–Dindo

POD:

Postoperative day

PPF:

Prepancreatic fascia

TMC:

Transverse mesocolon

GO:

Greater omentum

SMV:

Superior mesenteric vein.
References
1.

Suda K, Nakauchi M, Inaba K, Ishida Y, Uyama I (2016) Minimally invasive surgery for upper gastrointestinal cancer: Our experience and review of the literature. World J Gastroenterol 22:4626–4637

2.

Sano T, Sasako M, Yamamoto S, Nashimoto A, Kurita A, Hiratsuka M, Tsujinaka T, Kinoshita T, Arai K, Yamamura Y, Okajima K (2004) Gastric cancer surgery: morbidity and mortality results from a prospective randomized controlled trial comparing D2 and extended para-aortic lymphadenectomy—Japan Clinical Oncology Group study 9501. J Clin Oncol 22:2767–2773

3.

Kim HH, Hyung WJ, Cho GS, Kim MC, Han SU, Kim W, Ryu SW, Lee HJ, Song KY (2010) Morbidity and mortality of laparoscopic gastrectomy versus open gastrectomy for gastric cancer: an interim report—a phase III multicenter, prospective, randomized Trial (KLASS Trial). Ann Surg 251:417–420

4.

Katai H, Sasako M, Fukuda H, Nakamura K, Hiki N, Saka M, Yamaue H, Yoshikawa T, Kojima K (2010) Safety and feasibility of laparoscopy-assisted distal gastrectomy with suprapancreatic nodal dissection for clinical stage I gastric cancer: a multicenter phase II trial (JCOG 0703). Gastric Cancer 13:238–244

5.

Katai H, Mizusawa J, Katayama H, Takagi M, Yoshikawa Y, Fukagawa T, Terashima M, Misawa K, Teshima S, Koeda K, Nunobe S, Fukushima N, Yasuda T, Asao Y, Fujiwara Y, Sasako M (2017) Short-term surgical outcomes from a phase III study of laparoscopy-assisted versus open distal gastrectomy with nodal dissection for clinical stage IA/IB gastric cancer: Japan Clinical Oncology Group Study JCOG0912. Gastric Cancer 20:699–708

6.

Japanese classification of gastric carcinoma: 3rd English edition. (2011) Gastric Cancer 14:101–112

7.

Sasako M, McCulloch P, Kinoshita T, Maruyama K (1995) New method to evaluate the therapeutic value of lymph node dissection for gastric cancer. Br J Surg 82:346–351

8.

Maruyama K, Gunven P, Okabayashi K, Sasako M, Kinoshita T (1989) Lymph node metastases of gastric cancer. General pattern in 1931 patients. Ann Surg 210:596–602

9.

Shinohara H, Kurahashi Y, Kanaya S, Haruta S, Ueno M, Udagawa H, Sakai Y (2013) Topographic anatomy and laparoscopic technique for dissection of no. 6 infrapyloric lymph nodes in gastric cancer surgery. Gastric Cancer 16:615–620

10.

Shinohara H, Haruta S, Ohkura Y, Udagawa H, Sakai Y (2015) Tracing dissectable layers of mesenteries overcomes embryologic restrictions when performing infrapyloric lymphadenectomy in laparoscopic gastric cancer surgery. J Am Coll Surg 220:e81-e87

11.

Suda K, Nakauchi M, Inaba K, Ishida Y, Uyama I (2015) Revising robotic surgery for stomach, potential benefits revised II: prevention of pancreatic fistula. Transl Gastrointest Cancer 4:461–467

12.

Kanaya S, Haruta S, Kawamura Y, Yoshimura F, Inaba K, Hiramatsu Y, Ishida Y, Taniguchi K, Isogaki J, Uyama I (2011) Video: laparoscopy distinctive technique for suprapancreatic lymph node dissection: medial approach for laparoscopic gastric cancer surgery. Surg Endosc 25:3928–3929

13.

Uyama I, Kanaya S, Ishida Y, Inaba K, Suda K, Satoh S (2012) Novel integrated robotic approach for suprapancreatic D2 nodal dissection for treating gastric cancer: technique and initial experience. World J Surg Oncol 36:331–337

14.

Japanese gastric cancer treatment guidelines 2014 (ver. 4) (2017) Gastric Cancer 20:1–19

15.

Kanaya S, Gomi T, Momoi H, Tamaki N, Isobe H, Katayama T, Wada Y, Ohtoshi M (2002) Delta-shaped anastomosis in totally laparoscopic Billroth I gastrectomy: new technique of intraabdominal gastroduodenostomy. J Am Coll Surg 195:284–287

16.

Uyama I, Suda K, Satoh S (2013) Laparoscopic surgery for advanced gastric cancer: current status and future perspectives. J Gastric Cancer 13:19–25

17.

Mori T, Kimura T, Kitajima M (2010) Skill accreditation system for laparoscopic gastroenterologic surgeons in Japan. Minim Invasive Ther Allied Technol 19:18–23

18.

Dindo D, Demartines N, Clavien PA (2004) Classification of surgical complications: a new proposal with evaluation in a cohort of 6336 patients and results of a survey. Ann Surg 240:205–213

19.

Katayama H, Kurokawa Y, Nakamura K, Ito H, Kanemitsu Y, Masuda N, Tsubosa Y, Satoh T, Yokomizo A, Fukuda H, Sasako M (2016) Extended clavien-dindo classification of surgical complications: Japan clinical oncology group postoperative complications criteria. Surg Today 46:668–685

20.

Sadler TW (ed) (2009) Langman's medical embryology, 11th edn. Lippincott Williams & Wilkins, Philadelphia

21.

Suda K, Man IM, Ishida Y, Kawamura Y, Satoh S, Uyama I (2005) Potential advantages of robotic radical gastrectomy for gastric adenocarcinoma in comparison with conventional laparoscopic approach: a single institutional retrospective comparative cohort study. Surg Endosc 29:673–685

22.

Nakauchi M, Suda K, Susumu S, Kadoya S, Inaba K, Ishida Y, Uyama I (2016) Comparison of the long-term outcomes of robotic radical gastrectomy for gastric cancer and conventional laparoscopic approach: a single institutional retrospective cohort study. Surg Endosc 30:5444–5452
Ethics declarations
Disclosure
Drs. Shibasaki, Suda, Nakauchi, Kikuchi, Nakamura, Kadoya, Inaba, and Uyama report no conflicts of interest or financial ties to disclose.
Electronic supplementary material
Below is the link to the electronic supplementary material.
Supplemental video clip #1—The inferior edge of the pancreatic body was incised in the direction of the pancreatic head. Then, the GCT and the origins of the RGEV and accessory RCV were identified. Mobilization of the transverse mesocolon was started from the right side of the junction of these three veins, toward the descending part of the duodenum in the mediolateral direction in front of the fusion plane on the transverse mesocolon. Through this process, the dissectable layer was identified between the transverse mesocolon and the prepancreatic fascia, and we could trace it easily. Once dissection was extended up to the duodenal wall, the mobilization process of the transverse mesocolon was completed. The greater omentum was then divided and preconditioning for the infrapyloric dissection process was completed. (WMV 23513 KB)
Supplemental video clip #2—Along the right side of the autonomic nerve sheaths of the RGEA, the delta zone was dissected and widened in the mediolateral direction. The autonomic nerves of the RGEA usually run down the surface of the pancreatic neck. Along these nerves of the pancreatic neck, we could identify the thin loose connective tissue layer between these nerves and the adipose tissue as the dissectable layer. Once dissection was continued up to the ASPDV and the autonomic nerve of the ASPDA was identified, adequate space could be found behind the RGEV. Then, the RGEV was divided after clipping, and incised along the ASPDV, which acted as the lateral border of the no. 6v LNs. In turn, the cranial border of the no. 6a/6i LNs was incised from the ventral side, along the greater curvature of the duodenal bulb. Then, the adipose tissue containing the no. 6 LNs was lifted up ventrally by the assistant and maintained adequate tension at the dissection line along the outermost layer. Dissection was continued along the outermost layer of the ASPDA, and the infrapyloric artery was identified and divided. After completing dissection around the outermost layer of the RGEA, the autonomic nerves around the RGEA were divided to elongate the neck of the RGEA. Then, the RGEA was divided after clipping. (WMV 39740 KB)
Supplemental video clip #3—The remnant tissues attached to the duodenal bulb were dissected along the greater curvature via the dorsal aspect of the duodenum. Subsequently, the RGA was identified at the dorsal side of the stomach. The right side of the RGA was incised along the lesser curvature of the duodenal wall. Then, the assistant retracted the adipose tissue at the lesser curvature from the ventral side, and the opening was widened. After the duodenal bulb was dissected circumferentially, the duodenum was transected using a linear stapler. (WMV 17122 KB)
About this article
Cite this article
Shibasaki, S., Suda, K., Nakauchi, M. et al. Outermost layer-oriented medial approach for infrapyloric nodal dissection in laparoscopic distal gastrectomy. Surg Endosc 32, 2137–2148 (2018). https://doi.org/10.1007/s00464-018-6111-6
Received:

Accepted:

Published:

Issue Date:
Keywords
Stomach neoplasms

Gastrectomy

Minimally invasive surgical procedures

Lymph node excision

Pancreatic fistula