Abstract
Background
With the improvement of the surgical technique of Laparoscopic pancreaticoduodenectomy (LPD), indications will be extended to patients with vascular invasion. With LPD, vascular grafts for reconstruction are more frequently needed because adequate mobilization is not always done and vascular grafts can safely facilitate reconstruction. We describe our experience of reconstruction with the falciform ligament.
Methods
Venous reconstruction is performed after removal of the specimen. The falciform ligament is rapidly harvested within the same surgical field and for any size and used for lateral reconstruction of the mesentericoportal vein. Therapeutic anticoagulation is not needed and venous patency was assessed by postoperative CT scan. Since April 2011 and among the 93 patients who underwent LPD, four patients had this procedure.
Results
The mean age was 73 years old (69–77) and 3 were women. Indications for resection were pancreatic adenocarcinoma (n = 3) and IPMN in severe dysplasia (n = 1) and the mean patch size of 13 mm (10–30). The mean operative time was 397 min (330–480); vascular clamping lasted 54 min (45–60), and mean blood loss was 437 ml (150–1000) and one was transfused. Resection was R0 in patients with adenocarcinoma (n = 3). The postoperative course was uneventful in 3 patients and one patient was re-operated for bile leak and partial venous thrombosis and redo venous reconstruction was done. Complete venous patency was demonstrated in patients (n = 2) who still alive 1 year after resection.
Conclusion
Venous resection will be more frequently done with LPD and vascular grafts more frequently needed. Compared to other available vascular grafts (autogenous, synthetic, cadaveric and bovine pericardium, etc), the parietal peritoneum had the advantages of being rapidly available, easy to harvest by the laparoscopic approach, not expensive, no need for anticoagulation and at lower risk of infection.
This is a preview of subscription content, log in to check access.
Access options
Buy single article
Instant unlimited access to the full article PDF.
US$ 39.95
Price includes VAT for USA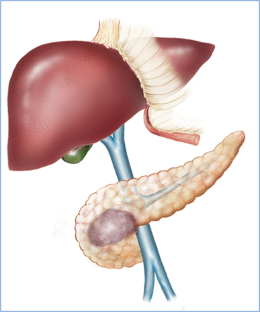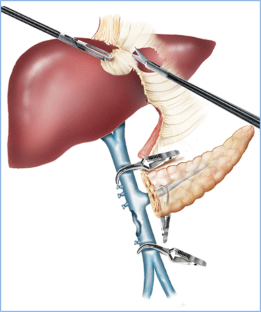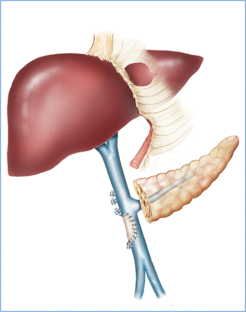 References
1.

Palanivelu C, Rajan PS, Rangarajan M et al. (2009) Evolution in techniques of laparoscopic pancreaticoduodenectomy: a decade long experience from a tertiary center. J Hepatobiliary Pancreat Surg 16(6):731–740

2.

Kendrick ML, Cusati D (2010) Total laparoscopic pancreaticoduodenectomy: feasibility and outcome in an early experience. Arch Surg 145(1):19–23

3.

Boggi U, Signori S, De Lio N et al (2013) Feasibility of robotic pancreaticoduodenectomy. Br J Surg 100(7):917–925

4.

Zureikat AH, Moser AJ, Boone BA et al. (2013) 250 robotic pancreatic resections: safety and feasibility. Ann Surg 258(4):554–559 (discussion 559–562)

5.

Asbun HJ, Stauffer JA (2012) Laparoscopic versus open pancreaticoduodenectomy: overall outcomes and severity of complications using the accordion severity grading system. J Am Coll Surg 215(6):810–819

6.

Chalikonda S, Aguilar-Saavedra JR, Walsh RM (2012) Laparoscopic robotic-assisted pancreaticoduodenectomy: a case-matched comparison with open resection. Surg Endosc 26(9):2397–2402

7.

Song KB, Kim SC, Hwang DW et al. (2015) Matched case-control analysis comparing laparoscopic and open pylorus-preserving pancreaticoduodenectomy in patients with periampullary tumors. Ann Surg 262:146–155

8.

Adam MA, Choudhury K, Dinan MA, Reed SD, Scheri RP, Blazer DG 3rd, Roman SA, Sosa JA (2015) Minimally invasive versus open pancreaticoduodenectomy for cancer: practice patterns and short-term outcomes among 7061 patients. Ann Surg 262(2):372–377

9.

Sharpe SM, Talamonti MS, Wang CE et al (2015) Early national experience with laparoscopic pancreaticoduodenectomy for ductal adenocarcinoma: a comparison of laparoscopic pancreaticoduodenectomy and open pancreaticoduodenectomy from the national cancer data base. J Am Coll Surg 221(1):175–184

10.

Dokmak S, Ftériche FS, Aussilhou B, Bensafta Y, Lévy P, Ruszniewski P, Belghiti J, Sauvanet A (2015) Laparoscopic pancreaticoduodenectomy should not be routine for resection of periampullary tumors. J Am Coll Surg 220(5):831–838

11.

Speicher PJ, Nussbaum DP, White RR et al. (2014) Defining the learning curve for team-based laparoscopic pancreaticoduodenectomy. Ann Surg Oncol 21:4014–4019

12.

Croome KP, Farnell MB, Que FG, Reid-Lombardo KM, Truty MJ, Nagorney DM, Kendrick ML (2015) Pancreaticoduodenectomy with major vascular resection: a comparison of laparoscopic versus open approaches. J Gastrointest Surg 19(1):189–194 (discussion 194)

13.

Awad ZT (2014) Totally laparoscopic pancreaticoduodenectomy for pancreatic head cancer with involvement of the superior mesenteric vein-portal vein confluence. Ann Surg Oncol 21(11):34–39

14.

Dokmak S, Chérif R, Duquesne I, Delattre R, Aussilhou B, Soubrane O, Sauvanet A (2016) Laparoscopic pancreaticoduodenectomy with reconstruction of the portal vein with the parietal peritoneum. Ann Surg Oncol 23(8):2664

15.

Palanisamy S, Deuri B, Naidu SB, Vaiyapurigoundar Palanisamy N, Natesan AV, Palanivelu PR, Parthasarathy R, Palanivelu C (2015) Major venous resection and reconstruction using a minimally invasive approach during laparoscopic pancreaticoduodenectomy: one step forward. Asian J Endosc Surg 8(4):468–472

16.

Ohwada S, Hamada K, Kawate S et al (2007) Left renal vein graft for vascular reconstruction in abdominal malignancy. World J Surg 31:1215–1220

17.

Del Campo C (2000) Reconstruction of the hepatic and portal veins using a patch from the right ovarian vein. Am J Surg 179:77–78

18.

Kubota K, Makuuchi M, Sugawara Y et al (1998) Reconstruction of the hepaticand portal veins using a patch graft from the right ovarian vein. Am J Surg 176:295–297

19.

Rutherford EE, Schweitzer FA, Whiteley MS (2001) Inferior vena cava reconstruction using internal jugular vein. Eur J Vasc Endovasc Surg 21:185–186

20.

Chiu KM, Chu SH, Chen JS et al (2007) Spiral saphenous vein graft for portal vein reconstruction in pancreatic cancer surgery. Vasc Endovasc Surg 41:149–152

21.

Chu CK, Farnell MB, Nguyen JH et al (2010) Prosthetic graft reconstruction after portal vein resection in pancreaticoduodenectomy: a multicenter analysis. J Am Coll Surg 211:316–324

22.

Stauffer JA, Dougherty MK, Kim GP et al (2009) Interposition graft with polytetrafluoroethylene for mesenteric and portal vein reconstruction after pancreaticoduodenectomy. Br J Surg 96:247–252

23.

Illuminati G, Calio FG, D'Urso A et al (2006) Prosthetic replacement of the infrahepatic inferior vena cava for leiomyosarcoma. Arch Surg 141:919–924

24.

Meniconi RL, Ettorre GM, Vennarecci G et al (2013) Use of cold-stored vein allografts for venous reconstruction during pancreaticoduodenectomy. J Gastrointest Surg 17:1233–1239

25.

Spaggiari L, Veronesi G, D'Aiuto M et al (2004) Superior vena cava reconstruction using heterologous pericardial tube after extended resection for lung cancer. Eur J Cardiothorac Surg 26:649–651

26.

Cekirdekci A, Bayar MK, Yilmaz S et al (2004) Reconstruction of the vena cava with the peritoneum: the effect of temporary distal arteriovenous fistula on patency (an experimental study). Eur J Vasc Endovasc Surg 27:84–88

27.

Dokmak S, Aussilhou B, Sauvanet A, Nagarajan G, Farges O, Belghiti J (2015) Parietal peritoneum as an autologous substitute for venous reconstruction in hepatopancreatobiliary surgery. Ann Surg 262(2):366–371

28.

Dokmak S, Ftériche FS, Aussilhou B, Lévy P, Ruszniewski P, Cros J, Vullierme MP, Khoy Ear L, Belghiti J, Sauvanet A (2017) The largest European single-center experience: 300 laparoscopic pancreatic resections. J Am Coll Surg 225:226–234

29.

Legout L, D'Elia PV, Sarraz-Bournet B et al (2012) Diagnosis and management of prosthetic vascular graft infections. Med Mal Infect 42:102–109

30.

Legout L, Sarraz-Bournet B, D'Elia PV et al (2012) Characteristics and prognosis in patients with prosthetic vascular graft infection: a prospective observational cohort study. Clin Microbiol Infect 18:391–392
Acknowledgements
The authors would like to thank D. Roche for her editorial assistance and correction of the article.
Ethics declarations
Disclosures
Safi Dokmak, Béatrice Aussilhou, Mélanie Calmels, Houcine Maghrebi, Fadhel Samir Ftériche, Olivier Soubrane, and Alain Sauvanet have no conflicts of interest or financial ties to disclose in relation to the results of the present study.
Additional information
This video obtained the "EAES Video Award" held in Frankfurt Germany, 14–17 June 2017.
Electronic supplementary material
Below is the link to the electronic supplementary material.
Supplementary material 1 (MP4 88968 KB)
About this article
Cite this article
Dokmak, S., Aussilhou, B., Calmels, M. et al. Laparoscopic pancreaticoduodenectomy with reconstruction of the mesentericoportal vein with the parietal peritoneum and the falciform ligament. Surg Endosc 32, 3256–3261 (2018) doi:10.1007/s00464-018-6044-0
Received:

Accepted:

Published:

Issue Date:
Keywords
Laparoscopic pancreaticoduodenectomy

Venous resection

Venous reconstruction

Parietal peritoneum

Falciform ligament