Abstract
Background
Outflow control during laparoscopic liver resection necessitates the use of technically demanding procedures since the hepatic veins are fragile and vulnerable to damage during parenchymal transection. The liver hanging maneuver reduces venous backflow bleeding during deep parenchymal transection. The present report describes surgical outcomes and a technique to achieve outflow control during application of the modified liver hanging maneuver in patients undergoing laparoscopic left-sided hepatectomy.
Methods
A retrospective review was performed of clinical data from 29 patients who underwent laparoscopic left-sided hepatectomy using the modified liver hanging maneuver between February 2013 and March 2017. For this hanging technique, the upper end of the hanging tape was placed on the lateral aspect of the left hepatic vein. The tape was then aligned with the ligamentum venosum. The position of the lower end of the hanging tape was determined according to left-sided hepatectomy type. The hanging tape gradually encircled either the left hepatic vein or the common trunk of the left hepatic vein and middle hepatic vein.
Results
The surgical procedures comprised: left lateral sectionectomy (n = 10); left hepatectomy (n = 17); and extended left hepatectomy including the middle hepatic vein (n = 2). Median operative time was 210 min (range 90–350 min). Median intraoperative blood loss was 200 ml (range 60–600 ml). Two intraoperative major hepatic vein injuries occurred during left hepatectomy. Neither patient developed massive bleeding or air embolism. Postoperative major complications occurred in one patient (3.4%). Median postoperative hospital stay was 7 days (range 4–15 days). No postoperative mortality occurred.
Conclusions
The present modified liver hanging maneuver is a safe and effective method of outflow control during laparoscopic left-sided hepatectomy.
This is a preview of subscription content, log in to check access.
Access options
Buy single article
Instant unlimited access to the full article PDF.
US$ 39.95
Price includes VAT for USA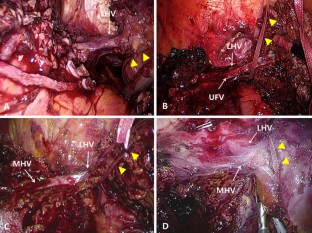 References
1.

Wakabayashi G, Cherqui D, Geller DA, Buell JF, Kaneko H, Han HS, Asbun H, O'Rourke N, Tanabe M, Koffron AJ, Tsung A, Soubrane O, Machado MA, Gayet B, Troisi RI, Pessaux P, Van Dam RM, Scatton O, Abu Hilal M, Belli G, Kwon CH, Edwin B, Choi GH, Aldrighetti LA, Cai X, Cleary S, Chen KH, Schon MR, Sugioka A, Tang CN, Herman P, Pekolj J, Chen XP, Dagher I, Jarnagin W, Yamamoto M, Strong R, Jagannath P, Lo CM, Clavien PA, Kokudo N, Barkun J, Strasberg SM (2015) Recommendations for laparoscopic liver resection: a report from the second international consensus conference held in Morioka. Ann Surg 261:619–629

2.

Chang S, Laurent A, Tayar C, Karoui M, Cherqui D (2007) Laparoscopy as a routine approach for left lateral sectionectomy. Br J Surg 94:58–63

3.

Belli G, Gayet B, Han HS, Wakabayashi G, Kim KH, Cannon R, Kaneko H, Gamblin T, Koffron A, Dagher I, Buell JF (2013) Laparoscopic left hemihepatectomy a consideration for acceptance as standard of care. Surg Endosc 27:2721–2726

4.

Wakabayashi G, Cherqui D, Geller DA, Han HS, Kaneko H, Buell JF (2014) Laparoscopic hepatectomy is theoretically better than open hepatectomy. J Hepatobiliary Pancreat Sci 21:723–731

5.

Kawaguchi Y, Nomi T, Fuks D, Mal F, Kokudo N, Gayet B (2016) Hemorrhage control for laparoscopic hepatectomy: technical details and predictive factors for intraoperative blood loss. Surg Endosc 30:2543–2551

6.

Batignani G, Zuckermann M (2005) Inferior approach for the isolation of the left-middle hepatic veins in liver resections: a safe way. Arch Surg 140:968–971

7.

Pan ZY, Yang Y, Zhou WP, Li AJ, Fu SY et al (2008) Clinical application of hepatic venous occlusion for hepatectomy. Chin Med J (Engl) 121:806–810

8.

Dagher I, Caillard C, Proske JM, Carloni A, Lainas P, Franco D (2008) Laparoscopic right hepatectomy: original technique and results. J Am Coll Surg 206:756–760

9.

Peschaud F, Laforest A, Allard MA, El Hajjam M, Nordlinger B (2009) Can the left hepatic vein always be safely selectively clamped during hepatectomy? The contribution of anatomy. Surg Radiol Anat 31:657–663

10.

Belghiti J, Guevara OA, Noun R, Saldinger PF, Kianmanesh R (2001) Liver hanging maneuver: a safe approach to right hepatectomy without liver mobilization. J Am Coll Surg 193:109–111

11.

Guido L, Emmanuel B, Ganesh N, Masaaki H, Safi D, Jacques B (2009) The liver hanging manoeuvre. HPB 11:296–305

12.

Bismuth H, Castaing D, Garden OJ (1989) Major hepatic resection under total vascular exclusion. Ann Surg 210:13–19

13.

Elias D, Lasser P, Debaene B, Doidy L, Billard V, Spencer A, Leclercq B (1995) Intermittent vascular exclusion of the liver (without vena cava clamping) during major hepatectomy. Br J Surg 82:1535–1539

14.

Pringle JHV (1908) Notes on the arrest of hepatic hemorrhage due to trauma. Ann Surg 48:541–549

15.

Man K, Fan ST, Ng IO, Lo CM, Liu CL, Wong J (1997) Prospective evaluation of Pringle maneuver in hepatectomy for liver tumors by a randomized study. Ann Surg 226:704–713

16.

Jones RM, Moulton CE, Hardy KJ (1998) Central venous pressure and its effect on blood loss during liver resection. Br J Surg 85:1058–1060

17.

Decailliot F, Streich B, Heurtematte Y, Duvaldestin P, Cherqui D, Stephan F (2015) Hemodynamic effects of portal triad clamping with and without pneumoperitoneum: an echocardiographic study. Anesth Analg 100:617–622

18.

Eiriksson K, Fors D, Rubertsson S, Arvidsson D (2011) High intra-abdominal pressure during experimental laparoscopic liver resection reduces bleeding but increases the risk of gas embolism. Br J Surg 98:845–852

19.

Majno PE, Mentha G, Morel P, Segalin A, Azoulay D, Oberholzer J, Le Coultre C, Fasel J (2002) Arantius' ligament approach to the left hepatic vein and to the common trunk. J Am Coll Surg 195:737–739

20.

Tranchart H, Gaillard M, Lainas P, Dagher I (2015) Selective control of the left hepatic vein during laparoscopic liver resection: Arentius' ligament approach. J Am Coll Surg 221:e75–e79

21.

Muangkaew P, Yiengpruksawan A (2016) Robotic technique for accessing left hepatic vein through ligamentum venosum in left hepatectomy: how i do it? J Laparoendosc Adv Surg Tech A 26:725–729

22.

Kim JH, Ryu DH, Jang LC, Choi JW (2016) Lateral approach liver hanging maneuver in laparoscopic anatomical liver resections. Surg Endosc 30:3611–3617

23.

Kim JH, Choi JW (2017) A modified liver hanging maneuver in pure laparoscopic left hemihepatectomy with preservation of the middle hepatic vein: video and technique. J Gastrointest Surg 21:1181–1185

24.

Troisi RI, Montalti R (2012) Modified hanging maneuver using the goldfinger dissector in laparoscopic right and left hepatectomy. Dig Surg 29:463–467

25.

Reichert PR, Reichert PR, Renz JF, D'Albuquerque LA, Rosenthal P (2000) Surgical anatomy of the left lateral segment as applied to living-donor and split-liver transplantation. Ann Surg 232:658–664

26.

Nanashima A, Sumida Y, Abo T, Nagayasu T, Sawai T (2008) Usefulness and application of the liver hanging maneuver for anatomical liver resections. World J Surg 32:2070–2076

27.

Nanashima A, Tobinaga S, Abo T, Sawai T, Nagayasu T (2011) Left hepatectomy accompanied by a resection of the whole caudate lobe using the dorsally fixed liver-hanging maneuver. Surg Today 41:453–458

28.

Kim SH, Park SJ, Lee SA, Lee WJ, Park JW, Hong EK, Kim CM (2007) Various liver resections using hanging maneuver by three Glisson's pedicles and three hepatic veins. Ann Surg 245:201–205
Ethics declarations
Disclosures
Dr. Ji Hoon Kim has no conflicts of interest or financial ties to disclose.
Electronic supplementary material
Below is the link to the electronic supplementary material.
Supplementary material 1 (WMV 51036 KB)
Supplementary material 2 (WMV 42450 KB)
About this article
Cite this article
Kim, J.H. Modified liver hanging maneuver focusing on outflow control in pure laparoscopic left-sided hepatectomy. Surg Endosc 32, 2094–2100 (2018) doi:10.1007/s00464-017-5906-1
Received:

Accepted:

Published:

Issue Date:
Keywords
Liver hanging maneuver

Outflow control

Left-sided hepatectomy

Laparoscopic liver resection