Abstract
Background
Esophageal perforations and postoperative leakage of esophagogastrostomies are considered to be life-threatening conditions due to the potential development of mediastinitis and consecutive sepsis. Vacuum-assisted closure (VAC) techniques, a well-established treatment method for superficial infected wounds, are based on a negative pressure applied to the wound via a vacuum-sealed sponge. Endoluminal VAC (E-VAC) therapy as a treatment for GI leakages in the rectum was introduced in 2008. E-VAC therapy is a novel method, and experience regarding esophageal applications is limited. In this retrospective study, the experience of a high-volume center for upper GI surgery with E-VAC therapy in patients with leaks of the upper GI tract is summarized. To our knowledge, this series presents the largest patient cohort worldwide in a single-center study.
Methods
Between October 2010 and January 2017, 77 patients with defects in the upper gastrointestinal tract were treated using the E-VAC application. Six patients had a spontaneous perforation, 12 patients an iatrogenic injury, and 59 patients a postoperative leakage in the upper gastrointestinal tract.
Results
Complete restoration of the esophageal defect was achieved in 60 of 77 patients. The average duration of application was 11.0 days, and a median of 2.75 E-VAC systems were used. For 21 of the 77 patients, E-VAC therapy was combined with the placement of self-expanding metal stents.
Conclusion
This study demonstrates that E-VAC therapy provides an additional treatment option for esophageal wall defects. Esophageal defects and mediastinal abscesses can be treated with E-VAC therapy where endoscopic stenting may not be possible. A prospective multi-center study has to be directed to bring evidence to the superiority of E-VAC therapy for patients suffering from upper GI defects.
This is a preview of subscription content, log in to check access.
Access options
Buy single article
Instant unlimited access to the full article PDF.
US$ 39.95
Price includes VAT for USA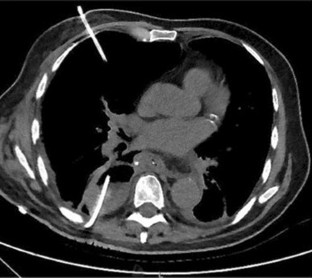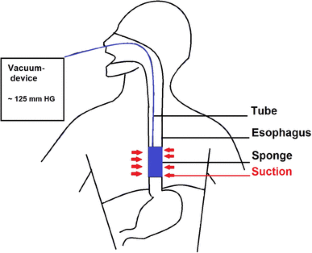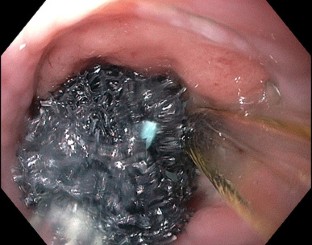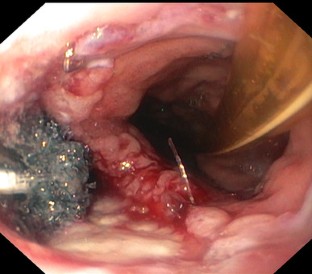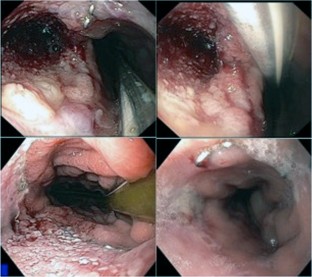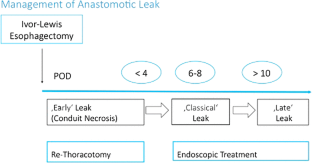 References
1.

Vallböhmer D, Hölscher AH, Hölscher M, Bludau M, Gutschow C, Stippel D et al (2010) Options in the management of esophageal perforation: analysis over a 12-year period. Dis Esophagus 23(3):185–190

2.

Fleischmann W, Strecker W, Bombelli M, Kinzl L (1993) Vacuum sealing as treatment of soft tissue damage in open fractures. Unfallchirurg 96(9):488–492

3.

Venturi ML, Attinger CE, Mesbahi AN, Hess CL, Graw KS (2005) Mechanisms and clinical applications of the vacuum-assisted closure (VAC) Device: a review. Am J Clin Dermatol 6(3):185–194

4.

Bludau M, Hölscher AH, Herbold T, Leers JM, Gutschow C, Fuchs H et al (2014) Management of upper intestinal leaks using an endoscopic vacuum-assisted closure system (E-VAC). Surg Endosc 28(3):896–901

5.

Leers JM, Vivaldi C, Schäfer H, Bludau M, Brabender J, Lurje G et al (2009) Endoscopic therapy for esophageal perforation or anastomotic leak with a self-expandable metallic stent. Surg Endosc 23(10):2258–2262

6.

Loske G, Schorsch T, Müller C (2011) Intraluminal and intracavitary vacuum therapy for esophageal leakage: a new endoscopic minimally invasive approach. Endoscopy 43(6):540–544

7.

Schorsch T, Müller C, Loske G (2014) Endoscopic vacuum therapy of perforations and anastomotic insufficiency of the esophagus. Chirurg 85(12):1081–1093

8.

Weidenhagen R, Hartl WH, Gruetzner KU, Eichhorn ME, Spelsberg F, Jauch KW (2010) Anastomotic leakage after esophageal resection: new treatment options by endoluminal vacuum therapy. Ann Thorac Surg 90(5):1674–1681

9.

Laukoetter MG, Mennigen R, Neumann PA, Dhayat S, Horst G, Palmes D et al (2016) Successful closure of defects in the upper gastrointestinal tract by endoscopic vacuum therapy (EVT): a prospective cohort study. Surg Endosc. doi10.1007/s00464-016-5265-3

10.

Mennigen R, Senninger N, Laukoetter MG (2014) Novel treatment options for perforations of the upper gastrointestinal tract: endoscopic vacuum therapy and over-the-scope clips. World J Gastroenterol 20(24):7767–7776

11.

Schniewind B, Schafmayer C, Voehrs G, Egberts J, von Schoenfels W, Rose T et al (2013) Endoscopic endoluminal vacuum therapy is superior to other regimens in managing anastomotic leakage after esophagectomy: a comparative retrospective study. Surg Endosc 27(10):3883–3890

12.

Smallwood NR, Fleshman JW, Leeds SG, Burdick JS (2016) The use of endoluminal vacuum (E-Vac) therapy in the management of upper gastrointestinal leaks and perforations. Surg Endosc 30(6):2473–2480

13.

Hwang JJ, Jeong YS, Park YS, Yoon H, Shin CM, Kim N et al (2016) Comparison of endoscopic vacuum therapy and endoscopic stent implantation with self-expandable metal stent in treating postsurgical gastroesophageal leakage. Medicine 95(16):e3416

14.

Kuehn F, Loske G, Schiffmann L, Gock M, Klar E (2017) Endoscopic vacuum therapy for various defects of the upper gastrointestinal tract. Surg Endosc. doi:10.1007/s00464-016-5404-x

15.

Maus MKH, Leers J, Herbold T, Bludau M, Chon S-H, Kleinert R et al (2016) Gastric outlet obstruction after esophagectomy: retrospective analysis of the effectiveness and safety of postoperative endoscopic pyloric dilatation. World J Surg 40(10):2405–2411

16.

Loske G, Schorsch T, Schmidt-Seithe H, Müller C (2014) Intraluminal endoscopic vacuum therapy in a case of ischemia of the blind end of the jejunal loop after Roux-en-Y gastrectomy. Endoscopy 46(S 01):E575–E576

17.

Schröder W, Leers JM, Bludau M, Herbold T, Hölscher AH (2014) Kardianahe Perforation bei gutartigen Erkrankungen. Der Chir 85(12):1064–1072

18.

Loske G, Schorsch T, van Ackeren V, Schulze W, Müller CT (2015) Endoscopic vacuum therapy in Boerhaave's syndrome with open-pore polyurethane foam and a new open-pore film drainage. Endoscopy 47(Suppl 1):E410-1

19.

Brangewitz M, Voigtländer T, Helfritz FA, Lankisch TO, Winkler M, Klempnauer J et al (2013) Endoscopic closure of esophageal intrathoracic leaks: stent versus endoscopic vacuum-assisted closure, a retrospective analysis. Endoscopy 45(6):433–438

20.

Mennigen R, Harting C, Lindner K, Vowinkel T, Rijcken E, Palmes D et al (2015) Comparison of endoscopic vacuum therapy versus stent for anastomotic leak after esophagectomy. J Gastrointest Surg 19(7):1229–1235
Ethics declarations
Disclosure
Marc Bludau, Hans F. Fuchs, Till Herbold, Felix Popp, Christiane J. Bruns, Arnulf H. Hölscher, Jessica M. Leers, Wolfgang Schröder, Hakan Alakus, Martin K. H. Maus, and Seung-Hun Chon have no conflicts of interest or financial ties to disclose.
Electronic supplementary material
Below is the link to the electronic supplementary material.
Supplementary material 2 (MP4 111340 KB)
About this article
Cite this article
Bludau, M., Fuchs, H.F., Herbold, T. et al. Results of endoscopic vacuum-assisted closure device for treatment of upper GI leaks. Surg Endosc 32, 1906–1914 (2018). https://doi.org/10.1007/s00464-017-5883-4
Received:

Accepted:

Published:

Issue Date:
Keywords
Esophageal perforation

Anastomotic leakage

Endoscopic vacuum-assisted closure system