Abstract
Background
Endoscopic submucosal dissection (ESD) is technically one of the most complicated endoscopic procedures. Traction methods have been reported to be effective for ESD. A recent study revealed that the S–O clip allowed faster and safer colonic ESD. We assessed the efficacy and safety of gastric ESD with the S–O clip for gastric epithelial neoplasm.
Methods
We performed a retrospective cohort study of patients treated for gastric ESD using the S–O clip between September and November 2016 (SO group, n = 48). The subjects were matched with patients treated with conventional gastric ESD from September 2015 to August 2016 (control group, n = 258) at Sendai Kousei Hospital, a tertiary endoscopic center. The primary outcome was procedure time. Multivariate logistic regression and propensity score matching analyses were performed to reduce the effects of selection bias for potential confounding factors differences like age, sex, lesion location, lesion position, presence of ulcer scarring, resected specimen size, and operator experiences.
Results
Forty-eight pairs were created after propensity score matching. The mean procedure time (including the S–O clip attachment time) was significantly shorter in the SO group (47.2 ± 24.6 vs. 69.2 ± 67.1 min, p = 0.035). The mean clip attachment time was 4.4 (range 2–15) min. There were no significant differences in other treatment outcomes (en-bloc resection rate: 100 vs. 100%, p = 1.000; perforation rate: 0 vs. 2.1%, p = 0.315; delayed bleeding rate: 2.1 vs. 4.3%, p = 0.558).
Conclusions
The S–O clip improved the speed of gastric ESD by approximately 25%, without increasing adverse events.
This is a preview of subscription content, log in to check access.
Access options
Buy single article
Instant unlimited access to the full article PDF.
US$ 39.95
Price includes VAT for USA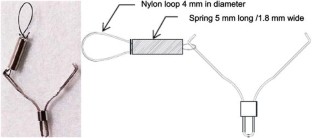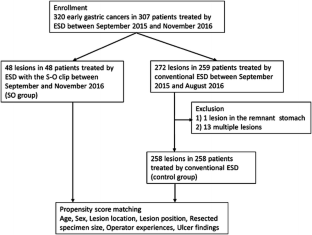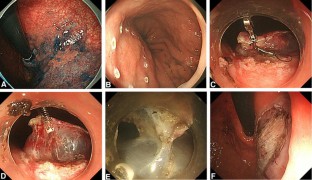 References
1.

Bhatt A, Abe S, Kumaravel A, Vargo J, Saito Y (2015) Indications and techniques for endoscopic submucosal dissection. Am J Gastroenterol 110:784–791

2.

Teoh AY, Chiu PW, Wong SK, Sung JJ, Lau JY, Ng EK (2010) Difficulties and outcomes in starting endoscopic submucosal dissection. Surg Endosc 24:1049–1054

3.

Fukami N (2013) What we want for ESD is a second hand! Traction method. Gastrointest Endosc 78:274–276

4.

Tsuji K, Yoshida N, Nakanishi H, Takemura K, Yamada S, Doyama H (2016) Recent traction methods for endoscopic submucosal dissection. World J Gastroenterol 22:5917–5926

5.

Koike Y, Hirasawa D, Fujita N, Maeda Y, Ohira T, Harada Y, Suzuki K, Yamagata T, Tanaka M (2015) Usefulness of the thread-traction method in esophageal endoscopic submucosal dissection: randomized controlled trial. Dig Endosc 27:303–309

6.

Suzuki S, Gotoda T, Kobayashi Y, Kono S, Iwatsuka K, Yagi-Kuwata N, Kusano C, Fukuzawa M, Moriyasu F (2016) Usefulness of a traction method using dental floss and a hemoclip for gastric endoscopic submucosal dissection: a propensity score matching analysis (with videos). Gastrointest Endosc 83:337–346

7.

Yoshida M, Takizawa K, Ono H, Igarashi K, Sugimoto S, Kawata N, Tanaka M, Kakushima N, Ito S, Imai K, Hotta K, Matsubayashi H (2016) Efficacy of endoscopic submucosal dissection with dental floss clip traction for gastric epithelial neoplasia: a pilot study (with video). Surg Endosc 30:3100–3106

8.

Ritsuno H, Sakamoto N, Osada T, Goto SP, Murakami T, Ueyama H, Mori H, Matsumoto K, Beppu K, Shibuya T, Nagahara A, Ogihara T, Watanabe S (2014) Prospective clinical trial of traction device-assisted endoscopic submucosal dissection of large superficial colorectal tumors using the S–O clip. Surg Endosc 28:3143–3149

9.

Ono H, Yao K, Fujishiro M, Oda I, Nimura S, Yahagi N, Iishi H, Oka M, Ajioka Y, Ichinose M, Matsui T (2016) Guidelines for endoscopic submucosal dissection and endoscopic mucosal resection for early gastric cancer. Dig Endosc 28:3–15

10.

Ojima T, Takifuji K, Nakamura M, Nakamori M, Katsuda M, Iida T, Hayata K, Iwahashi M, Yamaue H (2014) Endoscopic submucosal dissection for gastric tumors in various types of remnant stomach. Endoscopy 46:645–649

11.

Tanaka M, Ono H, Hasuike N, Takizawa K (2008) Endoscopic submucosal dissection of early gastric cancer. Digestion 77(Suppl 1):23–28

12.

Ahn JY, Choi KD, Choi JY, Kim MY, Lee JH, Choi KS, Kim DH, Song HJ, Lee GH, Jung HY, Kim JH (2011) Procedure time of endoscopic submucosal dissection according to the size and location of early gastric cancers: analysis of 916 dissections performed by 4 experts. Gastrointest Endosc 73:911–916

13.

Gotoda T, Friedland S, Hamanaka H, Soetikno R (2005) A learning curve for advanced endoscopic resection. Gastrointest Endosc 62:866–867

14.

Choi IJ, Kim CG, Chang HJ, Kim SG, Kook MC, Bae JM (2005) The learning curve for EMR with circumferential mucosal incision in treating intramucosal gastric neoplasm. Gastrointest Endosc 62:860–865

15.

Imaeda H, Hosoe N, Ida Y, Kashiwagi K, Morohoshi Y, Suganuma K, Nagakubo S, Komatsu K, Suzuki H, Saito Y, Aiura K, Ogata H, Iwao Y, Kumai K, Kitagawa Y, Hibi T (2009) Novel technique of endoscopic submucosal dissection using an external grasping forceps for superficial gastric neoplasia. Dig Endosc 21:122–127

16.

Baldaque-Silva F, Vilas-Boas F, Velosa M, Macedo G (2013) Endoscopic submucosal dissection of gastric lesions using the "yo-yo technique". Endoscopy 45:218–221

17.

Yoshida N, Doyama H, Ota R, Tsuji K (2014) The clip-and-snare method with a pre-looping technique during gastric endoscopic submucosal dissection. Endoscopy 46(Suppl 1):E611–E612

18.

Aihara H, Ryou M, Kumar N, Ryan MB, Thompson CC (2014) A novel magnetic countertraction device for endoscopic submucosal dissection significantly reduces procedure time and minimizes technical difficulty. Endoscopy 46:422–425

19.

Fujii L, Onkendi EO, Bingener-Casey J, Levy MJ, Gostout CJ (2013) Dual-scope endoscopic deep dissection of proximal gastric tumors (with video). Gastrointest Endosc 78:365–369

20.

Mori G, Nonaka S, Oda I, Abe S, Suzuki H, Yoshinaga S, Nakajima T, Saito Y (2015) Novel strategy of endoscopic submucosal dissection using an insulation-tipped knife for early gastric cancer: near-side approach method. Endosc Int Open 3:E425–E431
Ethics declarations
Disclosure
Drs Rintaro Hashimoto, Dai Hirasawa, Tomoyuki Iwaki, Hajime Yamaoka, Kousuke Nihei, Ippei Tanaka, Akimichi Chonan, and Kei Takase have no conflicts of interest or financial ties to disclose.
Electronic supplementary material
Below is the link to the electronic supplementary material.
Supplementary material 1 (WMV 164818 kb)
About this article
Cite this article
Hashimoto, R., Hirasawa, D., Iwaki, T. et al. Usefulness of the S–O clip for gastric endoscopic submucosal dissection (with video). Surg Endosc 32, 908–914 (2018) doi:10.1007/s00464-017-5765-9
Received:

Accepted:

Published:

Issue Date:
Keywords
Endoscopic submucosal dissection

Propensity score

Early gastric cancer

Traction method

S–O clip