Abstract
Background
Endoscopic full-thickness resection (EFTR) is a minimally invasive method for en bloc resection of gastrointestinal (GI) lesions originating from the muscularis propria layer. Successful closure of the wall defect is a critical step.
Objective
The aim of this study was to evaluate the feasibility and efficacy of a novel and simplified endoscopic grasp-and-loop (GAL) closure method using an endo-loop assisted with grasping forceps for defect closure.
Methods
From January 2015 to March 2016, 13 patients with submucosal tumors (SMTs) originating from the muscularis propria (MP) layer underwent EFTR and were enrolled in this study. After successful tumor resection, an endo-loop was anchored onto the circumferential margin of the gastric defect with grasping forceps assistance and tightened gently. Patient characteristics, tumor size, en bloc resection, and postoperative complications were evaluated.
Results
Of the 13 lesions in the stomach, two were located in the greater curvature of the mid-upper body, 11 were located in the fundus. The endoscopic GAL closure method was successfully performed after EFTR in all the 13 patients without laparoscopic assistance. The mean procedure time was 43.5 min (range 20–80 min), while the GAL closure procedure took a mean of 9.4 min (range 3–18 min). The mean resected lesion size was 1.5 cm (range 0.5–3.5 cm). Pathological diagnoses of these lesions were 11 gastrointestinal stromal tumors (GISTs) and two leiomyomas. No major adverse events occurred during or after the procedure. All the patients were discharged after a mean time of 2.4 days (range 1–4 days). No residual lesion or tumor recurrence was found during the follow-up period (median, 5 months; range, 1–15 months).
Conclusions
The endoscopic GAL closure method is feasible, effective, and safe for closing the gastric defect after EFTR in patients.
This is a preview of subscription content, log in to check access.
Access options
Buy single article
Instant unlimited access to the full article PDF.
US$ 39.95
Price includes VAT for USA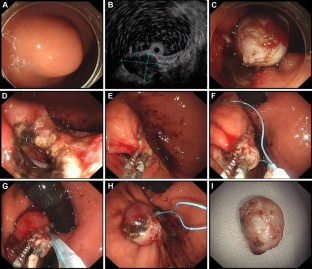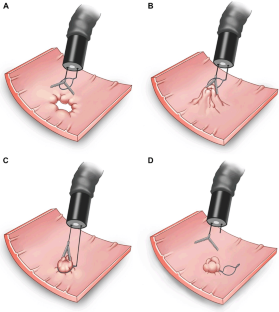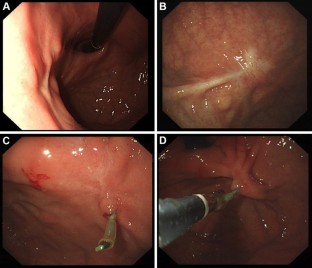 References
1.

Hedenbro JL, Ekelund M, Wetterberg P (1991) Endoscopic diagnosis of submucosal gastric lesions. The results after routine endoscopy. Surg Endosc 5:20–23

2.

Akahoshi K, Sumida Y, Matsui N, Oya M, Akinaga R, Kubokawa M, Motomura Y, Honda K, Watanabe M, Nagaie T (2007) Preoperative diagnosis of gastrointestinal stromal tumor by endoscopic ultrasound-guided fine needle aspiration. World J Gastroenterol 13:2077–2082

3.

Sumiyama K, Gostout CJ (2007) Novel techniques and instrumentation for EMR, ESD, and full-thickness endoscopic luminal resection. Gastrointest Endosc Clin N Am 17:471–485

4.

Abe N, Takeuchi H, Ooki A, Nagao G, Masaki T, Mori T, Sugiyama M (2013). Recent developments in gastric endoscopic submucosal dissection: towards the era of endoscopic resection of layers deeper than the submucosa. Dig Endosc Off J Jpn Gastroenterol Endosc Soc 25:64–70.

5.

Huang LY, Cui J, Lin SJ, Zhang B, Wu CR (2014) Endoscopic full-thickness resection for gastric submucosal tumors arising from the muscularis propria layer. World J Gastroenterol 20:13981–13986

6.

Ye LP, Yu Z, Mao XL, Zhu L, Zhou XB (2014) Endoscopic full-thickness resection with defect closure using clips and an endoloop for gastric subepithelial tumors arising from the muscularis propria. Surg Endosc 28:1978–1983

7.

Zhou PH, Yao LQ, Qin XY, Cai MY, Xu MD, Zhong YS (2011) Endoscopic full-thickness resection without laparoscopic assistance for gastric submucosal tumors originated from the muscularis propria. Surg Endosc 5:2926–2931

8.

Ikeda K, Fritscher-Ravens A, Mosse CA, Mills T, Tajiri H, Swain CP (2005) Endoscopic full-thickness resection with sutured closure in a porcine model. Gastrointest Endosc 62:122–129

9.

Desilets DJ, Romanelli JR, Earle DB, Surti VC, Willingham FF, Brugge WR (2009) Loop-anchor purse-string versus endoscopic clips for gastric closure: a natural orifice transluminal endoscopic surgery comparison study using burst pressures. Gastrointest Endosc 70:1225–1230

10.

von Renteln D, Schmidt A, Riecken B, Caca K (2008) Gastric full-thickness suturing during EMR and for treatment of gastric-wall defects (with video). Gastrointest Endosc 67:738–744

11.

McGee MF, Marks JM, Onders RP, Chak A, Jin J, Williams CP, Schomisch SJ, Ponsky JL (2008) Complete endoscopic closure of gastrotomy after natural orifice translumenal endoscopic surgery using the NDO Plicator. Surg Endosc 22:214–220

12.

Cios TJ, Reavis KM, Renton DR, Hazey JW, Mikami DJ, Narula VK, Allemang MT, DavisSS, Melvin WS (2008) Gastrotomy closure using bioabsorbable plugs in a canine model. Surg Endosc 22:961–966

13.

von Renteln D, Schmidt A, Vassiliou MC, Gieselmann M, Caca K (2009) Natural orifice transluminal endoscopic surgery gastrotomy closure with an over-the-endoscope clip: a randomized, controlled porcine study (with videos). Gastrointest Endosc 70:732–739

14.

Zhang Y, Wang X, Xiong G, Qian Y, Wang H, Liu L, Miao L, Fan Z (2014) Complete defect closure of gastric submucosal tumors with purse-string sutures. Surg Endosc 28:1844–1851

15.

Tang AL, Liao XQ, Shen SR, Xiao DH, Yuan YX, Wang XY (2016) Application of clips assisted with foreign body forceps in defect closure after endoscopic full-thickness resection. Surg Endosc 30:2127–2131
Acknowledgements
The study was partially supported by Grants from the National Natural Science Foundation of China (No. 81570595), the City Key Program of Science and Technology of Shanghai (No. 14441901500), and the Natural Science Foundation of Xinjiang Province (No.2015211C118).
Ethics declarations
Disclosures
Doctors Jian-wei Hu, Lei Ge, Ping-Hong Zhou and Mei-Dong Xu have no conflicts of interest or financial ties to disclose.
Additional information
Jian-wei Hu and Lei Ge contributed equally to this work.
Electronic supplementary material
Below is the link to the electronic supplementary material.
Supplementary material 1 (WMV 70617 KB)
About this article
Cite this article
Hu, J., Ge, L., Zhou, P. et al. A novel grasp-and-loop closure method for defect closure after endoscopic full-thickness resection (with video). Surg Endosc 31, 4275–4282 (2017) doi:10.1007/s00464-017-5473-5
Received:

Accepted:

Published:

Issue Date:
Keywords
Endoscopic full-thickness resection

Endoscopic surgical procedure

Gastric submucosal tumors

Gastric perforation

Endoscopic closure technique