Abstract
Background
Laparoscopic adjustable gastric banding (LAGB) was a popular procedure in the USA and Europe in the past decade. However, its use has currently declined. Band erosion (BE) is a rare complication after LAGB with a reported incidence rate of 1.46 %. Controversies exist regarding the management, approach and timing for the band removal. The aim of this study is to describe the rate, clinical presentation and perioperative outcomes of BEs at our institution and provide overall recommendations regarding the diagnosis and management of BE.
Materials and methods
This study is a single-center, retrospective review of a prospectively maintained database. Data were collected from all consecutive patients who underwent a LAGB and band revisional surgeries at the University of Illinois Hospital and Health Sciences System from December 2008 to September 2015. We identified patients who underwent gastric band removal due to a BE and analyzed their outcomes.
Results
A total of 576 LAGBs were performed at our institution. Nine patients underwent surgery for BE at our hospital. The average time between the primary surgery and the removal of the band was 68.5 (42.9) months. Abdominal pain, nausea and/or vomiting were the most frequently mentioned symptoms. In all patients, a minimally invasive approach was used to remove the band. The mean length of hospitalization was 2.6 (1.1) days. The only complication was a pneumonia (n = 1).
Conclusions
BE is one of the most severe complications of LAGB. The minimally invasive approach provided us with the opportunity to repair the fistula, and it was associated with a prompt recovery with very little morbidity. In general, it is recommended that the band be removed at the time of the diagnosis of the BE. Endoscopic band removal can be utilized with patients who have a more advanced BE and migration into the gastric lumen.
This is a preview of subscription content, log in to check access.
Access options
Buy single article
Instant access to the full article PDF.
US$ 39.95
Price includes VAT for USA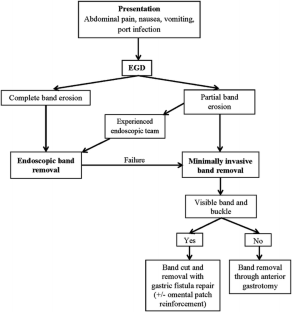 References
1.

Echaverry-Navarrete DJ, Maldonado-Vazquez A, Cortes-Romano P, Cabrera-Jardines R, Mondragon-Pinzon EE, Castillo-Gonzalez FA (2015) Gastric band erosion: alternative management. Cir Cir 83:418–423

2.

Sturm R, Hattori A (2013) Morbid obesity rates continue to rise rapidly in the United States. Int J Obes 37:889–891

3.

Cherian PT, Goussous G, Ashori F, Sigurdsson A (2010) Band erosion after laparoscopic gastric banding: a retrospective analysis of 865 patients over 5 years. Surg Endosc 24:2031–2038

4.

Solomon H, Liu GY, Alami R, Morton J, Curet MJ (2009) Benefits to patients choosing preoperative weight loss in gastric bypass surgery: new results of a randomized trial. J Am Coll Surg 208:241–245

5.

Ponce J, Nguyen NT, Hutter M, Sudan R, Morton JM (2015) American Society for Metabolic and Bariatric Surgery estimation of bariatric surgery procedures in the United States, 2011–2014. Surg Obes Relat Dis 11:1199–1200

6.

Kodner C, Hartman DR (2014) Complications of adjustable gastric banding surgery for obesity. Am Fam Physician 89:813–818

7.

Pentin PL, Nashelsky J (2005) What are the indications for bariatric surgery? J Fam Pract 54:633–634

8.

O'Brien PE (2010) Bariatric surgery: mechanisms, indications and outcomes. J Gastroenterol Hepatol 25:1358–1365

9.

Kohn GP, Hansen CA, Gilhome RW, McHenry RC, Spilias DC, Hensman C (2012) Laparoscopic management of gastric band erosions: a 10-year series of 49 cases. Surg Endosc 26:541–545

10.

Trujillo MR, Muller D, Widmer JD, Warschkow R, Muller MK (2015) Long-term follow-up of gastric banding 10 years and beyond. Obes Surg 26:581–587

11.

Aarts EO, van Wageningen B, Berends F, Janssen I, Wahab P, Groenen M (2015) Intragastric band erosion: experiences with gastrointestinal endoscopic removal. World J Gastroenterol 21:1567–1572

12.

Dogan UB, Akin MS, Yalaki S, Akova A, Yilmaz C (2014) Endoscopic management of gastric band erosions: a 7-year series of 14 patients. Can J Surg 57:106–111

13.

Egberts K, Brown WA, O'Brien PE (2011) Systematic review of erosion after laparoscopic adjustable gastric banding. Obes Surg 21:1272–1279

14.

Mozzi E, Lattuada E, Zappa MA, Granelli P, De Ruberto F, Armocida A, Roviaro G (2011) Treatment of band erosion: feasibility and safety of endoscopic band removal. Surg Endosc 25:3918–3922

15.

Brown WA, Egberts KJ, Franke-Richard D, Thodiyil P, Anderson ML, O'Brien PE (2013) Erosions after laparoscopic adjustable gastric banding: diagnosis and management. Ann Surg 257:1047–1052

16.

El-Hayek K, Timratana P, Brethauer SA, Chand B (2013) Complete endoscopic/transgastric retrieval of eroded gastric band: description of a novel technique and review of the literature. Surg Endosc 27:2974–2979

17.

Rodarte-Shade M, Barrera GT, Arredondo JF, Diaz RR (2013) Hybrid technique for removal of eroded adjustable gastric band. JSLS 17:338–341

18.

Carandina S, Tabbara M, Bossi M, Helmy N, Polliand C, Barrat C (2014) Two stages conversion of failed laparoscopic adjustable gastric banding to laparoscopic roux-en-y gastric bypass. A study of one hundred patients. J Gastrointest Surg 18:1730–1736

19.

Chisholm J, Kitan N, Toouli J, Kow L (2011) Gastric band erosion in 63 cases: endoscopic removal and rebanding evaluated. Obes Surg 21:1676–1681

20.

Hutter MM, Schirmer BD, Jones DB, Ko CY, Cohen ME, Merkow RP, Nguyen NT (2011) First report from the American College of Surgeons Bariatric Surgery Center Network: laparoscopic sleeve gastrectomy has morbidity and effectiveness positioned between the band and the bypass. Ann Surg 254:410–420

21.

Campos JM, Evangelista LF, Galvao Neto MP, Ramos AC, Martins JP, dos Santos MA, Ferraz AA Jr (2010) Small erosion of adjustable gastric band: endoscopic removal through incision in gastric wall. Surg Laparosc Endosc Percutan Tech 20:e215–e217

22.

Neto MP, Ramos AC, Campos JM, Murakami AH, Falcao M, Moura EH, Evangelista LF, Escalona A, Zundel N (2010) Endoscopic removal of eroded adjustable gastric band: lessons learned after 5 years and 78 cases. Surg Obes Relat Dis 6:423–427
Ethics declarations
Disclosures
Pablo Quadri, Raquel Gonzalez-Heredia, Mario Masrur, Lisa Sanchez-Johnsen and Enrique Elli have no conflicts of interest or financial ties to disclose.
About this article
Cite this article
Quadri, P., Gonzalez-Heredia, R., Masrur, M. et al. Management of laparoscopic adjustable gastric band erosion. Surg Endosc 31, 1505–1512 (2017). https://doi.org/10.1007/s00464-016-5183-4
Received:

Accepted:

Published:

Issue Date:
Keywords
Band erosion

Laparoscopic adjustable gastric banding

Gastric band complications

Band erosion management

Gastric band revisional surgery