Abstract
Introduction
Modern management of severe acute complicated diverticulitis continues to evolve towards more conservative and minimally invasive strategies. Although open sigmoid colectomy with end colostomy remains the most commonly used procedure for the treatment of perforated diverticulitis with purulent/faeculent peritonitis, recent major advances challenged this traditional approach, including the increasing attitude towards primary anastomosis as an alternative to end colostomy and use of laparoscopic approach for urgent colectomy.
Technique
Provided an accurate patients selection, having the necessary haemodynamic stability, pneumoperitoneum is established with open Hasson technique and diagnostic laparoscopy is performed. If faeculent peritonitis (Hinchey IV perforated diverticulitis) is found, laparoscopy can be continued and a further three working ports are placed using bladeless trocars, as in traditional laparoscopic sigmoidectomy, with the addition of fourth trocar in left flank. The feacal matter is aspirated either with large-size suction devices or, in case of free solid stools, these can be removed with novel application of tight sealing endobags, which can be used for scooping the feacal content out and for its protected retrieval. After decontamination, a sigmoid colectomy is performed in the traditional laparoscopic fashion. The sigmoid is fully mobilised from the retroperitoneum, and mesocolon is divided up to the origin of left colic vessels. Whenever mesentery has extremely inflamed and thickened oedematous tissues, an endostapler with vascular load can be used to avoid vascular selective ligatures. Splenic flexure should be appropriately mobilised. The specimen is extracted through mini-Pfannenstiel incision with muscle splitting technique. Transanal colo-rectal anastomosis is fashioned. Air-leak test must be performed and drains placed where appropriate.
Results
The video shows operative technique for a single-stage, entirely laparoscopic, washout and sigmoid colectomy with primary colorectal anastomosis in a 35-year-old male patient with severe and diffuse free faeculent diverticular peritonitis (Hinchey IV). The patient was managed post-operatively according to enhanced recovery protocol and discharged home after 9 days, following an uneventful recovery.
Conclusions
This case documents the technical feasibility of a minimally invasive single-stage procedure in a patient with Hinchey IV perforated diverticulitis with diffuse feacal peritonitis. The laparoscopic approach facilitated an effective decontamination of the peritoneal cavity, with a combination of large suction devices and aid of protected retrieval by closed endobags for effectively and completely laparoscopic removal of the solid feacal matter, offering clear advantages and excellent results even in such challenging cases. With necessary expertise, the sigmoid resection can be thereafter safely and entirely performed laparoscopically, the specimen extracted through mini-Pfannenstiel incision, and a laparoscopic intracorporeal transanal circular primary anastomosis performed.
This is a preview of subscription content, log in to check access.
Access options
Buy single article
Instant unlimited access to the full article PDF.
US$ 39.95
Price includes VAT for USA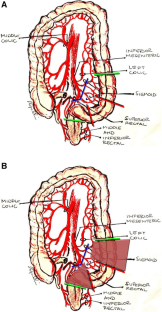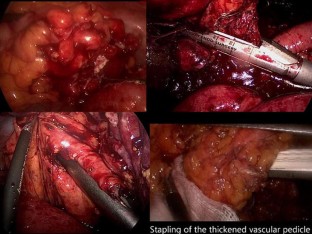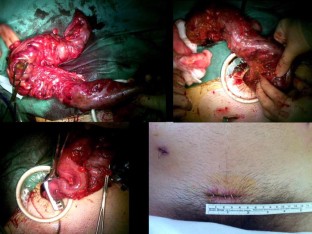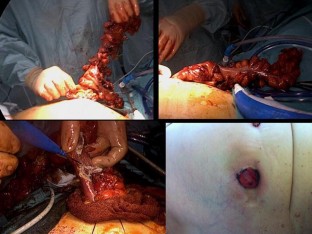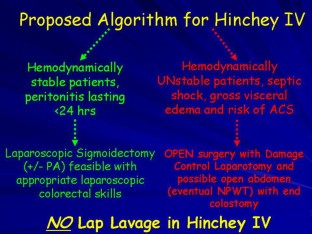 References
1.

Li D, Baxter NN, McLeod RS, Moineddin R, Wilton AS, Nathens AB (2014) Evolving practice patterns in the management of acute colonic diverticulitis: a population-based analysis. Dis Colon Rectum 57:1397–1405

2.

Masoomi H, Buchberg BS, Magno C, Mills SD, Stamos MJ (2011) Trends in diverticulitis management in the United States from 2002 to 2007. Arch Surg 146:400–406

3.

Turley RS, Barbas AS, Lidsky ME, Mantyh CR, Migaly J, Scarborough JE (2013) Laparoscopic versus open Hartmann procedure for the emergency treatment of diverticulitis: a propensity-matched analysis. Dis Colon Rectum 56:72–82

4.

Arkenbosch J, Miyagaki H, Shantha Kumara HM, Yan X, Cekic V, Whelan RL (2015) Efficacy of laparoscopic-assisted approach for reversal of Hartmann's procedure: results from the American College of Surgeons National Surgical Quality Improvement Program (ACS-NSQIP) database. Surg Endosc 29(8):2109–2114. doi:10.1007/s00464-014-3926-7

5.

Vennix S, Musters GD, Mulder IM, Swank HA, Consten EC, Belgers EH, van Geloven AA, Gerhards MF, Govaert MJ, van Grevenstein WM, Hoofwijk AG, Kruyt PM, Nienhuijs SW, Boermeester MA, Vermeulen J, van Dieren S, Lange JF, Bemelman WA, Ladies trial colloborators (2015) Laparoscopic peritoneal lavage or sigmoidectomy for perforated diverticulitis with purulent peritonitis: a multicentre, parallel-group, randomised, open-label trial. Lancet 386(10000):1269–1277. doi:10.1016/S0140-6736(15)61168-0

6.

Biondo S, Ramos E, Deiros M, Ragué JM, De Oca J, Moreno P, Farran L, Jaurrieta E (2000) Prognostic factors for mortality in left colonic peritonitis: a new scoring system. J Am Coll Surg 191:635–642

7.

Wacha H, Linder MM, Feldman U, WeschG Gundlach E, Steifensand RA (1987) Mannheim peritonitis index-prediction of risk of death from peritonitis: construction of a statistical and validation of an empirically based index. Theor Surg 1:169–177

8.

Biondo S, Ramos E, Fraccalvieri D, Kreisler E, Ragué JM, Jaurrieta E (2006) Comparative study of left colonic Peritonitis Severity Score and Mannheim Peritonitis Index. Br J Surg 93(5):616–622

9.

Di Saverio S (2014) Emergency laparoscopy: a new emerging discipline for treating abdominal emergencies attempting to minimize costs and invasiveness and maximize outcomes and patients' comfort. J Trauma Acute Care Surg 77(2):338–350. doi:10.1097/TA.0000000000000288

10.

Balogh ZJ, Reumann MK, Gruen RL, Mayer-Kuckuk P, Schuetz MA, Harris IA, Gabbe BJ, Bhandari M (2012) Advances and future directions for management of trauma patients with musculoskeletal injuries. Lancet 380(9847):1109–1119

11.

Karantonis FF, Nikiteas N, Perrea D, Vlachou A, Giamarellos-Bourboulis EJ, Tsigris C, Kostakis A (2008) Evaluation of the effects of laparotomy and laparoscopy on the immune system in intra-abdominal sepsis—a review. J Invest Surg 21(6):330–339

12.

Vennix S, Lips DJ, Di Saverio S, van Wagensveld BA, Brokelman WJ, Gerhards MF, van Geloven AA, van Dieren S, Lange JF, Bemelman WA (2015) Acute laparoscopic and open sigmoidectomy for perforated diverticulitis: a propensity score-matched cohort. Surg Endosc. doi:10.1007/s00464-015-4694-8

13.

https://www.facs.org/find-a-session/session/10989. Accessed 5 Aug 2015

14.

Sartelli M et al (2015) The role of the open abdomen procedure in managing severe abdominal sepsis: WSES position paper. World J Emerg Surg 10:35

15.

Weber DG, Bendinelli C, Balogh ZJ (2014) Damage control surgery for abdominal emergencies. Br J Surg 101:e109–e118
Acknowledgments
SDS (@salo75) would like to acknowledge the merit of Prof. Elio Jovine, MD, Head of the Department of Surgery at Maggiore Hospital of Bologna, in promoting the spreading use of laparoscopy in Acute Care Surgery and in "pushing the envelope" with the most challenging laparoscopic cases. Finally, the authors would like to acknowledge the skills of Dr. Serena Galli, TSRM, professional artwork designer @serenitudine, for manually drawing Fig. 1 showing the anatomy of the levels of proximal and distal colonic resection according to the site of the vascular mesenteric ligation.
Author's contribution
SDS wrote the manuscript; SDS, AB, RL, SV and DW revised and edited the manuscript and its intellectual content; SDS admitted and managed the patient in E.R.; SDS operated on the patient as the operating attending surgeon; SDS, AB, RL, AT and MM edited the video and the images; SDS, SV, AB, DW, RL, MM, AT and WB revised critically the manuscript and the video for technical and intellectual content; all Authors reviewed and approved the final draft of the manuscript.
Ethics declarations
Disclosures
Salomone Di Saverio, Sandra Vennix, Arianna Birindelli, Dieter Weber, Raffaele Lombardi, Matteo Mandrioli, Antonio Tarasconi and Willem A. Bemelman have no conflicts of interest or financial ties to disclose.
Additional information
Dr. Salomone Di Saverio, Dr. Sandra Vennix, Willem Bemelman and Elio Jovine are investigators of the LADIES trial (NCT01317485).
Electronic supplementary material
Below is the link to the electronic supplementary material.
Supplementary material 1 (WMV 352556 kb)
About this article
Cite this article
Di Saverio, S., Vennix, S., Birindelli, A. et al. Pushing the envelope: laparoscopy and primary anastomosis are technically feasible in stable patients with Hinchey IV perforated acute diverticulitis and gross faeculent peritonitis. Surg Endosc 30, 5656–5664 (2016) doi:10.1007/s00464-016-4869-y
Received:

Accepted:

Published:

Issue Date:
Keywords
Acute diverticulitis

Perforated diverticulitis

Hinchey classification

Peritonitis

Faecal peritonitis

Minimally invasive surgery

Laparoscopy

Primary anastomosis

Colostomy

Colorectal surgery