Abstract
Background
The Enki-2 water jet system (Nestis SAS®, Lyon, France) with dual injection and dissection capability significantly reduced ESD procedure time and perforation rates in animal studies. The study aim was to evaluate its efficacy and safety in patients with superficial neoplastic lesions.
Methods
A prospective study including 18 patients with esophageal, gastric and rectal superficial neoplasms treated by ESD using Enki-2 was designed.
Results
Eighteen lesions (6 esophageal, 3 gastric, 9 rectal, mean diameter 43.5 mm) in 17 patients (10 men, mean age 65.9) were included. The mean procedure time was 65.6 min. One patient needed clipping for an incomplete muscle tear during procedure; there were neither delayed bleedings nor perforation. The "en bloc" resection rate was 100 %, the R0 resection rate was 88.9 % (16/18 lesions), and the curative resection rate was 77.8 %. The 3-month disease-free rate was 92.3 % (12/13 patients, 13/14 lesions, 1 patient lost to follow-up). The 12-month disease-free rate was 69.2 % (9/13 patients, 10/14 lesions, 4 patients lost to follow-up).
Conclusions
ESD with Enki-2 water jet system is effective and safe for superficial neoplastic digestive lesions.
This is a preview of subscription content, log in to check access.
Access options
Buy single article
Instant unlimited access to the full article PDF.
US$ 39.95
Price includes VAT for USA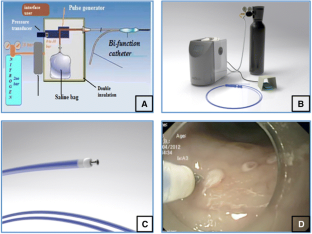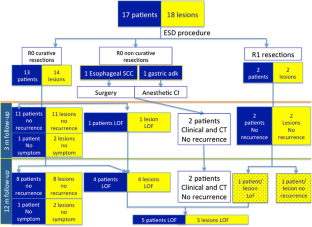 References
1.

Ciocîrlan M, Pioche M, Lepilliez V et al (2014) The ENKI-2 water-jet system versus Dual Knife for endoscopic submucosal dissection of colorectal lesions: a randomized comparative animal study. Endoscopy 46(2):139–143

2.

Pioche M, Ciocirlan M, Lépilliez V et al (2014) High-pressure jet injection of viscous solutions for endoscopic submucosal dissection: a study on ex vivo pig stomachs. Surg Endosc 28(5):1742–1747

3.

Pioche M, Mais L, Guillaud O et al (2013) Endoscopic submucosal tunnel dissection for large esophageal neoplastic lesions. Endoscopy 45(12):1032–1034

4.

Lepilliez V, Robles-Medranda C, Ciocirlan M et al (2013) Water-jet dissector for endoscopic submucosal dissection in an animal study: outcomes of the continuous and pulsed modes. Surg Endosc 27(8):2921–2927

5.

Japanese Gastric Cancer Association (2011) Japanese gastric cancer treatment guidelines 2010 (ver. 3). Gastric Cancer 14(2):113–123

6.

Ohkuwa M, Hosokawa K, Boku N et al (2001) New endoscopic treatment for intramucosal gastric tumors using an insulated-tip diathermic knife. Endoscopy 33(3):221–226

7.

Oyama T, Tomori A, Hotta K et al (2005) Endoscopic submucosal dissection of early esophageal cancer. Clin Gastroenterol Hepatol 3(7 Suppl 1):S67–S70

8.

Fujishiro M, Yahagi N, Kakushima N et al (2006) Endoscopic submucosal dissection of esophageal squamous cell neoplasms. Clin Gastroenterol Hepatol 4(6):688–694

9.

Pioche M, Rivory J, Aguero-Garcete G et al (2015) New isolated bovine colon model dedicated to colonic ESD hands-on training: development and first evaluation. Surg Endosc 29(11):3209-3215. doi:10.1007/s00464-014-4062-0

10.

Farhat S, Chaussade S, Ponchon T et al (2011) Endoscopic submucosal dissection in a European setting. A multi-institutional report of a technique in development. Endoscopy 43(8):664–670

11.

Schumacher B, Charton J-P, Nordmann T et al (2012) Endoscopic submucosal dissection of early gastric neoplasia with a water jet-assisted knife: a Western, single-center experience. Gastrointest Endosc 75(6):1166–1174

12.

Jacques J, Sautereau D, Carrier P et al (2015) High-pressure injection of glycerol with HybridKnife for ESD is feasible and increases the ease and speed of the procedure: an in vivo study in pigs and first use in human. Surg Endosc 29(11):3382–3385. doi:10.1007/s00464-015-4072-6

13.

Yahagi N, Neuhaus H, Schumacher B et al (2009) Comparison of standard endoscopic submucosal dissection (ESD) versus an optimized ESD technique for the colon: an animal study. Endoscopy 41(4):340–345
Ethics declarations
Disclosures
Dr. Mathieu Pioche received a grant from Nestis outside of the present work. Dr. Vincent Lépilliez, Dr. Mihai Ciocirlan, Dr. Jérôme Rivory, Dr. Clothilde Miaglia, Dr. Valérie Hervieu, Pr. Gilles Poncet, Pr. Pierre Jean Valette, Pr. Jean-Christophe Saurin and Pr. Thierry Ponchon have nothing to declare.
Electronic supplementary material
Below is the link to the electronic supplementary material.
Exemple of lower GI procedure with the Nestis injector system (MP4 224636 kb)
Exemple of lower GI procedure with the Nestis injector system (MP4 224636 kb)
About this article
Cite this article
Pioche, M., Lépilliez, V., Ciocîrlan, M. et al. Endoscopic submucosal dissection with the Nestis® jet injector system with a bifunctional catheter: first prospective clinical trial (NCT: 2012-A00272-41). Surg Endosc 30, 5140–5146 (2016) doi:10.1007/s00464-016-4827-8
Received:

Accepted:

Published:

Issue Date:
Keywords
Endoscopic submucosal dissection

Water jet system

Superficial neoplasia