Abstract
Background
In patients with a mediastinal tumor, video-assisted thoracic surgery (VATS) is considered to be associated with more postoperative advantages compared to open procedures. However, open procedures are still preferred in cases with large or malignant tumors. Therefore, in order to determine the appropriate surgical strategies for resection of teratomas, we here review our experience with such cases.
Methods
Between January 2000 and February 2014, we experienced 132 patients diagnosed with mediastinal teratoma. By using data from a retrospective review of the patients' medical records, we compared the demographic characteristics, hospital stay duration, chest tube indwelling time, operative time, and mass size of the VATS group with those of the patients in the open group. Moreover, we also analyzed the postoperative complications and recurrence. Finally, based on our findings, we created a '∆V (volume of the mass—volume of the cyst in the mass)' capable of determining the appropriate surgical strategy, measured by preoperative computed tomography scan.
Results
We excised the mass using VATS in 79 patients, while 53 patients underwent open procedures, including thoracotomy (n = 10) and median sternotomy (n = 43). The operative times, the hospital stay duration, and the chest tube indwelling time were significantly shorter in the VATS group compared to in the open group (Table 1). Four cases were converted to thoracotomy. The mean mass sizes were 6.53 ± 2.20 cm and 8.58 ± 3.45 cm in the VATS and open groups, respectively. The '∆V' of the VATS group was higher than that of the open group. There were three postoperative complications.
Conclusion
VATS for mediastinal teratoma can be performed safely in selected patients with large or malignant masses. The proposed '∆V' appears to be a useful method for determining the appropriate surgical strategy in the large size teratoma cases.
This is a preview of subscription content, log in to check access.
Access options
Buy single article
Instant access to the full article PDF.
US$ 39.95
Price includes VAT for USA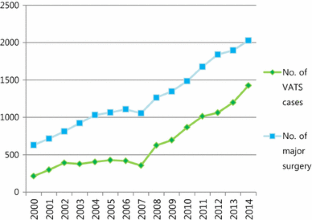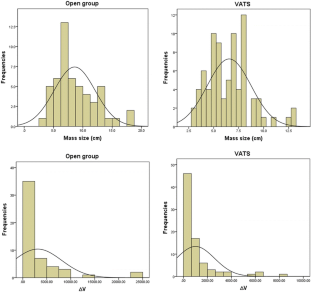 References
1.

Rothermel L, Gilkeson R, Markowitz AH, Schroder C (2013) Thoracoscopic resection of a giant teratoma compressing the right heart. Interact Cardiovasc Thorac Surg 17:594–597

2.

Shintani Y, Funaki S, Nakagiri T, Inoue M, Sawabata N, Minami M et al (2013) Experience with thoracoscopic resection for mediastinal mature teratoma: a retrospective analysis of 15 patients. Interact Cardiovasc Thorac Surg 16:441–444

3.

Nakajima K, Fukuzawa M, Minami M, Fujii Y, Fukui Y, Usui N, Komoto Y, Takashina M, Okada A (1998) Videothoracoscopic resection of anterior mediastinal teratoma in a child. Report of a case. Surg Endosc 12:54–56

4.

Peterson CM, Buckley C, Holley S, Menias CO (2012) Teratomas: a multimodality review. Curr Probl Diagn Radiol 4:210–219

5.

Lewis BD, Hurt RD, Payne WS, Farrow GM, Knapp RH, Muhm JR (1983) Benign teratomas of the mediastinum. J Thorac Cardiovasc Surg 86:727–731

6.

Jeung MY, Gasser B, Gangi A, Bogorin A, Charneau D, Wihlm JM et al (2002) Imaging of cystic masses of the mediastinum. Radiographics 22:S79–S93

7.

Sarkaria IS, Bains MS, Sood S, Sima CS, Reuter VE, Flores RM et al (2011) Resection of primary mediastinal non-seminomatous germ cell tumors: a 28-year experience at Memorial Sloan-Kettering Cancer Center. J Thorac Onco 6:1236–1241

8.

Melfi F, Fanucchi O, Davini F, Viti A, Lucchi M, Ambrogi MC et al (2012) Ten-year experience of mediastinal robotic surgery in a single referral centre. Eur J Cardiothorac Surg 41:847–851

9.

Uchiyama A, Shimizu S, Murai H, Ohshima A, Konomi H, Ogura Y, Ishikawa N, Yamashita H, Matsumoto S, Kuroki S, Tanaka M (2014) Infrasternal mediastinoscopic surgery for anterior mediastinal masses. Surg Endosc 18:843–846
Acknowledgments
The authors would like to acknowledge HyeWon Moon for data collection.
Ethics declarations
Disclosures
Su Kyung Hwang, Seung-il Park, Yong-Hee Kim, Hyeong Ryul Kim, Se Hoon Choi, and Dong Kwan Kim have no conflicts of interest or financial ties to disclose.
About this article
Cite this article
Hwang, S.K., Park, S., Kim, Y. et al. Clinical results of surgical resection of mediastinal teratoma: efficacy of video-assisted thoracic surgery. Surg Endosc 30, 4065–4068 (2016). https://doi.org/10.1007/s00464-015-4721-9
Received:

Accepted:

Published:

Issue Date:
Keywords
Video-assisted thoracic surgery

Anterior mediastinal masses

Teratoma