Abstract
Background and aims
Endoscopic submucosal dissection (ESD) is a prolonged procedure with serious adverse events. The clip with line traction method was reported to improve ESD. However, there was no comparison with conventional ESD especially for trainees. We report here on the feasibility and efficacy of traction using dental floss with endoscopic clip to facilitate ESD versus conventional method for ESD trainees.
Methods
Twenty simulated gastric lesions, paired with location and size, were created in porcine stomachs using a standard template. After a circular incision was made, submucosal dissection (control, n = 10) was performed with standard ESD, while the study (clip, n = 10) was performed with traction using dental floss and endoclip. Primary outcome was speed of submucosal dissection. Secondary outcome included frequency of submucosal injection and adverse event.
Results
Compared with controls, median procedure time was significantly shorter in the clip group (5.6 ± 1.1 vs. 13.6 ± 2.5 min, P = 0.003), with a significantly faster submucosal dissection time (1.8 ± 0.3 vs. 0.6 ± 0.1 cm2/min, P = 0.001) and less frequent submucosal injection (5.7 ± 0.6 vs. 8.5 ± 1.0 times, P = 0.024). There were no perforations in either group, but less adverse events (bleeding and injury to muscularis propria) in the clip group (1 vs. 7, P = 0.068, α = 0.1).
Conclusions
Traction provided by dental floss and endoclip improves visualization of the submucosal layer during ESD. It allows a faster and safer gastric ESD especially among trainees in the early learning phase.
This is a preview of subscription content, log in to check access.
Access options
Buy single article
Instant unlimited access to the full article PDF.
US$ 39.95
Price includes VAT for USA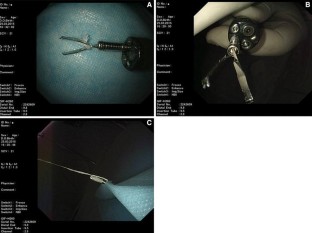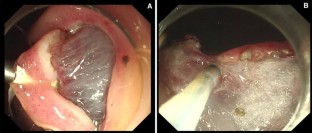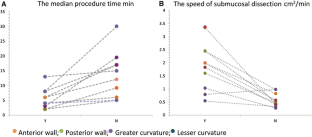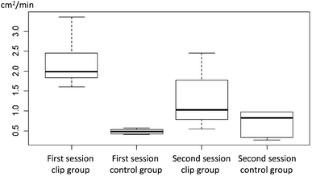 References
1.

Chung IK, Lee JH, Lee SH, Kim SJ, Cho JY, Cho WY, Hwangbo Y, Keum BR, Park JJ, Chun HJ, Kim HJ, Kim JJ, Ji SR, Seol SY (2009) Therapeutic outcomes in 1000 cases of endoscopic submucosal dissection for early gastric neoplasms: Korean ESD Study Group multicenter study. Gastrointest Endosc 69:1228–1235

2.

Gotoda T, Friedland S, Hamanaka H, Soetikno R (2005) A learning curve for advanced endoscopic resection. Gastrointest Endosc 62:866–867

3.

Ueki M, Ikebuchi Y, Matsuoka H, Otani H, Yasugi A, Koda M, Kawaguchi K, Harada K, Yashima K, Koda M, Murawaki Y (2010) Endoscopic submucosal dissection assisted by novel "clip fishing method" (with video). Endoscopy 42:E277–E278

4.

Yamamoto K, Hayashi S, Nakabori T, Shibuya M, Ichiba M, Inada M (2012) Endoscopic submucosal dissection using endoclips to assist in mucosal flap formation (novel technique: "clip flap method"). Endoscopy 44:E334–E335

5.

Yamamoto K, Hayashi S, Saiki H, Indo N, Nakabori T, Yamamoto M, Shibuya M, Nishida T, Ichiba M, Inada M (2015) Endoscopic submucosal dissection for large superficial colorectal tumors using the "clip-flap method". Endoscopy 47:262–265

6.

Li CH, Chen PJ, Chu HC, Huang TY, Shih YL, Chang WK, Hsieh TY (2011) Endoscopic submucosal dissection with the pulley method for early-stage gastric cancer (with video). Gastrointest Endosc 73:163–167

7.

Jeon WJ, You IY, Chae HB, Park SM, Youn SJ (2009) A new technique for gastric endoscopic submucosal dissection: peroral traction-assisted endoscopic submucosal dissection. Gastrointest Endosc 69:29–33

8.

Ota M, Nakamura T, Hayashi K, Ohki T, Narumiya K, Sato T, Shirai Y, Kudo K, Yamamoto M (2012) Usefulness of clip traction in the early phase of esophageal endoscopic submucosal dissection. Dig Endosc 24:315–318

9.

Koike Y, Hirasawa D, Fujita N, Maeda Y, Ohira T, Harada Y, Suzuki K, Yamagata T, Tanaka M (2015) Usefulness of the thread-traction method in esophageal endoscopic submucosal dissection: randomized controlled trial. Dig Endosc 27:303–309

10.

Aihara H, Kumar N, Ryou M, Abidi W, Ryan MB, Thompson CC (2014) Facilitating endoscopic submucosal dissection: the suture-pulley method significantly improves procedure time and minimizes technical difficulty compared with conventional technique: an ex vivo study (with video). Gastrointest Endosc 80:495–502

11.

Akasaka T, Nishida T, Tsutsui S, Michida T, Yamada T, Ogiyama H, Kitamura S, Ichiba M, Komori M, Nishiyama O, Nakanishi F, Zushi S, Nishihara A, Iijima H, Tsujii M, Hayashi N (2011) Short-term outcomes of endoscopic submucosal dissection (ESD) for early gastric neoplasm: multicenter survey by Osaka university ESD study group. Dig Endosc 23:73–77

12.

Park JC, Lee SK, Seo JH, Kim YJ, Chung H, Shin SK, Lee YC (2010) Predictive factors for local recurrence after endoscopic resection for early gastric cancer: long-term clinical outcome in a single-center experience. Surg Endosc 24:2842–2849

13.

Oka S, Tanaka S, Kaneko I, Mouri R, Hirata M, Kawamura T, Yoshihara M, Chayama K (2006) Advantage of endoscopic submucosal dissection compared with EMR for early gastric cancer. Gastrointest Endosc 64:877–883

14.

Matsumoto K, Nagahara A, Ueyama H, Konuma H, Morimoto T, Sasaki H, Hayashi T, Shibuya T, Sakamoto N, Osada T, Ogihara T, Yao T, Watanabe S (2013) Development and clinical usability of a new traction device "medical ring" for endoscopic submucosal dissection of early gastric cancer. Surg Endosc 27:3444–3451

15.

Teoh AY, Chiu PW, Hon SF, Mak TW, Ng EK, Lau JY (2012) Ex vivo comparative study using the Endolifter® as a traction device for enhancing submucosal visualization during endoscopic submucosal dissection. Surg Endosc 27:1422–1427

16.

Neuhaus H, Costamagna G, Devière J, Fockens P, Ponchon T, Rösch T, ARCADE Group (2006) Endoscopic submucosal dissection (ESD) of early neoplastic gastric lesions using a new doublechannel endoscope (the "R-scope"). Endoscopy 38:1016–1023

17.

Ritsuno H, Sakamoto N, Osada T, Goto SP, Murakami T, Ueyama H, Mori H, Matsumoto K, Beppu K, Shibuya T, Nagahara A, Ogihara T, Watanabe S (2014) Prospective clinical trial of traction device-assisted endoscopic submucosal dissection of large superficial colorectal tumors using the S–O clip. Surg Endosc 28:3143–3149
Acknowledgments
This work was supported by the Special Research Found for Health Care of PLA, China (Grant No. 12BJZ04).
Ethics declarations
Disclosures
Drs. Yuqi He, Kuangi Fu, Joseph Leung, Yongqiang Du, Jianxun Wang, Peng Jin, Yang Yu, Dongliang Yu, Xin Wang, Hui Xie, and Jianqiu Sheng have no conflict of interests or financial ties to disclose.
Electronic supplementary material
Below is the link to the electronic supplementary material.
Supplementary material 1 (MP4 126847 kb)
About this article
Cite this article
He, Y., Fu, K., Leung, J. et al. Traction with dental floss and endoscopic clip improves trainee success in performing gastric endoscopic submucosal dissection (ESD): a live porcine study (with video). Surg Endosc 30, 3138–3144 (2016). https://doi.org/10.1007/s00464-015-4598-7
Received:

Accepted:

Published:

Issue Date:
Keywords
Endoscopic submucosal dissection

Endoclip

Traction

Trainee

Animal study