Abstract
Background
Laparoscopic lymph node (LN) dissection along the distal splenic artery (Station No. 11d) and around the splenic hilum (Station No. 10) remains challenging even for skilled surgeons. The major reason for the difficulty is the complex, multifarious anatomy of the splenic vessels. The latest integrated three-dimensional (3D) simulations may facilitate this procedure.
Methods
Usefulness of 3D simulation was investigated during 20 laparoscopic total gastrectomies with splenic hilar LN dissection while preserving the spleen and pancreas (LTG + PSP) or with splenectomy (LTG + S). Clinical information acquired by 3D simulation and the consistency of the virtual and real images were evaluated. Furthermore, clinical data of these patients were compared with that of the patients who underwent the same surgery before the introduction of 3D simulation (n = 10), to clarify its efficacy.
Results
The vascular architecture and morphologic characteristics were clearly demonstrated in 3D simulation, with sufficient consistency. The median durations of 14 LTG + PSP and 6 LTG + S operations were 318 and 322 min, respectively. The estimated blood losses were 18 and 38 g, respectively. There were no deaths. One postoperative peritoneal abscess (grade II according to Clavien–Dindo) was recorded. A comparison of clinical parameters between surgeries without or with 3D simulation showed no differences in operation time, blood loss, or complication rate; however, the number of retrieved No. 10 LNs has significantly increased in cases with the use of 3D simulation (p = 0.006).
Conclusions
This kind of surgery is not easy to perform, but the latest 3D computed tomography simulation technology has made it possible to reduce the degree of difficulty and also to enhance the quality of surgery, potentially leading to widespread use of these techniques.
This is a preview of subscription content, log in to check access.
Access options
Buy single article
Instant unlimited access to the full article PDF.
US$ 39.95
Price includes VAT for USA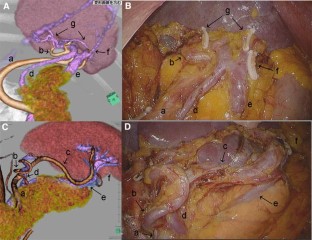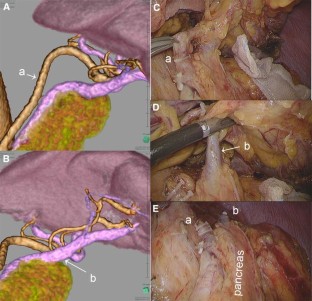 References
1.

Japanese Gastric Cancer Association (2011) Japanese classification of gastric carcinoma, 2rd edition. Gastric Cancer 14:101–112

2.

Japanese Gastric Cancer Association (2011) Japanese gastric cancer treatment guidelines 2010 (Ver. 3). Gastric Cancer 14:113–123

3.

Sano T, Yamamoto S, Sasako M, Japan Clinical Oncology Group Study JCOG 0110-MF (2002) Randomized controlled trial to evaluate splenectomy in total gastrectomy for proximal gastric carcinoma: Japan clinical oncology group study JCOG 0110-MF. Jpn J Clin Oncol 32:363–364

4.

Natsume T, Shuto K, Yanagawa N, Akai T, Kawahira H, Hayashi H, Matsubara H (2011) The classification of anatomic variations in the perigastric vessels by dual-phase CT to reduce intraoperative bleeding during laparoscopic gastrectomy. Surg Endosc 25:1420–1424

5.

Yamashita K, Sakuramoto S, Mieno H, Shibata T, Nemoto M, Katada N, Kikuchi S, Watanabe M (2014) Preoperative dual-phase 3D CT angiography assessment of the right hepatic artery before gastrectomy. Surg Today 44:1912–1919

6.

Sobin LH, Gospodarowicz MK, Wittekind C (eds) (2009) TNM classification of malignant tumours, 7th edn. Chichester, Wiley

7.

Ohshima S (2014) Volume analyzer SYNAPSE VINCENT for liver analysis. J Hepatobiliary Pancreat Sci 21:235–238

8.

Kanaya S, Haruta S, Kawamura Y, Yoshimura F, Inaba K, Hiramatsu Y, Ishida Y, Taniguchi K, Isogaki J, Uyama I (2011) Video: laparoscopy distinctive technique for suprapancreatic lymph node dissection: medial approach for laparoscopic gastric cancer surgery. Surg Endosc 25:3928–3929

9.

Nagai E, Ohuchida K, Nakata K, Miyasaka Y, Maeyama R, Toma H, Shimizu S, Tanaka M (2013) Feasibility and safety of intracorporeal esophagojejunostomy after laparoscopic total gastrectomy: inverted T-shaped anastomosis using linear staplers. Surgery 153:732–738

10.

Dindo D, Demartines N, Clavien P (2004) Classification of surgical complications. A new proposal with evaluation in a cohort of 6336 patients and results of survey. Ann Surg 240:205–213

11.

Uyama I, Sugioka A, Sakurai Y, Komori Y, Hanai T, Matsui H, Fujita J, Nakamura Y, Ochiai M, Hasumi A (2004) Hand-assisted laparoscopic function- preserving and radical gastrectomies for advanced-stage proximal gastric cancer. J Am Coll Surg 199:508–515

12.

Hyung WJ, Lim JS, Song J, Choi SH, Noh SH (2008) Laparoscopic spleen-preserving splenic hilar lymph node dissection during total gastrectomy for gastric cancer. J Am Coll Surg 207:e6–e11

13.

Son T, Lee JH, Kim YM, Kim HI, Noh SH, Hyung WJ (2014) Robotic spleen-preserving total gastrectomy for gastric cancer: comparison with conventional laparoscopic procedure. Surg Endosc 28:2606–2615

14.

Mou TY, Hu YF, Yu J, Liu H, Wang YN, Li GX (2013) Laparoscopic splenic hilum lymph node dissection for advanced proximal gastric cancer: a modified approach for pancreas- and spleen-preserving total gastrectomy. World J Gastroenterol 19:4992–4999

15.

Huang CM, Chen QY, Lin JX, Zheng CH, Li P, Xie JW, Wang JB, Lu J, Yang XT (2014) Laparoscopic spleen-preserving no. 10 lymph node dissection for advanced proximal gastric cancer using a left approach. Ann Surg Oncol 21:2051

16.

Kosuga T, Ichikawa D, Okamoto K, Komatsu S, Shiozaki A, Fujiwara H, Otsuji E (2011) Survival benefits from splenic hilar lymph node dissection by splenectomy in gastric cancer patients: relative comparison of the benefits in subgroups of patients. Gastric Cancer 14:172–177

17.

Shin SH, Jung H, Choi SH, An JY, Choi MG, Noh JH, Sohn TS, Bae JM, Kim S (2009) Clinical significance of splenic hilar lymph node metastasis in proximal gastric cancer. Ann Surg Oncol 16:1300–1309

18.

Nakata K, Nagai E, Ohuchida K, Shimizu S, Tanaka M (2014) Technical feasibility of laparoscopic total gastrectomy with splenectomy for gastric cancer: clinical short-term and long-term outcomes. Surg Endosc Oct 16 [Epub ahead of print]
Ethics declarations
Disclosures
T. Kinoshita has received honorarium from Ethicon Endosurgery and Olympus Medical Systems. H. Shibasaki, N. Enomoto, Y. Sahara, H. Sunagawa and T. Nishida have no conflict of interest or financial ties to disclose.
Electronic supplementary material
Below is the link to the electronic supplementary material.
Supplementary material 1 (WMV 8544 kb)
About this article
Cite this article
Kinoshita, T., Shibasaki, H., Enomoto, N. et al. Laparoscopic splenic hilar lymph node dissection for proximal gastric cancer using integrated three-dimensional anatomic simulation software. Surg Endosc 30, 2613–2619 (2016) doi:10.1007/s00464-015-4511-4
Received:

Accepted:

Published:

Issue Date:
Keywords
Laparoscopic total gastrectomy

Splenic hilar dissection

Anatomic simulation