Abstract
Background
Minimally invasive esophagectomy (MIE) is gaining increasing popularity in the treatment of esophageal cancer. In fact, while surgical and oncologic outcomes are not inferior to those achieved through a traditional open approach, patients undergoing MIE benefit from shorter length of stay, lesser pain and prompter recovery. This technique is, however, highly challenging, and the development of a MIE program, even in the setting of a tertiary center, requires time and progressive honing of surgical skills.
Methods
We use a minimally invasive Ivor Lewis approach. The abdominal phase of the procedure includes complete celiac lymphadenectomy and tubularization of the stomach, which will constitute the neo-esophagus. The video-assisted thoracoscopic surgery portion of the operation takes place in left lateral decubitus and allows for optimal thoracic lymphadenectomy and anastomosis.
Results
From October 2011 to January 2015, we treated 52 patients with the above-described procedure. The evolution of our anastomotic technique included a first group of circular stapled anastomosis with Orvil™ and 3.5-mm EEA™ (n = 16 patients), subsequently abandoned in favor of a linear anastomosis (n = 12), before going back to the Orvil™ coupled with 4.8-mm EEA™ (n = 22) in more recent times. There were also an additional two anastomoses that did not fall under any of these categories. We experienced two postoperative deaths. The overall leak rate was 14 %, but fell down to 4 % in the last group. Median LOS was 9 days. Lymph node retrieval was adequate throughout the whole series.
Conclusions
Developing a MIE program requires a significant learning curve before the results plateau. Only once a technique of choice is refined and mastered, the advantages granted by MIE become apparent.
This is a preview of subscription content, log in to check access.
Access options
Buy single article
Instant unlimited access to the full article PDF.
US$ 39.95
Price includes VAT for USA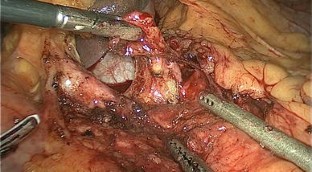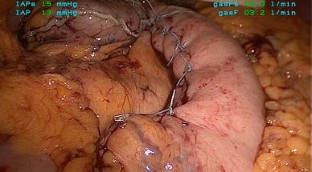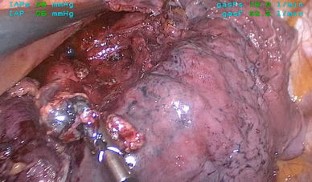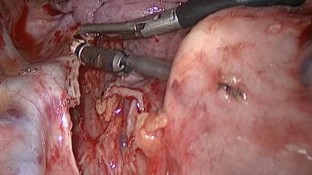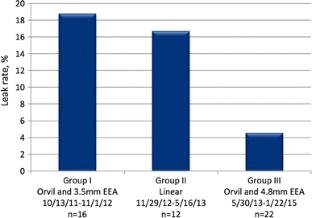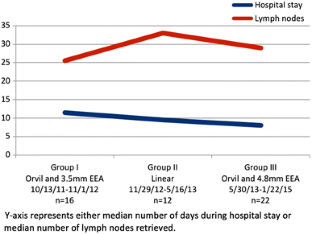 References
1.

Birkmeyer JD, Siewers AE, Finlayson EV, Stukel TA, Lucas FL, Batista I, Welch HG, Wennberg DE (2002) Hospital volume and surgical mortality in the United States. N Engl J Med 346:1128–1137. doi:10.1056/NEJMsa012337

2.

Cuschieri A, Shimi S, Banting S (1992) Endoscopic oesophagectomy through a right thoracoscopic approach. J R Coll Surg Edinb 37:7–11

3.

DePaula AL, Hashiba K, Ferreira EA, de Paula RA, Grecco E (1995) Laparoscopic transhiatal esophagectomy with esophagogastroplasty. Surg Laparosc Endosc 5:1–5

4.

Watson DI, Davies N, Jamieson GG (1999) Totally endoscopic Ivor Lewis esophagectomy. Surg Endosc 13:293–297

5.

Luketich JD, Nguyen NT, Weigel T, Ferson P, Keenan R, Schauer P (1998) Minimally invasive approach to esophagectomy. JSLS 2:243–247

6.

Biere SS, van Berge Henegouwen MI, Maas KW, Bonavina L, Rosman C, Garcia JR, Gisbertz SS, Klinkenbijl JH, Hollmann MW, de Lange ES, Bonjer HJ, van der Peet DL, Cuesta MA (2012) Minimally invasive versus open oesophagectomy for patients with oesophageal cancer: a multicentre, open-label, randomised controlled trial. Lancet 379:1887–1892. doi:10.1016/S0140-6736(12)60516-9

7.

Dantoc MM, Cox MR, Eslick GD (2012) Does minimally invasive esophagectomy (MIE) provide for comparable oncologic outcomes to open techniques? A systematic review. J Gastrointest Surg 16:486–494. doi:10.1007/s11605-011-1792-3

8.

Dantoc M, Cox MR, Eslick GD (2012) Evidence to support the use of minimally invasive esophagectomy for esophageal cancer: a meta-analysis. Arch Surg 147:768–776. doi:10.1001/archsurg.2012.1326

9.

Tapias LF, Morse CR (2014) Minimally invasive Ivor Lewis esophagectomy: description of a learning curve. J Am Coll Surg 218:1130–1140. doi:10.1016/j.jamcollsurg.2014.02.014

10.

Dhamija A, Rosen JE, Dhamija A, Gould Rothberg BE, Kim AW, Detterbeck FC, Boffa DJ (2014) Learning curve to lymph node resection in minimally invasive esophagectomy for cancer. Innovations (Phila) 9:286–291. doi:10.1097/IMI.0000000000000082

11.

Blot WJ, McLaughlin JK (1999) The changing epidemiology of esophageal cancer. Semin Oncol 26:2–8

12.

Thrift AP, Whiteman DC (2012) The incidence of esophageal adenocarcinoma continues to rise: analysis of period and birth cohort effects on recent trends. Ann Oncol 23:3155–3162. doi:10.1093/annonc/mds181

13.

Noble F, Kelly JJ, Bailey IS, Byrne JP, Underwood TJ, South Coast Cancer Collaboration—Oesophago-Gastric (SC3-OG) (2013) A prospective comparison of totally minimally invasive versus open Ivor Lewis esophagectomy. Dis Esophagus 26:263–271. doi:10.1111/j.1442-2050.2012.01356.x

14.

Nguyen NT, Follette DM, Lemoine PH, Roberts PF, Goodnight JE Jr (2001) Minimally invasive Ivor Lewis esophagectomy. Ann Thorac Surg 72:593–596

15.

Maas KW, Biere SS, Scheepers JJ, Gisbertz SS, Turrado Rodriguez VT, van der Peet DL, Cuesta MA (2012) Minimally invasive intrathoracic anastomosis after Ivor Lewis esophagectomy for cancer: a review of transoral or transthoracic use of staplers. Surg Endosc 26:1795–1802. doi:10.1007/s00464-012-2149-z

16.

Xu QR, Wang KN, Wang WP, Zhang K, Chen LQ (2011) Linear stapled esophagogastrostomy is more effective than hand-sewn or circular stapler in prevention of anastomotic stricture: a comparative clinical study. J Gastrointest Surg 15:915–921. doi:10.1007/s11605-011-1490-1

17.

Gorenstein LA, Bessler M, Sonett JR (2011) Intrathoracic linear stapled esophagogastric anastomosis: an alternative to the end to end anastomosis. Ann Thorac Surg 91:314–316. doi:10.1016/j.athoracsur.2010.02.115

18.

Palmes D, Weilinghoff M, Colombo-Benkmann M, Senninger N, Bruewer M (2007) Effect of pyloric drainage procedures on gastric passage and bile reflux after esophagectomy with gastric conduit reconstruction. Langenbecks Arch Surg 392:135–141. doi:10.1007/s00423-006-0119-4

19.

Cerfolio RJ, Bryant AS, Canon CL, Dhawan R, Eloubeidi MA (2009) Is botulinum toxin injection of the pylorus during Ivor Lewis [corrected] esophagogastrectomy the optimal drainage strategy? J Thorac Cardiovasc Surg 137:565–572. doi:10.1016/j.jtcvs.2008.08.049

20.

Martin JT, Federico JA, McKelvey AA, Kent MS, Fabian T (2009) Prevention of delayed gastric emptying after esophagectomy: a single center's experience with botulinum toxin. Ann Thorac Surg 87:1708–1713. doi:10.1016/j.athoracsur.2009.01.075 (discussion 1713–1714)

21.

Palazzo F, Rosato EL, Chaudhary A, Evans NR III, Sendecki JA, Keith S, Chojnacki KA, Yeo CJ, Berger AC (2014) Minimally invasive esophagectomy provides significant survival advantage compared with open or hybrid esophagectomy for patients with cancers of the esophagus and gastroesophageal junction. J Am Coll Surg. doi:10.1016/j.jamcollsurg.2014.12.023
Acknowledgments
Mr. Edwin Lewis provided generous support for Dr. Lidor's Department of Surgery Research Fund.
Disclosures
Daniela Molena is a speaker for Novadaq Corporation. Benedetto Mungo, Miloslawa Stem and Anne O. Lidor have no conflicts of interest or financial ties to disclose.
Electronic supplementary material
Below is the link to the electronic supplementary material.
Abdominal lymphadenectomy and gastric mobilization (MOV 86476 kb)
Transhiatal esophageal dissection, gastric tubularization and Botox injection in the pylorus (MOV 78585 kb)
VATS dissection, esophageal division and thoracic lymphadenectomy (MOV 84566 kb)
Gastric conduit retrieval into the thorax and gastroesophageal anastomosis (MOV 86796 kb)
Abdominal lymphadenectomy and gastric mobilization (MOV 86476 kb)
Transhiatal esophageal dissection, gastric tubularization and Botox injection in the pylorus (MOV 78585 kb)
VATS dissection, esophageal division and thoracic lymphadenectomy (MOV 84566 kb)
Gastric conduit retrieval into the thorax and gastroesophageal anastomosis (MOV 86796 kb)
About this article
Cite this article
Mungo, B., Lidor, A.O., Stem, M. et al. Early experience and lessons learned in a new minimally invasive esophagectomy program. Surg Endosc 30, 1692–1698 (2016) doi:10.1007/s00464-015-4343-2
Received:

Accepted:

Published:

Issue Date:
Keywords
Esophageal cancer

Esophagectomy

Barrett's esophagus

Thoracoscopy

Laparoscopy