Abstract
Background
The incidence of bile duct injuries (BDI) after cholecystectomy, which is a life-threatening condition that has several medical and legal implications, currently stands at about 0.6 %. The aim of this study is to describe our experience as the first center to use a laparoscopic approach for BDI repair.
Methods
A prospective study between June 2012 and September 2014 was developed. Twenty-nine consecutive patients with BDI secondary to cholecystectomy were included. Demographics, comorbidities, presenting symptoms, details of index surgery, type of lesion, preoperative and postoperative diagnostic work-up, and therapeutic interventions were registered. Videos and details of laparoscopic hepaticojejunostomy (LHJ) were recorded. Injuries were staged using Strasberg classification. A side-to-side anastomosis with Roux-en-Y reconstruction was always used. In patients with E4 and some E3 injuries, a segment 4b or 5 section was done to build a wide anastomosis. In E4 injuries, a neo-confluence was performed. Complications, mortality, and long-term evolution were recorded.
Results
Twenty-nine patients with BDI were operated. Women represented 82.7 % of the cases. The median age was 42 years (range 21–74). Injuries at or above the confluence occurred in 62 %, and primary repair at our institution was performed at 93.1 % of the cases. Eight neo-confluences were performed in all E4 injuries (27.5 %). The median operative time was 240 min (range 120–585) and bleeding 200 mL (range 50–1100). Oral intake was started in the first 48 h. Bile leak occurred in 5 cases (17.2 %). Two patients required re-intervention (6.8 %). No mortality was recorded. The maximum follow-up was 36 months (range 2–36). One patient with E4 injury developed a hepaticojejunostomy (HJ) stenosis after 15 months. This was solved with endoscopic dilatation.
Conclusions
The benefits of minimally invasive approaches in BDI seem to be feasible and safe, even when this is a complex and catastrophic scenario.
This is a preview of subscription content, log in to check access.
Access options
Buy single article
Instant unlimited access to the full article PDF.
US$ 39.95
Price includes VAT for USA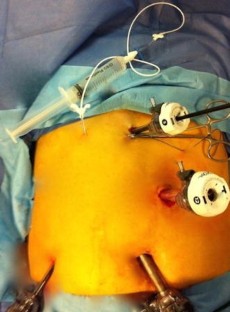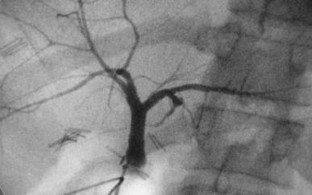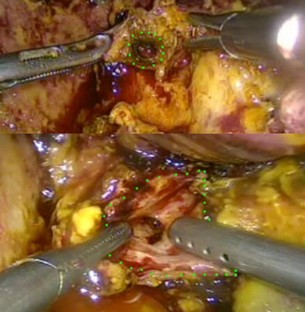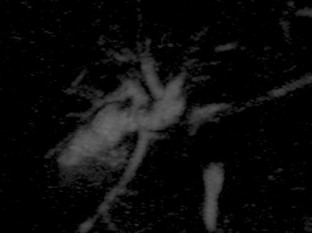 References
1.

De Santibañes E, Palavecino M, Ardiles V, Pekolj J (2006) Bile duct injuries: management of late complications. Surg Endosc 20:1648–1653

2.

Mercado MA, Franssen B, Domínguez I, Arriola-Cabrera JC, Ramírez-del Val F, Elnecavé-Olaiz A, Arámburo-Garcia R, García A (2011) Transition from a low-to a high-volume centre bile duct repair: changes in technique and improved outcome. HPB 13:767–773

3.

Liu Y, Yao X, Li S, Liu W, Liu L, Liu J (2014) Comparison of therapeutic effects of laparoscopic and open operation for congenital choledochal cysts in adults. Gastroenterol Res Pract. doi:10.1155/2014/670260

4.

Ng JL, Salim MT, Low Y (2014) Mid-term outcomes of laparoscopic versus open choledochal cyst excision in a tertiary paediatric hospital. Ann Acad Med Singapore 43:220–224

5.

Aguirre-Olmedo I, Cuendis-Velázquez A, Morales-Chávez CE, Torres-Ruiz MF, Rojano-Rodríguez ME, Cárdenas-Lailson LE (2013) Laparoscopic choledochoduodenostomy as an optional treatment choledocholithiasis. Cir Cir 81:118–124

6.

Chander J, Mangla V, Vindal A, Lal P, Ramteke VK (2012) Laparoscopic choledochoduodenostomy for biliary stone disease: a single-center 10-year experience. J Laparoendosc Adv Surg Tech A. doi:10.1089/lap.2011.0366

7.

Kondratiuk OP, Khil'ko IuO, Kondratiuk VA, Kravchenko DA (2014) Laparoscopic hepaticojejunostomy in patients with inoperable tumour of pancreatic head. Klin Khir 4:64–65

8.

Strasberg SM, Hertl M, Soper NJ (1995) An analysis of the problem of biliary injury during laparoscopic cholecystectomy. J Am Coll Surg 180:101–125

9.

Winslow ER, Fialkowski EA, Linehan DC, Hawkins WG, Picus DD, Strasberg SM (2009) "Sideways": result of repair of biliary injuries using a policy of side-to-side hepatico-jejunostomy. Ann Surg 249:426–434

10.

Mercado MA, Orozco H, de la Garza L, Lopez-Martinez LM, Contreras A, Guillen-Navarro E (1999) Biliary duct injury: partial segment IV resection for intrahepatic reconstruction of biliary lesions. Arch Surg 134:1008–1010

11.

Strasberg SM, Picus DD, Ja Drebin (2001) Results of a new strategy for reconstruction of biliary injuries having an isolated right-sided component. J Gastrointest Surg 5:266–274

12.

Holte K, Bardram L, Wettergren A, Rasmussen A (2010) Reconstruction of major bile duct injuries after laparoscopic cholecystectomy. Dan Med Bull 57:A4135

13.

Al-Ghnaniem R, Benjamin IS (2002) Long-term outcome of hepaticojejunostomy with routine access loop formation following iatrogenic bile duct injury. Br J Surg 89:1118–1124

14.

Jayasundara JA, de Silva WM, Pathirana AA (2011) Changing clinical profile, management strategies and outcome of patients with biliary tract injuries at a tertiary care center in Sri Lanka. Hepatobiliary Pancreat Dis Int 10:526–532

15.

Strasberg SM, Linehan DC, Hawkins WG (2009) The accordion severity grading system of surgical complications. Ann Surg. doi:10.1097/SLA.0b013e3181afde41

16.

Hepp J, Couinaud C (1956) Approach to and use of the left hepatic duct in reparation of the common bile duct. Presse Med 64:947–948

17.

Mercado MA, Chan C, Orozco H, Tielve M, Hinojosa CA (2003) Acute bile duct injury. The need for a high repair. Surg Endosc 17:1351–1355

18.

Schwenk W, Hasse O, Neudecker J, Müller JM (2005) Short term benefits for laparoscopic colorectal resection. Cochrane Database Syst Rev 20:CD003145

19.

Zhang Y, Chen XM, Sun DL (2014) Laparoscopic versus open distal pancreatectomy: a single-institution comparative study. World J Surg Oncol. doi:10.1186/1477-7819-12-327

20.

Antoniou SA, Antoniou GA, Koch OO, Pointner R, Granderath FA (2014) Meta-analysis of laparoscopic vs open cholecystectomy in elderly patients. W J Gastroenterol 20:17626–17634

21.

Bablekos GD, Michaelides SA, Analitis A, Charalabopoulos KA (2014) Effects of laparoscopic cholecystectomy on lung function: a systematic review. World J Gastroenterol. doi:10.3748/wjg.v20.i46.17603

22.

Mercado MA, Chan C, Orozco H, Cano-Gutiérrez G, Chaparro JM, Galindo E, Vilatobá M, Samaniego-Arvizu G (2002) To stent or not to stent bilioenteric anastomosis after iatrogenic injury: a dilemma not answered? Arch Surg 137:60–63

23.

Tocchi A, Costa G, Lepre L, Liotta G, Mazzoni G, Sita A (1996) The long-term outcome of hepaticojejunostomy in the treatment of benign bile duct strictures. Ann Surg 224:162–167

24.

Stewart L, Way L (1995) Bile duct injuries during laparoscopic cholecystectomy. Arch Surg 130:1123–1129

25.

Palermo M, Trelles N, Gagner M (2011) Laparoscopic revisional hepaticojejunostomy for biliary stricture after open repair following common bile duct injury: a case report. Surg Innov. doi:10.1177/1553350610395033

26.

Prasad A, De S, Mishra P, Tiwari A (2015) Robotic assisted Roux-en-Y hepaticojejunostomy in a post-cholecystectomy type E2 bile duct injury. World J Gastroenterol 21:1703–1706

27.

Toumi Z, Aljarabah M, Ammori BJ (2011) Role of the laparoscopic approach to biliary bypass for benign and malignant biliary diseases: a systematic review. Surg Endosc 25:2105–2116

28.

Liem NT (2013) Laparoscopic surgery for choledochal cysts. J Hepatobiliary Pancreat Sci 20:487–491

29.

Lee JH, Kim SH, Kim HY, Choi YH, Jung SE, Park KW (2013) Early experience of laparoscopic choledochal cyst excision in children. J Korean Surg Soc 85:225–229

30.

Liem NT, Pham HD, le Dung A, Son TN, Vu HM (2012) Early and intermediate outcomes of laparoscopic surgery for choledochal cysts with 400 patients. Laparoendosc Adv Surg Tech A 22:599–603

31.

Duan X, Mao X, Jiang B, Wu J (2014) Totally laparoscopic cyst excision and Roux-en-Y hepaticojejunostomy for choledochal cyst in adults: a single-institute experience of 5 years. Surg Laparosc Endosc Percutan Tech 00:001–004
Acknowledgments
We thank Dr. Florencio de la Concha Bermejillo, who helped in the edition of this paper, as well as all the referring surgeons who trusted our team for the treatment of their patients.
Disclosures
Drs. Adolfo Cuendis-Velázquez, Carlos Morales-Chávez, Itzé Aguirre-Olmedo, Fernanda Torres-Ruiz, Martín Rojano-Rodríguez, Luis Fernández-Álvarez, Eduardo Cárdenas-Lailson, and Mucio Moreno-Portillo have no conflict of interest or financial ties to disclose.
About this article
Cite this article
Cuendis-Velázquez, A., Morales-Chávez, C., Aguirre-Olmedo, I. et al. Laparoscopic hepaticojejunostomy after bile duct injury. Surg Endosc 30, 876–882 (2016) doi:10.1007/s00464-015-4282-y
Received:

Accepted:

Published:

Issue Date:
Keywords
Bile duct injury

Cholecystectomy

Biliary fistula

Biliary tract surgical procedures

Laparoscopic Roux-en-Y hepaticojejunostomy