Abstract
Objective
Identification of intersegmental planes is essential for successful anatomic pulmonary segmentectomy. We have previously reported a new fluorescence technique using a PDD endoscope system™ and vitamin B2 for identification of intersegmental planes in ex vivo experiments. In the present study, we investigated and evolved this technique to perform ideal anatomic segmentectomy in a clinical setting using living pig models.
Methods
Cranial segmentectomy in the cranial lobe of the right lung was performed in six pigs using our fluorescence technique. The fluorescent cranial segmentectomy was as follows. After identification of the cranial segmental bronchus, vitamin B2 solution as a fluorescent substance was injected via bronchoscopy. The fluorescent segment was observed using a PDD endoscope system™, and the identified intersegmental plane was cut using electric cautery. The operative data collected were the rates of accurate identification of the pulmonary segment and perioperative complications. The duration and light intensity of fluorescence of the target segment were recorded to provide an objective measurement of success.
Results
In all procedures, it was possible to identify the target segment by its clear yellow-green fluorescence. The rate of accurate identification of the pulmonary segment was 100 %. The fluorescence continued for more than 1 h with adequate light intensity. No perioperative complications were encountered. No unexpected injuries of the major segmental bronchi or vessels occurred. Hemorrhage and air leakage from the transected intersegmental plane were negligible.
Conclusions
Our new fluorescence technique in a clinical setting involving a PDD endoscope system™ vitamin B2 enabled accurate and safe anatomic pulmonary segmentectomy, with enough strong and long fluorescence in living pig lungs.
This is a preview of subscription content, log in to check access.
Access options
Buy single article
Instant unlimited access to the full article PDF.
US$ 39.95
Price includes VAT for USA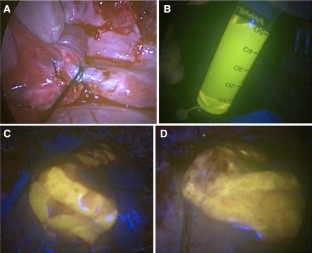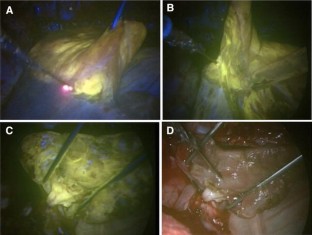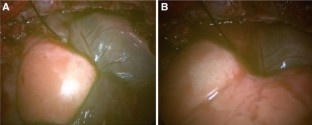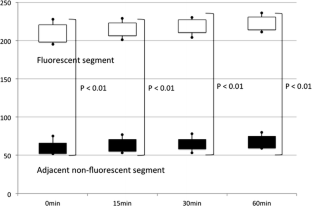 Abbreviations
VATS:

Video-assisted thoracic surgery

PDD:

Photodynamic diagnosis

FAD:

Flavin adenine dinucleotide

ICG:

Indocyanine green
References
1.

Okada M, Koike T, Higashiyama M, Yamato Y, Kodama K, Tsubota N (2006) Radical sublobar resection for small-sized non-small cell lung cancer: a multicenter study. J Thorac Cardiovasc Surg 132:769–775

2.

Keenan RJ, Landreneau RJ, Maley RH Jr, Singh D, Macherey R, Bartley S, Santucci T (2004) Segmental resection spares pulmonary function in patients with stage I lung cancer. Ann Thorac Surg 78:228–233

3.

Tsubota N (2000) An improved method for distinguishing the intersegmental plane of the lung. Surg Today 30:963–964

4.

Okada M, Mimura T, Ikegaki J, Katoh H, Itoh H, Tsubota N (2007) A novel video-assisted anatomic segmentectomy technique: selective segmental inflation via bronchifiberoptic jet followed by cautery cutting. J Thorac Cardiovasc Surg 133:753–758

5.

Misaki N, Chang SS, Igai H, Tarumi S, Gotoh M, Yokomise H (2010) New clinically applicable method for visualizing adjacent lung segments using an infrared thoracoscopy system. J Thorac Cardiovasc Surg 140:752–756

6.

Oh S, Suzuki K, Miyasaka Y, Matsunaga T, Tsuchima Y, Takamochi K (2013) New technique for lung segmentectomy using indocyanine green injection. Ann Thorac Surg 95:2188–2190

7.

Waseda R, Oda M, Matsumoto I, Takizawa M, Suzuki M, Ohshima M, Watanabe G (2013) A novel fluorescence technique for identification of the pulmonary segments by using the photodynamic diagnosis endoscope system: an experimental study in ex vivo porcine lung. J Thorac Cardiovasc Surg 146:222–227

8.

Konings EJ (2006) Water-soluble vitamins. J AOAC Int 89:285–288

9.

Price N, Gottfried MR, Clary E, Lawson DC, Baillie J, Mergener K, Westcott C, Eubanks S, Pappas TN (2000) Safety and efficacy of India ink and indocyanine green as colonic tattooing agents. Gastrointest Endosc 51:438–442

10.

Nakakuki S (1994) Bronchial tree, lobular division and blood vessels of the pig lung. J Vet Med Sci 56:685–689

11.

Macchiarini P, Wain J, Almy S, Dartevelle P (1999) Experimental and clinical evaluation of a new synthetic, absorbable sealant to reduce air leaks in thoracic operations. J Thorac Cardiovasc Surg 117:751–758

12.

Matsumoto I, Ohta Y, Waseda R, Masaya T, Oda M, Watanabe G (2010) Vitamin B2 as a tracer for intraoperative pulmonary sentinel node navigation surgery. Anticancer Res 30:4109–4114
Disclosures
Masahiro Ohsima, Ryuichi Waseda, Nobuhiro Tanaka, Hideyasu Ueda, Akishi Ooi, and Isao Matsumoto have no conflicts of interest or financial ties to disclose.
Electronic supplementary material
Below is the link to the electronic supplementary material.
Supplementary material 1 (MOV 104393 kb)
Supplementary material 2 (MOV 109142 kb)
Supplementary material 3 (MOV 44423 kb)
About this article
Cite this article
Ohsima, M., Waseda, R., Tanaka, N. et al. A new fluorescent anatomic pulmonary segmentectomy using PDD endoscope system™ and vitamin B2: evaluation in a clinical setting using living animal. Surg Endosc 30, 339–345 (2016) doi:10.1007/s00464-015-4194-x
Received:

Accepted:

Published:

Issue Date:
Keywords
Pulmonary (lungs)

Surgical < technical

Thoracoscopy

Photodynamic theory