Abstract
Background
The history of surgical antireflux treatment is coined by the search for better alternatives to Nissen fundoplication. Implantable devices are one option, beginning with the "Angelchik™" prosthesis 30 years ago. However, this procedure was left soon because of the high rate of foreign body connected problems (migration, perforation). A modern approach is a magnetic sphincter augmentation device (LINX® Reflux Management System, Torax Medical, Shoreview, MN, USA), a magnetic chain which is implanted laparoscopically. Advantages reported are simplicity to apply and good results in reflux control, with up to now only rare complication rates as reported in the literature (Lipham et al. in Dis Esophagus, 2014).
Methods
We report one case of erosion of the esophagus by a LINX® system resulting in severe dysphagia.
Results
A complete endoluminal removal could be achieved by a prototype OTSC-clip remover. Complete remission could be achieved. The technique is presented in detail (video).
Conclusions
In principle, total endoscopic removal of the LINX® device is feasible in case of major erosion.
This is a preview of subscription content, log in to check access.
Access options
Buy single article
Instant unlimited access to the full article PDF.
US$ 39.95
Price includes VAT for USA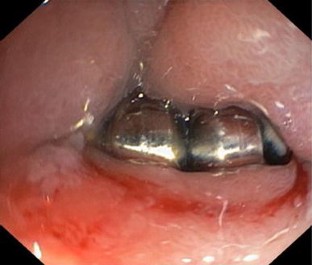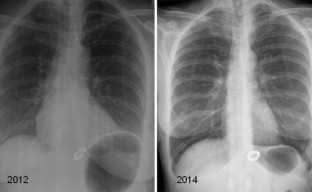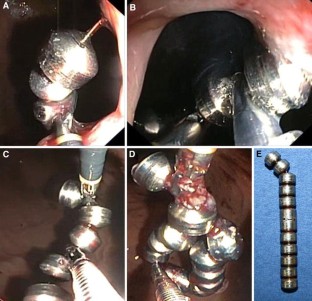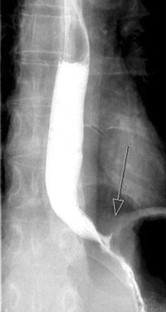 References
1.

Lipham JC, Taiganides PA, Louie BE, Ganz RA, DeMeester TR (2014) Safety analysis of first 1000 patients treated with magnetic sphincter augmentation for gastroesophageal reflux disease. Dis Esophagus (Epub ahead of print)

2.

Feussner H, Horvath OP, Siewert JR (1992) Vicryl-scarf-induced scarring around esophagogastric junction as treatment of esophageal reflux disease. An experimental study in the dog. Dig Dis Sci 37(6):875–881

3.

Siewert JR, Feussner H (1988) The Angelchik prosthesis—intermediate term evaluation and results. Z Gastroenterol 26(8):421–429

4.

Bonavina L, DeMeester T, Fockens P, Dunn D, Saino G, Bona D et al (2010) Laparoscopic sphincter augmentation device eliminates reflux symptoms and normalizes esophageal acid exposure: one- and 2-year results of a feasibility trial. Ann Surg 252:857–862

5.

Lipham JC, DeMeester TR, Ganz RA, Bonavina L, Saino G, Dunn DH, Fockens P, Bemelman W (2012) The LINX® reflux management system: confirmed safety and efficacy now at 4 years. Surg Endosc 26:2944–2949

6.

Bonavina L, DeMeester T, Mason R, Stein HJ, Feussner H, Evander A (1997) Mechanical effect of the Angelchik prosthesis on the competency of the gastric cardia: pathophysiologic implications and surgical perspectives. Dis Esophagus 10(2):115–118

7.

Bonavina L, Saino G, Lipham JC, DeMeester TR (2013) LINX® Reflux Management System in chronic gastroesophageal reflux: a novel effective technology for restoring the natural barrier to reflux: a novel effective technology for restoring the natural barrier to reflux. Ther Adv Gastroenterol 6(4):261–268

8.

Ganz RA, Peters JH, Horgan S, Bernelman WA, Dunst CM, Edmundowicz SA, Lipham JC, Luketich JD, Melvin WS, Oelschlager BK, Schlack-Haerer SCJ, Smith CD, Smith CC, Dunn D, Taiganides PA (2013) Esophageal sphincter device for gastroesophageal reflux disease. N Engl J Med 368(8):719–727
Disclosures
Dr M. Bauer, Prof Dr A. Meining, Dr M. Kranzfelder, A. Jell, Dr R. Schirren, PD Dr D. Wilhelm, Prof Dr H. Friess and Prof Dr H. Feussner have no conflicts of interest or financial ties to disclose.
Electronic supplementary material
Below is the link to the electronic supplementary material.
Supplementary material 1 (WMV 10926 kb)
About this article
Cite this article
Bauer, M., Meining, A., Kranzfelder, M. et al. Endoluminal perforation of a magnetic antireflux device. Surg Endosc 29, 3806–3810 (2015). https://doi.org/10.1007/s00464-015-4145-6
Received:

Accepted:

Published:

Issue Date:
Keywords
Antireflux device

LINX®

Interventional endoscopy

Erosion