Abstract
Background
Transnasal esophagogastroduodenoscopy (TN-EGDS) is well tolerated by patients and the examination is perceived comfortable without the need of a sedative drug. Conversely, mainly in Western literature, some authors report limitations in illumination, image quality, and working channel as affecting TN-EGDS diffusion. To overcome these disadvantages, a new transnasal endoscope (TNE) was tested but, due to its larger diameter, we have no evidence of its clinical safety and tolerability. A new adapted nasal anesthesia could be useful to improve TNE tolerance. In an independent, not sponsored, pilot prospective study we enrolled, in a busy clinical hospital setting, 30 adult patients receiving nasal atomized Lidocaine and Xylometazoline (XAL) to undergo a diagnostic TN-EGDS with TNE to evaluate its tolerance, safety, and feasibility.
Methods
Three physicians enrolled inpatients and outpatients with indication to diagnostic EGDS during a 6-month period. Main outcome measures were cardio-pulmonary monitoring data and patients' answers to an adapted questionnaire investigating pain, anxiety level, willingness to repeat the examination, operators' scores about endoscopy quality, examination conduction and anesthesia-related complications.
Results
The examination was completed by the transnasal route in 100 % of the enrolled patients, endoscopy satisfaction and feasibility were scored to nearly the highest levels by the three different physicians. A total of 29/30 patients (96.6 %) declared the willingness to repeat the same examination if needed. The mean patients' score for overall pain was 3.7 ± 1 SD (range 1–10 by Visual Analog Scale). Mean endoscopy duration was 11.1 ± 2.6 min (range 5.0–19.0). In a total of 17/30 TN-EGDS that lasted more than 11 min, higher heart frequency variations and worse tolerance scores were found (p < 0.05).
Conclusion
Our pilot study demonstrates that TN-EGDS with TNE and NA is safe, well tolerated, and feasible. The best clinical tolerance is reached when TN-EGDS lasts <11 min.
This is a preview of subscription content, log in to check access.
Access options
Buy single article
Instant unlimited access to the full article PDF.
US$ 39.95
Price includes VAT for USA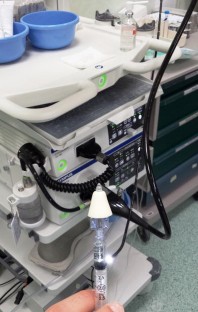 References
1.

Ai ZL, Lan CH, Fan LL, Lan L, Cao Y, Li P, Song O, Chen DF (2012) Unsedated transnasal upper gastrointestinal endoscopy has favorable diagnostic effectiveness, cardiopulmonary safety, and patient satisfaction compared with conventional or sedated endoscopy. Surg Endosc Other Interv Tech 26:3565–3572

2.

Watanabe H, Watanabe N, Ogura R, Nishino N, Saifuku Y, Hitomi G, Okamoto Y, Tominaga K, Yoshitake N, Yamagata M, Orui M, Hiraishi H (2009) A randomized prospective trial comparing unsedated endoscopy via transnasal and transoral routes using 5.5-mm video endoscopy. Dig Dis Sci 54:2155–2160

3.

Dumortier J, Napoleon B, Hedelius F, Pellissier PE, Leprince E, Pujol B, Ponchon T (2003) Unsedated transnasal EGD in daily practice: results with 1100 consecutive patients. Gastrointest Endosc 57:198–204

4.

Tatsumi Y, Harada A, Matsumoto T, Tani T, Nishida H (2008) Feasibility and tolerance of 2-way and 4-way angulation videoscopes for unsedated patients undergoing transnasal EGD in GI cancer screening. Gastrointest Endosc 67:1021–1027

5.

Stroppa I, Grasso E, Paoluzi OA, Razzini C, Tosti C, Andrei F, Biancone L, Palmieri G, Romeo F, Pallone F (2008) Unsedated transnasal versus transoral sedated upper gastrointestinal endoscopy: a one-series prospective study on safety and patient acceptability. Dig Liver Dis 40:767–775

6.

Saeian K (2002) Unsedated transnasal endoscopy: a safe and less costly alternative. Curr Gastroenterol Rep 4:213–217

7.

Alami RS, Schuster R, Friedland S, Curet MJ, Wren SM, Soetikno R, Morton JM, Safadi BY (2007) Transnasal small-caliber esophagogastroduodenoscopy for preoperative evaluation of the high-risk morbidly obese patient. Surg Endosc Other Interv Tech 21:758–760

8.

Nelson DB, Block KP, Bosco JJ, Burdick JS, Curtis WD, Faigel DO, Greenwald DA, Kelsey PB, Rajan E, Slivka A, Smith P, Wassef W, VanDam J, Wang KK (2000) Technology status evaluation report: ultrathin endoscopes esophagogastroduodenoscopy: March 2000. Gastrointest Endosc 51:786–789

9.

Cheung J, Goodman K, Bailey R, Fedorak R, Morse J, Millan M, Guzowski T, van Zanten SV (2010) A randomized trial of topical anesthesia comparing lidocaine versus lidocaine plus xylometazoline for unsedated transnasal upper gastrointestinal endoscopy. Can J Gastroenterol 24:317–321

10.

Tatsumi Y, Harada A, Matsumoto T, Tani T, Nishida H (2009) Current status and evaluation of transnasal esophagogastroduodenoscopy. Dig Endosc 21:141–146

11.

Kawai T, Yamamoto K, Fukuzawa M, Sakai Y, Moriyasu F (2010) Ultra-thin transnasal esophagogastroduodenoscopy. Nippon rinsho Jpn J Clin Med 68:1264–1267

12.

Hayashi Y, Yamamoto Y, Suganuma T, Okada K, Nego M, Imada S-I, Imai M, Yoshimoto K, Ueki N, Hirasawa T, Uragami N, Tsuchida T, Fujisaki J, Hoshino E, Takahashi H, Igarashi M (2009) Comparison of the diagnostic utility of the ultrathin endoscope and the conventional endoscope in early gastric cancer screening. Dig Endosc 21:116–121

13.

Kim CY, O'Rourke RW, Chang EY, Jobe BA (2006) Unsedated small-caliber upper endoscopy: an emerging diagnostic and therapeutic technology. Surg Innov 13:31–39

14.

Kadayifci A, Atar M, Parlar S, Balkan A, Koruk I, Koruk M (2014) Transnasal endoscopy is preferred by transoral endoscopy experienced patients. J Gastrointest Liver Dis 23:27–31

15.

Rodriguez SA, Banerjee S, Desilets D, Diehl DL, Farraye FA, Kaul V, Kwon RS, Mamula P, Pedrosa MC, Varadarajulu S, Song LM, Tierney WM (2010) Ultrathin endoscopes. Gastrointest Endosc 71:893–898

16.

Cho S, Arya N, Swan K, Cirocco M, Kandel G, Kortan P, Marcon N (2008) Unsedated transnasal endoscopy: a Canadian experience in daily practice. Can J Gastroenterol 22:243–246

17.

Yücel Üstündag, Saritafi Ü, Ponchon T (2011) Unsedated small caliber espophagogastroduodenoscopy: can we trust this technique. Turk J Gastroenterol 22:237–242

18.

Dumortier J, Lapalus MG, Pereira A, Lagarrigue JP, Chavaillon A, Ponchon T (2004) Unsedated transnasal PEG placement. Gastrointest Endosc 59:54–57

19.

Stroppa I, Lionetti R, Cocco A, Andrei F, Erboso M, Pallone F (2009) Transnasal versus oral PEG placement in unselected patients: a prospective randomized clinical trial. Gastrointest Endosc 69:Ab216–Ab216

20.

Hu C-T (2010) Gauze pledgetting versus endoscopic-guided aerosolized spray for nasal anesthesia before transnasal EGD: a prospective, randomized study. Gastrointest Endosc 71:11–20

21.

Pharmacy VHA, Management B, Healthcare S, Panel MA, Safety P, Topical I, Mhb B, Mhb C, Affairs V (2006) A Guidance on the Use of Topical Anesthetics for Naso/Oropharyngeal and Laryngotracheal Procedures

22.

Knottnerus JA, Muris JW (2003) Assessment of the accuracy of diagnostic tests: the cross-sectional study. J Clin Epidemiol 56:1118–1128

23.

Kataoka H, Hayano J, Mizushima T, Tanaka M, Kubota E, Shimura T, Mizoshita T, Tanida S, Kamiya T, Nojiri S, Mukai S, Mizuno K, Joh T (2011) Cardiovascular tolerance and autonomic nervous responses in unsedated upper gastrointestinal small-caliber endoscopy: a comparison between transnasal and peroral procedures with newly developed mouthpiece. Dig Endosc 23:78–85

24.

Murata A, Akahoshi K, Motomura Y, Matsui N, Kubokawa M, Kimura M, Ouchi J, Honda K, Endo S, Nakamura K, Takayanagi R (2008) Prospective comparative study on the acceptability of unsedated transnasal endoscopy in younger. J Clin Gastroenterol 42:965–968

25.

Zaman a, Hahn M, Hapke R, Knigge K, Fennerty MB, Katon RM (1999) A randomized trial of peroral versus transnasal unsedated endoscopy using an ultrathin videoendoscope. Gastrointest Endosc 49:279–284

26.

Hayashi T, Nomura M, Honda H, Tezuka K, Torisu R, Takeuchi Y, Nakaya Y, Ito S (2000) Evaluation of autonomic nervous function during upper gastrointestinal endoscopy using heart rate variability. J Gastroenterol 35:815–823

27.

Mori A, Ohashi N, Tatebe H, Maruyama T, Inoue H, Takegoshi S, Kato T, Okuno M (2008) Autonomic nervous function in upper gastrointestinal endoscopy: a prospective randomized comparison between transnasal and oral procedures. J Gastroenterol 43:38–44

28.

Ono S, Niimi K, Fujishiro M (2013) Ultrathin endoscope flexibility can predict discomfort associated with unsedated transnasal esophagogastroduodenoscopy. World J Gastrointest Endosc 5:346–351

29.

Massimo Maffei J-MD (2008) Transnasal esogastroduodenoscopy (EGD): comparison with conventional EGD and new applications. SWiSS Med Wkly 138:658–664

30.

Oikonomidou E, Anastasiou F, Pilpilidis I, Kouroumalis E, Lionis C (2011) Upper gastrointestinal endoscopy for dyspepsia: exploratory study of factors influencing patient compliance in Greece. BMC Gastroenterol 11:11

31.

Horiuchi A, Nakayama Y, Hidaka N, Ichise Y, Kajiyama M, Tanaka N (2009) Prospective comparison between sedated high-definition oral and unsedated ultrathin transnasal esophagogastroduodenoscopy in the same subjects: pilot study. Dig Endosc 21:24–28
Acknowledgments
We are grateful to Prof. Leonardo Palombi for the statistical review and to Paola Rosati for her editing advice during the final submission.
Disclosures
Balassone Valerio, Dauri Mario, Cappuccio Roberto, Di Camillo Mauro, Benavoli Domenico, Buonomo Oreste, Petrella Giuseppe, and Stroppa Italo have no conflicts of interest or financial ties to disclose.
Electronic supplementary material
Below is the link to the electronic supplementary material. Video 1 Major findings selected from TN-EGDS of patients included in the study.
Supplementary material 1 (WMV 38429 kb)
About this article
Cite this article
Balassone, V., Dauri, M., Cappuccio, R. et al. A pilot study assessing tolerance safety and feasibility of diagnostic transnasal esophagogastroduodenoscopy using an improved larger caliber endoscope and an adapted topical anesthesia. Surg Endosc 29, 3002–3009 (2015). https://doi.org/10.1007/s00464-014-4025-5
Received:

Accepted:

Published:

Issue Date:
Keywords
Endoscopy

Feasibility

Nose

Patient compliance

Safety