Abstract
Background
Steady pressure automatically controlled endoscopy (SPACE) is a new modality that eliminates on-demand insufflation but enables automatic insufflation in the gastrointestinal tract. Though its use in porcine esophageal ESD was reported to be promising, its applicability and potential effectiveness to gastric procedures have not been evaluated.
Objective
The aims were (1) to evaluate feasibility and safety of SPACE in the stomach, and (2) to assess its potential advantages over conventional endoscopy in preventing "blind insufflation"-related complications.
Design
A multicenter randomized preclinical animal study.
Setting
Laboratories at three universities.
Interventions
Experiment 1: Gastric ESD was attempted in the swine (n = 17), under either SPACE or manual insufflation. Experiment 2: Gastroscopy was performed for 10 min in the perforated stomach (n = 10) under either SPACE or manual insufflation.
Main outcome measurements
Experiment 1: ESD time, energy device activation time, number of forceps exchanges, specimen size, en block resection rate, vital signs and any intraoperative adverse events. Experiment 2: Intra-gastric and intra-abdominal pressures, vital signs, and any adverse events.
Results
Experiment 1: Gastric ESD was completed in all animals. ESD time tended to be shorter in SPACE than in the control, though the difference was not significant (p = 0.18). Experiment 2: Although both intra-gastric and intra-abdominal pressures remained within preset values in SPACE, they showed excessive elevation in control.
Limitations
An animal study with small sample size.
Conclusions
SPACE is feasible and safe for complicated and lengthy procedures such as gastric ESD, and is potentially effective in preventing serious consequences related to excessive blind insufflation.
This is a preview of subscription content, log in to check access.
Access options
Buy single article
Instant unlimited access to the full article PDF.
US$ 39.95
Price includes VAT for USA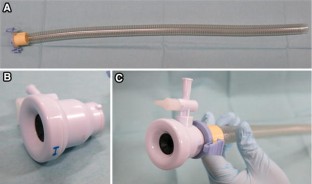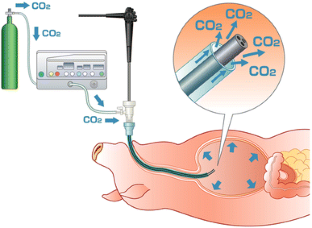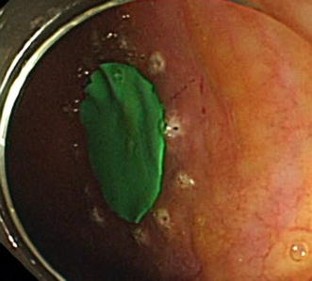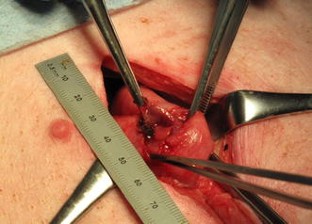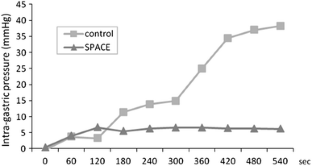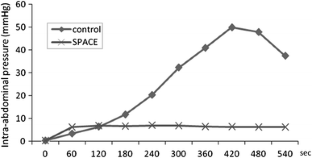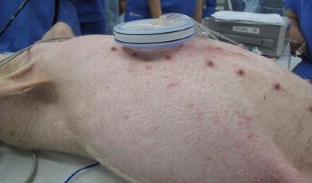 Abbreviations
CO2 :

Carbon dioxide

ESD:

Endoscopic submucosal dissection

SPACE:

Steady pressure automatically controlled endoscopy

ACS:

Abdominal compartment syndrome

EtCO2 :

End-tidal carbon dioxide

SpO2 :

Percutaneous oxygen saturation
References
1.

Nakajima K, Nishida T, Milsom JW, Takahashi T, Souma Y, Miyazaki Y, Iijima H, Mori M, Doki Y (2010) Current limitations in endoscopic CO2 insufflation for NOTES: flow and pressure study. Gastrointest Endosc 72:1036–1042

2.

McGee MF, Rosen MJ, Marks J, Chak A, Onders R, Faulx A, Ignagni A, Schomisch S, Ponsky J (2007) A reliable method for monitoring intraabdominal pressure during natural orifice translumenal endoscopic surgery. Surg Endosc 21:672–676

3.

von Delius S, Huber W, Feussner H, Wilhelm D, Karagianni A, Henke J, Preissel A, Schneider A, Schmid RM, Meining A (2007) Effect of pneumoperitoneum on hemodynamics and inspiratory pressures during natural orifice transluminal endoscopic surgery (NOTES): an experimental, controlled study in an acute porcine model. Endoscopy 39:854–861

4.

Meireles O, Kantsevoy SV, Kalloo AN, Jagannath SB, Giday SA, Magno P, Shih SP, Hanly EJ, Ko CW, Beitler DM, Marohn MR (2007) Comparison of intraabdominal pressures using the gastroscope and laparoscope for transgastric surgery. Surg Endosc 21:998–1001

5.

Navarro-Ripoll R, Martinez-Palli G, Guarner-Argente C, Cordova H, Martinez-Zamora MA, Comas J, de Miguel CR, Beltran M, Rodriguez-D'Jesus A, Hernandez-Cera C, Llach J, Balust J, Fernandez-Esparrach G (2012) On-demand endoscopic CO2 insufflation with feedback pressure regulation during natural orifice transluminal endoscopic surgery (NOTES) peritoneoscopy induces minimal hemodynamic and respiratory changes. Gastrointest Endosc 76:388–395

6.

Nakajima K, Moon JH, Tsutsui S, Miyazaki Y, Yamasaki M, Yamada T, Kato M, Yasuda K, Sumiyama K, Yahagi N, Saida Y, Kondo H, Nishida T, Mori M, Doki Y (2012) Esophageal submucosal dissection under steady pressure automatically controlled endoscopy (SPACE): a randomized preclinical trial. Endoscopy 44:1139–1148

7.

Chung IK, Lee JH, Lee SH, Kim SJ, Cho JY, Cho WY, Hwangbo Y, Keum BR, Park JJ, Chun HJ, Kim HJ, Kim JJ, Ji SR, Seol SY (2009) Therapeutic outcomes in 1000 cases of endoscopic submucosal dissection for early gastric neoplasms: Korean ESD Study Group multicenter study. Gastrointest Endosc 69:1228–1235

8.

Imagawa A, Okada H, Kawahara Y, Takenaka R, Kato J, Kawamoto H, Fujiki S, Takata R, Yoshino T, Shiratori Y (2006) Endoscopic submucosal dissection for early gastric cancer: results and degrees of technical difficulty as well as success. Endoscopy 38:987–990
Funding
The co-author Kiyokazu Nakajima has received research funding from Top, Co., Ltd. (Tokyo, Japan) and Fujifilm Corp. (Tokyo, Japan).
Disclosures
Authors Takuya Yamada, Masashi Hirota, Shusaku Tsutsui, Motohiko Kato, Tsuyoshi Takahashi, Kazuhiro Yasuda, Kazuki Sumiyama, Masahiko Tsujii, Tetsuo Takehara, Masaki Mori, Yuichiro Doki and Kiyokazu Nakajima have no conflicts of interest or financial ties to disclose.
Additional information
Takuya Yamada and Masashi Hirota have contributed equally to this study.
Electronic supplementary material
Below is the link to the electronic supplementary material.
Supplementary material 1 (WMV 22,400 kb)
About this article
Cite this article
Yamada, T., Hirota, M., Tsutsui, S. et al. Gastric endoscopic submucosal dissection under steady pressure automatically controlled endoscopy (SPACE); a multicenter randomized preclinical trial. Surg Endosc 29, 2748–2755 (2015). https://doi.org/10.1007/s00464-014-4001-0
Received:

Accepted:

Published:

Issue Date:
Keywords
SPACE

ESD

Early gastric cancer

GI

Endoscopy

Technical