Abstract
Background
Surgical procedures involving the thyroid gland require identification of the parathyroid glands. Indocyanine green (ICG) is a near-infrared (NIR) fluorescent contrast agent used for a variety of procedures such as intraoperative angiography, extrahepatic cholangiography, and lymph node mapping. In this study, we used a canine model to evaluate ICG for NIR fluorescent imaging of the parathyroid gland.
Methods
Three dogs were used for the study. The dogs were administered general anesthesia, and after surgical dissection, each dog received a series of intravenous ICG doses ranging from 12.5 to 100 µg/kg ICG. The excitation light source used to illuminate the operating field was a NIR laser (λ = 785 nm). Intravascular ICG fluorescence (λ = 835/45 nm) was recorded using a charge-coupled device that employed optical filtering to block ambient and laser light. Fluorescent imaging was assessed after injection of each dose of ICG.
Results
NIR fluorescent imaging visualized the parathyroid glands. The intensity curves showing the peak and plateau of fluorescence are similar regardless of the concentration of ICG. The time to peak fluorescent intensity was 50.2 ± 2.0 s after injection of ICG. Taking into consideration background fluorescent intensity, the estimated optimal dose of ICG was 18.75 µg/kg. At 106.7 ± 5.8 s, the parathyroid glands lost much of their fluorescence, although they remained sufficiently fluorescent to be distinguishable. There was a positive correlation of fluorescent intensity with ICG dose escalation up to 25 µg/kg.
Conclusions
ICG NIR fluorescent imaging was useful in detecting the parathyroid glands of dogs. By allowing detection of parathyroid glands, the current technique shows promise for use by endocrine surgeons performing thyroidectomies.
This is a preview of subscription content, log in to check access.
Access options
Buy single article
Instant unlimited access to the full article PDF.
US$ 39.95
Price includes VAT for USA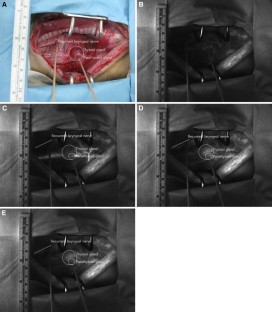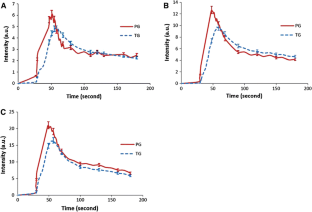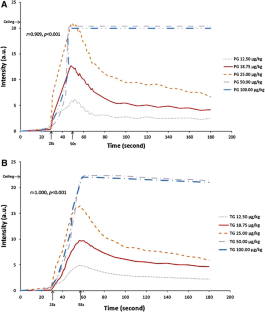 References
1.

Myriam L, Ralph PT, Christine GG (2013) National trends in thyroid surgery and the effect of volume on short-term outcomes. Laryngoscope 123(8):2056–2063

2.

George HS, Vania S, Constantinos B, Nikolaos K, Theophilos K, George K (2005) Incidental parathyroidectomy during thyroid surgery: an underappreciated complication of thyroidectomy. World J Surg 29(12):1539–1543

3.

Marshall MV, Rasmussen JC, Tan IC, Aldrich MB, Adams KE, Wang X, Fife CE, Maus EA, Smith LA, Sevick-Muraca EM (2010) Near-infrared fluorescence imaging in humans with indocyanine green: a review and update. Open Surg Oncol J 2(2):12–25

4.

Miwa M (2010) The principle of ICG fluorescence method. Open Surg Oncol J 2:26–28

5.

Alander JT, Kaartinen I, Laakso A, Pätilä T, Spillmann T, Tuchin VV, Venermo M, Välisuo P (2012) A review of indocyanine green fluorescent imaging in surgery. Int J Biomed Imaging 2012:940585

6.

Noh YW, Kong SH, Choi DY, Park HS, Yang HK, Lee HJ, Kim HC, Kang KW, Sung MH, Lim YT (2012) Near-infrared emitting polymer nanogels for efficient sentinel lymph node mapping. ACS Nano 6(9):7820–7831

7.

Evans HE, DeLahunta A (2013) Miller's anatomy of the dog, 4th edn. W. B. Saunders, St. Louis

8.

Keaveny TV, FitzGerald P (1968) Selective parathyroid staining. Lancet 2(7562):284

9.

Han N, Bumpous JM, Goldstein RE, Fleming MM, Flynn MB (2007) Intra-operative parathyroid identification using methylene blue in parathyroid surgery. Am Surg 73(8):820–823

10.

Patel HP, Chadwick DR, Harrison BJ, Balasubramanian SP (2012) Systematic review of intravenous methylene blue in parathyroid surgery. Br J Surg 99(10):1345–1351

11.

Pollack G, Pollack A, Delfiner J, Fernandez J (2009) Parathyroid surgery and methylene blue: a review with guidelines for safe intraoperative use. Laryngoscope 119(10):1941–1946

12.

Grubbs EG, Mittendorf EA, Perrier ND, Lee JE (2008) Gamma probe identification of normal parathyroid glands during central neck surgery can facilitate parathyroid preservation. Am J Surg 196(6):931–935 discussion 935-6

13.

Suzuki T, Numata T, Shibuya M (2011) Intraoperative photodynamic detection of normal parathyroid glands using 5-aminolevulinic acid. Laryngoscope 121(7):1462–1466

14.

Asher SA, Peters GE, Pehler SF, Zinn K, Newman JR, Rosenthal EL (2008) Fluorescent detection of rat parathyroid glands via 5-aminolevulinic acid. Laryngoscope 118(6):1014–1018

15.

Paras C, Keller M, White L, Phay J, Mahadevan-Jansen A (2011) Near-infrared autofluorescence for the detection of parathyroid glands. J Biomed Opt 16(6):067012

16.

Desmettre T, Devoisselle JM, Mordon S (2000) Fluorescence properties and metabolic features of indocyanine green (ICG) as related to angiography. Surv Ophthalmol 45(1):15–27

17.

van den Biesen PR, Jongsma FH, Tangelder GJ, Slaaf DW (1995) Yield of fluorescence from indocyanine green in plasma and flowing blood. Ann Biomed Eng 23(4):475–481

18.

Maarek JMI, Holschneider DP (2009) Estimation of indocyanine green concentration in blood from fluorescence emission: application to hemodynamic assessment during hemodialysis. J Biomed Opt 14(5):054006

19.

Kang SW, Park JH, Jeong JS, Lee CR, Park S, Lee SH, Jeong JJ, Nam KH, Chung WY, Park CS (2011) Prospects of robotic thyroidectomy using a gasless, transaxillary approach for the management of thyroid carcinoma. Surg Laparosc Endosc Percutan Tech 21(4):223–229

20.

Giordano D, Valcavi R, Thompson GB, Pedroni C, Renna L, Gradoni P, Barbieri V (2012) Complications of central neck dissection in patients with papillary thyroid carcinoma: results of a study on 1087 patients and review of the literature. Thyroid 22(9):911–917

21.

Lee KE, Kim E, Koo do H, Choi JY, Kim KH, Youn YK (2013) Robotic thyroidectomy by bilateral axillo-breast approach: review of 1,026 cases and surgical completeness. Surg Endosc 27(8):2955–2962

22.

Yi O, Yoon JH, Lee YM, Sung TY, Chung KW, Kim TY, Kim WB, Shong YK, Ryu JS, Hong SJ (2013) Technical and oncologic safety of robotic thyroid surgery. Ann Surg Oncol 20(6):1927–1933

23.

Jackson NR, Yao L, Tufano RP, Kandil EH (2013) Safety of robotic thyroidectomy approaches: meta-analysis and systematic review. Head Neck. doi:10.1002/hed.23223

24.

Lee J, Kwon IS, Bae EH, Chung WY (2013) Comparative analysis of oncological outcomes and quality of life after robotic versus conventional open thyroidectomy with modified radical neck dissection in patients with papillary thyroid carcinoma and lateral neck node metastases. J Clin Endocrinol Metab 98(7):2701–2708

25.

Wagner OJ, Louie BE, Vallieres E, Aye RW, Farivar AS (2012) Near-infrared fluorescence imaging can help identify the contralateral phrenic nerve during robotic thymectomy. Ann Thorac Surg 94(2):622–625

26.

Angell JE, Khemees TA, Abaza R (2013) Optimization of near infrared fluorescence tumor localization during robotic partial nephrectomy. J Urol 190(5):1668–1673

27.

Schols RM, Bouvy ND, van Dam RM, Stassen LP (2013) Advanced intraoperative imaging methods for laparoscopic anatomy navigation: an overview. Surg Endosc 27(6):1851–1859
Disclosures
Yong Joon Suh, June Young Choi, Young Jun Chai, Hyungju Kwon, Jung-Woo Woo, Su-jin Kim, Kyu Hyung Kim, Kyu Eun Lee, Yong Taik Lim, and Yeo-Kyu Youn have no conflicts of interest or financial ties to disclose.
Electronic supplementary material
Below is the link to the electronic supplementary material.
Video clip- 18.75 µg/kg (0.375 mg) ICG injection via left cephalic vein (WMV 38122 kb)
About this article
Cite this article
Suh, Y.J., Choi, J.Y., Chai, Y.J. et al. Indocyanine green as a near-infrared fluorescent agent for identifying parathyroid glands during thyroid surgery in dogs. Surg Endosc 29, 2811–2817 (2015). https://doi.org/10.1007/s00464-014-3971-2
Received:

Accepted:

Published:

Issue Date:
Keywords
Parathyroid gland

Near-infrared light

Fluorescence

Indocyanine green