Abstract
Background/Aim
To assess surgical outcomes of patients undergoing D3 lymph node dissection and complete mesocolic excision for the treatment of right-sided colon cancer in the context that both procedures were performed laparoscopically.
Methods
244 consecutive patients with clinically staged III right-sided colon cancer were recruited to undergo the laparoscopic D3 lymph node dissection with complete mesocolic excision. Postoperatively, the patients were stratified as N0, N1, N2, and N3 groups according to the level of lymph node metastasis, prospectively followed up for more than 5 years, and compared.
Results
The 5-year cumulative recurrence rate and the estimated time-to-recurrence [mean (95 % confidence interval)] was 16.6 % (n = 7/42), 113.8 (101.4–126.2) months in N0 group; 21.3 % (n = 17/80), 108.9 (99.1–118.7) months in N1 group; 43.2 % (n = 32/74), 85.4 (73.0–97.8) months in N2 group; and 52.0 % (n = 25/48), 65.2 (49.0–81.4) months in N3 group. When N1 and N0 groups of patients were lumped together, and compared with patients with N2 or N3 metastasis, we found that the latter were with a significantly higher recurrence rate (p < 0.0001). D3 lymph node dissection with complete mesocolic excision could assure the harvest of sufficient number (n = 34.4 ± 8.4) of lymph nodes for precise pathologic cancer staging. Skip lymph node metastasis was detected in 19.8 % (n = 40/202) of patients, and such surgical procedures facilitated up-staging in 4.5 % (n = 11/244) of patients.
Conclusion
The present study encourages the dissemination of such concepts to surgical oncologists dealing with colorectal cancer through didactic education, and international consensus meeting is therefore mandatory to optimize the surgery of colon cancer.
This is a preview of subscription content, log in to check access.
Access options
Buy single article
Instant unlimited access to the full article PDF.
US$ 39.95
Price includes VAT for USA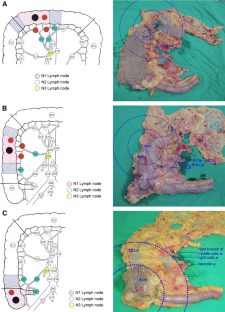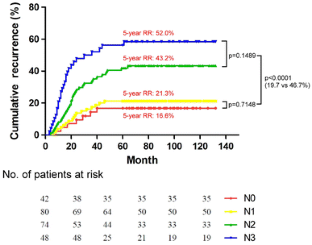 References
1.

Watanabe T, Itabashi M, Shimada Y et al (2012) Japanese society for cancer of the colon and rectum (JSCCR) guidelines 2010 for the treatment of colorectal cancer. Int J Clin Oncol 17:1–29

2.

Japanese Society for Cancer of the Colon and Rectum. Japanese classification of colorectal carcinoma. Tokyo: Kanehara & Co. Ltd.; 2009 (in English) and 1994 (in Japanese)

3.

Hashiguchi Y, Hase K, Ueno H, Mochizuki H, Shinto E, Yamamoto J (2011) Optimal margins and lymphadenectomy in colonic cancer surgery. Br J Surg 98:1171–1178

4.

Hohenberger W, Weber K, Matzel K et al (2009) Standardized surgery for colonic cancer: complete mesocolic excision and central ligation–technical notes and outcome. Colorectal Dis 11:354–364 discussion 364-5

5.

Hogan AM, Winter DC (2009) Mesocolic plane surgery: just plain surgery? Colorectal Dis 11:430–431

6.

West NP, Hohenberger W, Finan PJ et al (2009) Mesocolic plane surgery: an old but forgotten technique? Colorectal Dis 11:988–989

7.

West NP, Hohenberger W, Weber K et al (2010) Complete mesocolic excision with central vascular ligation produces an oncologically superior specimen compared with standard surgery for carcinoma of the colon. J Clin Oncol 28:272–278

8.

West NP, Kobayashi H, Takahashi K et al (2012) Understanding optimal colonic cancer surgery: comparison of Japanese D3 resection and European complete mesocolic excision with central vascular ligation. J Clin Oncol 30:1763–1769

9.

Kobayashi H, West NP, Takahashi K et al (2014) Quality of surgery for stage III colon cancer: comparison between England, Germany, and Japan. Ann Surg Oncol 21(3):398–404

10.

Liang JT, Lai HS, Lee PH (2007) Laparoscopic medial-to-lateral approach for the curative resection of right-sided colon cancer. Ann Surg Oncol 14(6):1878–1879

11.

West NP, Morris EJ, Rotimi O, Cairns A, Finan PJ, Quirke P (2008) Pathology grading of colon cancer surgical resection and its association with survival: a retrospective observational study. Lancet Oncol 9:857–865

12.

Andre T, Boni C, Navarro M et al (2009) Improved overall survival with oxaliplatin, fluorouracil, and leucovorin as adjuvant treatment in stage II or III colon cancer in the MOSAIC trial. J Clin Oncol 27:3109–3116

13.

Geroge C (1972) Thoughts while watching a resident operate. N Eng J Med 287:826

14.

Culligan K, Remzi FH, Soop M, Coffey JC (2013) Review of nomenclature in colonic surgery—Proposal of a standardised nomenclature based on mesocolic anatomy. Surgeon 11:1–5

15.

NCCN guidelines for colon cancer: 2012 version

16.

Johnson PM, Porter GA, Ricciardi R et al (2006) Increasing negative lymph node count is independently associated with improved long-term survival in stage IIIB and IIIC colon cancer. J Clin Oncol 24:3570–3575

17.

Moug SJ, Saldanha JD, McGregor JR et al (2009) Positive lymph node retrieval ratio optimises patient staging in colorectal cancer. Br J Cancer 100:1530–1533

18.

Rosenberg R, Friederichs J, Schuster T et al (2008) Prognosis of patients with colorectal cancer is associated with lymph node ratio: a single-center analysis of 3,026 patients over a 25-year time period. Ann Surg 248:968–978

19.

Norwood MG, Sutton AJ, West K et al (2010) Lymph node retrieval in colorectal cancer resection specimens: national standards are achievable, and low numbers are associated with reduced survival. Colorectal Dis 12:304–309

20.

Namm J, Ng M, Roy-Chowdhury S et al (2008) Quantitating the impact of stage migration on staging accuracy in colorectal cancer. J Am Coll Surg 207:882–887

21.

Spasojevic M, Stimec BV, Pernille A et al (2013) Lymph node distribution in the D3 area of the right mesocolon: implications for an anatomically correct cancer resection. A postmortem study. Dis Colon Rectum 56:1381–1387

22.

Willaert W, Mareel M, De Putte DV et al (2014) Lymphatic spread, nodal count and the extent of lymphadenectomy in cancer of the colon. Cancer Treat Rev 40(3):405–413

23.

Tsioulias GJ, Wood TF, Morton DL, Bilchik AJ (2000) Lymphatic mapping and focused analysis of sentinel lymph nodes upstage gastrointestinal neoplasms. Arch Surg 135:926–932

24.

Bilchik AJ, Saha S, Tsioulias GJ, Wood TF, Morton DL (2001) Aberrant drainage and missed micrometastases: the value of lymphatic mapping and focused analysis of sentinel lymph nodes in gastrointestinal neoplasms. Ann Surg Oncol 8(Suppl):82S–85S

25.

Merrie AE, Phillips LV, Yun K, McCall JL (2001) Skip metastases in colon cancer: assessment by lymph node mapping using molecular detection. Surgery 129:684–691

26.

Saha S, Bilchik A, Wiese D et al (2001) Ultrastaging of colorectal cancer by sentinel lymph node mapping technique–a multicenter trial. Ann Surg Oncol 8(Suppl):94S–98S

27.

Bertagnolli M, Miedema B, Redston M et al (2004) Sentinel node staging of resectable colon cancer: results of a multicenter study. Ann Surg 240:624–628 discussion 628-30

28.

Liang JT, Huang KC, Lai HS, Lee PH, Jeng YM (2007) Oncologic results of laparoscopic versus conventional open surgery for stage II or III left-sided colon cancers: a randomized controlled trial. Ann Surg Oncol 14:109–117
Disclosures
The authors, Dr. Jin-Tung Liang, Dr. Hong-Shiee Lai, Dr. John Huang, and Dr. Chia-Tung Sun, have no conflicts of interest or financial ties to disclose.
Electronic supplementary material
Below is the link to the electronic supplementary material.
Supplementary material 4 (MPG 10000 kb)
Supplementary material 5 (MPG 9996 kb)
Supplementary material 6 (MPG 9968 kb)
Supplementary material 7 (MPG 9991 kb)
About this article
Cite this article
Liang, J., Lai, H., Huang, J. et al. Long-term oncologic results of laparoscopic D3 lymphadenectomy with complete mesocolic excision for right-sided colon cancer with clinically positive lymph nodes. Surg Endosc 29, 2394–2401 (2015) doi:10.1007/s00464-014-3940-9
Received:

Accepted:

Published:

Issue Date:
Keywords
Laparoscopic surgery

N3 lymph-node

D3 lymphadenectomy

Colon cancer

Complete mesocolic excision