Abstract
Background
Choledochal cysts are rare congenital disease of the biliary system. The recommended treatment of these lesions is surgical excision with biliary enteric reconstruction. In patients with normal anatomy, Roux-en-Y hepaticojejunostomy is preferred. However, different options in biliary reconstruction must be entertained in those with abnormal anatomy.
Methods
Our patient is a 39-year-old female, who during workup for bariatric surgery two years prior to presentation, was found to have a 6 cm dilation of her common bile duct. She underwent a laparoscopic Roux-en-Y gastric bypass (LRYGB) in 2011 at an outside facility, with no planned intervention on her biliary tree. Ultimately, she developed right upper quadrant pain two years following her RYGB. Upon further workup including right upper quadrant ultrasound, an extrahepatic choledochal cyst was confirmed and she was referred to our institution for definitive care.
Results
The patient was taken to the operating room for resection of the choledochal cyst with hepatoenteric reconstruction. The dissection and resection of the cyst commenced laparoscopically. After performing a generous Kocher maneuver, we demonstrated that there was adequate mobilization of the duodenum to perform a tension free hepaticoduodenostomy, which was performed robotically. Her postoperative course was uneventful, and she was discharged home on postoperative day 3. At one month follow up, the patient was doing well with symptom resolution. Her final pathology revealed a choledochal cyst which was negative for dysplasia or carcinoma. Long-term follow up has been recommended with yearly alkaline phosphatase levels.
Conclusions
Here we present a video of the technical considerations during a robot-assisted laparoscopic biliary reconstruction in a patient with a prior Roux-en-Y gastric bypass with a type IVA choledochal cyst.
This is a preview of subscription content, log in to check access.
Access options
Buy single article
Instant unlimited access to the full article PDF.
US$ 39.95
Price includes VAT for USA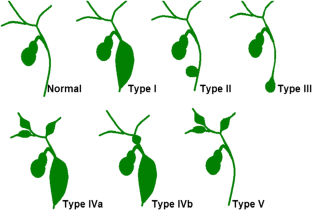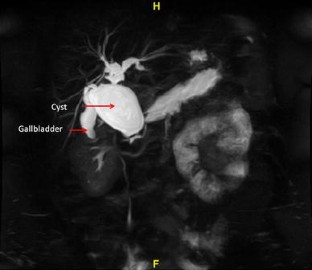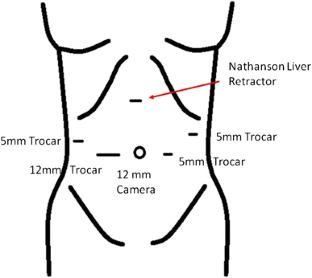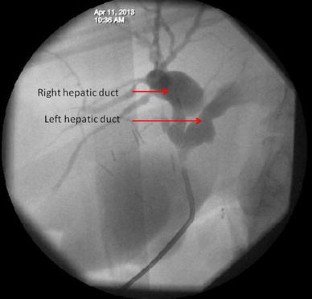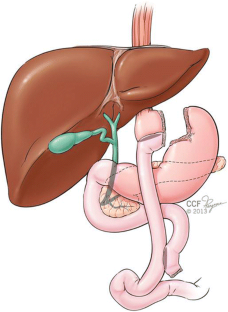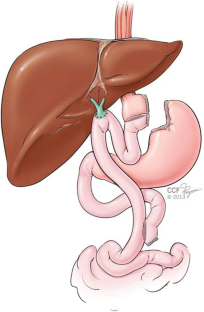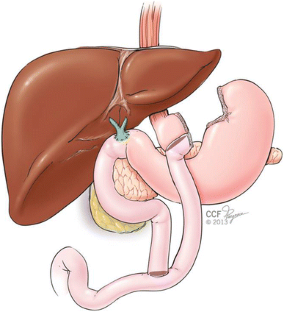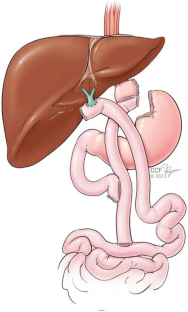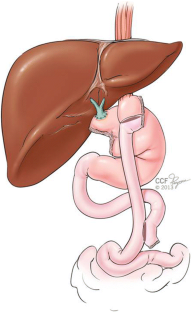 References
1.

Dumitrascu T, Lupescu I, Ionescu M (2012) The Todani classification for bile duct cysts: an overview. Acta Chir Belg 112:340–345

2.

Ohashi T, Wakai T, Kubota M, Matsuda Y, Arai Y, Ohyama T, Nakaya K, Okuyama N, Sakata J, Shirai Y, Ajioka Y (2013) Risk of subsequent biliary malignancy in patients undergoing cyst excision for congenital choledochal cysts. Gastroenterol Hepatol 28(2):243–247

3.

Gloy VL, Briel M, Bhatt DL, Kashyap SR, Schauer PR, Mingrone G, Bucher HC, Nordmann AJ (2013) Bariatric surgery versus non-surgical treatment for obesity: a systematic review and meta-analysis of randomised controlled trials. BMJ, DOI: 10.1136/bmj.f5934, October 22, 2003

4.

Flegal K, Carroll MD, Kit BK, Ogden CL (2012) Prevalence of obesity and trends in the distribution of body mass index among US adults, 1999–2010. JAMA 307(5):491–497

5.

Medical Advisory Secretariat (2005) Bariatric surgery: an evidence-based analysis. Ont Health Technol Assess Ser 5(1):1–148

6.

Nguyen NT, Masoomi H, Magno CP, Nguyen XM, Laugenour K, Lane J (2011) Trends in the use of bariatric surgery, 2003–2008. J Am Coll Surg 213:261–266

7.

Singham J, Yoshida EM, Sendamore CH (2010) Choledochal cysts. Part 3 of 3: management. Can J Surg 53(1):51–56

8.

Rose JB, Bilderback P, Raphaeli T, Traverso W, Helton S, Ryan JA, Biehl T (2013) Use the duodenum, it's right there a retrospective cohort study comparing biliary reconstruction using either the jejunum or the duodenum. JAMA Surg 148(9):860–865

9.

Narayanan SK, Chen Y, Narasimhan KL, Cohen RC (2013) Hepaticoduodenostomy versus hepaticojejunostomy after resection of choledochal cyst: a systematic review and meta-analysis. J Pediatr Surg 48:2336–2342

10.

Santore MT, Behar BJ, Blinman TA, Doolin EJ, Hendrick HL, Mattei P, Nance ML, Adzick NS, Flake AW (2011) Hepaticoduodenostomy vs hepaticojejunostomy for reconstruction after resection of choledochal cyst. J Pediatr Surg 46(1):209–213

11.

Farello GA, Cerofolini A, Rebonato M, Bergamaschi G, Ferrari C, Chiappetta A (1995) Congenital choledochal cyst: video-guided laparoscopic treatment. Surg Laparosc Endosc 5(5):354–358

12.

Diao M, Li L, Cheng W (2011) Laparoscopic versus Open Roux-en-Y hepaticojejunostomy for children with choledochal cysts: intermediate-term follow up results. Surg Endosc 25(5):1567–1573

13.

Hwang DW, Lee JH, Lee SY, Song DK, Hwang JW, Park KM, Lee YJ (2012) Early experience of laparoscopic complete en bloc excision for choledochal cysts in adults. Surg Endosc 26(11):3324–3329

14.

Fris RJ (2004) Preoperative low energy diet diminishes liver size. Obes Surg 9:1165–1170

15.

Akaraviputh T, Trakamsanga A, Suksamanapun N (2010) Robot-assisted complete excision of choledochal cyst type I, hepaticojejunostomy and extracorporeal Roux-en-y anastomosis: a case report and review literature. World J Surg Oncol 8:87

16.

Zureikat AH, Nguyen KT, Bartlett DL, Zeh HJ, Moser AJ (2011) Robotic-assisted major pancreatic resection and reconstruction. Arch Surg 146(3):256–261

17.

Tang ST, Yang Y, Wang Y, Mao YZ, Li SW, Tong QS, Cao GQ, Zhao ZX (2011) Laparoscopic choledochal cyst excision, hepaticojejunostomy, and extracorporeal Roux-en-Y anastomosis: a technical skill and intermediate-term report in 62 cases. Surg Endosc 25(2):416–422
Disclosures
Drs Julietta Chang, R. Matthew Walsh, and Kevin El-Hayek have no conflicts of interest or financial ties to disclose.
Electronic supplementary material
Below is the link to the electronic supplementary material.
Supplementary material 1 (MP4 39852 kb)
About this article
Cite this article
Chang, J., Walsh, R.M. & El-Hayek, K. Hybrid laparoscopic-robotic management of type IVa choledochal cyst in the setting of prior Roux-en-Y gastric bypass: video case report and review of the literature. Surg Endosc 29, 1648–1654 (2015). https://doi.org/10.1007/s00464-014-3937-4
Received:

Accepted:

Published:

Issue Date:
Keywords
Choledochal cyst

Robotic/laparoscopic resection