Abstract
Background
Radiation therapy for head, neck, and esophageal cancer can result in esophageal strictures that may be difficult to manage. Radiation-induced esophageal strictures often require repeat dilation to obtain relief of dysphagia. This study aimed to determine the long-term clinical success and rates of recurrent and refractory stenosis in patients with radiation-induced strictures undergoing dilation.
Methods
Retrospective cohort study of patients with radiation-induced strictures who underwent endoscopic dilation by a single provider from October 2007–October 2012. Outcomes measured included long-term clinical efficacy, interval between sessions, number of dilations, and proportion of radiation strictures that were recurrent or refractory. Risk factors for refractory strictures were assessed.
Results
63 patients underwent 303 dilations. All presented with a stricture >30 days after last radiation session. Clinical success to target diameter was achieved in 52 patients (83 %). A mean of 3.3 (±2.6) dilations over a median period of 4 weeks was needed to achieve initial patency. Recurrence occurred in 17 (33 %) at a median of 22 weeks. Twenty-seven strictures (43 %) were refractory to dilation therapy. Fluoroscopy during dilation (OR 22.88; 95 % CI 3.19–164.07), severe esophageal stenosis (lumen <9 mm) (OR 10.51; 95 % CI 1.94–56.88), and proximal location with prior malignancy extrinsic to the lumen (OR 6.96; 95 % CI 1.33–36.29) were independent predictors of refractory strictures in multivariate analysis.
Conclusions
(1) Radiation-induced strictures have a delayed onset (>30 days) from time of radiation injury. (2) Endoscopic dilation can achieve medium-term luminal remediation but the strictures have a high long-term recurrence rate of up to 33 %. (3) Remediation of radiation strictures following laryngectomy can be achieved but require frequent dilations. (4) Clinical and procedural predictors may identify patients at high risk of refractory strictures. (5) The optimal strategy in highly selected refractory patients is not clear.
This is a preview of subscription content, log in to check access.
Access options
Buy single article
Instant unlimited access to the full article PDF.
US$ 39.95
Price includes VAT for USA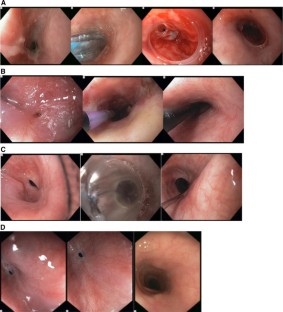 References
1.

Luarell G, Kraepelien T, Mavroidis P et al (2003) Stricture of the proximal esophagus in head and neck carcinoma patients after radiotherapy. Cancer 97:1693–1700

2.

De Boer MF, Pruyn JFA, van den Borne HW et al (1995) Rehabilitation outcomes of long-term survivors treated for head and neck cancer. Head Neck 17:503–515

3.

Roswit B (1974) Complications of radiation therapy: the alimentary tract. Semin Roentgenol 9:51–63

4.

Lepke RA, Libshitz HI (1983) Radiation-induced injury of the esophagus. Radiology 148:375–378

5.

Wang JJ, Goldsmith TA, Holman AS et al (2012) Pharyngoesophageal stricture after treatment for head and neck cancer. Head Neck 34:967–973

6.

de Wijkerslooth LRH, Vleggar FP, Siersema PD (2011) Am J Gastroenterol 106:2080–2091

7.

Silvain C, Barrioz T, Besson I et al (1993) Treatment and long- term outcome of chronic radiation esophagitis after radiation therapy for head and neck tumors. A report of 13 cases. Dig Dis Sci 38:927–931

8.

Lew RJ, Shah JN, Chalian A et al (2004) Technique of endoscopic retrograde puncture and dilatation of total esophageal stenosis in patients with radiation-induced strictures. Head Neck 26:179–183

9.

Lew RJ, Kochman ML (2002) A review of endoscopic methods of esophageal dilatation. J Clin Gastroenterol 35:117–126

10.

Kochman ML, McClave SA, Boyce HW (2005) The refractory and the recurrent esophageal stricture: a definition. Gastrointest Endosc 62:474–475

11.

Shah PM, Kochman ML (2010) Alternative techniques for treating benign esophageal strictures. Tech Gastrointest Endosc 12:225–230

12.

Murphy BA, Gilbert J (2009) Dysphagia in head and neck cancer patients treated with radiation: assessment, sequelae, and rehabilitation. Semin Radiat Oncol 29:35–42

13.

Tuna Y, Koçak E, Dinçer D, Köklü S (2012) Factors affecting the success of endoscopic bougie dilatation of radiation-induced esophageal stricture. Dig Dis Sci 57:424–428

14.

Lew RJ, Ginsberg GG, Long WB et al (2001) Esophageal dilation is safe despite increasing complexity of strictures (abstract). Gastrointest Endosc 53:77

15.

Saeed ZA, Winchester CB, Ferro PS et al (1995) Prospective randomized comparison of polyvinyl bougies and through-the-scope balloons for dilation of peptic strictures of the esophagus. Gastrointest Endosc 41:189–195

16.

Cox JG, Winter RK, Maslin SC et al (1988) Balloon or bougie for dilatation of benign oesophageal stricture? An interim report of a randomised controlled trial. Gut 29:1741–1747

17.

Scolapio JS, Pasha TM, Gostout CJ et al (1999) A randomized prospective study comparing rigid to balloon dilators for benign esophageal strictures and rings. Gastrointest Endosc 50:13–17

18.

Yamamoto H, Hughes RW Jr, Schroeder KW et al (1992) Treatment of benign esophageal stricture by Eder-Puestow or balloon dilators: a comparison between randomized and prospective nonrandomized trials. Mayo Clin Proc 67:228–236

19.

Zein NN, Greseth JM, Perrault J (1995) Endoscopic intralesional steroid injections in the management of refractory esophageal strictures. Gastrointest Endosc 41:596–598

20.

Berenson GA, Wyllie R, Caulfield M et al (1994) Intralesional steroids in the treatment of refractory esophageal strictures. J Pediatr Gastroenterol Nutr 18:250–252

21.

Kochhar R, Ray JD, Sriram PV et al (1999) Intralesional steroids augment the effects of endoscopic dilation in corrosive esophageal strictures. Gastrointest Endosc 49:509–513

22.

Lee M, Kubik CM, Polhamus CD et al (1995) Preliminary experience with endoscopic intralesional steroid injection therapy for refractory upper gastrointestinal strictures. Gastrointest Endosc 41:598–601

23.

Holder TM, Ashcraft KW, Leape L (1969) The treatment of patients with esophageal strictures by local steroid injections. J Pediatr Surg 4:646–653

24.

Mendelsohn HJ, Maloney WH (1970) The treatment of benign strictures of the esophagus with cortisone injection. Ann Otol Rhinol Laryngol 79:900–904

25.

Hirdes MM, van Hooft JE, Koornstra JJ et al (2013) Endoscopic corticosteroid injections do not reduce dysphagia after endoscopic dilation therapy in patients with benign esophagogastric anastomotic strictures. Clin Gastroenterol Hepatol 11:795–801

26.

Ramage JI Jr, Rumalla A, Baron TH et al (2005) A prospective, randomized, double-blind, placebo-controlled trial of endoscopic steroid injection therapy for recalcitrant esophageal peptic strictures. Am J Gastroenterol 100:2419–2425

27.

Sharma P, Kozarek R (2010) Practice Parameters Committee of American College of Gastroenterology. Role of esophageal stents in benign and malignant diseases. Am J Gastroenterol 105:258–273

28.

de Wijkerslooth LR, Vleggaar FP, Siersema PD (2011) Endoscopic management of difficult or recurrent esophageal strictures. Am J Gastroenterol 106:2080–2091

29.

Kochman ML (2007) Minimization of risks of esophageal dilation. Gastrointest Endosc Clin N Am 17:47–58

30.

Maple JT, Petersen BT, Baron TH et al (2006) Endoscopic management of radiation-induced complete upper esophageal obstruction with an antegrade-retrograde rendezvous technique. Gastrointest Endosc 64:822–828

31.

Steele NP, Tokayer A, Smith RV (2007) Retrograde endoscopic balloon dilation of chemotherapy- and radiation-induced esophageal stenosis under direct visualization. Am J Otolaryngol 28:98–102

32.

Garcia A, Flores RM, Schattner M et al (2006) Endoscopic retrograde dilation of completely occlusive esophageal strictures. Ann Thorac Surg 82:1240–1243

33.

Dellon ES, Cullen NR, Madanick RD et al (2010) Outcomes of a combined antegrade and retrograde approach for dilatation of radiation-induced esophageal strictures (with video). Gastrointest Endosc 71:1122–1129

34.

Grooteman KV, Vleggaar FP, Siersema PD, Baron TH (2013) Violation of the "rule of three" does not increase the risk of perforation following esophageal dilation. Poster presented at: United European Gastroenterology Week; October 2013; P235; Berlin, Germany

35.

Hu HT, Shin JH, Kim JH et al (2010) Fluoroscopically guided balloon dilation for pharyngoesophageal stricture after radiation therapy in patients with head and neck cancer. AJR Am J Roentgenol 194:1131–1136

36.

Polese L, Angriman I, Bonello E et al (2007) Endoscopic dilation of benign esophageal strictures in a surgical unit: a report on 95 cases. Surg Laparosc Endosc Percutan Tech 17:477–481

37.

Swaroop VS, Desai DC, Mohandas KM et al (1994) Dilation of esophageal strictures induced by radiation therapy for cancer of the esophagus. Gastrointest Endosc 40:311–315

38.

Kochman ML (2008) Removable endoprosthetics in the management of esophageal pathology: all strictures and fistulae are not created equal. Gastrointest Endosc 67:26–27
Acknowledgements
This work was supported by the NIH/NIDDK T32 DK007740 (Clinical Epidemiology Training in Gastroenterology) and the NIH/NIDDK P30DK050306 Center for Molecular Studies in Digestive and Liver Diseases. This work was also supported by the Wilmott Center for Endoscopic Innovation, Research, and Training.
Disclosures
Dr. Kochman is a consultant for Boston Scientific Company, Cook Medical Inc., and Olympus Inc. Drs. Agarwalla, Small, Mendelson, and Scott have no financial interest in any products mentioned in this manuscript.
Additional information
Drs. Agarwalla and Small contributed equally to this article.
About this article
Cite this article
Agarwalla, A., Small, A.J., Mendelson, A.H. et al. Risk of recurrent or refractory strictures and outcome of endoscopic dilation for radiation-induced esophageal strictures. Surg Endosc 29, 1903–1912 (2015) doi:10.1007/s00464-014-3883-1
Received:

Accepted:

Published:

Issue Date:
Keywords
Esophageal stricture

Recurrent

Refractory

Endoscopic dilation

Radiation

Risk factors