Abstract
Background
The goal of this study was to evaluate the short-term outcomes of robotic-assisted lateral lymph node dissection for patients with advanced lower rectal cancer.
Methods
Between 2012 and 2013, 50 consecutive patients underwent robotic-assisted lateral lymph node dissection for rectal cancer in Shizuoka Cancer Center Hospital. Perioperative outcomes including operative time, operative blood loss, length of stay, postoperative complications, and histopathological data were collected prospectively.
Results
Median patient age was 62 years (range 36–74 years). Operative procedures included low anterior resections (n = 27), intersphincteric resections (n = 16), and abdominoperineal resections (n = 7). Bilateral lymph node dissection was performed in 44 patients. The median operative time was 476 min (range 320–683 min), and the median time required for lateral lymph node dissection was 165 min (range 85–257 min). The median blood loss was 27 mL (range 5–690 mL). There were no cases of open surgery or laparoscopic conversion. The median duration of postoperative hospital stay was 8 days (range 6–13 days). Clavien–Dindo classification Grade III–IV complications occurred in only one patient (2.0 %). There were no cases of anastomotic leak. There was no perioperative mortality. The median number of harvested lateral lymph nodes was 19 (range 5–47).
Conclusions
Robotic-assisted lateral lymph node dissection is a safe, feasible, and useful approach for patients with advanced lower rectal cancer.
This is a preview of subscription content, log in to check access.
Access options
Buy single article
Instant unlimited access to the full article PDF.
US$ 39.95
Price includes VAT for USA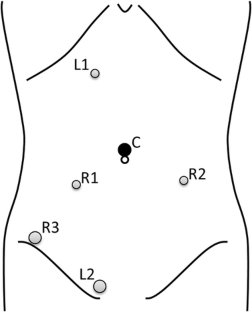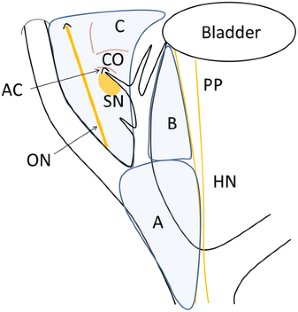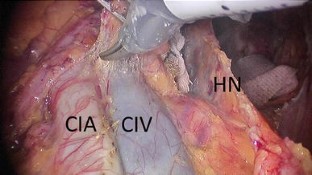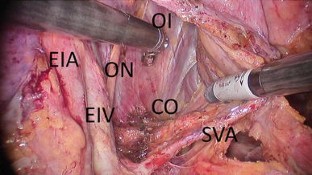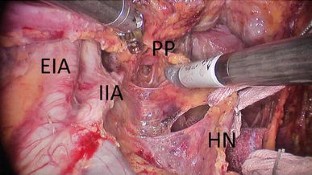 References
1.

Jayne DG, Thorpe HC, Copeland J, Quirke P, Brown JM, Guillou PJ (2010) Five-year follow-up of the Medical Research Council CLASICC trial of laparoscopically assisted versus open surgery for colorectal cancer. Br J Surg 97:1638–1645

2.

Buunen M, Veldkamp R, Hop WC, Kuhry E, Jeekel J, Haglind E, Pahlman L, Cuesta MA, Msika S, Morino M, Lacy A, Bonjer HJ (2009) Survival after laparoscopic surgery versus open surgery for colon cancer: long-term outcome of a randomised clinical trial. Lancet Oncol 10:44–52

3.

Fleshman J, Sargent DJ, Green E, Anvari M, Stryker SJ, Beart RW Jr, Hellinger M, Flanagan R Jr, Peters W, Nelson H (2007) Laparoscopic colectomy for cancer is not inferior to open surgery based on 5-year data from the COST study group trial. Ann Surg 246:655–662

4.

Lacy AM, Delgado S, Castells A, Prins HA, Arroyo V, Ibarzabal A, Pique JM (2008) The long-term results of a randomized clinical trial of laparoscopy-assisted versus open surgery for colon cancer. Ann Surg 248:1–7

5.

Veldkamp R, Kuhry E, Hop WC, Jeekel J, Kazemier G, Bonjer HJ, Haglind E, Pahlman L, Cuesta MA, Msika S, Morino M, Lacy AM (2005) Laparoscopic surgery versus open surgery for colon cancer: short-term outcomes of a randomised trial. Lancet Oncol 6:477–484

6.

Lacy AM, Garcia-Valdecasas JC, Delgado S, Castells A, Taura P, Pique JM, Visa J (2002) Laparoscopy-assisted colectomy versus open colectomy for treatment of non-metastatic colon cancer: a randomised trial. Lancet 359:2224–2229

7.

Guillou PJ, Quirke P, Thorpe H, Walker J, Jayne DG, Smith AM, Heath RM, Brown JM (2005) Short-term endpoints of conventional versus laparoscopic-assisted surgery in patients with colorectal cancer (MRC CLASICC trial): multicentre, randomised controlled trial. Lancet 365:1718–1726

8.

Pigazzi A, Ellenhorn JD, Ballantyne GH, Paz IB (2006) Robotic-assisted laparoscopic low anterior resection with total mesorectal excision for rectal cancer. Surg Endosc 20:1521–1525

9.

Corcione F, Esposito C, Cuccurullo D, Settembre A, Miranda N, Amato F, Pirozzi F, Caiazzo P (2005) Advantages and limits of robot-assisted laparoscopic surgery: preliminary experience. Surg Endosc 19:117–119

10.

Delaney CP, Lynch AC, Senagore AJ, Fazio VW (2003) Comparison of robotically performed and traditional laparoscopic colorectal surgery. Dis Colon Rectum 46:1633–1639

11.

Baik SH, Kwon HY, Kim JS, Hur H, Sohn SK, Cho CH, Kim H (2009) Robotic versus laparoscopic low anterior resection of rectal cancer: short-term outcome of a prospective comparative study. Ann Surg Oncol 16:1480–1487

12.

Patriti A, Ceccarelli G, Bartoli A, Spaziani A, Biancafarina A, Casciola L (2009) Short- and medium-term outcome of robot-assisted and traditional laparoscopic rectal resection. JSLS 13:176–183

13.

Popescu I, Vasilescu C, Tomulescu V, Vasile S, Sgarbura O (2010) The minimally invasive approach, laparoscopic and robotic, in rectal resection for cancer. A single center experience. Acta Chir Iugosl 57:29–35

14.

Kim JY, Kim NK, Lee KY, Hur H, Min BS, Kim JH (2012) A comparative study of voiding and sexual function after total mesorectal excision with autonomic nerve preservation for rectal cancer: laparoscopic versus robotic surgery. Ann Surg Oncol 19:93–2485

15.

Sugihara K, Kobayashi H, Kato T, Mori T, Mochizuki H, Kameoka S, Shirouzu K, Muto T (2006) Indication and benefit of pelvic sidewall dissection for rectal cancer. Dis Colon Rectum 49:1663–1672

16.

Watanabe T, Itabashi M, Shimada Y, Tanaka S, Ito Y, Ajioka Y, Hamaguchi T, Hyodo I, Igarashi M, Ishida H, Ishiguro M, Kanemitsu Y, Kokudo N, Muro K, Ochiai A, Oguchi M, Ohkura Y, Saito Y, Sakai Y, Ueno H, Yoshino T, Fujimori T, Koinuma N, Morita T, Nishimura G, Sakata Y, Takahashi K, Takiuchi H, Tsuruta O, Yamaguchi T, Yoshida M, Yamaguchi N, Kotake K, Sugihara K (2012) Japanese society for cancer of the colon and rectum (JSCCR) guidelines 2010 for the treatment of colorectal cancer. Int J Clin Oncol 17:1–29

17.

Fujita S, Akasu T, Mizusawa J, Saito N, Kinugasa Y, Kanemitsu Y, Ohue M, Fujii S, Shiozawa M, Yamaguchi T, Moriya Y (2012) Postoperative morbidity and mortality after mesorectal excision with and without lateral lymph node dissection for clinical stage II or stage III lower rectal cancer (JCOG0212): results from a multicentre, randomised controlled, non-inferiority trial. Lancet Oncol 13:616–621

18.

Moriya Y, Hojo K, Sawada T, Koyama Y (1989) Significance of lateral node dissection for advanced rectal carcinoma at or below the peritoneal reflection. Dis Colon Rectum 32:307–315

19.

Moriya Y, Sugihara K, Akasu T, Fujita S (1995) Nerve-sparing surgery with lateral node dissection for advanced lower rectal cancer. Eur J Cancer 31A:1229–1232

20.

Heald RJ, Husband EM, Ryall RD (1982) The mesorectum in rectal cancer surgery-the clue to pelvic recurrence? Br J Surg 69:613–616

21.

Trial Swedish Rectal Cancer (1997) Improved survival with preoperative radiotherapy in resectable rectal cancer. Swedish rectal cancer trial. N Engl J Med 336:980–987

22.

Guckenberger M, Flentje M (2006) Late small bowel toxicity after adjuvant treatment for rectal cancer. Int J Colorectal Dis 21:209–220

23.

Peeters KC, van de Velde CJ, Leer JW, Martijn H, Junggeburt JM, Kranenbarg EK, Steup WH, Wiggers T, Rutten HJ, Marijnen CA (2005) Late side effects of short-course preoperative radiotherapy combined with total mesorectal excision for rectal cancer: increased bowel dysfunction in irradiated patients: a Dutch colorectal cancer group study. J Clin Oncol 23:6199–6206

24.

Bruheim K, Guren MG, Skovlund E, Hjermstad MJ, Dahl O, Frykholm G, Carlsen E, Tveit KM (2010) Late side effects and quality of life after radiotherapy for rectal cancer. Int J Radiat Oncol Biol Phys 76:1005–1011

25.

Lange MM, Marijnen CA, Maas CP, Putter H, Rutten HJ, Stiggelbout AM, Meershoek-Klein Kranenbarg E, van de Velde CJ (2009) Risk factors for sexual dysfunction after rectal cancer treatment. Eur J Cancer 45:1578–1588

26.

Park JS, Choi GS, Lim KH, Jang YS, Kim HJ, Park SY, Jun SH (2011) Laparoscopic extended lateral pelvic node dissection following total mesorectal excision for advanced rectal cancer: initial clinical experience. Surg Endosc 25:3322–3329

27.

Liang JT (2011) Technical feasibility of laparoscopic lateral pelvic lymph node dissection for patients with low rectal cancer after concurrent chemoradiation therapy. Ann Surg Oncol 18:153–159

28.

Park JA, Choi GS, Park JS, Park SY (2012) Initial clinical experience with robotic lateral pelvic lymph node dissection for advanced rectal cancer. J Korean Soc Coloproctol 28:265–270
Disclosures
Hiroyasu Kagawa, Yusuke Kinugasa, Akio Shiomi, Tomohiro Yamaguchi, Syunsuke Tsukamoto, Hiroyuki Tomioka, Yushi Yamakawa, and Sumito Sato have no conflicts of interest or financial ties to disclose.
Electronic supplementary material
Below is the link to the electronic supplementary material.
Supplementary material 1 (WMV 39297 kb)
Supplementary material 2 (WMV 57665 kb)
Supplementary material 3 (WMV 34292 kb)
Supplementary material 4 (WMV 58463 kb)
About this article
Cite this article
Kagawa, H., Kinugasa, Y., Shiomi, A. et al. Robotic-assisted lateral lymph node dissection for lower rectal cancer: short-term outcomes in 50 consecutive patients. Surg Endosc 29, 995–1000 (2015). https://doi.org/10.1007/s00464-014-3760-y
Received:

Accepted:

Published:

Issue Date:
Keywords
Robotic surgery

Rectal cancer

Lateral lymph node