Abstract
Background
Patients undergoing sleeve gastrectomy experience a significant amount of postoperative gastrointestinal (GI) symptoms. The purpose of our study was to assess the efficacy of omentopexy during laparoscopic sleeve gastrectomy (LSG) in reducing postoperative food intolerance and GI symptoms.
Methods
Morbidly obese patients undergoing LSG were randomly assigned to have LSG with or without omentopexy from May 2012 to June 2013. A total of 60 patients were recruited with 30 patients in each group. Patients and the symptom scorer were blinded as to the assigned surgery. All procedures were performed by one of two surgeons utilizing the same surgical technique. Patients were administered standardized surveys, including the Rhodes Index survey, gastroesophageal reflux disease (GERD) impact survey, and Eating Assessment Tool (EAT) survey at various time points postoperatively to assess nausea, vomiting, retching, frequency of GI symptoms, and level of distress.
Results
There was no significant difference in patient age, percent decrease in BMI at any time point, or length of hospitalization between the two groups (P > 0.05). Furthermore, there was no significant difference in Rhodes Index scores, GERD impact scores, or EAT scores at any time point (P > 0.05). Patients in the LSG with omentopexy group required significantly more ondansetron perioperatively (16.1 ± 12.9 mg vs. 10.3 ± 10.2 mg, respectively; P = 0.04); however, there was no difference in metoclopramide requirement (P = 0.22). Surgical morbidity was not significantly different between the two groups (P > 0.05). Finally, there was no significant difference in number of postoperative clinic visits, office telephone encounters, total postoperative readmissions, or postoperative readmissions associated with GI symptoms (P > 0.05).
Conclusion
Omentopexy did not significantly decrease postoperative food intolerance or GI symptoms in morbidly obese patients undergoing LSG. Other methods of mitigating postoperative intolerance to oral intake and GI symptoms should be investigated.
This is a preview of subscription content, log in to check access.
Access options
Buy single article
Instant access to the full article PDF.
US$ 39.95
Price includes VAT for USA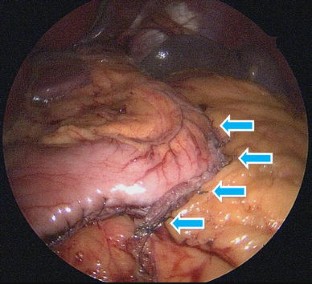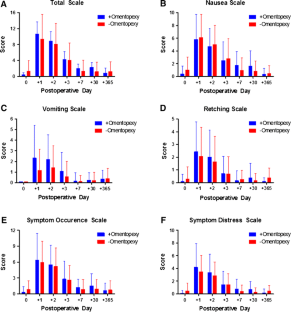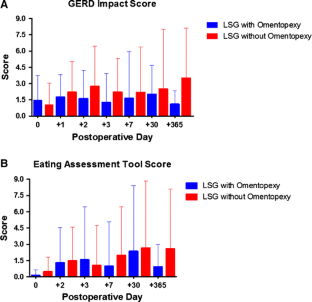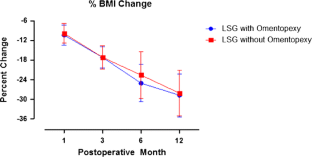 References
1.

Marceau P, Hould FS, Simard S, Lebel S, Bourque RA, Potvin M, Biron S (1998) Biliopancreatic diversion with duodenal switch. World J Surg 22:947–954

2.

Gumbs AA, Gagner M, Dakin G, Pomp A (2007) Sleeve gastrectomy for morbid obesity. Obes Surg 17:962–969

3.

Clinical Issues Committee of the American Society for Metabolic and Bariatric Surgery (2010) Updated position statement on sleeve gastrectomy as a bariatric procedure. Surg Obes Relat Dis 1:1–5

4.

Gagner M, Deitel M, Erickson AL, Crosby RD (2013) Survey on laparoscopic sleeve gastrectomy (LSG) at the Fourth International Consensus Summit on sleeve gastrectomy. Obes Surg 23:2013–2017

5.

Keidar A, Appelbaum L, Schweiger C, Elazary R, Baltasar A (2010) Dilated upper sleeve can be associated with severe postoperative gastroesophageal dysmotility and reflux. Obes Surg 20:140–147

6.

Carter PR, LeBlanc KA, Hausmann MG, Kleinpeter KP, deBarros SN, Jones SM (2011) Association between gastroesophageal reflux disease and laparoscopic sleeve gastrectomy. Surg Obes Relat Dis 7:569–572

7.

Chiu S, Birch DW, Shi X, Sharma AM, Karmali S (2011) Effect of sleeve gastrectomy on gastroesophageal reflux disease: a systematic review. Surg Obes Relat Dis 7:510–515

8.

Howard DD, Caban AM, Cendan JC, Ben-David K (2011) Gastroesophageal reflux after sleeve gastrectomy in morbidly obese patients. Surg Obes Relat Dis 7:709–713

9.

Baumann T, Grueneberger J, Pache G, Kuesters S, Marjanovic G, Kulemann B, Holzner P, Karcz-Socha I, Suesslin D, Hopt UT, Langer M, Karcz WK (2011) Three-dimensional stomach analysis with computed tomography after laparoscopic sleeve gastrectomy: sleeve dilation and thoracic migration. Surg Endosc 25:2323–2329

10.

Lazoura O, Zacharoulis D, Triantafyllidis G, Fanariotis M, Sioka E, Papamargaritis D, Tzovaras G (2011) Symptoms of gastroesophageal reflux following laparoscopic sleeve gastrectomy are related to the final shape of the sleeve as depicted by radiology. Obes Surg 21:295–299

11.

Del Castillo Dejardin D, Sabench Pereferrer F, Hernandez Gonzalez M, Blanco Blasco S, Cabrera Vilanova A (2013) Gastric volvulus after sleeve gastrectomy for morbid obesity. Surgery 153:431–433

12.

Dindo D, Demartines N, Clavien PA (2004) Classification of surgical complications: a new proposal with evaluation in a cohort of 6336 patients and results of a survey. Ann Surg 240:205–213

13.

Moy J, Pomp A, Dakin G, Parikh M, Gagner M (2008) Laparoscopic sleeve gastrectomy for morbid obesity. Am J Surg 196:e56–e59

14.

Himpens J, Dapri G, Cadiere GB (2006) A prospective randomized study between laparoscopic gastric banding and laparoscopic isolated sleeve gastrectomy: results after 1 and 3 years. Obes Surg 16:1450–1456

15.

Hamoui N, Anthone G, Kaufman H, Crookes PF (2006) Sleeve Gastrectomy in high-risk patients. Obes Surg 16:1445–1449

16.

Baumann T, Kuesters S, Gruenberger J, Marjanovic G, Simmermann L, Schaefer AO, Hopt UT, Langer M, Karcz WK (2011) Time-resolved MRI after ingestion of liquids reveals motility changes after laparoscopic sleeve gastrectomy—preliminary results. Obes Surg 21:95–101

17.

Goitein D, Goitein O, Feigin A, Zippel D, Papa M (2009) Sleeve gastrectomy: radiographic patterns after surgery. Surg Endosc 23:1559–1563

18.

Akkary E, Duffy A, Bell R (2008) Deciphering the sleeve: technique, indications, efficacy, and safety of sleeve gastrectomy. Obes Surg 18:1323–1329

19.

Klaus A, Weiss H (2008) Is preoperative manometry in restrictive bariatric procedures necessary? Obes Surg 18:1039–1042

20.

Dhahri A, Verhaeghe P, Hajji H, Fuks D, Badaoui R, Deguines JB, Regimbeau JM (2010) Sleeve gastrectomy: technique and results. J Visc Surg 147:e39–e46

21.

Abdemur A, Fendrich I, Rosenthal R (2012) Laparoscopic conversion of laparoscopic sleeve gastrectomy to gastric bypass for intractable gastroesophageal reflux disease. Surg Obes Relat Dis 8:654

22.

Gagner M, Rogula T (2003) Laparoscopic reoperative sleeve gastrectomy for poor weight loss after biliopancreatic diversion with duodenal switch. Obes Surg 13:649–654

23.

Wastell C, Ellis H (1971) Volvulus of the stomach. A review with a report of 8 cases. Br J Surg 58:557–562

24.

Sevcik WE, Steiner IP (1999) Acute gastric volvulus: case report and review of the literature. CJEM 1:200–203

25.

Greenbaum DF, Wasser SH, Riley T, Juengert T, Hubler J, Angel K (2011) Duodenal switch with omentopexy and feeding jejunostomy—a safe and effective revisional operation for failed previous weight loss surgery. Surg Obes Relat Dis 7:213–218

26.

de Godoy EP, Coelho D (2013) Gastric sleeve fixation strategy in laparoscopic vertical sleeve gastrectomy. Arq Bras Cir Dig 26:79–82
Disclosures
Dr. Afaneh, Mr. Costa, Dr. Pomp, and Dr. Dakin have no financial ties to disclose.
Conflict of interest
Dr. Afaneh, Mr. Costa, Dr. Pomp, and Dr. Dakin have no conflicts of interest.
About this article
Cite this article
Afaneh, C., Costa, R., Pomp, A. et al. A prospective randomized controlled trial assessing the efficacy of omentopexy during laparoscopic sleeve gastrectomy in reducing postoperative gastrointestinal symptoms. Surg Endosc 29, 41–47 (2015). https://doi.org/10.1007/s00464-014-3651-2
Received:

Accepted:

Published:

Issue Date:
Keywords
Gastrointestinal symptoms

Laparoscopic sleeve gastrectomy

Nausea

Omentopexy

Vomiting