Abstract
Background
Video-assisted thoracoscopic surgery thymectomy has been used in the treatment of Myastenia Gravis and thymomas (coexisting or not). In natural orifice transluminal endoscopic surgery, new approaches to the thorax are emerging as alternatives to the classic transthoracic endoscopic surgery. The aim of this study was to assess the feasibility and reliability of hybrid endoscopic thymectomy (HET) using a combined transthoracic and transesophageal approach.
Methods
Twelve consecutive in vivo experiments were undertaken in the porcine model (4 acute and 8 survival). The same procedure was assessed in a human cadaver afterward. For HET, an 11-mm trocar was inserted in the 2nd intercostal space in the left anterior axillary line. A 0° 10-mm thoracoscope with a 5-mm working channel was introduced. Transesophageal access was created through a submucosal tunnel using a flexible gastroscope with a single working channel introduced through the mouth. Using both flexible (gastroscope) and rigid (thoracoscope) instruments, the mediastinum was opened; the thymus was dissected, and the vessels were ligated using electrocautery alone.
Results
Submucosal tunnel creation and esophagotomy were performed safely without incidents in all animals. Complete thymectomy was achieved in all experiments. All animals in the survival group lived for 14 days. Thoracoscopic and postmortem examination revealed pleural adhesions on site of the surgical procedure with no signs of infection. Histological analysis of the proximal third of the esophagus revealed complete cicatrization of both mucosal defect and myotomy site. In the human cadaver, we were able to replicate all the procedure even though we were not able to identify the thymus.
Conclusions
Hybrid endoscopic thymectomy is feasible and reliable. HET could be regarded as a possible alternative to classic thoracoscopic approach for patients requiring thymectomy.
This is a preview of subscription content, log in to check access.
Access options
Buy single article
Instant unlimited access to the full article PDF.
US$ 39.95
Price includes VAT for USA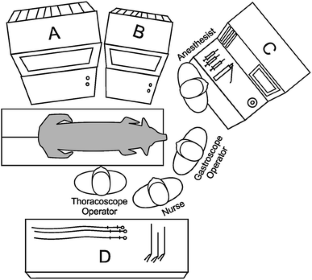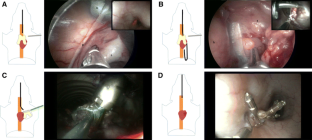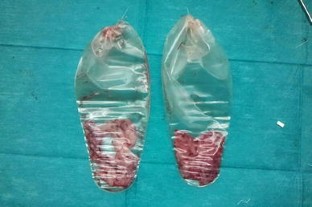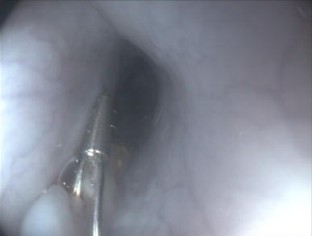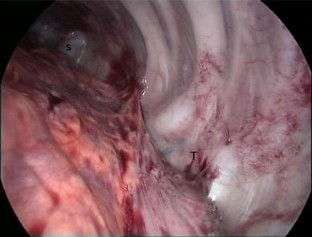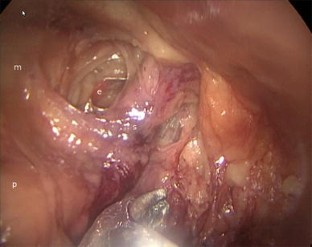 References
1.

Allen MS, Deschamps C, Lee RE et al (1993) Video-assisted thoracoscopic stapled wedge excision for indeterminate pulmonary nodules. J Thorac Cardiovasc Surg 106:1048–1052

2.

Hazelrigg SR, Nunchuck SK, LoCicero J et al (1993) Video-assisted thoracic surgery study group data. Ann Thorac Surg 36:1039–1043

3.

Lewia RJ, Caccavale RJ, Sisler GE et al (1992) One hundred consecutive patients undergoing video-assisted thoracic operations. Ann Thorac Surg 54:421–426

4.

Coltharp WH, Arnold JH, Alford WC et al (1992) Videothoracoscopy: improved technique and expanded indications. Ann Thorac Surg 53:776–778

5.

Landreneau RJ, Dowling RD, Castillo WM et al (1992) Thoracoscopic resection of an anterior mediastinal tumor. Ann Thorac Surg 54:142–144

6.

Yim AP, Wan S, Lee TW et al (2000) VATS lobectomy reduces cytokine responses compared with conventional surgery. Ann Thorac Surg 70:243–247

7.

Ruckert JC, Walter M, Muller JM (2000) Pulmonary function after thoracoscopic thymectomy versus median sternotomy for myasthenia gravis. Ann Thorac Surg 70:1656–1661

8.

Mack MJ, Landreneau RJ, Yim AP et al (1996) Results of video-assisted thymectomy in patients with myasthenia gravis. J Thorac Cardiovasc Surg 112:1352–1360

9.

Agasthian T (2011) Can invasive thymomas be resected by video-assisted thoracoscopic surgery? Asian Cardiovasc Thorac Ann 19:225–227

10.

Takeo S, Tsukamoto S, Kawano D et al (2011) Outcome of an original video-assisted thoracoscopic extended thymectomy for thymoma. Ann Thorac Surg 92:2000–2005

11.

Sumiyama K, Goustout CJ, Rajan E et al (2007) Transesophageal mediastinoscopy by submucosal endoscopy with mucosal flap safety valve technique. Gastrointest Endosc 65:679–683

12.

Lima E, Henriques-Coelho T, Rolanda C et al (2007) Transvesical thoracoscopy: a natural orifice translumenal endoscopic approach for thoracic surgery. Surg Endosc 21:854–858

13.

De Palma GD, Siciliano S, Addeo P et al (2010) A NOTES approach for thoracic surgery: transgastric thoracoscopy via a diaphragmatic incision in a survival porcine model. Minerva Chir 65:11–15

14.

Yang C, Liu HP, Chu Y et al (2010) Natural orifice transtracheal evaluation of the thoracic cavity and mediastinum. Surg Endosc 24:2905–2907

15.

Moreira-Pinto J, Ferreira A, Rolanda C, Correia-Pinto J (2012) Natural orifice transesophageal endoscopic surgery: state of the art. Minim Invasive Surg 2012:896952

16.

Rolanda C, Silva D, Branco C et al (2011) Peroral esophageal segmentectomy and anastomosis with single transthoracic trocar assistance: a step forward in thoracic NOTES. Endoscopy 43:14–20

17.

Moreira-Pinto J, Ferreira A, Miranda A et al (2012) Transesophageal pulmonary lobectomy with single transthoracic port assistance: study with survival assessment in a porcine model. Endoscopy 44:354–361

18.

Moreira-Pinto J, Ferreira A, Miranda A, Rolanda C, Correia-Pinto J (2012) Left atrial appendage ligation with single transthoracic port assistance: a study of survival assessment in a porcine model (with videos). Gastrointest Endosc 75:1055–1061

19.

Yu L, Zhang XJ, Ma SM et al (2012) Thoracoscopic thymectomy for myasthenia gravis with and without thymoma: a single-center experience. Ann Thorac Surg 93:240–244

20.

Meyer DM, Herbert MA, Sobhani MC et al (2009) Comparative clinical outcomes of thymectomy for myasthenia gravis performed by extended transsternal and minimally invasive approaches. Ann Thorac Surg 87:385–391

21.

Mack MJ, Scruggs G (1998) Video-assisted thoracic surgery thymectomy for myasthenia gravis. Chest Surg Clin North Am 8:809–825

22.

Parikh K, Vaidya A, Jain R (2011) Preliminary results of VATS thymectomy for pediatric myasthenia gravis. Pediatr Surg Int 27:595–598

23.

Loscertales J, Ayarra Jarne J, Congregado M et al (2004) Videoassisted thoracoscopic thymectomy for the treatment of myasthenia gravis. Arch Bronconeumol 40:409–413

24.

Gee DW, Willingham FF, Lauwers GY et al (2008) Natural orifice transesophageal mediastinoscopy and thoracoscopy: a survival series in swine. Surg Endosc 22:2117–2122

25.

Inoue H, Tianle KM, Ikeda H et al (2011) Peroral endoscopic myotomy for esophageal achalasia: technique, indication, and outcomes. Thorac Surg Clin 21:519–525
Acknowledgments
This project was funded by the FCT Grants project PTDC/SAU-OSM/105578/2008.
Disclosures
J Correia-Pinto is a consultant for Karl Storz GmbH. Aníbal Ferreira, Alice Miranda, Carla Rolanda have no conflict of interest.
Electronic supplementary material
Below is the link to the electronic supplementary material.
Supplementary material Video 1. Transesophageal access creation. Main image represents thoracoscopic view, and inset represents gastroscopic view. An operative thoracoscope with a 5-mm working channel was introduced through an 11-mm trocar inserted in the 2nd intercostal space in the left anterior axillary line. A forward-viewing, single-channel gastroscope was advanced into the esophagus, identifying the position of the thoracoscope and determining the esophagotomy site. 5 mL of saline solution was injected into the submucosa, 8 cm proximal to the esophagotomy position. An 1-cm longitudinal incision was made in the mucosa using an endoscopic needle-knife. Then, an 8- to 9-cm long submucosal tunnel was created by blunt dissection. While the submucosal tunnel was being created in the esophagus, the left mediastinal pleura was opened and the left posterior limits of the thymus dissected using rigid instruments introduced through the transthoracic trocar. (MPG 9368 kb)
Supplementary material Video 2. Thymus dissection. Main image represents thoracoscopic view, and inset represents gastroscopic view. Dissection of the thymus was completed using both flexible (gastroscope) instruments and rigid (thoracoscope) instruments. The vessels were ligated using electrocautery alone, connected through the coagulation grasper introduced through the gastroscope or the rigid dissector entering through the thoracoscope working channel. (MPG 7722 kb)
Supplementary material Video 3. Specimens retrieval. Image represents gastroscopic view. The thymus was retrieved through an endoscopic bag introduced through the transthoracic trocar. For that, the surgeon handling the gastroscope had to grasp the specimens and put it inside the endoscopic bag. (MPG 2326 kb)
Supplementary material Video 4. Esophageal closure. Image represents gastroscopic view. The esophageal mucosa was closed at the proximal edge of the submucosal tunnel by using 4 to 5 flexible hemoclips (MPG 1196 kb)
About this article
Cite this article
Moreira-Pinto, J., Ferreira, A., Miranda, A. et al. Hybrid endoscopic thymectomy: combined transesophageal and transthoracic approach in a survival porcine model with cadaver assessment. Surg Endosc 28, 2671–2678 (2014) doi:10.1007/s00464-014-3525-7
Received:

Accepted:

Published:

Issue Date:
Keywords
General

Oesophageal

Surgical

Technical

Endoscopy

Thoracoscopy