Abstract
Background
Colonoscopy is considered the most effective method for diagnosing colorectal diseases, but its application is sometimes limited due to invasiveness, patient intolerance, and the need for sedation.
Objective
The aim of this study was to improve the problem of loop formation and shorten the cecal intubation time of colonoscopy by using a magnetic control system (MCS).
Methods
Two experienced gastroenterologists, three trainees, and a novice repeated colonoscopy without or with MCS on three colonoscopy training model simulator cases. These cases were divided into introductory (case 2) and challenging levels (cases 4 and 5). The cecal intubation times were recorded.
Results
For all cases, the average cecal intubation times for the experienced gastroenterologists with MCS were significantly shorter than without MCS (case 2: 52.45 vs. 27.65 s, p < 0.001; case 4: 166.7 vs. 120.55 s, p < 0.01; case 5: 130.35 vs. 100.2 s, p < 0.05). Those of the trainees also revealed significantly shorter times with MCS (case 2: 67.27 vs. 51 s, p < 0.01; case 4: 253.27 vs. 170.97 s, p < 0.001; case 5: 144.1 vs. 85.57 s, p < 0.001).
Conclusion
Conducting colonoscopy with MCS is safe and smooth, and shortens the cecal intubation time by navigating the forepart of the colonoscope. In addition, all diagnostic and therapeutic benefits of conventional colonoscopy are retained.
This is a preview of subscription content, log in to check access.
Access options
Buy single article
Instant unlimited access to the full article PDF.
US$ 39.95
Price includes VAT for USA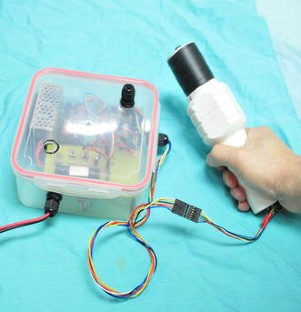 References
1.

Levin B, Lieberman DA, McFarland B et al (2008) American Cancer Society Colorectal Cancer Advisory Group, the US Multi-Society Task Force, and the American College of Radiology Colon Cancer Committee. Screening and surveillance for the early detection of colorectal cancer and adenomatous polyps: a joint guideline from the American Cancer Society, the US Multi-Society Task Force on Colorectal Cancer, and the American College of Radiology. Gastroenterology 134:1570–1595

2.

Schmiegel W, Pox C, Adler G et al (2004) Deutschen Gesellschaft fur Verdauungsund Stoff wechselerkrankungen. S3-Guidelines Conference "Colorectal Carcinoma". Z Gastroenterol 42:1129–1177

3.

Detsky AS (2001) Screening for colon cancer: can we afford colonoscopy? N Engl J Med 345:607–608

4.

Church JM (1994) Complete colonoscopy: how often? And if not, why not? Am J Gastroenterol 89:556–560

5.

Cirocco WC, Rusin LC (1995) Factors that predict incomplete colonoscopy. Dis Colon Rectum 38:964–968

6.

Shah HA, Paszat LF, Saskin R et al (2007) Factors associated with incomplete colonoscopy: a population-based study. Gastroenterology 132:2297–2303

7.

Hanson ME, Pickhardt PJ, Kim DH et al (2007) Anatomic factors predictive of incomplete colonoscopy based on findings at CT colonography. Am J Roentgenol 189:774–779

8.

Anderson JC, Gonzalez JD, Messina CR et al (2000) Factors that predict incomplete colonoscopy: thinner is not always better. Am J Gastroenterol 95:2784–2787

9.

Saifuddin T, Trivedi M, King PD et al (2000) Usefulness of a pediatric colonoscope for colonoscopy in adults. Gastrointest Endosc 51:314–317

10.

Othman MO, Bradley AG, Choudhary A et al (2009) Variable stiffness colonoscope versus regular adult colonoscope: meta-analysis of randomized controlled trials. Endoscopy 41:17–24

11.

Pasha SF, Harrison ME, Das A et al (2007) Utility of double-balloon colonoscopy for completion of colon examination after incomplete colonoscopy with conventional colonoscope. Gastrointest Endosc 65:848–853

12.

Keswani RN (2011) Single-balloon colonoscopy versus repeat standard colonoscopy for previous incomplete colonoscopy: a randomized, controlled trial. Gastrointest Endosc 73:507–512

13.

Teshima CW, Aktas H, Haringsma J et al (2010) Single-balloon-assisted colonoscopy in patients with previously failed colonoscopy. Gastrointest Endosc 71:1319–1323

14.

Jackson CS, Haq T, Olafsson S et al (2011) Push enteroscopy has a 96 % cecal intubation rate in colonoscopies that failed because of redundant colons. Gastrointest Endosc 74:341–346

15.

Van Gossum A, Munoz-Navas M, Fernandez-Urien I et al (2009) Capsule endoscopy versus colonoscopy for the detection of polyps and cancer. N Engl J Med 361:264–270

16.

Eliakim R, Yassin K, Niv Y et al (2009) Prospective multicenter performance evaluation of the second-generation colon capsule compared with colonoscopy. Endoscopy 41:1026–1031

17.

Vucelic B, Rex D, Pulanic R et al (2006) The aer-o-scope: proof of concept of a pneumatic, skill-independent, self-propelling, self-navigating colonoscope. Gastroenterology 130:672–677

18.

Eickhoff A, Van Dam J, Jakobs R et al (2007) Computer-assisted colonoscopy (the Neo Guide Endoscopy System): results of the first human clinical trial "PACE study". Am J Gastroenterol 102:261–266

19.

Rösch T, Adler A, Pohl H et al (2008) A motor-driven single-use colonoscope controlled with a hand-held device: a feasibility study in volunteers. Gastrointest Endosc 67:1139–1146

20.

Valdastri P, Ciuti G, Arezzo A et al (2012) Magnetic air capsule robotic system: proof of concept of a novel approach for painless colonoscopy. Surg Endosc 26:1238–1246

21.

Lien GS, Liu CW, Jiang JA et al (2012) Magnetic control system targeted for capsule endoscopic operations in the stomach: design, fabrication, and in vitro and ex vivo evaluation. IEEE Trans Biomed Eng 59(7):2068–2079

22.

Plooy AM, Hill A, Horswill MS et al (2012) Construct validation of a physical model colonoscopy simulator. Gastrointest Endosc 76:144–150

23.

Classen M (2010) Colonoscopy: basic instrumentation and technique. In: Classen M, Tytgat GNJ, Lightdale CJ (eds) Gastroenterological endoscopy. Thieme, New York, p 145
Disclosure
All the authors have no conflicts of interest or financial ties to disclose.
Additional information
Chung-Sheng Yang and Fat-Moon Suk contributed equally to this work.
Electronic supplementary material
Below is the link to the electronic supplementary material.
Videotape showing rotatary operation of magnetic control system. Supplementary material 1 (MPG 83612 kb)
Videotape showing colonoscopy with magnetic control system. Supplementary material 2 (MPG 106424 kb)
About this article
Cite this article
Yang, C., Suk, F., Chen, C. et al. Colonoscopy with magnetic control system to navigate the forepart of colonoscope shortens the cecal intubation time. Surg Endosc 28, 2480–2483 (2014) doi:10.1007/s00464-014-3460-7
Received:

Accepted:

Published:

Issue Date:
Keywords
Magnet

Colonoscopy

Cecal intubation time