Abstract
Background
Cholecystolithiasis is the most common disease treated by general surgery, with an incidence of about 0.15–0.22 %. The most common therapies are open cholecystectomy (OC) or laparoscopic cholecystectomy (LC). However, with a greater understanding of the function of the cholecyst, more and more patients and surgeons are aware that preserving the functional cholecyst is important for young patients, as well as patients who would not tolerate anesthesia associated with either OC or LC. Based on these considerations, we have introduced a notable, minimally invasive treatment for cholecystolithotomy.
Methods
We performed a retrospective review of patients with cholecystolithiasis who were unable to tolerate surgery or who insisted on preserving the functional cholecyst. Our particular approach can be simply described as ultrasound-guided percutaneous cholecystostomy combined with a choledochoscope for performing a cholecystolithotomy under local anesthesia.
Results
Ten patients with cholecystolithiasis were treated via this approach. All except one patient had their gallbladder stones totally removed under local anesthesia, without the aggressive procedures associated with OC or LC. The maximum number of gallbladder stones removed was 16, and the maximum diameter was 13 mm without lithotripsy. After the minimally invasive surgery, the cholecyst contractile functions of all patients were normal, confirmed via ultrasound after a high-fat diet. Complications such as bile duct injury, biliary fistula, and bleeding occurred significantly less often than with OC and LC. The recurrence rates for each of 2 post-operative years were about 11.11 % (1/9, excluding a failure case) with uncertainty surrounding recurrence or residue, and 22.22 % (2/9, including one non-recurrence patient with follow-up time of 22 months), respectively.
Conclusions
Ultrasound-guided percutaneous cholecystostomy combined with choledochoscope is a safe, efficient, and minimally invasive cholecystolithotomy method. We recommend this technique for the management of small stones (less than 15 mm) in high-risk surgical patients.
This is a preview of subscription content, log in to check access.
Access options
Buy single article
Instant unlimited access to the full article PDF.
US$ 39.95
Price includes VAT for USA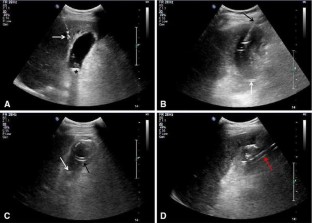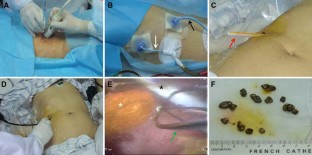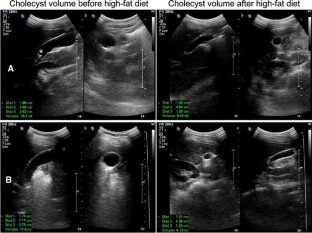 References
1.

Elías Pollina J, Delgado Alvira R, Martínez-Pardo NG, Ros Mar L, Calleja Aguayo E, Esteban Ibarz JA (2008) Must we change the surgical treatment of gallstones? [Spanish]. Cir Pediatr 21:96–99

2.

Soper NJ, Stockmann PT, Dunnegan DL, Ashley SW (1992) Laparoscopic cholecystectomy. The new 'gold standard'? Arch Surg 127:917–921 discussion 921–913

3.

Bueno Lledo J, Planells Roig M, Arnau Bertomeu C, Sanahuja Santafe A, Oviedo Bravo M, Garcia Espinosa R, Marti Obiol R, Espi Salinas A (2006) Outpatient laparoscopic cholecystectomy: a new gold standard for cholecystectomy. Rev Esp Enferm Dig 98:14–24

4.

Mosimann F (2006) Laparoscopic cholecystectomy has become the new gold standard for the management of symptomatic gallbladder stones. Hepatogastroenterology 53(69):1 p preceding I; author reply 1 p preceding I

5.

Majeed AW, Reed MW, Ross B, Peacock J, Johnson AG (1997) Gallstone removal with a modified cholecystoscope: an alternative to cholecystectomy in the high-risk patient. J Am Coll Surg 184:273–280

6.

Kim YH, Kim YJ, Shin TB (2011) Fluoroscopy-guided percutaneous gallstone removal using a 12-Fr sheath in high-risk surgical patients with acute cholecystitis. Korean J Radiol 12:210–215

7.

de Carvalho LF, Fierens K, Kint M (2013) Mini-laparoscopic versus conventional laparoscopic cholecystectomy: a randomized controlled trial. J Laparoendosc Adv Surg Tech 23:109–116

8.

Ivanchenkova RA, At'kova ER (2012) Quality of life of patients with gallstone disease and gallbladder cholesterosis in the conservative and surgical treatment [Russian]. Eksp Klin Gastroenterol 5:46–55

9.

Marcari RS, Lupinacci RM, Nadal LR, Rego RE, Coelho AM, de Matos Farah JF (2012) Outcomes of laparoscopic cholecystectomy in octogenarians. JSLS 16:271–275

10.

Bibza J, Sykora L, Cingel V, Duchaj B, Babala J, Kralik R, Horn F, Jager R, Sandorova D (2013) Laparoscopic cholecystectomy in children. Bratisl Lek Listy 114:230–231

11.

Griffith DP, Rubio PA, Gleeson MJ (1990) Percutaneous endoscopic treatment of cholelithiasis. Surg Endosc 4:141–148 discussion 149

12.

Bellamy PR, Hicks A (1988) Assessment of gallbladder function by ultrasound: implications for dissolution therapy. Clin Radiol 39:511–512

13.

Glasbrenner B, Malfertheiner P, Pieramico O, Klatt S, Ditschuneit H (1991) Sonographic study of gallbladder function: exogenous or endogenous stimulation? [German]. Ultraschall Med 12:172–175

14.

Janowitz P, Swobodnik W, Wechsler JG, Hagel S, Ditschuneit H (1990) Ultrasound evaluation of gallbladder function using planimetry. [German]. Ultraschall Med 11:135–138

15.

Sparkman RS (1982) 100th anniversary of the first cholecystectomy. Arch Surg 117:1525

16.

Casal MA (1982) 100 years ago: 1882–1982. Carl Langenbuch, the 1st cholecystectomy and a brief history of a famous polemic [Spanish]. Acta Gastroenterol Latinoam 12:181–184

17.

Traverso LW (1976) Carl Langenbuch and the first cholecystectomy. Am J Surg 132:81–82

18.

Kossovich MA, Biriukov AI, Nechaenko AM, Ovsiannikov BC, Nurmukhammadov ZK (2013) The double-port laparoscopic cholecystectomy. [Russian]. Khirurgiia (Mosk) 4:43–47

19.

Jiang ZS, Cheng Y, Xu XP, Zhang Z, He GL, Xu TC, Zhou CJ, Qin JS, Liu HY, Gao Y, Pan MX (2013) Comparison of operative techniques in single-incision laparoscopic cholecystectomy: suture-suspension versus three-device method. [Chinese]. Zhonghua Yi Xue Za Zhi 93:455–458

20.

Tranchart H, Ketoff S, Lainas P, Pourcher G, Di Giuro G, Tzanis D, Ferretti S, Dautruche A, Devaquet N, Dagher I (2013) Single incision laparoscopic cholecystectomy: for what benefit? HPB (Oxford) 15:433–438

21.

Shi HY, Lee KT, Chiu CC, Lee HH (2013) The volume-outcome relationship in laparoscopic cholecystectomy: a population-based study using propensity score matching. Surg Endosc 27(9):3139–3145

22.

Marks JM, Phillips MS, Tacchino R, Roberts K, Onders R, Denoto G, Gecelter G, Rubach E, Rivas H, Islam A, Soper N, Paraskeva P, Rosemurgy A, Ross S, Shah S (2013) Single-incision laparoscopic cholecystectomy is associated with improved cosmesis scoring at the cost of significantly higher hernia rates: 1-year results of a prospective randomized, multicenter, single-blinded trial of traditional multiport laparoscopic cholecystectomy vs single-incision laparoscopic cholecystectomy. J Am Coll Surg 216:1037–1047

23.

Davis CA, Landercasper J, Gundersen LH, Lambert PJ (1999) Effective use of percutaneous cholecystostomy in high-risk surgical patients: techniques, tube management, and results. Arch Surg 134:727–731 discussion 731–722

24.

Ahmadnia H, Kamalati A, Younesi M, Imani MM, Moradi M, Esmaeili M (2013) Percutaneous treatment of bladder stones in children: 10 years experience, is blind access safe? Pediatr Surg Int 29(7):725–728

25.

Roques JL, Pruneda RR, Sanchez J, Giron O, Aranda MJ, Trujillo A, Hernandez JP, Guirao MJ, Zambudio G, Jimenez JI (2009) Cholecystolithotomy: first middle-long term results of our series. [Spanish]. Cir Pediatr 22:153–156

26.

Andonian S, Rastinehad A, Smith AD, Siegel DN (2009) Percutaneous cholecystolithotomy: a case for fulguration of the gallbladder wall. J Laparoendosc Adv Surg Tech 19:393–395

27.

De Caluwe D, Akl U, Corbally M (2001) Cholecystectomy versus cholecystolithotomy for cholelithiasis in childhood: long-term outcome. J Pediatr Surg 36:1518–1521

28.

Cheslyn-Curtis S, Gillams AR, Russell RC, Donald JJ, Lake SP, Ainley CA, Hatfield AR, Lees WR (1992) Selection, management, and early outcome of 113 patients with symptomatic gall stones treated by percutaneous cholecystolithotomy. Gut 33:1253–1259

29.

Zou YP, Du JD, Li WM, Xiao YQ, Xu HB, Zheng F, Huang H, Liu HR, Li HC (2007) Gallstone recurrence after successful percutaneous cholecystolithotomy: a 10-year follow-up of 439 cases. Hepatobiliary Pancreat Dis Int 6:199–203

30.

Johnson JP, Oz MC, Chuck RS, Treat MR (1989) Comparison of methods for transcatheter fragmentation of gallstones. Surg Endosc 3:7–10

31.

Teichman JM, Schwesinger WH, Lackner J, Cossman RM (2001) Holmium: YAG laser lithotripsy for gallstones. A preliminary report. Surg Endosc 15:1034–1037

32.

Goldstein EB, Savel RH, Pachter HL, Cohen J, Shamamian P (2005) Successful treatment of Bouveret syndrome using holmium: YAG laser lithotripsy. Am Surg 71:882–885

33.

Donald JJ, Cheslyn-Curtis S, Gillams AR, Russell RC, Lees WR (1994) Percutaneous cholecystolithotomy: is gall stone recurrence inevitable? Gut 35:692–695
Disclosures
Tao Wang, Tao Chen, Shu Zou, Ning Lin, Hong-yin Liang, Hong-tao Yan, Nan-lin Li, Li-ye Liu, Hao Luo, Qi Chen, Wei-hui Liu, Li-jun Tang have no conflicts of interest or financial ties to disclose.
Additional information
Tao Wang, Tao Chen, Shu Zou, Ning Lin, Hong-yin Liang, and Hong-tao Yan have contributed equally to this work.
Electronic supplementary material
Below is the link to the electronic supplementary material.
Supplementary material 1 (WMV 18496 kb)
Supplementary material 2 (WMV 19764 kb)
Supplementary material 3 (WMV 24543 kb)
About this article
Cite this article
Wang, T., Chen, T., Zou, S. et al. Ultrasound-guided double-tract percutaneous cholecystostomy combined with a choledochoscope for performing cholecystolithotomies in high-risk surgical patients. Surg Endosc 28, 2236–2242 (2014). https://doi.org/10.1007/s00464-014-3451-8
Received:

Accepted:

Published:

Issue Date:
Keywords
Cholecystolithotomy

Minimally invasive therapy

Percutaneous cholecystostomy

Choledochoscope