Abstract
Background
In gastrointestinal cancer surgery, particularly in early cancer, accurate tumor localization is important in order to determine the extent of resection. In laparoscopic surgery, because of the inability to palpate the lesion, the most prevalent method of localization is endoscopic tattooing. However, complicated maneuvering makes it difficult to control local dye spreading and dye leakage into the intraperitoneal cavity. A simpler, safe method is needed. In this study, we developed a novel method for applying fluorescence-coated endoscopic clips to visualize locations inside the colon during laparoscopic surgery. We tested the procedure in an in vivo porcine model and with ex vivo human colon tissues.
Methods
Bovine serum albumin was conjugated to indocyanine green or the succinimidyl ester CF™ 790 to form a pasty mixture, which was used to coat the front ends of endoscopic clips. The fluorescence-coated clips were endoscopically placed on the mucosal surface of a porcine colon. Using an Olympus near-infrared laparoscopy system, we attempted to identify the fluorescent clips from the outer, serosal side of the porcine colon during laparoscopic surgery in vivo. The clips were also evaluated using ex vivo human colon tissues.
Results
After placing two clips on the inner, mucosal surface of the porcine colon, we used near-infrared laparoscopy to view them from the outer, serosal surface of the colon in real time during in vivo laparoscopic surgery. We also identified the fluorescence-coated clips through human colon tissues in an ex vivo study.
Conclusions
We developed a novel, fluorescence-coated clip that can be placed endoscopically for rapid, exact localization of colonic lesions. The clips were successfully visualized with near-infrared fluorescence imaging during laparoscopic surgery in an in vivo porcine model and in ex vivo human colon tissues.
This is a preview of subscription content, log in to check access.
Access options
Buy single article
Instant unlimited access to the full article PDF.
US$ 39.95
Price includes VAT for USA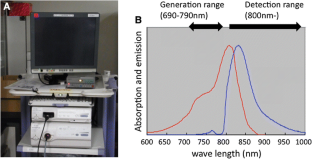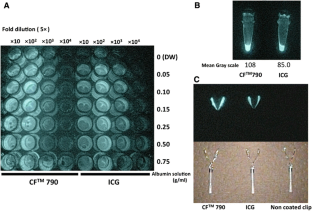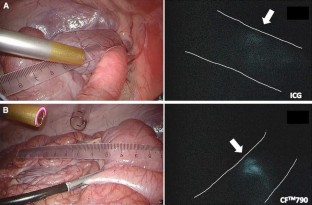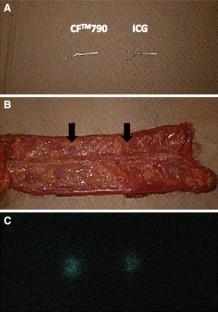 References
1.

Arteaga-Gonzalez I, Martin-Malagon A, Fernandez EM, Arranz-Duran J, Parra-Blanco A, Nicolas-Perez D, Quintero-Carrion E, Luis HD, Carrillo-Pallares A (2006) The use of preoperative endoscopic tattooing in laparoscopic colorectal cancer surgery for endoscopically advanced tumors: a prospective comparative clinical study. World J Surg 30:605–611

2.

Park JW, Sohn DK, Hong CW, Han KS, Choi DH, Chang HJ, Lim SB, Choi HS, Jeong SY (2008) The usefulness of preoperative colonoscopic tattooing using a saline test injection method with prepackaged sterile India ink for localization in laparoscopic colorectal surgery. Surg Endosc 22:501–505

3.

Cho YB, Lee WY, Yun HR, Lee WS, Yun SH, Chun HK (2007) Tumor localization for laparoscopic colorectal surgery. World J Surg 31:1491–1495

4.

Beretvas RI, Ponsky J (2001) Endoscopic marking: an adjunct to laparoscopic gastrointestinal surgery. Surg Endosc 15:1202–1203

5.

Park DJ, Lee HJ, Kim SG, Jung HC, Song IS, Lee KU, Choe KJ, Yang HK (2005) Intraoperative gastroscopy for gastric surgery. Surg Endosc 19:1358–1361

6.

Price N, Gottfried MR, Clary E, Lawson DC, Baillie J, Mergener K, Westcott C, Eubanks S, Pappas TN (2000) Safety and efficacy of India ink and indocyanine green as colonic tattooing agents. Gastrointest Endosc 51:438–442

7.

Singh S, Arif A, Fox C, Basnyat P (2006) Complication after pre-operative India ink tattooing in a colonic lesion. Dig Surg 23:303

8.

Del Rio P, Dell'Abate P (2003) Complication of an endoscopic tattoo. Endoscopy 35:638

9.

Dell'Abate P, Iosca A, Galimberti A, Piccolo P, Soliani P, Foggi E (1999) Endoscopic preoperative colonic tattooing: a clinical and surgical complication. Endoscopy 31:271–273

10.

Weissleder R, Ntziachristos V (2003) Shedding light onto live molecular targets. Nat Med 9:123–128

11.

Baker KJ (1966) Binding of sulfobromophthalein (BSP) sodium and indocyanine green (ICG) by plasma alpha-1 lipoproteins. Proc Soc Exp Biol Med 122:957–963

12.

Leevy CM, Bender J (1963) Physiology of dye extraction by the liver: comparative studies of sulfobromophthalein and indocyanine green. Ann NY Acad Sci 111:161–176

13.

Goresky CA (1964) Initial Distribution and Rate of Uptake of Sulfobromophthalein in the Liver. Am J Physiol 207:13–26

14.

van der Vorst JR, Schaafsma BE, Verbeek FP, Hutteman M, Mieog JS, Lowik CW, Liefers GJ, Frangioni JV, van de Velde CJ, Vahrmeijer AL (2012) Randomized comparison of near-infrared fluorescence imaging using indocyanine green and 99(m) technetium with or without patent blue for the sentinel lymph node procedure in breast cancer patients. Ann Surg Oncol 19:4104–4111

15.

Miyashiro I, Kishi K, Yano M, Tanaka K, Motoori M, Ohue M, Ohigashi H, Takenaka A, Tomita Y, Ishikawa O (2011) Laparoscopic detection of sentinel node in gastric cancer surgery by indocyanine green fluorescence imaging. Surg Endosc 25:1672–1676

16.

Schols RM, Bouvy ND, Masclee AA, van Dam RM, Dejong CH, Stassen LP (2013) Fluorescence cholangiography during laparoscopic cholecystectomy: a feasibility study on early biliary tract delineation. Surg Endosc 27:1530–1536

17.

Desai ND, Miwa S, Kodama D, Koyama T, Cohen G, Pelletier MP, Cohen EA, Christakis GT, Goldman BS, Fremes SE (2006) A randomized comparison of intraoperative indocyanine green angiography and transit-time flow measurement to detect technical errors in coronary bypass grafts. J Thorac Cardiovasc Surg 132:585–594

18.

Zako T, Hyodo H, Tsuji K, Tokuzen K, Hishimoto H, Ito M, Kaneko K, Maeda M, Soga K (2010) Development of near infrared-fluorescent nanophosphors and applications for cancer diagnosis and therapy. J Nanomater 2010:491471

19.

Choi Y, Kim KG, Kim JK, Nam KW, Kim HH, Sohn DK (2011) A novel endoscopic fluorescent clip for the localization of gastrointestinal tumors. Surg Endosc 25:2372–2377

20.

Hyung WJ, Lim JS, Cheong JH, Kim J, Choi SH, Song SY, Noh SH (2005) Intraoperative tumor localization using laparoscopic ultrasonography in laparoscopic-assisted gastrectomy. Surg Endosc 19:1353–1357

21.

Luigiano C, Ferrara F, Morace C, Mangiavillano B, Fabbri C, Cennamo V, Bassi M, Virgilio C, Consolo P (2012) Endoscopic tattooing of gastrointestinal and pancreatic lesions. Adv Ther 29:864–873

22.

Trakarnsanga A, Akaraviputh T (2011) Endoscopic tattooing of colorectal lesions: is it a risk-free procedure? World J Gastrointest Endosc 3:256–260

23.

Sawaki A, Nakamura T, Suzuki T, Hara K, Kato T, Kato T, Hirai T, Kanemitsu Y, Okubo K, Tanaka K, Moriyama I, Kawai H, Katsurahara M, Matsumoto K, Yamao K (2003) A two-step method for marking polypectomy sites in the colon and rectum. Gastrointest Endosc 57:735–737

24.

Askin MP, Waye JD, Fiedler L, Harpaz N (2002) Tattoo of colonic neoplasms in 113 patients with a new sterile carbon compound. Gastrointest Endosc 56:339–342

25.

Azhdarinia A, Ghosh P, Ghosh S, Wilganowski N, Sevick-Muraca EM (2012) Dual-labeling strategies for nuclear and fluorescence molecular imaging: a review and analysis. Mol Imaging Biol 14:261–276

26.

Johansson K, Ahn H, Lindhagen J, Lundgren O (1987) Tissue penetration and measuring depth of laser Doppler flowmetry in the gastrointestinal application. Scand J Gastroenterol 22:1081–1088

27.

Campbell RE, Tour O, Palmer AE, Steinbach PA, Baird GS, Zacharias DA, Tsien RY (2002) A monomeric red fluorescent protein. Proc Natl Acad Sci USA 99:7877–7882

28.

Lam AJ, St-Pierre F, Gong Y, Marshall JD, Cranfill PJ, Baird MA, McKeown MR, Wiedenmann J, Davidson MW, Schnitzer MJ, Tsien RY, Lin MZ (2012) Improving FRET dynamic range with bright green and red fluorescent proteins. Nat Methods 9:1005–1012
Acknowledgments
This study was supported by a grant from Grant-in-Aid for Young Scientists (A) (24689054 to JN).
Disclosures
Drs. H. Takeyama, T. Hata, J. Nishimura, R. Nonaka, M. Uemura, N. Haraguchi, I. Takemasa, T. Mizushima, H. Yamamoto, Y. Doki, and M. Mori have no conflicts of interest or financial ties to disclose.
Electronic supplementary material
Below is the link to the electronic supplementary material.
Video 1 ICG-coated clip was placed beforehand at mucosal surface of porcine colon using endoscope. Porcine colon was first observed with conventional laparoscopic system. We then searched for location of clip using near-infrared laparoscopic system in dark visual field. ICG-coated clip was clearly visualized within 7 cm of colon wall (WMV 28579 kb)
Video 2 CF™ 790-coated clip was placed beforehand at mucosal surface of porcine colon using endoscope. Porcine colon was first observed with conventional laparoscopic system. We then searched for location of clip using near infrared laparoscopic system in dark visual field. CF™ 790-coated clip was clearly visualized within 10 cm of colon wall (WMV 31616 kb)
Video 3 Human colon tissue was placed, clip side down, on paper towel. Clips were placed side by side in this visual field, with ICG on right and CF™ 790 on left. Now we use NIR system mode. Both clips were clearly visualized, even through thick wall of human colon (WMV 26672 kb)
About this article
Cite this article
Takeyama, H., Hata, T., Nishimura, J. et al. A novel endoscopic fluorescent clip visible with near-infrared imaging during laparoscopic surgery in a porcine model. Surg Endosc 28, 1984–1990 (2014). https://doi.org/10.1007/s00464-014-3423-z
Received:

Accepted:

Published:

Issue Date:
Keywords
Colorectal fiber scope

Colorectal neoplasm

Endoscopic clip

Laparoscopy

Localization

Near-infrared (NIR)