Abstract
Background
The aim of our study was to assess the feasibility of minimally invasive digestive anastomosis using a modular flexible magnetic anastomotic device made up of a set of two flexible chains of magnetic elements. The assembly possesses a non-deployed linear configuration which allows it to be introduced through a dedicated small-sized applicator into the bowel where it takes the deployed form. A centering suture allows the mating between the two parts to be controlled in order to include the viscerotomy between the two magnetic rings and the connected viscera.
Methods and procedures
Eight pigs were involved in a 2-week survival experimental study. In five colorectal anastomoses, the proximal device was inserted by a percutaneous endoscopic technique, and the colon was divided below the magnet. The distal magnet was delivered transanally to connect with the proximal magnet. In three jejunojejunostomies, the first magnetic chain was injected in its linear configuration through a small enterotomy. Once delivered, the device self-assembled into a ring shape. A second magnet was injected more distally through the same port. The centering sutures were tied together extracorporeally and, using a knot pusher, magnets were connected. Ex vivo strain testing to determine the compression force delivered by the magnetic device, burst pressure of the anastomosis, and histology were performed.
Results
Mean operative time including endoscopy was 69.2 ± 21.9 min, and average time to full patency was 5 days for colorectal anastomosis. Operative times for jejunojejunostomies were 125, 80, and 35 min, respectively. The postoperative period was uneventful. Burst pressure of all anastomoses was ≥110 mmHg. Mean strain force to detach the devices was 6.1 ± 0.98 and 12.88 ± 1.34 N in colorectal and jejunojejunal connections, respectively. Pathology showed a mild-to-moderate inflammation score.
Conclusions
The modular magnetic system showed enormous potential to create minimally invasive digestive anastomoses, and may represent an alternative to stapled anastomoses, being easy to deliver, effective, and low cost.
This is a preview of subscription content, log in to check access.
Access options
Buy single article
Instant unlimited access to the full article PDF.
US$ 39.95
Price includes VAT for USA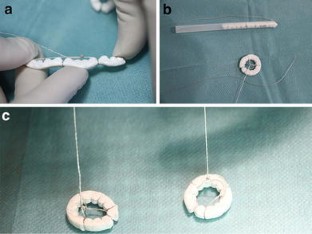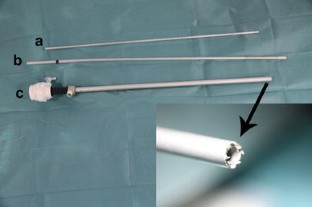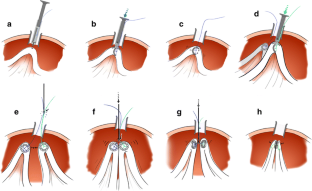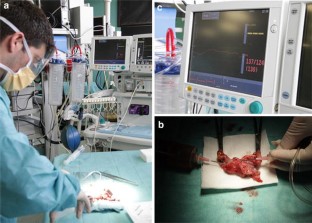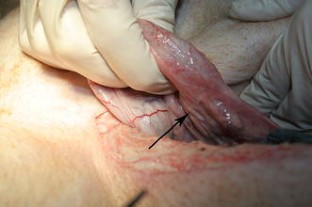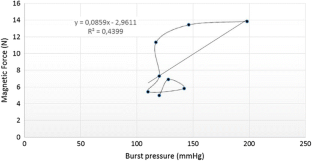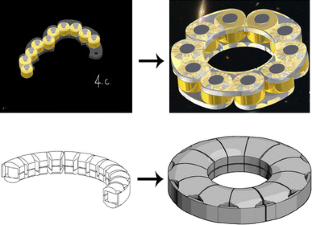 References
1.

Costantino FA, Diana M, Wall J, Leroy J, Mutter D, Marescaux J (2012) Prospective evaluation of peritoneal fluid contamination following transabdominal vs. transanal specimen extraction in laparoscopic left-sided colorectal resections. Surg Endosc 26:1495–1500

2.

Diana M, Perretta S, Wall J, Costantino FA, Leroy J, Demartines N, Marescaux J (2011) Transvaginal specimen extraction in colorectal surgery: current state of the art. Colorectal Dis 13:e104–e111

3.

Diana M, Wall J, Costantino F, D'Agostino J, Leroy J, Marescaux J (2011) Transanal extraction of the specimen during laparoscopic colectomy. Colorectal Dis 13(Suppl 7):23–27

4.

Leroy J, Diana M, Wall J, Costantino F, D'Agostino J, Marescaux J (2011) Laparo-endoscopic single-site (LESS) with transanal natural orifice specimen extraction (NOSE) sigmoidectomy: a new step before pure colorectal natural orifices transluminal endoscopic surgery (NOTES®). J Gastrointest Surg 15:1488–1492

5.

Yamada H, Kojima K, Inokuchi M, Kawano T, Sugihara K, Nihei Z (2008) Preliminary experience using a computer-mediated flexible circular stapler in laparoscopic esophagogastrostomy. Surg Laparosc Endosc Percutan Tech 18:59–63

6.

Kaidar-Person O, Rosenthal RJ, Wexner SD, Szomstein S, Person B (2008) Compression anastomosis: history and clinical considerations. Am J Surg 195:818–826

7.

Aggarwal R, Darzi A (2005) Compression anastomoses revisited. J Am Coll Surg 201:965–971

8.

Kopelman D, Hatoum OA, Kimmel B, Monassevitch L, Nir Y, Lelcuk S et al (2007) Compression gastrointestinal anastomosis. Expert Rev Med Devices 4:821–828

9.

Hardy KJ (1990) Non-suture anastomosis: the historical development. Aust N Z J Surg 60:625–633

10.

Senn N (1893) Enterorrhaphy: its history, technique, and present status. JAMA 21:215–235

11.

Ho YH, Ashour MA (2010) Techniques for colorectal anastomosis. World J Gastroenterol 16:1610–1621

12.

Jansen A, Keeman JN, Davies GA, Klopper PJ (1980) Early experiences with magnetic rings in resection of the distal colon. Neth J Surg 32:20–27

13.

Jamshidi R, Stephenson JT, Clay JG, Pichakron KO, Harrison MR (2009) Magnamosis: magnetic compression anastomosis with comparison to suture and staple techniques. J Pediatr Surg 44:222–228

14.

Pichakron KO, Jelin EB, Hirose S, Curran PF, Jamshidi R, Stephenson JT et al (2011) Magnamosis II: magnetic compression anastomosis for minimally invasive gastrojejunostomy and jejunojejunostomy. J Am Coll Surg 212:42–49

15.

Gonzales KD, Douglas G, Pichakron KO, Kwiat DA, Gallardo SG, Encinas JL et al (2012) Magnamosis III: delivery of a magnetic compression anastomosis device using minimally invasive endoscopic techniques. J Pediatr Surg 47:1291–1295

16.

Diana M, Wall J, Perretta S, Dallemagne B, Gonzales KD, Harrison MR et al (2011) Totally endoscopic magnetic enteral bypass by external guided rendez-vous technique. Surg Innov 18:317–320

17.

Leroy J, Perretta S, Diana M, Wall J, Lindner V, Harrison M et al (2012) An original endoluminal magnetic anastomotic device allowing pure NOTES transgastric and transrectal sigmoidectomy in a porcine model: proof of concept. Surg Innov 19:109–116

18.

Wall J, Diana M, Leroy J, Deruijter V, Gonzales KD, Lindner V et al (2013) MAGNAMOSIS IV: magnetic compression anastomosis for minimally invasive colorectal surgery. Endoscopy 45(8):643–648

19.

Ryou M, Cantillon-Murphy P, Azagury D, Shaikh SN, Ha G, Greenwalt I et al (2011) Smart Self-Assembling MagnetS for ENdoscopy (SAMSEN) for transoral endoscopic creation of immediate gastrojejunostomy (with video). Gastrointest Endosc 73:353–359

20.

Diana M, Leroy J, Wall J, De Ruijter V, Lindner V, Dhumane P et al (2012) Prospective experimental study of transrectal viscerotomy closure using transanal endoscopic suture vs. circular stapler: a step toward NOTES. Endoscopy 44:605–611

21.

Dietz UA, Debus ES, Hirt AL, Czeczko NG, Malafaia O, Geiger D et al (1999) From Murphy's button to the Valtrac Ring: 100 years in search of a paradigm (in German). Zentralbl Chir 124:653–656

22.

Diana M, Noll E, Diemunsch P, Dallemagne B, Benahmed MA, Agnus V et al (2013) Enhanced-reality video fluorescence: a real-time assessment of intestinal viability. Ann Surg. doi:10.1097/SLA.0b013e31828d4ab3

23.

Matthiessen P, Hallbook O, Rutegard J, Simert G, Sjodahl R (2007) Defunctioning stoma reduces symptomatic anastomotic leakage after low anterior resection of the rectum for cancer: a randomized multicenter trial. Ann Surg 246:207–214

24.

Enker WE, Merchant N, Cohen AM, Lanouette NM, Swallow C, Guillem J et al (1999) Safety and efficacy of low anterior resection for rectal cancer: 681 consecutive cases from a specialty service. Ann Surg 230:544–552; discussion 552–544

25.

Matthiessen P, Lindgren R, Hallbook O, Rutegard J, Sjodahl R (2010) Symptomatic anastomotic leakage diagnosed after hospital discharge following low anterior resection for rectal cancer. Colorectal Dis 12:82–87

26.

Espinel J, Pinedo E (2012) Stenosis in gastric bypass: endoscopic management. World J Gastrointest Endosc 4:290–295

27.

Ballantyne GH, Burke JB, Rogers G, Lampert EG, Boccia J (1985) Accelerated wound healing with stapled enteric suture lines: an experimental study comparing traditional sewing techniques and a stapling device. Ann Surg 201:360–364

28.

Graffner H, Andersson L, Lowenhielm P, Walther B (1984) The healing process of anastomoses of the colon: a comparative study using single, double-layer or stapled anastomosis. Dis Colon Rectum 27:767–771

29.

Lustosa SA, Matos D, Atallah AN, Castro AA (2001) Stapled versus handsewn methods for colorectal anastomosis surgery. Cochrane Database Syst Rev (3):CD003144

30.

Cope C (1995) Creation of compression gastroenterostomy by means of the oral, percutaneous, or surgical introduction of magnets: feasibility study in swine. J Vasc Interv Radiol 6:539–545

31.

Cope C, Ginsberg GG (2001) Long-term patency of experimental magnetic compression gastroenteric anastomoses achieved with covered stents. Gastrointest Endosc 53:780–784

32.

Chopita N, Vaillaverde A, Cope C, Bernedo A, Martinez H, Landoni N et al (2005) Endoscopic gastroenteric anastomosis using magnets. Endoscopy 37:313–317

33.

van Hooft JE, Vleggaar FP, Le Moine O, Bizzotto A, Voermans RP, Costamagna G et al (2010) Endoscopic magnetic gastroenteric anastomosis for palliation of malignant gastric outlet obstruction: a prospective multicenter study. Gastrointest Endosc 72:530–535

34.

Masoomi H, Luo R, Mills S, Carmichael JC, Senagore AJ, Stamos MJ (2013) Compression anastomosis ring device in colorectal anastomosis: a review of 1,180 patients. Am J Surg 205:447–451
Acknowledgements
The authors are grateful to Guy Temporal and Christopher Burel for proofreading the manuscript.
Disclosures
Michele Diana is the recipient of a research grant from Karl Storz (Tuttlingen, Germany) and is the inventor of the modular magnetic anastomotic device. Jacques Marescaux is the recipient of grants from Karl Storz (Tuttlingen, Germany), Siemens Healthcare, and Covidien. Didier Mutter, Véronique Lindner, Michel Vix, Hyunsoo Chung, and Nicolas Demartines have no conflicts of interest or financial ties to disclose.
Electronic supplementary material
Below is the link to the electronic supplementary material.
Supplementary material 1 (MPG 13728 kb)
Supplementary material 2 (MPG 10540 kb)
About this article
Cite this article
Diana, M., Mutter, D., Lindner, V. et al. A modular magnetic anastomotic device for minimally invasive digestive anastomosis: proof of concept and preliminary data in the pig model. Surg Endosc 28, 1613–1623 (2014) doi:10.1007/s00464-013-3360-2
Received:

Accepted:

Published:

Issue Date:
Keywords
Magnetic anastomosis

Compression anastomosis

Sutureless anastomosis

Modular Auto-Assembling Magnetic Anastomotic System

MAGNAMOSIS®

Minimally invasive digestive surgery

Flexible anastomotic system